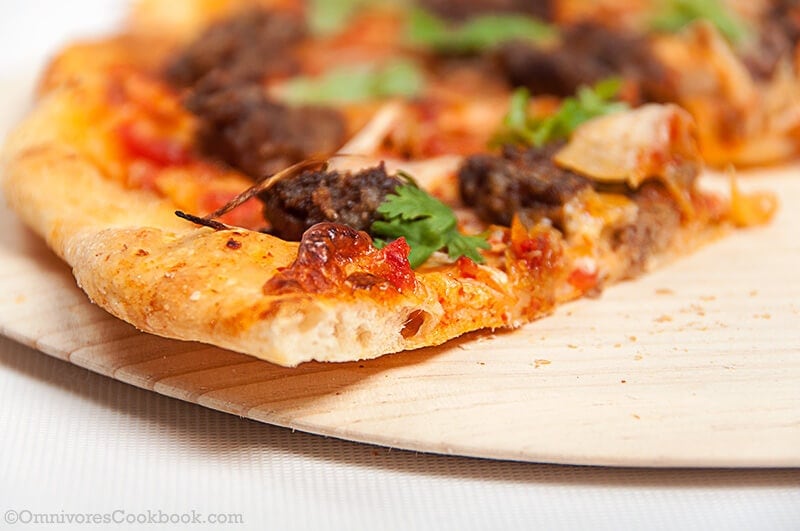 Pizza is one of my favorite food. It's the first thing I cooked when I got my oven. I love all kinds of pizza, thin crust, thick crust, Chicago deep dish or fusion style. Thin crust pizza with homemade dough was the first recipe I tried, because I think it's the easiest one. I was wrong. I got stuck there since I tried so many times but not satisfied with the outcome. One of the problems is, my oven has a highest temperature of 220 degrees C (430F), which is much lower than it requests to make a nice Italian style hand-tossed thin crust pizza. The other problem is, it's more convenient to make a batch of dough at one time and freeze it, but the pizza baked by using thawed dough was not as good as using fresh ones.
I has been trying to bake the dough by different methods to generate different results. I improved the crust by using a pizza stone and making a very very thin dough. That time, the crust turned out so great. I also found out a way to bake crispier crust by using frozen dough. Now I want to share all my experience about how to make delicious dough with you.
This recipe is really long and it looks difficult at a glance. But if you like thin crust pizza, this one is really worth the time. You could make a big batch of dough and freeze them, then take one out whenever you feel like making a pizza. The crust tastes crispy, full of nice smell from the dough and olive oil, and retains a nice chewiness. It is perfect with fresh vegetarian, savory, or any other toppings you could think of. Just remember, do not dump too much things on the dough to shape like a mountain. The crust itself tastes very flavorful, that 1 or 2 kinds vegetables/meat, a thin layer of sauce, with very small portion of cheese, plus drops of olive oil should do the work.
The recipe was adapted from 101 Cookbooks and originally created by Peter Reinhart.
Want to Know More?
Receive our 5-Day Chinese Cooking Crash Course & Recipe Updates! Subscribe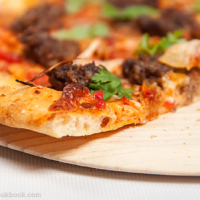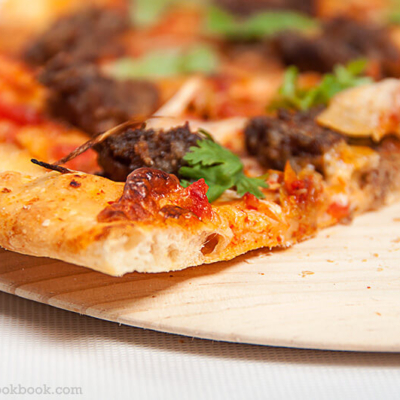 Homemade Thin Pizza Crust
(1) To chill flour quickly, place flour into a glass bowl or metal bowl, put in freezer for 30 minutes. For ice cold water, add cube ice into room temperature water till ice is melted.
(2) I used 220 degrees C (430F) to bake the pizza because it's my oven's maximum temperature. Use higher temperature if possible, to generate better pizza crust.
(3) Please remember, every oven is different and you need to adjust amount of toppings, baking time and temperature to find out the best combination in your own situation.
(4) For questions as: crust size, dough storage, how to use frozen dough, how to bake if oven temperature is not high enough, and how to use pizza stone, please read footnotes.
Ingredients
4 1/2

cups

574 grams bread flour or all-purpose flour, chilled

1 3/4

12.5 grams teaspoons salt

1

teaspoon

instant yeast

1/4

cup

62.5 milliliters olive oil

1 3/4

414 milliliters cups ice cold water (4C/40F)

whole wheat flour to coat hands and dust baking tray

or semolina flour/cornmeal

2

tablespoons

olive oil
Instructions
Mix flour, salt and yeast into a large bowl. Slowly add olive oil and water into the bowl, 1/3 or 1/4 at a time, use a wooden spatula to stir clockwise, until flour and the liquid are roughly mixed, then repeat till all liquid was added. Add whole wheat flour into a small bowl and set aside. Coat both hands with whole wheat flour, use one hand to further kneel the dough and the other hand to slowly rotate the bowl, till all liquid is absorbed by flour and the dough is formed, in around 10 minutes.

Dust a big cutting board with whole wheat flour and coat hands again. Pick the dough from the bowl and place on cutting board. Scratch off the dough that sticky to the bowl by a rubber spatula. Use both hands to kneel the dough until the the surface becomes smooth and the dough is elastic, in around 8-10 minutes. You should be able to pick up the dough by hands, but feeling it a bit sticky to the board when pick up. If the dough is still too sticky, add more flour, 1 teaspoon at a time, and kneel till flour is well mixed with the dough. Cover the dough with plastic wrap or with a wet clear kitchen towel.

Add olive oil into a small bowl and set aside. Grease baking dish (or plate) with olive oil and set aside. Dust both hands with whole wheat flour again. Equally divide the dough into 6-8 pieces(*see footnote 1) by knife. Gently kneel each dough by both hands and dust the dough with a thin layer of whole wheat flour, place in the glass dish. After all dough balls are done, drip several drops of olive oil on each dough ball and gently grease the ball with hand. Cover the glass dish with plastic wrap and place in fridge for overnight.(*see footnote 2)

(Option) After storing the dough in fridge overnight, the dough will turn slightly bigger, as the image shows below. If you want to save the dough for later use. After storage in fridge overnight, take the dough out, mist it with a thin layer of olive oil again, and place into ziplock bag. Store in the freezer up to 3 months(*see footnote 3).

The day when you want to make pizza, take pizza dough out of fridge for at least 2 hours before baking. If take from freezer, take out the dough out earlier, or transfer the dough in to fridge at least a day earlier(*see footnote 3). Dust a cutting board and both hands with whole wheat flour. Gently take the dough out and dust it with whole wheat flour, place it on the cutting board. Gently press the dough into a flat round disk, about 1.5 centimeters (1 inch) thick. Cover it with a plastic wrap or a plate, to keep the dough from dry out. Let the dough rest in room temperature.

Preheat pizza stone on lower level of oven to the highest temperature 40 minutes before baking pizza (*see footnote 4), mine is 220 degrees C (430F). If you don't using pizza stone, assemble pizza on baking tray directly (*see footnote 5). Right before assembling pizza, dust both hands again (dust whole hands, including back sides) and dust a pizza peel (or oven tray) with flour (*see footnote 6). Pick out the pizza dough and slowly toss and rotate it with both hands to enlarge the dough. You can also use both hands to pick up one side of dough to let the gravity stretch it, then rotate, and stretch other sides. when the dough is getting thinner and become difficult to toss, place it on pizza peel (or baking tray). Stretch it gently to thinner till the thickness you like.

Assemble pizza with sauce and toppings you like. Do not put too much toppings on the dough to shape like a small mountain, it will prevent the dough to rise during baking. Always top with a thin layer of sauce, and place 3 to 4 topping sparsely. Slide pizza into oven from pizza peel onto pizza stone and bake until crust turns golden, cheese is melt and start turning golden brown, in about 15 minutes under 220 degress C (430F) or less to 5 minutes by using higher temperature.

Use pizza peel to remove pizza from the oven and let it chill down a bit before slice.
Notes
(1) Crust Size
By dividing the dough into 8 pieces, you could use each piece to make a 8 inches pizza, or a really thin 10 inches pizza. By dividing the dough into 6 pieces, you could make 10 inches pizza, or a really thin 12 inches pizza.
(2) Dough Storage
While I preserve the dough in the fridge, it could be stored for at least 4 days. Be noticed, the fermentation will slowly in progress during the storage, so the dough will be softer and easier to stretch. The dough will turn really soft after 2 days in the fridge that you could use very thin pizza easily with it.
(3) About frozen dough
Move the dough from freezer into fridge 1 or 2 days before making pizza. Place dough under room temperature for at least 2 hours, or longer, depends on room temperature. If the room is cold, turn on oven and place the dough on top of oven to warm the dough. The reaction of yeast might turns even much slower after freezing, so most of time you need longer time to rest the dough than using fresh ones. Touch the dough to feel the temperature. If it still feels chilled, not in room temperature, then the dough need to be rested longer time.
(4) Baking temperature
The original recipe require to heat oven up to 430 degrees C (800C), but most home oven cannot go that high. My oven can only go up to 220C (430F), so the pizza requires at least 15 minutes to bake. The pizza crust turns out better by using pizza stone. Try the highest temperature of your oven and figure out the cooking time.
(5) How to bake pizza without using pizza stone if oven temperature is not high enough
After the dough is stretched out, place the dough on dusted oven tray, rub 1 teaspoon olive oil on edge of dough by hand. Bake the dough for around 6 to 8 minutes under 220C (430F) in middle rack, until the crust turns pale yellow and quite firm. Take crust out and then place all the toppings on. Return pizza tray into middle rack of oven, bake for another 8 to 10 minutes. Until the crust turns golden and mozzarella melts well and partially turns golden brown.
(6) Trick about using pizza stone
If the dough turned really soft, after store in fridge for 3-4 days, it will be difficult to slide the assembled pizza into oven. My friend Stephen gave me a good tip: you could place a piece of aluminum foil on pizza peel, dust it with flour, and assemble the pizza on the aluminum foil. It will be easier to transfer the pizza with foil into oven. After 5-6 minutes, the pizza crust will become firm, and you could pull out the aluminum foil easily by then. If your oven could go to higher temperature, you could use a baking pan or baking tray directly, the result should come out well too. The way is dust the baking pan/tray with flour and assemble the pizza on top directly.