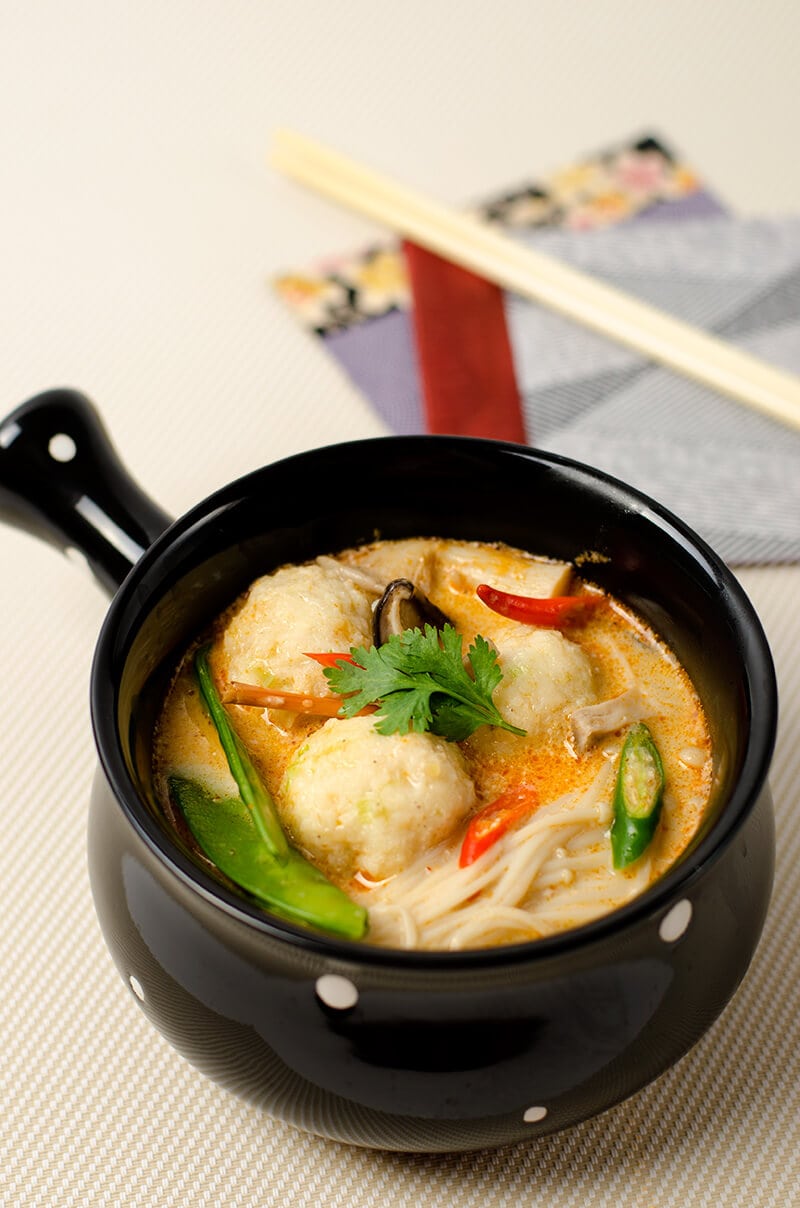 This silky coconut soup has a hint of sweet and sour flavor. The curry paste and fish sauce infuse a savory umami to the soup, which goes great with the mushrooms and fish balls. A sip of the hot soup is so comforting on a rainy autumn day.
Do you have some spices in your pantry that you seldom use? I do. I have more than 50 spices in my kitchen, but I use less than half of them frequently. Every time I see a new spice on the shelf at the supermarket, I get the impulse to grab it.
Scenario one: When I come across a supermarket while travelling in a new city, where I might not be able to go back in the next 50 years, I just grab whatever spice jars I see, that have names I cannot recognize. Who knows when I might need them in the future?
Scenario two: When I come across some exotic recipes in a cookbook, I end up shopping for half of the things on the ingredient list to cook this one dish.  Later on, I leave those cute little jars in the deepest corners of my drawer, collecting dust for the rest of their life.
Not cool at all, I know! So lately, I've started to revisit all the spices and seasonings in the kitchen, and tried to use them again. Not surprisingly, I even have a few spices that I bought twice, or even thrice… (shame on me!)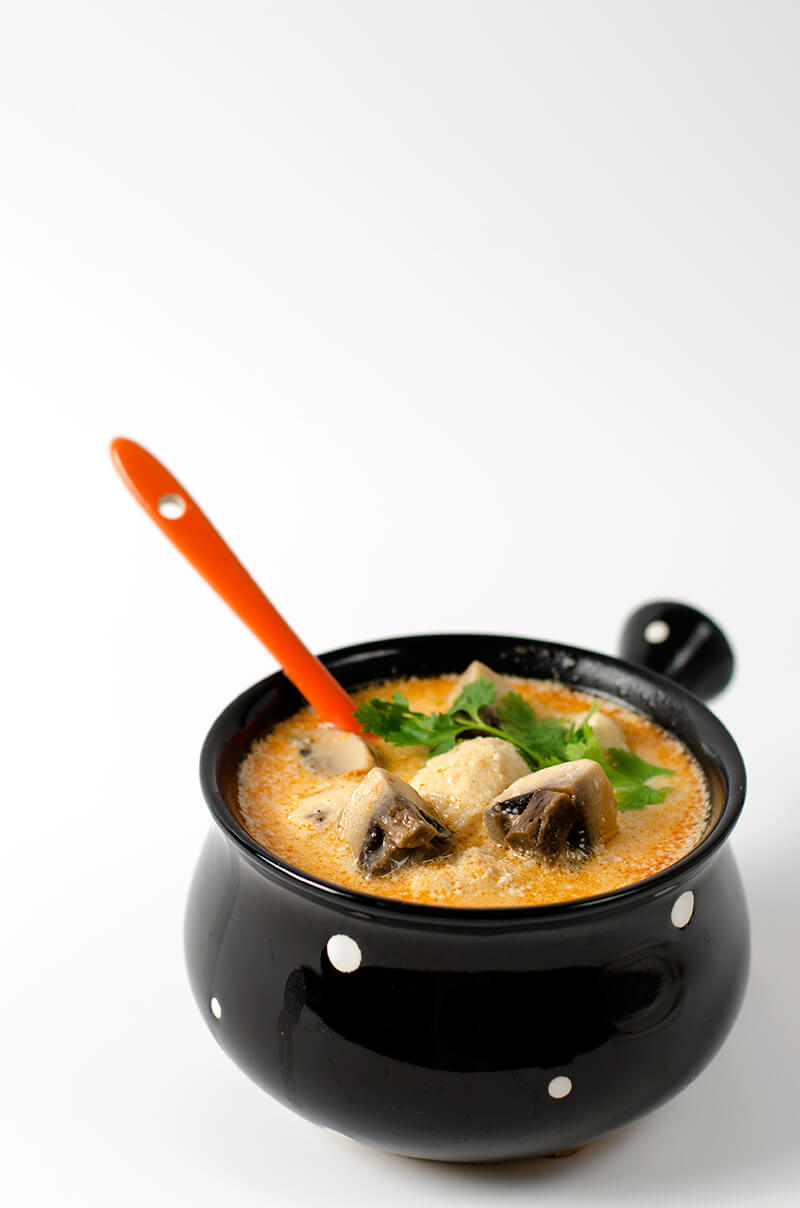 I have some red curry paste that my boyfriend gave me as a gift two years ago. I used one pack to cook curry dishes a few times, but the other one has been sitting in my fridge forever. I wanted to use it in a new way, so I decided to ask Google. Responding to my question "how to use red curry paste", Google gave me a list of dishes to cook, which included some unexpected ways to use the curry. After flipping through all the tasty recipes and getting super hungry, I decided to cook Tom Kha Gai soup, one of my favorite Thai dishes!
My Tom Kha Gai recipe is quite lazy. The name literally means chicken coconut soup and calls for chicken meat and chicken broth. However, I ran out both of them. Instead, I threw in some fish balls and I used chicken bouillon. The result turned out great!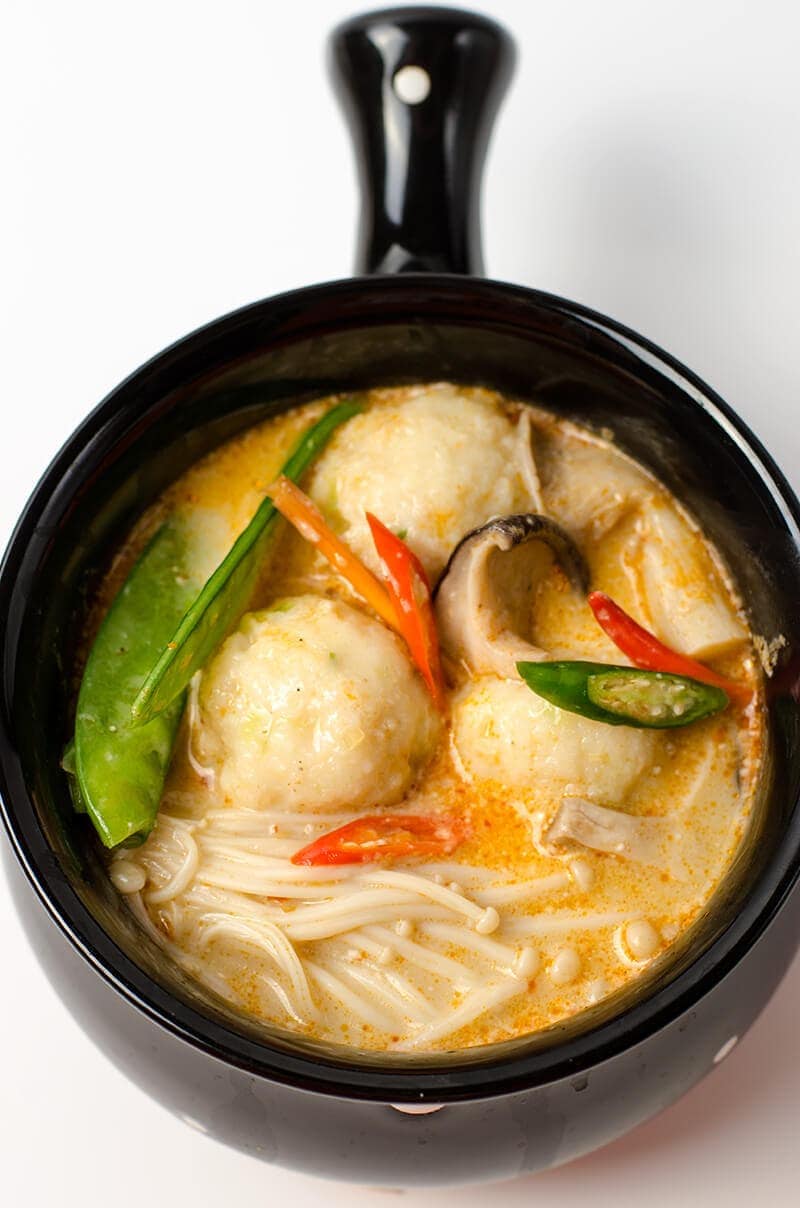 It was rainy earlier during the week and the temperature started to drop during the night and early morning. This hot soup is just perfect for a chilling autumn day.
The silky coconut soup has a hint of sweet and sour. The curry paste and fish sauce infuse a savory umami to the soup, which goes great with the mushrooms and fish balls. I used several types of mushrooms in this one, but if you can find some wild mushrooms, I bet the soup would turn out even tastier.
The moment I was enjoying the soup, I felt I so blessed as a food blogger, that I am always encouraging and challenging myself to discover new dishes.
What is your favorite autumn comfort food? Share your inspiration with us by leaving a comment below!
Want to Know More?
Receive our 5-Day Chinese Cooking Crash Course & Recipe Updates! Subscribe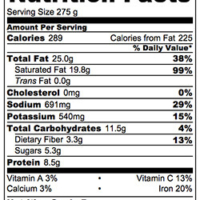 Thai Coconut Soup with Fish Ball
Ingredients
1

tablespoon

oil

1

tablespoon

minced ginger

1

tablespoon

dried lemongrass

or 1/2 stalk fresh lemongrass

1

teaspoon

red curry paste

2

cups

chicken broth

or 1/2 teaspoon chicken bouillon and 2 cups water

1

and 1/2 tablespoons fish sauce

1/2

tablespoon

brown sugar

300

grams

mushroom

oyster, shiitake, golden needle and/or white mushroom

2

cans coconut milk

270 milliliter / 9 oz. can

optional 1 cup green beans

salt to taste

12

fish balls

2

tablespoon

lime juice

or lemon juice
Instructions
Heat oil in a large pot or dutch oven over medium low heat. When oil is warm, add minced ginger, lemongrass and curry paste. Stir constantly and be careful not to burn the curry paste. Stir until fragrant, about 1 minute.

Add chicken broth, fish sauce, brown sugar and mushroom (save the golden needle mushroom to add later, because they cook more quickly). Simmer covered for 15 minutes, until mushrooms turn soft.

Add coconut milk and mix well with a ladle. Taste the soup and adjust seasoning if necessary (be careful of the hot soup).

Carefully add fish balls one by one into the soup. Simmer covered for 5 minutes.

(Optional) If you want to add some green beans or golden needle mushrooms, add them into the soup with the fish balls and simmer together, until the vegetables are cooked through.

Turn off heat. Add lime juice and stir well.

Serve warm.
The nutrition facts are calculated based on 1 of the 6 servings generated from this recipe.