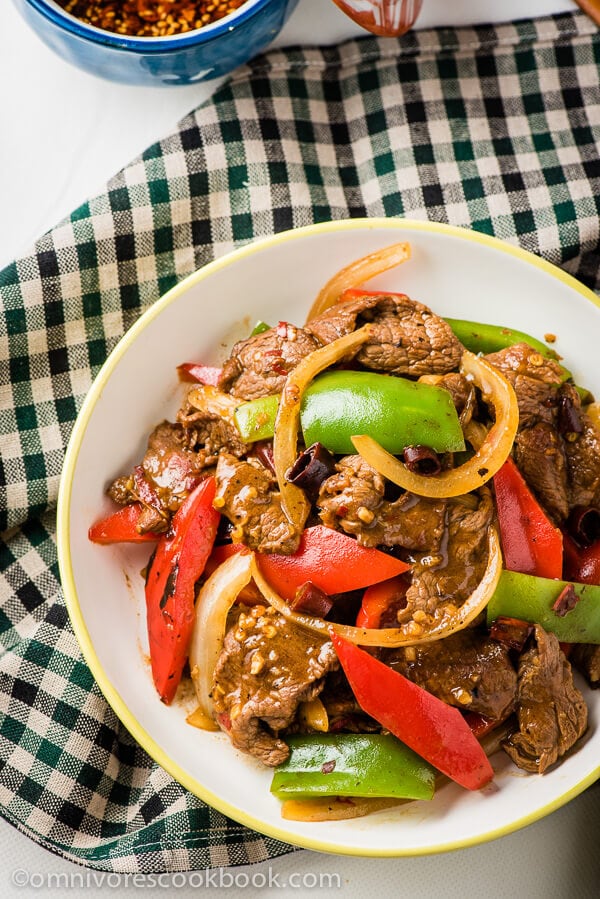 A super comforting and appetizing stir-fried beef dish with a sweet, savory flavor and a pungent aroma. Use my homemade chili garlic sauce to create this one-dish meal for dinner in under 25 minutes!
In this post, I wrote:
An introduction to the all-purpose chili garlic sauce and to this dish
Some cooking notes
A Recipe
In a post earlier this week, I introduced a Sichuan all purpose chili garlic sauce and explained how to use it to effortlessly create super flavorful spicy dishes. I use the original chili garlic sauce as a master sauce, so I can add it into a dish at the end of cooking to infuse a pungent garlicky flavor. Beyond that, I use it as a base sauce to create various Sichuan style sauces by simply adding a few more ingredients. You can click here to get the recipe and read more about the master sauce. It is super easy to make, can be stored for months, and helps you get dinner on the table in 30 minutes or less.
After my first example, which used the sauce to cook stir fried spicy shrimp, I will introduce a slightly more complex recipe today. In this recipe, I use the master sauce as a base, and add oyster sauce and sugar. The pungent garlic sauce turns into a comforting savory sauce with a spicy and sweet flavor that goes great with all sorts of stir fried dishes.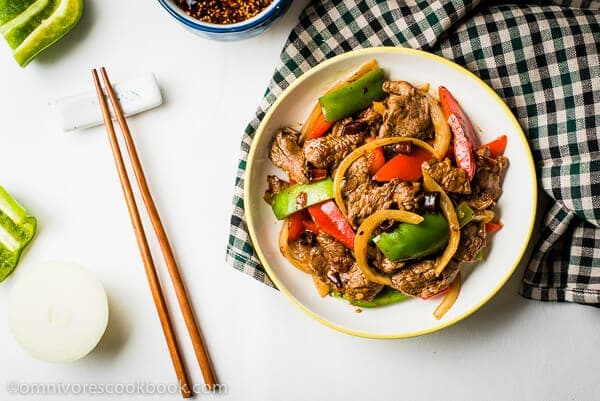 Although I use beef and pepper in this recipe, you can replace them with various other ingredients. You can easily replace pepper with broccoli and the beef with chicken or pork. You can also use the sauce to create stir fried noodles or a vegetarian dish.

Cooking Notes
Although this is a very standard recipe, I do have a few things to stress.
First of all, I used a wok and a gas stove when cooking this dish, so you will find that the given cooking times are very short. If you are using an electric stove or a flat bottomed skillet, the cooking time may need to be doubled or even tripled. For any stir fried dish, you should always judge the cooking time by the doneness of the ingredients. Do not follow the times given in a recipe strictly, since a lot of factors affect the cooking time.
I've talked about how to create tender and moist beef with a skillet in this post. That method is slightly different from doing so with a wok. So I suggest you read that post if you're going to use a skillet to cook this recipe.
The only tricky part of this dish is generating moist and tender beef slices.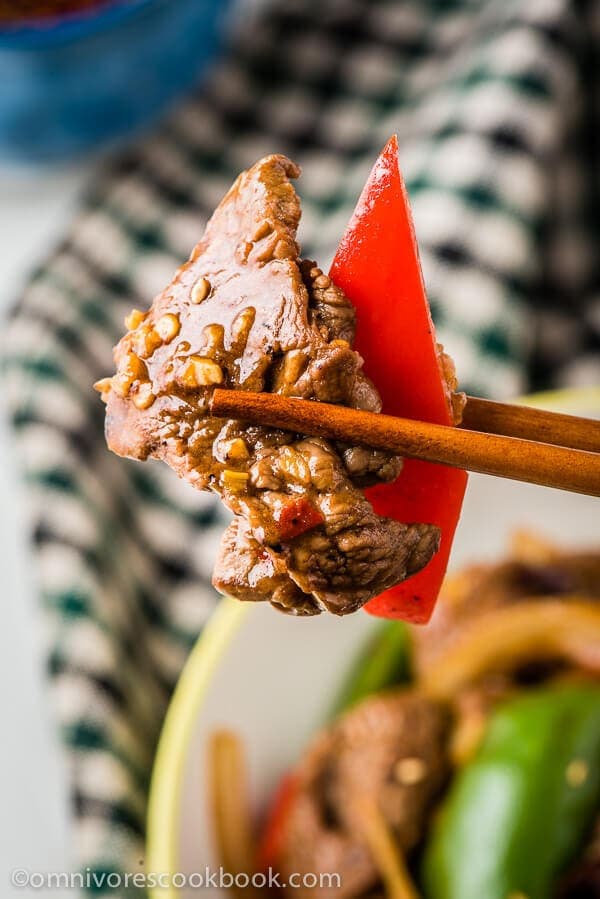 There is one thing I always do with all meat and poultry dishes.  Coat the meat with cornstarch when marinating. It will protect the meat from the high heat and will keep it tender during cooking. (Although there's also a method that involves using baking powder, I am personally reluctant to use it.)
I also found that keeping the beef a bit raw will be really helpful. I love a medium rare steak, so I don't find it much of a problem if the beef is not completely cooked through, as long as I use a nice cut. However, if you need the beef to be cooked thoroughly, you should keep the cooking time as short as you possible, so the beef will be just cooked through and still be tender. Transfer the beef to a plate as soon as it's cooked, otherwise, the heat of the wok / skillet will continue to cook the meat.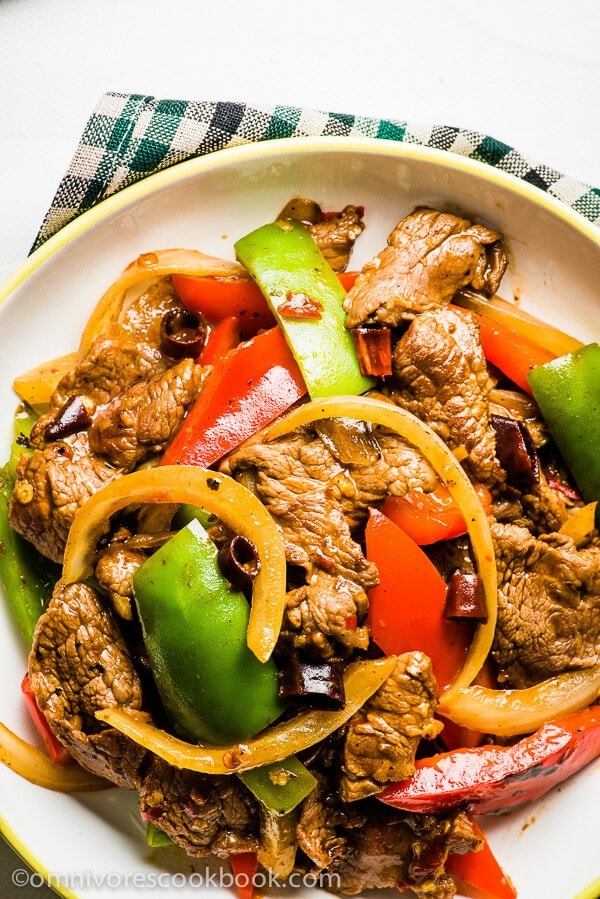 Want to Know More?
Receive our 5-Day Chinese Cooking Crash Course & Recipe Updates! Subscribe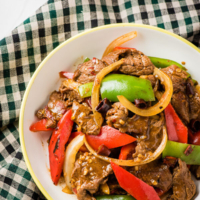 Spicy Beef Stir-Fry with Pepper
A super comforting and appetizing stir-fried beef dish with a sweet, savory flavor and a pungent aroma. Use my homemade chili garlic sauce to create this one-dish meal for dinner in under 25 minutes!
Ingredients
For the marinade
1/2

pound (250 grams)

beef sirloin

(or other tender cut), sliced into 5mm thick pieces, cut against the grain

1/2

teaspoon

dark soy sauce

(*see footnote)

1

tablespoon

Shaoxing wine

1

teaspoon

cornstarch
For the spicy sauce
2

tablespoons

oyster sauce

2

tablespoons

all-purpose chili garlic sauce

2

teaspoons

sugar

1

tablespoon

water
For the stir-fry
1

and 1/2 tablespoons

peanut oil

(or vegetable oil)

1

teaspoon

ginger

, minced

1/2

(140 grams)

onion

, chopped

1

cup (300 grams)

bell pepper

, chopped

Steamed white rice to serve with
Instructions
Combine beef, dark soy sauce, and Shaoxing wine in a small bowl, mix well. Add cornstarch and mix by hand, until the beef is evenly coated and starts to feel sticky. Set aside and allow to marinate for 10 to 15 minutes.

Combine oyster sauce, all-purpose chili garlic sauce, sugar, and water in a small bowl. Mix well and set aside.

Chop veggies while marinating the beef.

Heat a wok over medium high heat until hot. Add 1 tablespoon oil and swirl to coat the bottom. (Or you can add oil into a nonstick skillet and heat oil until hot.)

Add beef and spread it over the bottom of the wok with a spatula. Let it cook for 20 to 30 seconds without stirring. This will help the beef come clean from the wok when cooked and won't stick to the bottom. Flip with spatula. Stir and cook until the surface turns dark brown but the inside is still raw. Turn to lowest heat and immediately transfer to a plate.

Add the remaining 1/2 tablespoon oil and ginger into the same wok. Turn back to medium high heat (high heat on an electric stove). Stir a few times until fragrant. Add onion. Stir and cook until soft, about 1 minute. Add bell pepper and stir and cook for 30 seconds, until it's half cooked through. Add beef back into wok. Mix the sauce again and pour it over top of the beef and vegetables. Immediately stir to mix everything well for a minute, until the beef is cooked through (although I like to leave the beef a bit rare, so it will have a super soft texture). Turn off heat and immediately transfer everything to a plate.

Serve warm over steamed white rice as a main dish.
Notes
The dark soy sauce will add a nice color to the beef. You could use light soy sauce instead, but the finished beef will be pale brown in color.
Nutrition
Serving:
198
g
,
Calories:
243
kcal
,
Carbohydrates:
13.5
g
,
Protein:
20.4
g
,
Fat:
11.9
g
,
Saturated Fat:
2.8
g
,
Cholesterol:
56
mg
,
Sodium:
168
mg
,
Potassium:
473
mg
,
Fiber:
2.6
g
,
Sugar:
6.1
g
,
Vitamin A:
200
IU
,
Vitamin C:
160.9
mg
,
Calcium:
20
mg
,
Iron:
14.6
mg
Related recipes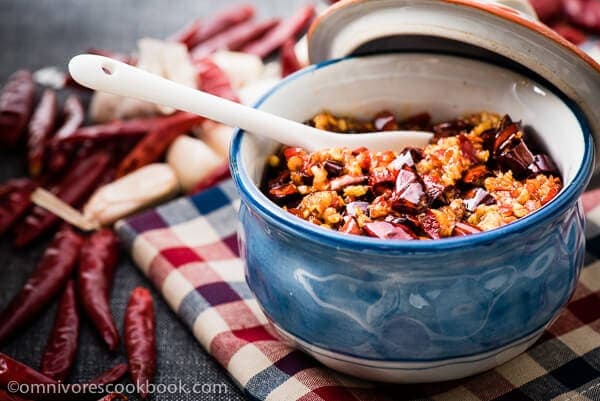 Sichuan All Purpose Chili Garlic Sauce