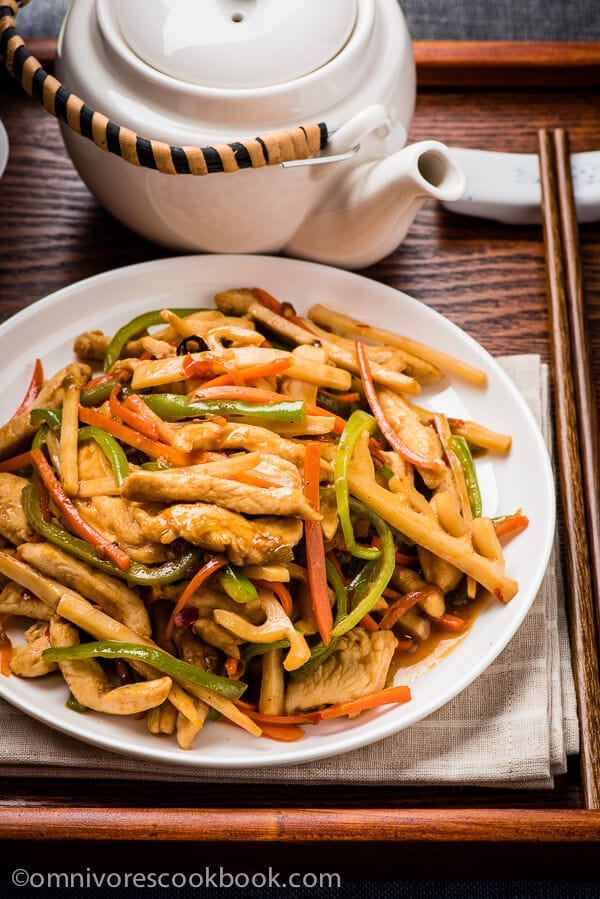 A classic Sichuan stir-fry dish made easy. The shredded chicken is quickly cooked with carrot, bamboo shoots, and peppers in a pungent sweet and sour garlic sauce. This recipe teaches a shortcut to creating this dish in under 30 minutes with fewer ingredients.
In this post you can find:
– A quick introduction to homemade Sichuan all-purpose chili garlic sauce
– What is Yu Xiang Rou Si?
– Why this recipe?
– Cooking notes
– Recipe
In a post last week, I introduced a Sichuan all purpose chili garlic sauce and explained how to use it to effortlessly create super flavorful spicy dishes. I use it as a base sauce to create various Sichuan style sauces by adding the master sauce at the end of cooking, or by simply adding a few more ingredients to create a new sauce.
You can click here to get the recipe and read more about the master sauce. It is super easy to make, can be stored for months, and helps you get dinner on the table in 30 minutes or less.
I have used the master sauce to create several stir fried dishes, including a spicy shrimp stir-fry and a beef stir fry with peppers.
Today, I want to introduce a new Sichuan dish that you might have never heard of – Yu Xiang Rou Si.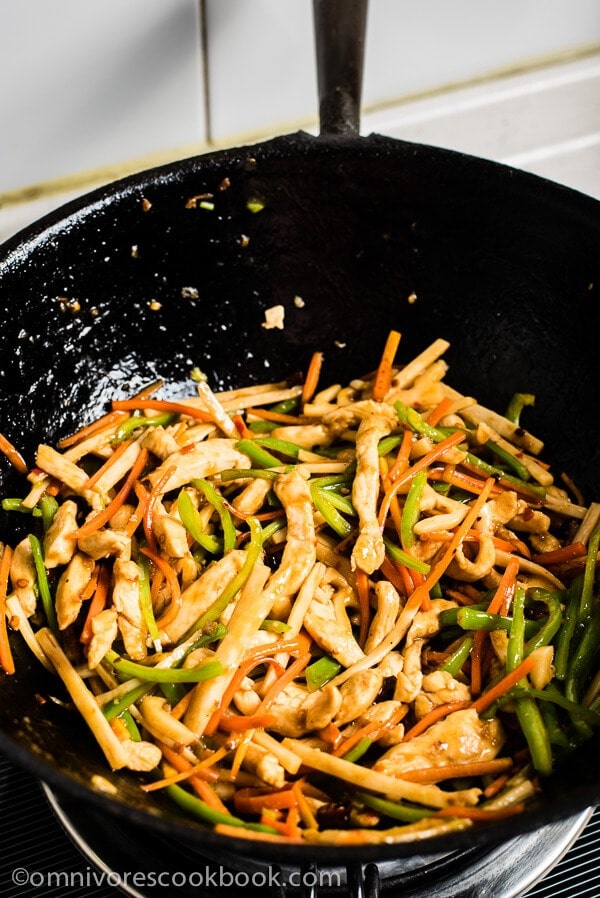 What is Xu Xiang Rou Si?
Xu Xiang Rou Si (鱼香肉丝) can be directly translated to fish fragrant shredded meat. Although the name contains the word "fish", this dish actually has nothing to do with fish or seafood. The idea of "fish fragrant" is to use a sauce that contains spicy, sweet, sour, and savory flavors, to create a special flavor that people associate with the umami of fish.
Although this one is not well known in overseas Chinese restaurants, it's one of the most classic dishes of Sichuan cuisine. This dish is definitely among the top ten stir fried dishes in China, and might even be among the top three for a lot of people. Because the dish is so flavorful and uses relatively cheap ingredients, it is a very popular item in set-menu lunches at small diners.
One of my favorite things to do in high school for lunch, was to order a two-dollar Yu Xiang Rou Si Gai Fan (or steamed rice topped with Yu Xiang Rou Si). Eating out at restaurants is getting more expensive in Beijing in recent years, but this classic dish is still among the best deals out there.
Besides using the Yu Xiang sauce for this recipe, you can also use it with stir fried chicken, beef, and eggplant (you can refer to my fish fragrant eggplant recipe).
The authentic version of Xu-Xiang Rou-Si uses shredded pork. It is quickly cooked with carrot, pepper, wood ear mushrooms, Sichuan pickled chili pepper, a sweet and sour chili garlic sauce, and lots of fresh herbs, such as ginger, scallion, and garlic.
However, when I was developing this recipe, I made a few tweaks to the original approach.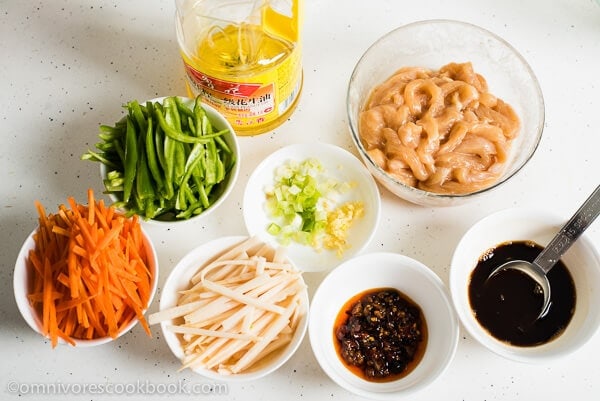 Why this Recipe?
It uses chicken instead of pork to reduce the fat and calories, making this dish a skinny version of the original.
It skips wood ear mushrooms and Sichuan pickled peppers, so you can easily find the ingredients in a normal grocery store.
It reduces the ingredients to the minimum needed for good flavor. Well, you might find the ingredient list still quite long, but it's already shorter than a typical recipe.
You can finish prep and cooking in 30 minutes by using pre-cooked chili garlic sauce.
You can easily create your own version of the fish fragrant stir-fry by using the sauce and cooking method given in this recipe.
Cooking notes
The meat and vegetables used in this dish should be evenly and thinly shredded with a kitchen knife. It takes some time and effort, but doing so will bring out the best flavor and shorten the cooking time. If you find slicing the ingredients into thin pieces is too much trouble, another option is to cut them into bigger strips (like I did here, or a bit bigger). The last option is to slice the ingredients into bite sized pieces (like this). Please note the cooking time will be different depending on how you cut the meat and veggies.
To shred the chicken, always cut along the grain, otherwise the chicken strips will easily fall apart.
You can replace the chicken with pork or beef.
For the vegetables, you can choose from carrots, bell peppers, wood ear mushrooms, shiitake mushrooms, bamboo shoots (recommended), potatoes, and jalapenos.
Double the amount of sauce in this recipe if you would like more sauce to go with the rice.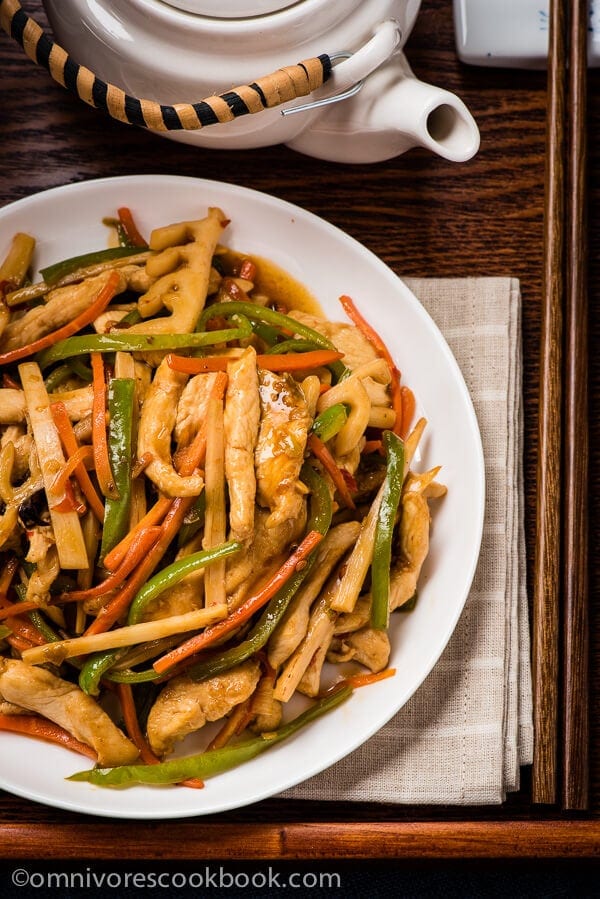 Do you like my recipe? Sign up for the Omnivore's Cookbook weekly newsletter to have the latest recipes delivered to your inbox and get a FREE e-cookbook!

Yu-Xiang Rou-Si (Sichuan Shredded Chicken Stir-Fry, 鱼香肉丝)
Always judge cooking time by the doneness of the ingredients. I used a wok when cooking this dish, so you will find that the given cooking times are very short. If you are using an electric stove or a flat bottomed skillet, the cooking time may need to be doubled or even tripled. Do not follow the times given in a stir-fry recipe strictly, since a lot of factors affect the cooking time.
Ingredients
For the marinade
For the sauce (*see footnote)
For the stir-fry
1 and 1/2 tablespoons vegetable oil
1/2 teaspoon minced ginger
2 (100 grams / 1 cup) bell pepper, shredded
1/2 (100 grams / 1 cup) carrot, shredded
1/2 (100 grams / 1 cup) bamboo shoots, shredded
Steamed white rice to serve with
Instructions
Slice chicken breast into long, thin strips, parallel to the grain. Prepare and cut vegetables.
Combine chicken, light soy sauce, and Shaoxing wine in a small bowl. Add cornstarch and mix well by hand, until the thin starchy paste coats the chicken evenly.

Combine all sauce ingredients in a small bowl and mix well.
Heat a wok (or a nonstick skillet) over medium high heat until hot. Add 1 tablespoon oil and swirl to cover the bottom. Add chicken and quickly spread it with a spatula. Allow to cook for 20 to 30 seconds without stirring. Stir and cook until the surface of the chicken just turns white, about 1 minute. Turn to lowest heat and immediately transfer to a plate.

Add the remaining 1/2 teaspoon of oil and turn back to medium heat heat. Add ginger and give it a stir until fragrant. Add carrot. Stir and cook until half cooked, about 1 minute. Add bamboo shoots. Stir and cook for 1 minute. Add bell pepper and chicken. Stir the spicy sauce again and swirl it into the wok. Immediately mix everything well with a spatula, until all ingredients are covered with sauce. Remove from heat and transfer to a plate immediately.

Serve warm over steamed white rice.
Notes
The version here is lighter than the dish typically served in a Sichuan restaurant, so there will be just enough sauce to cover all the ingredients. Double the amount of sauce if you would like more sauce to go with the rice.
The nutrition facts are calculated based on 1 of the 4 servings (without rice) generated by this recipe.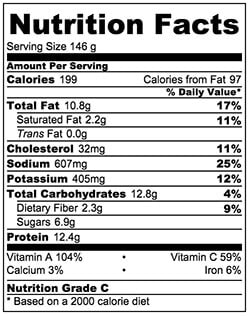 Related recipes: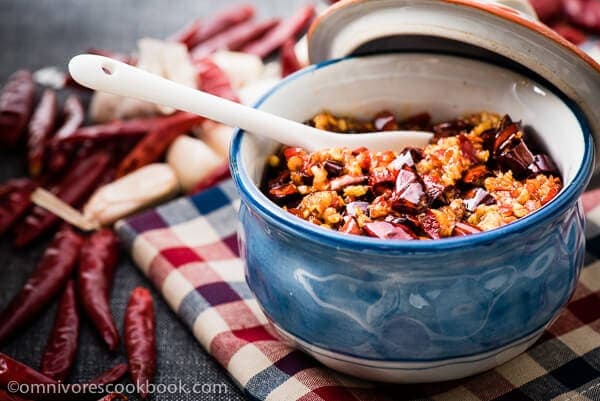 Sichuan All Purpose Chili Garlic Sauce