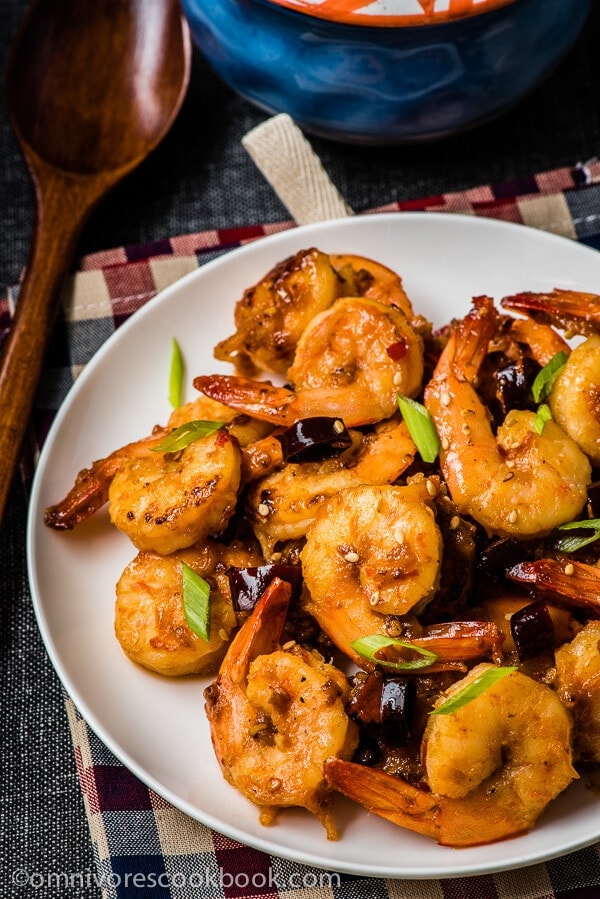 These hot shrimp are so appetizing, scrumptious, and flavorful, that you can hardly imagine they require only 15 minutes to get ready, including marinating time!
A few days ago, I introduced an all-purpose chili garlic sauce, which makes it extremely easy to quickly create a Sichuan style dish at home. I use the original chili garlic sauce as a master sauce. Sometimes, I add it into a dish at the end of cooking, to infuse a pungent, garlicky flavor. Other times, I use it as a base to create various other Sichuan style sauces by adding a few more ingredients. Click here to read more about the master sauce and get the recipe for it. It is super easy to make, can be stored for months, and will help you get dinner dishes ready in under 30 minutes.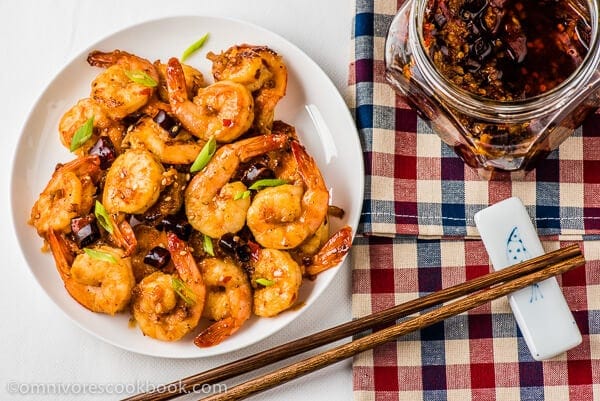 Today, I want to show you how to cook Sichuan style spicy shrimp stir-fry by using this homemade chili garlic sauce. This is one of the simplest ways to create a super flavorful dish in practically no time at all!
If you browse through the ingredient list, you might wonder, how is this recipe even special? Isn't it just another spicy sauce? Wrong!
If you look closely, you will notice I add a spoonful of sugar into the chili garlic sauce. If you think it'll make the dish sweet, you're wrong again. The truth is, you hardly notice the sugar when you taste the shrimp.
Instead of adding sweetness to the dish, the sugar balances the the spiciness and brings out the best flavor of the shrimp. It makes the shrimp even richer and infuses a nice umami, instead of simply tasting spicy.
If you remember this, you can make a lot of spicy dishes taste even better. Although I used shrimp in this recipe, you can easily replace the shrimp with chicken, pork, seafood, or vegetables.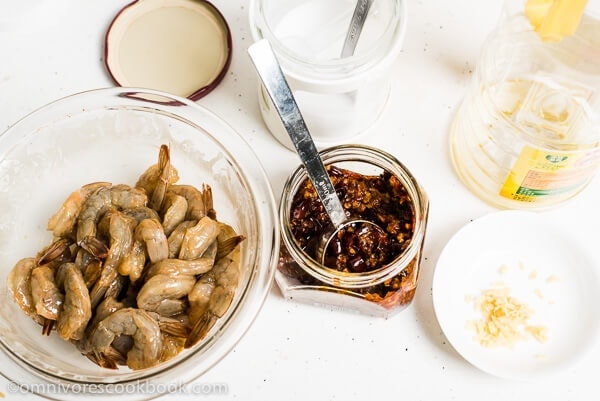 By the way, this is not a very healthy dish. But the truth is, if you want an irresistible flavor, you really need to add enough sauce and sugar. There was one time I tried to halve the sauce to make the recipe a bit skinnier, but I wish I hadn't. The dish worked, but it wasn't as great as it should be.
In the end, (not really something to brag about) this sauce can make not-so-fresh / low quality shrimp taste great. Not the all-you-can-taste-is-the-sauce kind of "delicious", but the sauce can actually cover up the bad flavor of the shrimp and allow only the best traits to shine through. I know, I know, we should always use ingredients that are as fresh as possible. But let's be honest, sometimes we just want to grab some frozen shrimp and get dinner on the table with as close to zero effort as possible. This recipe always comes in handy on a busy weekday and everyone in my family loves it.
Interested in more easy spicy dishes? Stay tuned, because more recipes are on the way!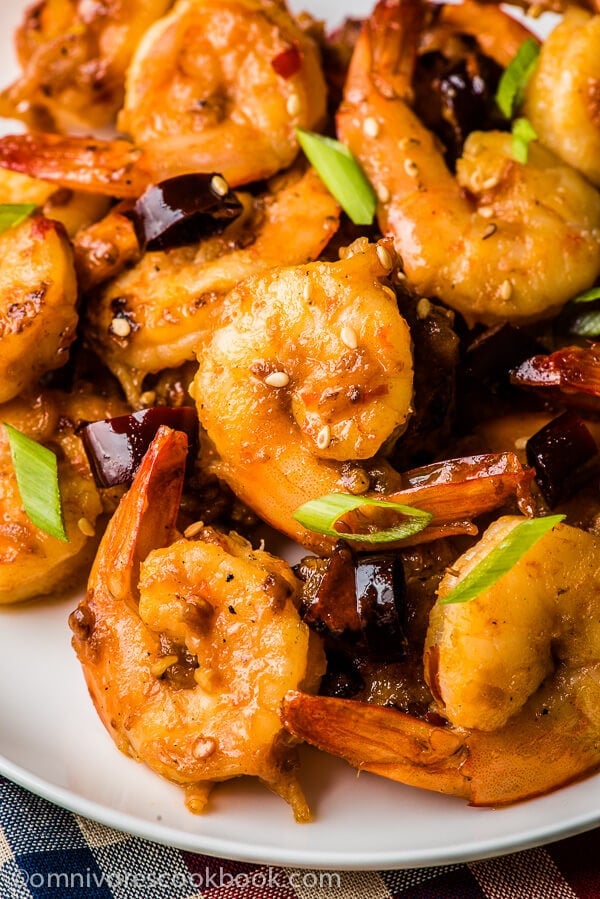 If you cook this recipe, don't forget to take a picture and post on my Facebook fan page. I love to see your photos!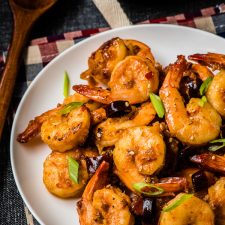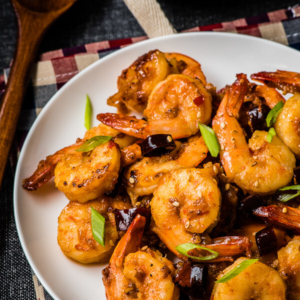 Sichuan Spicy Shrimp Stir-Fry
These hot shrimp are so appetizing, scrumptious, and flavorful, that you can hardly imagine they require only 15 minutes to get ready, including marinating time!
Print
Pin
Rate
Ingredients
2

cup (300 grams)

shrimp

, peeled

1

tablespoon

Shaoxing wine

(or Japanese sake)

1

tablespoon

light soy sauce

1

tablespoon

cornstarch

1

teaspoons

ginger

, minced

1

tablespoon

peanut oil

4

tablespoons

Sichuan all-purpose chili garlic sauce

1

and 1/3 tablespoon

sugar

1/8

teaspoon

salt or to taste (*see footnote)

(Optional)
Instructions
Combine shrimp, Shaoxing wine, and light soy sauce in a medium sized bowl. Mix well. Add cornstarch and mix by hand, until the shrimp is evenly coated. Marinate for 10 minutes.

Chop ginger while the shrimp is marinating.

Heat a wok over medium high heat until hot. Add oil and swirl the wok to cover the bottom (or add oil into a nonstick skillet and heat until hot). Add ginger and stir a few times until fragrant.

Add shrimp, spreading them quickly over the bottom of the wok. Let them cook without stirring for 20 to 30 seconds. The shrimp won't stick to the bottom of the wok this way. Stir and flip the shrimp. Keep cooking until the surface is cooked and turns golden, about 1 minute.

Add all-purpose chili garlic sauce and sugar. Stir to mix well and until the shrimp is curled, about 1 minute. Turn to lowest heat. Taste the shrimp and adjust flavor by adding salt, if necessary. Stir to mix well and remove from heat.

Serve warm as a main over steamed rice or cooked noodles.
Notes
I found the finished shrimp to be flavorful enough with the ingredients given (I was using small shrimp). However, you might want to add some salt if you use larger shrimp, in order to give the dish a better flavor, especially if you want to serve them over steamed white rice.
Nutrition
Serving:
107
g
|
Calories:
214
kcal
|
Carbohydrates:
11.5
g
|
Protein:
18
g
|
Fat:
10.4
g
|
Saturated Fat:
1.9
g
|
Cholesterol:
158
mg
|
Sodium:
475
mg
|
Potassium:
196
mg
|
Fiber:
1.1
g
|
Sugar:
5.5
g
|
Vitamin A:
650
IU
|
Vitamin C:
2.5
mg
|
Calcium:
80
mg
|
Iron:
0.7
mg
Related Recipe: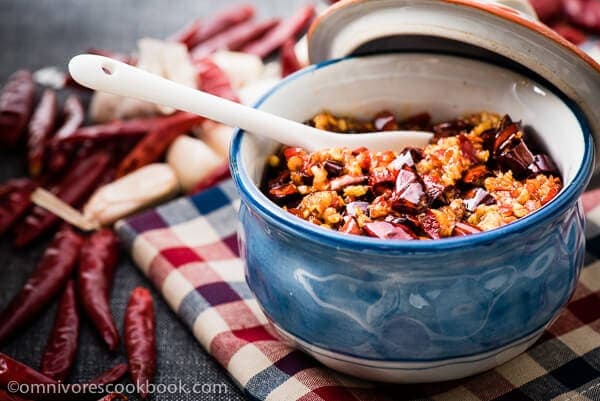 Sichuan All Purpose Chili Garlic Sauce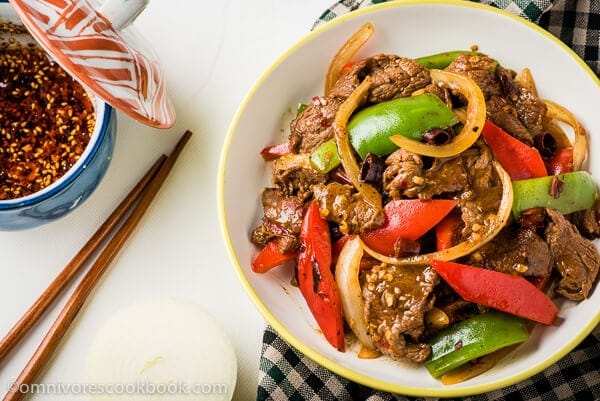 Spicy Beef Stir-Fry with Pepper