This recipe creates moist and tender lamb with minimal cooking time. In this post I share two dipping sauce recipes and three ways to serve the lamb!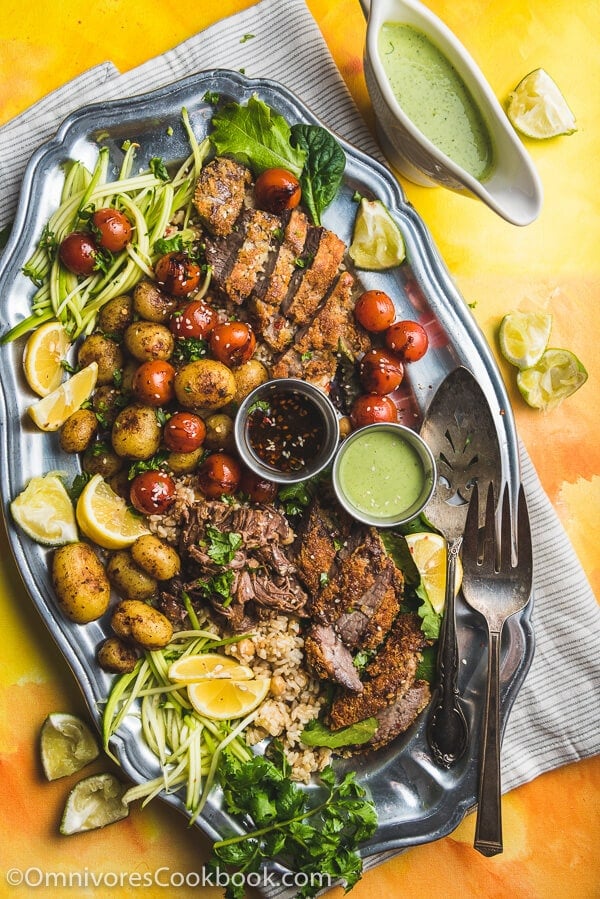 Cooking a giant chunk of meat, such as a four-pound lumb leg, might seem daunting. Once you try it, though, you'll find it is the easiest thing to do. This lamb leg dish is a great choice, whether you're cooking for two for a simple meal or preparing a main dish for a dinner party of six.
I chose to use a pressure cooker for this dish instead of the usual braising or baking method, to show you another option. It requires minimal active cooking time and cooks the lamb leg until very tender in just 40 minutes.
If this is your first time visiting my blog, you might find it strange that I'm talking about lamb in the context of Chinese cooking. In fact, lamb is a very popular meat in many provinces of China and is considered a staple in Xinjiang and Inner Mongolia, where the majority of inhabitants are Muslim.
I've shared quite a few Chinese lamb dishes on the blog so far, including lamb fried noodles (Ding Ding Chao Mian), baked lamb dumplings, lamb pilaf, and lamb skewers.
The flavoring in this recipe is different than in my previous lamb recipes. It uses the Northern style soy-sauce-based seasoning to create a savory lamb dish that goes great with rice and noodles.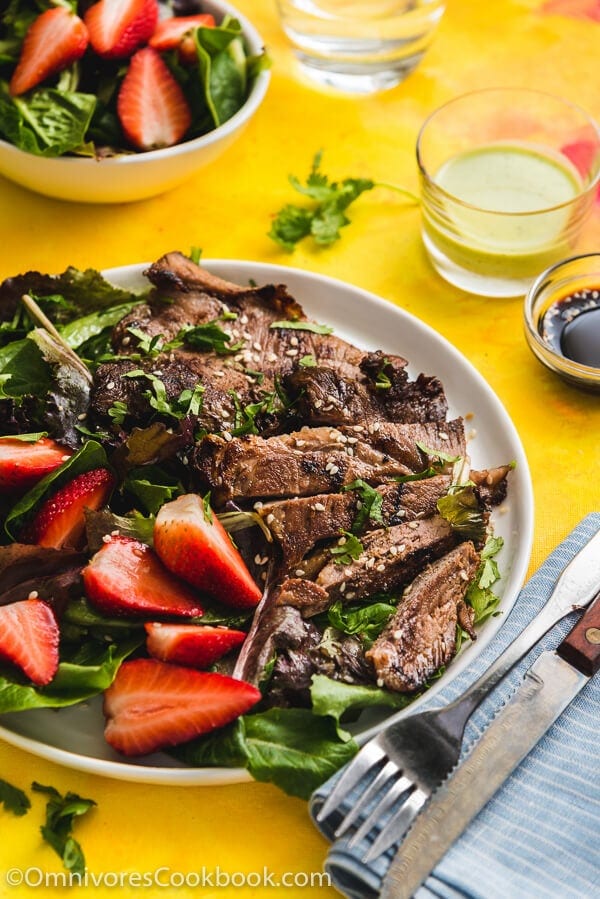 The traditional way of cooking this dish is boiling the lamb first, and then braising it until tender. When the weather starts to get warm, I find keeping my stove on for many hours on a sunny Sunday afternoon less than appealing. So I resorted to my new favorite kitchen tool – the Instant Pot. I've talked about my experience with the Instant Pot in a previous post. To describe it in one sentence, Instant Pot is an electric cooking appliance that combines a slow cooker, pressure cooker, rice cooker, yogurt maker, steamer, and saute pan.
There is only one problem when using a pressure cooker to braise large chunk of meat – the meat usually ends up plain, due to the very short cooking time. So here, we need to marinate the meat before cooking. You can use the same method when braising any other type of meat in pressure cooker.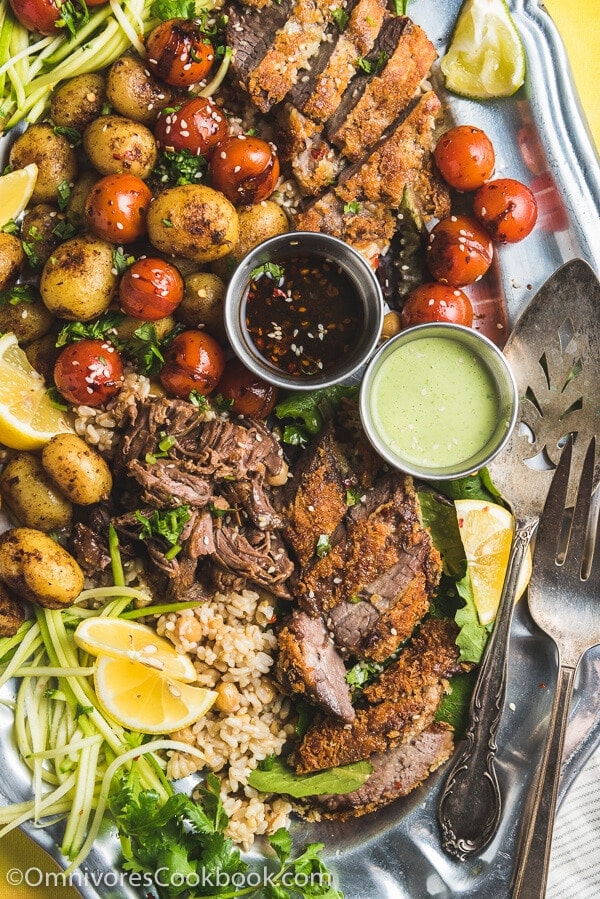 The rest of it is very easy. Brown the lamb, put the lamb leg and the marinade in the pressure cooker, and cook at high pressure for 40 minutes. Then you'll get melt-in-your-mouth tender and juicy lamb meat, with no need to monitor the pot.
There are many ways to use pressure-cooked lamb meat.
The easiest way – use a fork to shred the meat and serve it with the broth. It goes great on a bowl of steamed rice, topped on noodles soup, or made into quick tacos.
The steak way – slice the lamb and grill it in a hot pan. Then you get a nicely browned lamb steak that makes a great main dish by itself.
The crispy way – slice the lamb, coat it with breadcrumbs, and grill it in a pan. You'll be surprised at how easy to create a "deep-fried" lamb steak without frying at all!
You see, even if you are just cooking for two, you can save the leftovers and use the lamb in many different ways later. So, no worries about serving the same dish all over again.
That's it for today!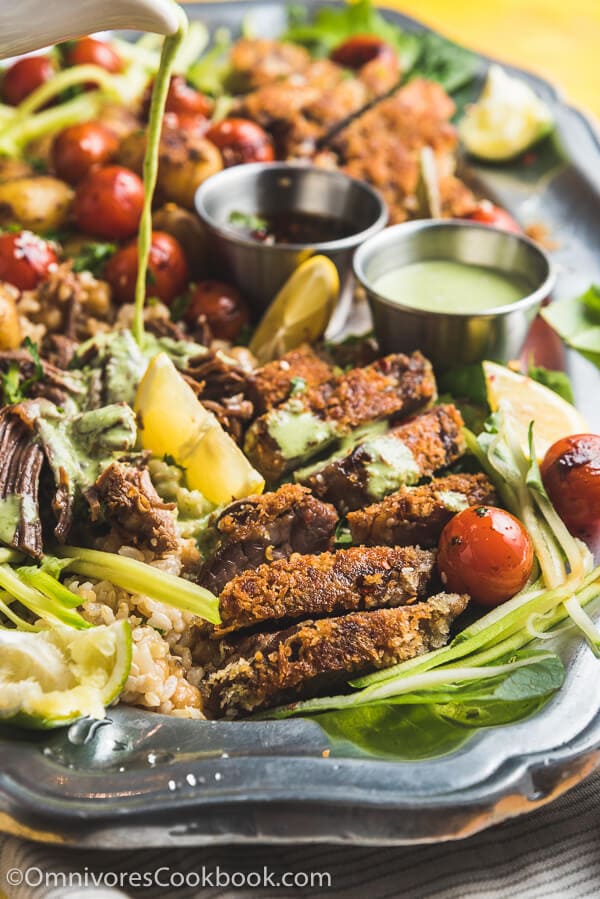 If you give this recipe a try, let us know! Leave a comment, rate it (once you've tried it), and take a picture and tag it #omnivorescookbook on Instagram! I'd love to see what you come up with. Cheers, friends!
Want to Know More?
Receive our 5-Day Chinese Cooking Crash Course & Recipe Updates! Subscribe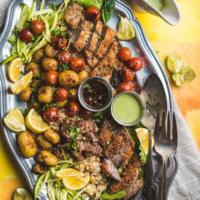 Pressure Cooker Lamb Leg
This recipe creates moist and tender lamb with minimal cooking time. In this post I share two dipping sauce recipes and three ways to serve the lamb!
Ingredients
3

to 4 pound (1.5 kilogram)

whole lamb leg
(Option 1) Chinese traditional dipping sauce
1/4

cup

Chinese black vinegar

1

tablespoon

light soy sauce

1

tablespoon

toasted sesame oil

3

tablespoons

Garlic

, minced

1

teaspoon

chili oil or fresh diced red chili peppers

(Optional)

1

teaspoon

sugar
(Option 2) Honey cilantro lime sauce
1/2

cup

plain Greek yogurt

1

cup

loosely packed cilantro

2

cloves

garlic

1

lime

, juiced

2

tablespoons

honey

2

tablespoons

olive oil
(Optional) Crispy lamb leg
150

grams

panko bread crumbs

1

egg

1

tablespoon

potato starch

Chopped cilantro for garnish

(Optional)
Instructions
Cook lamb
Combine all the ingredients for the marinade in a bowl. Mix well.

Transfer lamb leg to a 1-gallon ziplock bag. Pour marinade over the lamb leg. Squeeze out as much air as possible and seal the ziplock bag. Massage the bag a few times, so that the lamb is covered evenly with marinade. Marinate in the fridge overnight. Flip the bag once during marinating.

Transfer the lamb leg to a large plate, saving the marinade liquid. Carefully remove the Sichuan peppercorns from the lamb and discard them. Drain marinade through a fine mesh strainer. Transfer the marinade liquid into pressure cooker. Discard all solid ingredients.

Heat 1 tablespoon oil in a large skillet until hot. Carefully place lamb into the skillet. Let cook until the bottom side turns golden brown. Flip and cook the other side, until nicely charred. Transfer lamb leg into the pressure cooker.

Cook at high pressure for 40 minutes. If you're using an

Instant Pot

, click manual, set timer to 40 minutes, and make sure the valve is pointed to "locked". If you're using a stovetop pressure cooker, lock the cover and cook over medium high heat until the target pressure is reached. Turn to medium low heat and continue cooking for 40 minutes. You can either use the natural release or quick release once the lamb is cooked.

If you're not going to serve the lamb immediately, transfer it to a large plate and let it cool completely. Transfer the lamb with all the liquid into an air-tight container. When the sauce cools down, there will be a thick layer of fat floating on top. It will help preserve the meat. You can always skim and discard the fat later. Store in the fridge for up to 4 days or in the freezer for up to 3 months.
Sauce
While cooking the lamb, prepare the sauce.

To serve the lamb the traditional way, mix all the ingredients for the Chinese traditional dipping sauce in a small bowl. Stir to mix well.

If you like a creamy sauce, combine Greek yogurt, cilantro, garlic, lime juice, and honey in a tall bowl (or a blender). Use a hand blender to mix well everything while slowly adding olive oil. Mix until the oil is emulsified and the sauce even in color.
Serve
There are three ways to serve the lamb.

Option 1 - The quickest way is to serve the lamb directly after pressure cooking. The lamb will be very tender and can be pulled apart easily.

Option 2 - You can slice the lamb. Heat a tablespoon of oil in a nonstick skillet until hot. Grill the lamb until the surface turns golden brown. This method is a great choice if you are reheating the lamb.

Option 3 - If you want to create crispy lamb steak without deep-frying, use this method. Spread breadcrumbs on a large plate. Mix egg with potato starch in a separate plate. Slice lamb meat. Heat a thin layer of oil in a nonstick skillet until hot. Dip both sides of lamb in the egg mixture, and then cover with bread crumbs. Cook in the skillet until both sides turns golden brown.

Serve warm as main, or top on steamed rice, with whichever sauce you prefer.