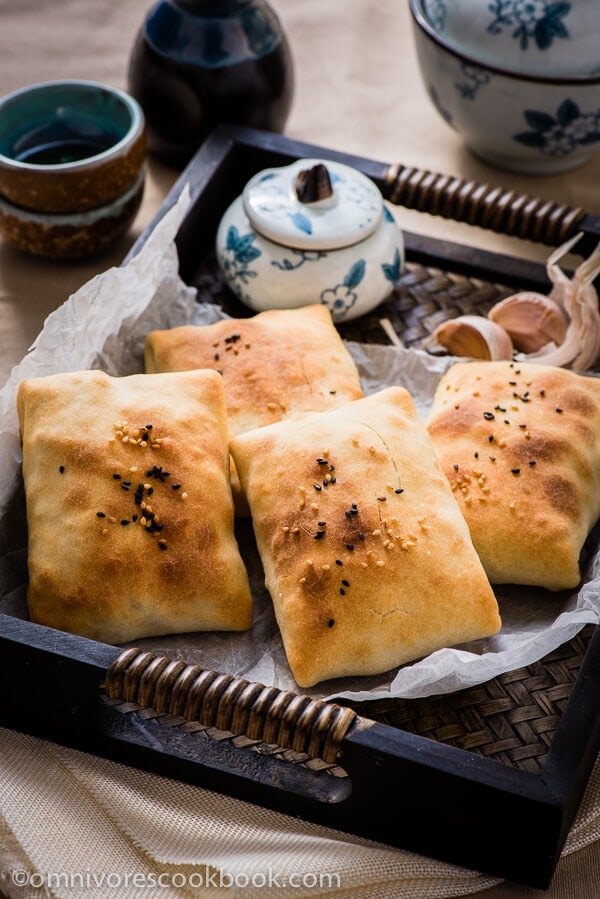 This recipe includes two ways to enjoy the moist and flavorful lamb meat pie: the traditional way and the easy way. So you can choose whether to cook a luxurious main dish for a crowd or a quick snack for a party.
If you've read my previous posts about lamb skewers and Uyghur style noodles, you probably have gotten the idea that lamb is one of the most important staple meats in Xinjiang province. Lamb is also one of the most popular meats in northern, central and western China.
The Uyghur lamb meat pie, or baked samosa (烤包子, kao bao zi), is another delicious Chinese snack that should be discovered by more people.
The cubed lamb and onion are mixed with a few pungent spices, such as cumin and peppercorn powder, to make a rich filling. The filling is then wrapped in a thin sheet of dough. The pie is baked until crispy, with the meat still tender and moist. I especially love the part of the crust that is soaked with delicious juice from the lamb inside, with the other side still crispy.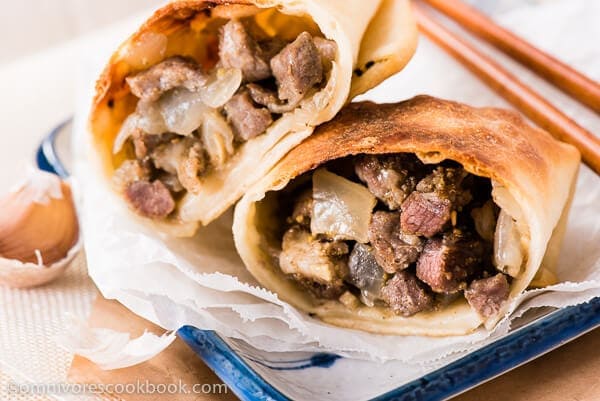 Compared to dumplings, buns, and northern Chinese meat pies, this one is really easy to wrap and takes no effort to cook.
If employing the traditional way of cooking this dish, you'll need to make the dough and roll it out into sheets. It takes a bit of effort and is more suitable for cooking on a weekend. That's why I also came up with another, easier way to cook and enjoy this dish.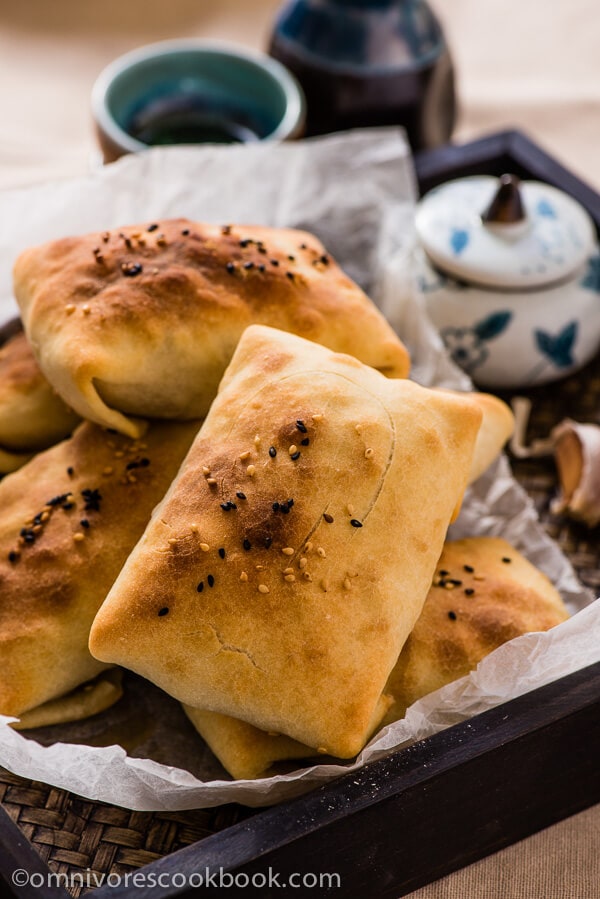 Instead of making the dough from scratch, you simply use egg roll wrappers. This way, you can cut the prep time down to 30 minutes, or even less.
I really love this dish cooked the traditional way. The meat pie has a crunchy crispy texture and a nice aroma from the freshly made dough. The pie will also be larger, with more filling inside. You can serve it as a snack, but I think it's even better served as a main dish.
If you go for the easy way, the lamb roll will be a super flavorful, light, and crispy finger food. If you plan to prepare them beforehand, you could freeze the rolls after wrapping them and bake them right before serving. It makes a great snack or appetizer that you can easily pull from the freezer and quickly have ready, whenever a gathering or a small party comes up.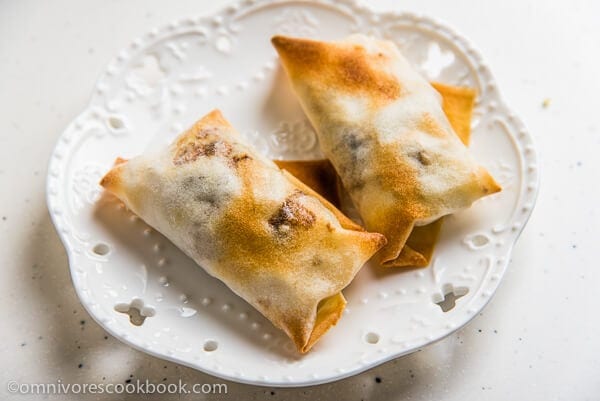 The traditional way or the modern way, which one do you like?

Baked Samosa, Two Ways (Uyghur Lamb Meat Pie, 烤包子)
The recipe generates 10 traditional meat pies or 20 egg rolls.
Ingredients
To cook the traditional way
400 grams (14 ounces) all-purpose flour and extra flour to dust working surface
250 milliliters (1 cup + 1 tablespoon) water
To cook the easy way
25 egg roll wrappers (20*20cm)
For the filling
300 grams (10 ounces) lamb leg meat (or ground lamb)
1 teaspoon minced ginger
1 tablespoon light soy sauce (or 1 teaspoon salt)
1 tablespoon cumin powder
1/8 teaspoon Sichuan peppercorn powder (or black pepper)
1 teaspoon salt
1 tablespoon peanut oil (or vegetable oil)
2 teaspoons cornstarch
1 small (300 grams / 10 ounces) onion, minced
Instructions
Cook traditional meat pie
To make the dough
Add flour to a large bowl and slowly blend in water. Use a pair of chopsticks to whisk the flour until the water is fully absorbed. Dust both hands with dry flour and start kneading, until dough forms.
Dust a working surface with flour and transfer the dough onto it. Knead the dough until the surface turns smooth, about 10 minutes.
Transfer the dough to a large bowl. Cover with a damp dish towel or plastic wrap. Allow to rest at room temperature for 30 to 40 minutes.

To make pie filling
While resting the dough, prepare the filling.
Cube lamb meat into 0.8 to 1 centimeter (0.3 to 0.4 inch) pieces and add them into a large bowl.
Add ginger, soy sauce, cumin powder, salt, and peppercorn powder. Mix well. Add peanut oil and mix again. Add cornstarch in 2 batches and mix by hand until the lamb is evenly coated.
Add onion and mix well.

To wrap the meat pies
Preheat oven to 220 degree C (430 F). Line a baking tray with aluminum foil. Spray (or brush) a thin layer of oil.
Add 2 tablespoons of oil to a small bowl and set aside.
Dust the working surface with flour again and transfer the dough onto it. Divide the dough into two equal pieces and put one piece back into the bowl. Cover well.
Dust both hands with flour and knead the dough several times. Roll the dough into a long stick and further divide into 5 equal parts.

Knead a piece of dough a few times to shape a ball. Press it into a round disc. Roll the dough with a rolling pin to flatten the disc to about 18 centimeters (7 inches) across and 2 millimeters (1/12 inch, like the thickness of a 1 dollar coin) thick.

Place 4 to 5 tablespoons of filling in the center of the dough disc. Brush a thin layer of oil onto the edge. Fold the upper and lower edges of the dough until they overlap each other. Fold the left and right ends so the dough seals the filling inside. Press gently and place onto the baking sheet.

Work on the rest of the dough in the same manner.
Spray (brush) each meat pie with a thin layer of oil on top and sprinkle sesame seeds to garnish.

Bake on the middle rack and bake at 220 degree C (430 F) for about 15 minutes, until the surface turns golden brown.
Let the meat pies cool for 5 minutes, then transfer a plate.
Serve warm as a snack or main dish.
Cook easy lamb roll
To make pie filling
Follow the way above of cooking traditional meat pie. You could replace the cubed lamb leg meat with ground lamb. It's easier to wrap with ground lamb.
To wrap the rolls
Place a sheet of egg roll wrapper on a cutting board (or working surface). If you are using a 15x15 cm sheet, use 2 layers at a time. Place 2 to 3 tablespoons of filling on the lower end of the sheet. Fold the sheet like folding a spring roll: fold the bottom first; then fold both sides to seal the filling; roll and tuck the filling; place it seam side down. (see footnote)

If you plan to freeze the rolls, place a baking sheet in an air-tight container and put the rolls on top. Do not overlap the rolls. Store in the freezer for up to 2 months.

To cook the rolls
Preheat oven to 220 degree C (430 F).
Line a baking tray with aluminum foil. Spray (or brush) a thin layer of oil on the foil.
Place the rolls on the aluminum foil. The side with more layers of wrapper should face down. (Otherwise the rolls will easily break apart during baking, after the juice seeps into the dough sheet)
Spray a thin layer of oil onto the rolls.
Bake on the middle rack at 220 degree C (430 F) for 10 minutes, until the surface turns golden. To cook frozen rolls, bake for about 14 minutes, until the surface turns golden.

Serve warm as a snack or appetizer.
Notes
You can make a cornstarch slurry to seal the rolls, but I found it not necessary. The rolls will be a bit loose but will keep their shape well after baking.
The nutrition facts are calculated based on 1 of the 10 traditional samosas generated by this recipe.