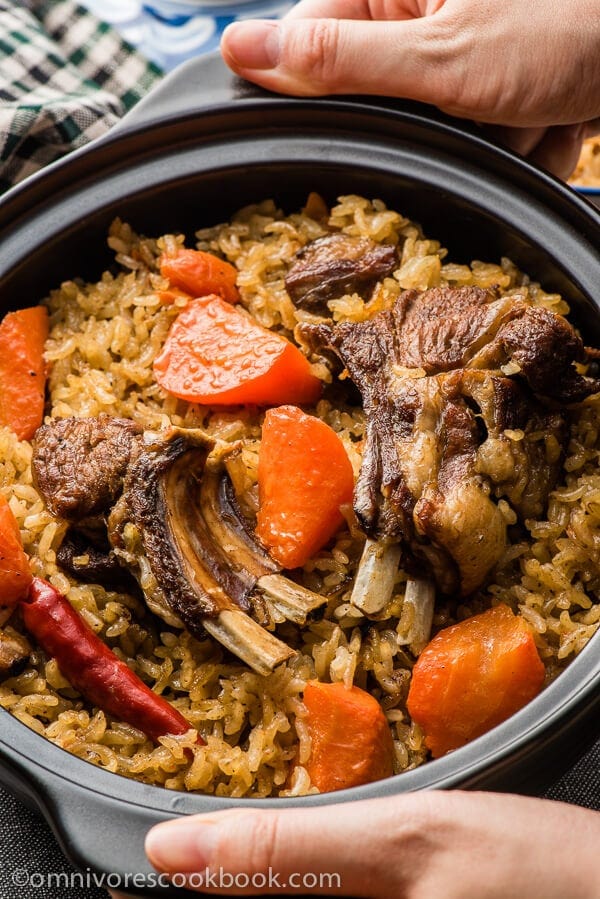 The rice is infused with tons of flavor from the lamb, cumin, and chili peppers, creating a sensational feast. The onion and carrot have a tender, buttery texture. They all come together beautifully with the tender lamb, harmonizing into an addictive flavor that you just cannot stop eating.
If you have read my clay pot chicken recipe, you might have a feeling of deja vu when looking at this lamb pilaf. They even have a very similar cooking method. You need to cook the meat first, then steam the meat and rice in one pot until they are cooked through, just right, at the same time. The meat is cooked until tender and moist. And the rice is soaked with tons of flavor from the meat juices. Not the healthiest type of cuisine, but addictively delicious.
However, the origins of these two dishes are millions of miles away. The clay pot chicken is Cantonese, while the lamb pilaf here is from Xinjiang province, an autonomous region located in the extreme western part of China.
If you google lamb pilaf, the results will show Turkish and Persian versions, which is not surprising. Xinjiang province is also known as Chinese Turkestan and has a lot in common with the countries of the Middle East and central Asia, in terms of culture, cuisine, language, and religion.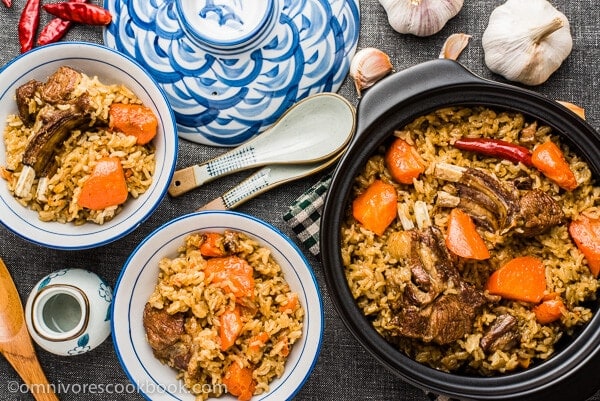 While this recipe includes the signature ingredient cumin, you will also find typical Chinese spices, such as ginger, garlic, and Sichuan peppercorn.
When I cooked this Uyghur style dish, I made a few twists myself, to align it more with the northern Chinese style. I did take care to keep it authentically close to the real Uyghur style, and suppressed my impulse to add soy sauce and cooking wine. However, I skipped the raisins and apricots in order to make the dish more savory. In this way it is closer to the lamb pilaf that my grandma used to cook.
The seasonings in the recipe might look simple, but you will be surprised how rich the flavor is, especially the rice. One thing to remember – this dish is not on the healthy side of the spectrum, because the rice soaks up a lot of grease from the lamb ribs. A lot! But it is also infused with tons of flavor from the lamb, cumin, and pepper, creating a sensational feast. The onion and carrot are cooked until almost melted, giving them a buttery texture. They all come together beautifully with the tender lamb, harmonizing into an addictive flavor that you just cannot stop eating.
I know this is not an especially summer-y dish, but I wanted to share it anyway.
It is the type of dish you'll want to cook when you have plenty of time, and cook while drinking a glass of wine and enjoying the aroma in the kitchen.
With a huge plate of this pilaf, don't worry about the leftovers, even if you're only cooking for two. Just like with a pot of curry, it gets even better after spending a night in the fridge. No matter whether you reheat the leftovers on the stove to create a nice charred fried rice or dump them hastily into a bowl to be microwaved, the flavor of the rice will be heavenly.
If you're feeling adventurous and would like to try something new, isn't this recipe a great choice?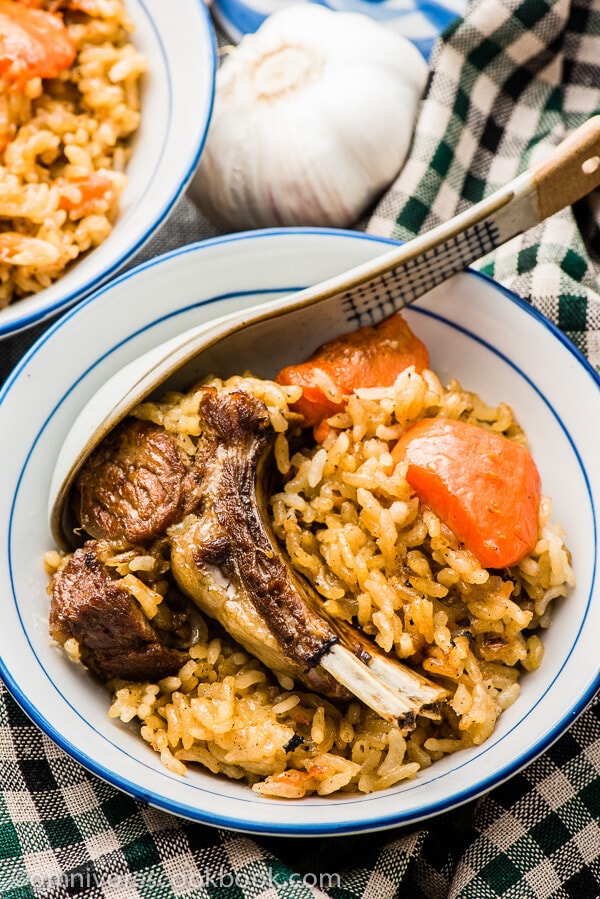 Uyghur Lamb Pilaf (Polo, 羊肉抓饭)
Ingredients
2 tablespoons oil
5 cloves garlic, peeled
3 slices ginger (about 1 tablespoon)
600 grams (1.2 pound) lamb spare ribs, cut into 1 or 2 segments (*see footnote)
2 teaspoons salt
1 (350 grams / 1 pound) onion, chopped
2 (500 grams / 1 pound) carrot, chopped
2 cups (500 grams) rice
1 teaspoon sugar
1 teaspoon cumin powder
5 dried chili peppers (reduce to 2 to 3, for less spicy dish)
(optional) 1 teaspoon Sichuan peppercorn
Instructions
Cut lamb spare ribs into 1 or 2 segments. Prepare vegetables.
Heat oil in a wok over medium high heat until warm. Add garlic and ginger. Stir a few times until fragrant.

Carefully add lamb ribs and let them cook without stirring for 1 minute. Stir and cook for 1 minute. Add 1 teaspoon salt. Stir and cook until the surface of ribs is cooked and turns golden brown, about 3 minutes.

Add onion, stir to mix well, for 1 minute. Add carrot. Stir and cook for 2 to 3 minutes.


Add 3 cups water. Cook until brought to a boil. Skim brown foam from the surface. Add sugar, cumin powder, and chili peppers. Place Sichuan peppercorn in a tea infuser and add it into the wok. Bring to a boil again, then turn to low heat and cover. Cook for 1 hour 30 minutes. During cooking, check on the lamb 3 to 4 times. After 1 hour, add the remaining 1 teaspoon salt. If the water is reducing quickly and no longer covers the lamb, carefully add just enough hot water to cover.

Forty minutes before the lamb is ready, prepare the rice. Rinse rice 2 to 3 times. Cover with water and let soak for 30 minutes. Drain and set aside.

When the lamb is ready, use a spatula to push the lamb to the edges of the wok and leave some room in the center. Add rice to fill the space. If the water doesn't cover the rice completely, add more hot water, about 1/2 to 1 cup. Cover the wok and cook over medium heat for 5 minutes. Uncover, stir, and continue cooking until the water is almost absorbed, about 5 minutes.

Transfer everything to a large dutch oven (or a big pot with a thick bottom). Cover and simmer over lowest heat for 25 minutes.

Serve warm.
Notes
1. If the lamb rib pieces are too large, ask the butcher to cut them across the bone to create shorter ribs. Do not trim off the lamb fat. If you want the dish to be less greasy, trim off a large piece of fat and leave a thin layer to cover the surface of the ribs. You could use other, boneless cuts of lamb, as well.
The nutrition facts are calculated based on 1 of the 8 servings generated by this recipe.
Other rice recipes you might like:
The Best Clay Pot Chicken Rice (鸡肉煲仔饭)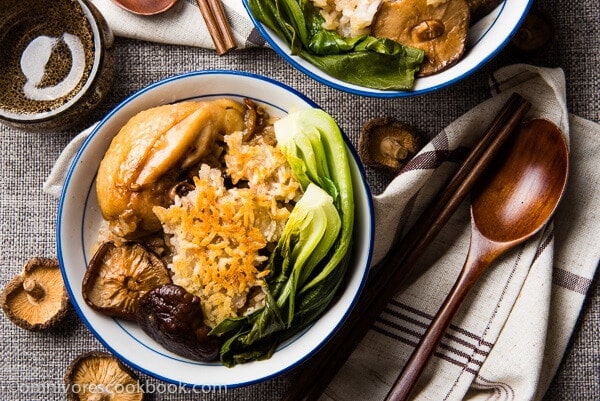 Baked Samosa, Two Ways (Uyghur Lamb Meat Pie, 烤包子)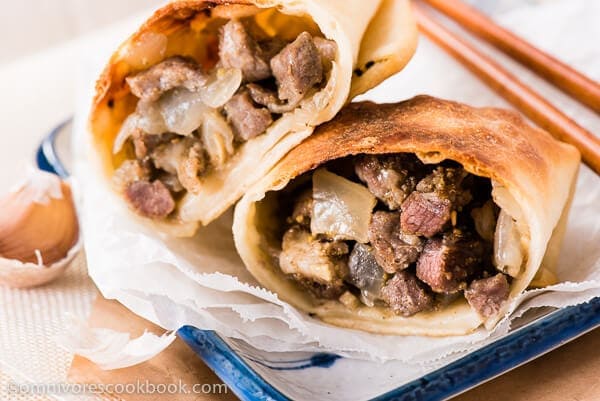 Uyghur-Style Lamb Skewer (羊肉串)