A hearty fried noodle dish that is cooked with a scrumptious tomato sauce with lamb and peppers. Fast to cook and bold in flavor. A must-have for Xinjiang food lovers.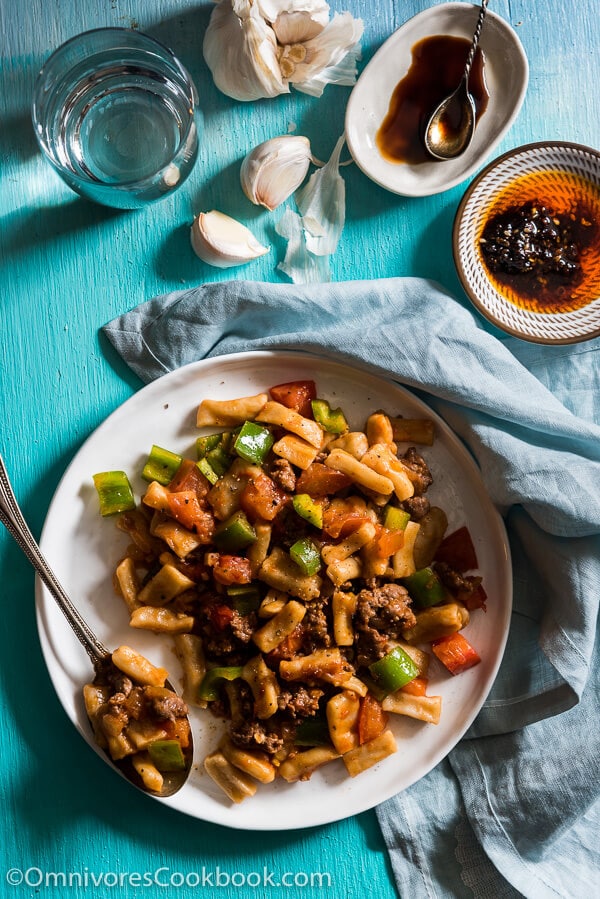 Ding Ding Chao Mian (丁丁炒面) is a signature dish from Xinjiang. The region is located in the far west of China, adjacent to Kazakhstan and Mongolia. The majority of the population is Uyghur (a Turkic ethnic group), and their food is highly influenced by central Asian cuisine, as well as traditional Chinese cuisine.
Xinjiang food is wildly popular in Beijing and we've been eating it we were growing up. Some of our favorite dishes are roast lamb skewers (Chinese kebabs), Baked samosa (A bread with savory filling), and Ding Ding Chao Mian.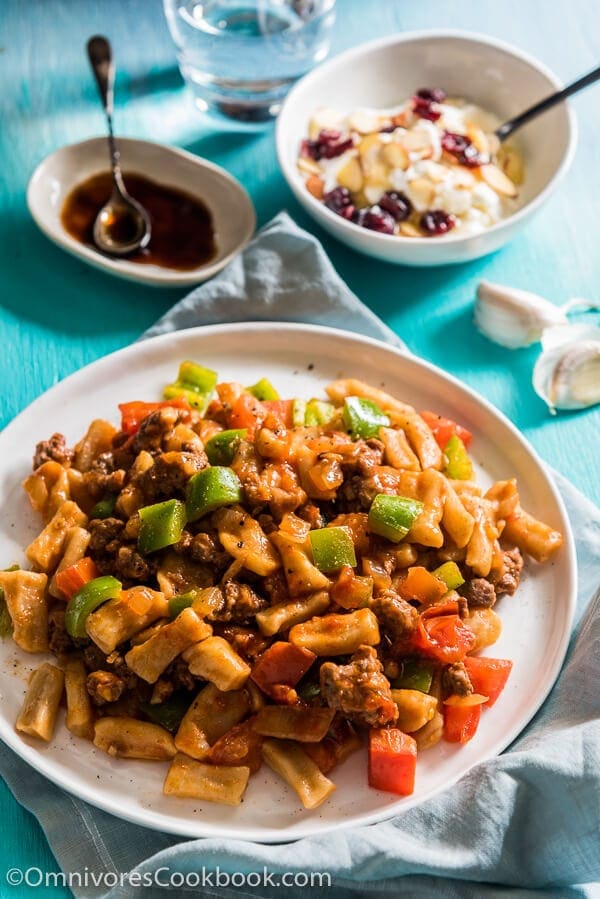 Craving fresh noodles
Fresh handmade noodles are a luxury in the US. Back in China, they're one of the cheapest foods you can get. Even in big cities like Beijing, you can easily find small diners serving handmade noodle dishes at 2 to 3 dollars a bowl.
After eating fresh noodles for years, I've gotten picky about my noodles. That's one of the reasons I feel reluctant to cook with dried noodles. They just don't taste right. I miss the days when I could get fresh noodles for 50 cents a pound from our next-door vegetable market.
I admit, it's a bit too obsessive to make noodles from scratch just to cook a plate of fried noodles. But in order to present this dish the authentic way, freshly made noodles were a must.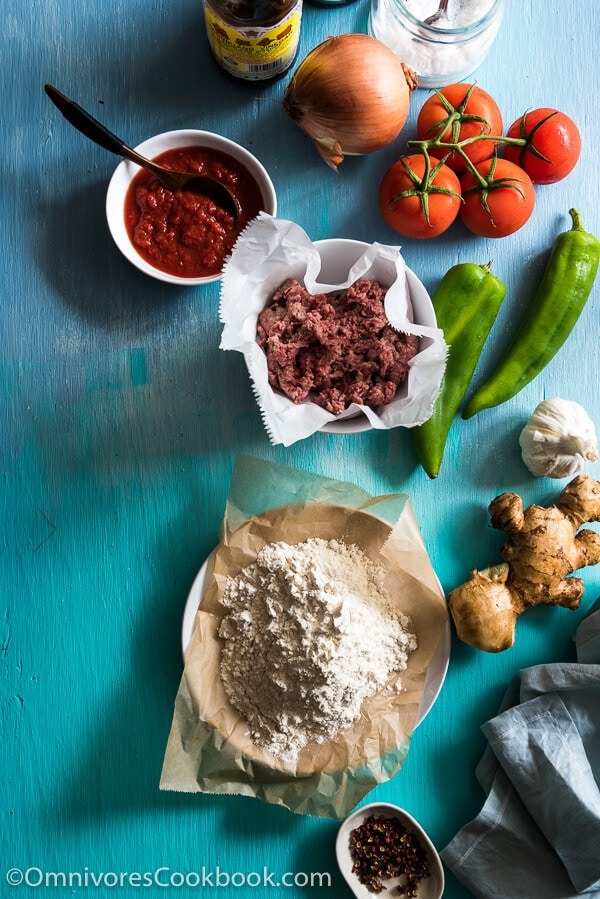 Some of you might have heard of Ding Ding Chao Mian before. For these who haven't, you might wonder why I call these small pieces of dough "noodles" instead of gnocchi. I promise I didn't make this up. We do have this type of noodle in China, and they're shaped pretty similarly to gnocchi. They are freshly made from wheat flour (no potato) and have a very meaty texture.
These short noodles are another form of hand pulled noodles. Instead of pulling the noodles into long thin strips, you leave the noodles thick, and cut them into small chunks. It results in a firmer shape and chewier texture. The short noodles soak up sauce nicely and keep their shape well. Perfect for stir frying.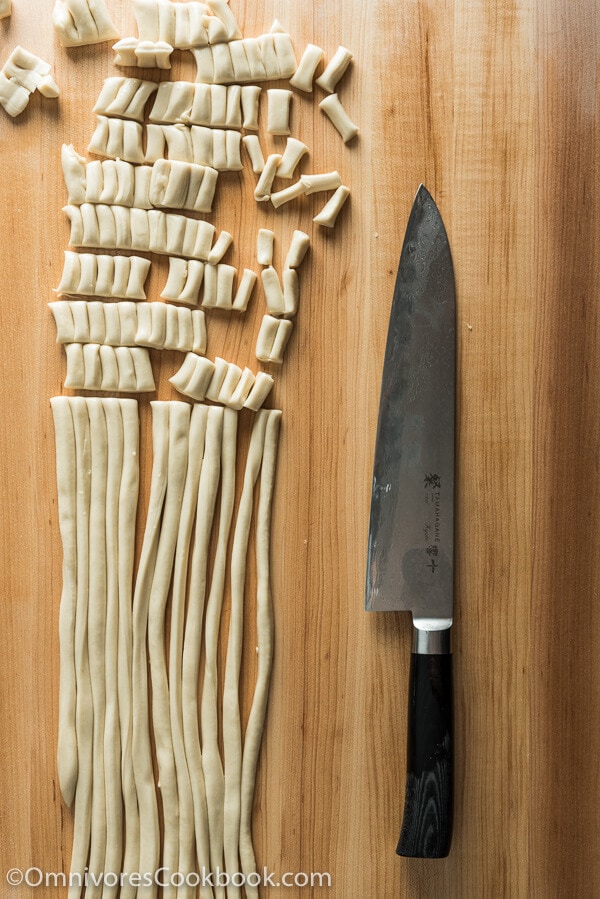 Cooking notes
Do not let the handmade noodles scare you away from this recipe! You can use any type of noodle to cook Ding Ding Chao Mian, even dried.
I recommend you use fresh wide noodles if you can find them. Simply chop the noodles into shorter pieces before boiling them, and you'll have a dish very close to the original one. My other recommendations are Farfalloni and Rotini pasta. They will save you the trouble of chopping. Their texture is firm and very close to the original dish.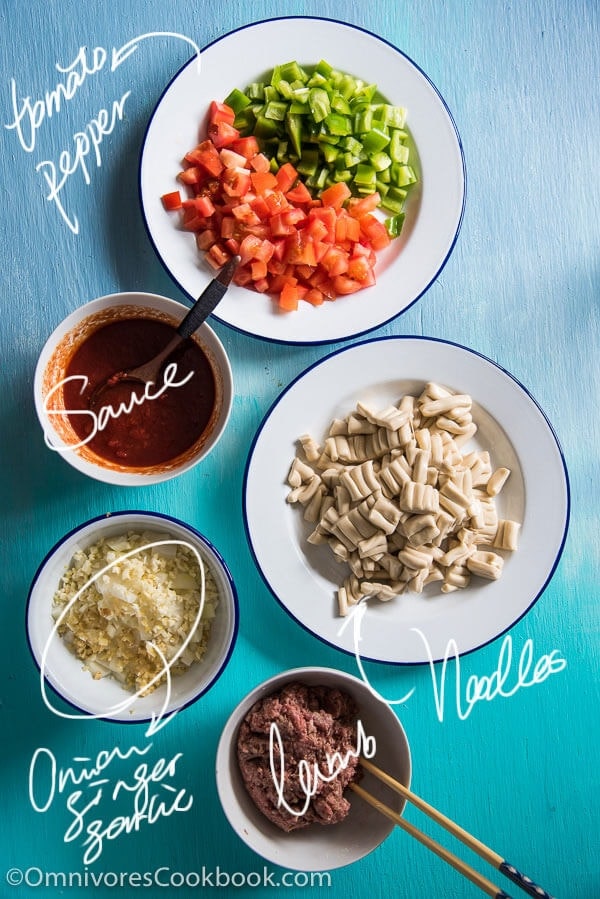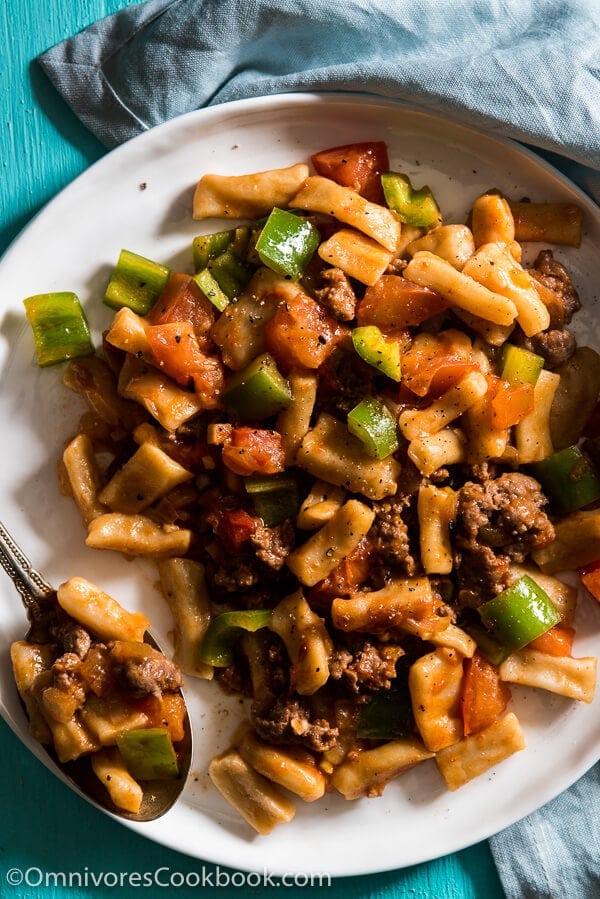 For those who want to challenge themselves with a real-deal Ding Ding Chao Mian, try making the noodles once and you'll find it easier than you thought. If you have a KitchenAid stand mixer, I highly recommend you use it to knead the dough. It saves you time, allows the water to incorporate more thoroughly, and produces a dough that is easy to pull.
A Xinjiang housewife who is familiar with the process can probably get the whole dish done in 45 minutes, from making the noodles by hand to finishing the stir-fry. I can't. But I did manage to finish the whole thing in an hour. It could be a fun weekend project for you to challenge yourself with. And the results are very rewarding.
If you're not making the noodles from scratch, you can finish prep and cooking in 20 minutes. A great option for a quick weekday dinner.
I adapted the recipe from the Ding Ding Chao Mian by the famous Chinese blogger Wen Yi. She is married to a Xinjiang guy and has learned a lot of secrets to create the authentic flavor. When I'm looking for a Xinjiang recipe, I go to her blog first to make sure I'm doing everything right. You can't go wrong when you've learned from the best 🙂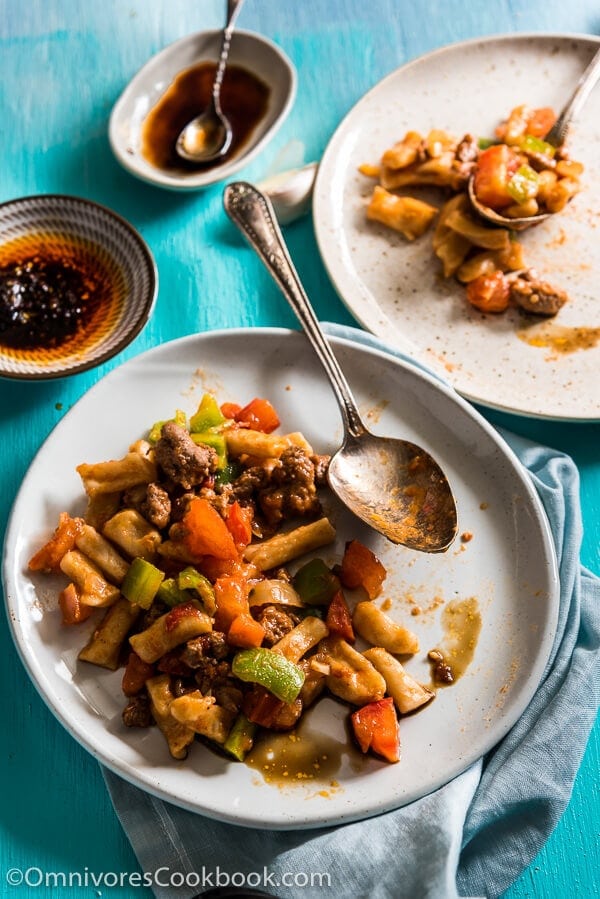 Do you like my recipes? Sign up our weekly newsletter to get the latest updates delivered to your inbox and a FREE e-cookbook that contains my top 30 most popular recipes!
Want to Know More?
Receive our 5-Day Chinese Cooking Crash Course & Recipe Updates! Subscribe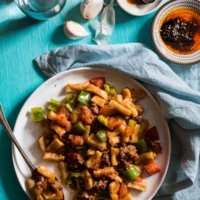 Ding Ding Chao Mian (丁丁炒面, Fried Noodles in Lamb Tomato Sauce)
A hearty fried noodle dish that is cooked with a scrumptious tomato sauce with lamb and peppers. Fast to cook and bold in flavor. A must-have for Xinjiang food lovers.
Ingredients
Noodles (See footnote 1)
300

grams

all-purpose flour

convert to cups

1/8

teaspoon

salt

3/4

cup (180 grams)

warm water

(See footnote 2)
Marinade
1/2

pound (200 grams)

ground lamb

(or lamb leg meat, cubed) (See footnote 3)

2

tablespoons

Shaoxing wine

1/4

teaspoon

Sichuan peppercorn

, grounded (or ground black pepper)

1

teaspoon

salt

1

teaspoon

potato starch

(or cornstarch)
Sauce (*see footnote 4)
1/2

cup

tomato sauce

(*see footnote 5)

2

tablespoons

soy sauce

(or light soy sauce)

1

teaspoon

sugar

1/4

teaspoon

salt

2

tablespoons

vegetable oil

1/2

onion

, chopped

4

garlic

, minced

2

pieces

ginger

, minced

1 to

mato

, cubed

2

anaheim peppers

(or 1 bell pepper, or 2 jalapenos, diced)

2

tablespoons

black vinegar
Instructions
Make noodles
Prepare mixer. Attach the beater blade. Combine flour and salt in the mixing bowl. Turn to low speed. Slowly add water. Let mix until it forms a dough. Change to dough hook. Turn on slow speed and let knead until the dough is very smooth, about 10 minutes. If you're not using a KitchenAid mixer, start by mixing the flour with the water, stirring with a spatula, until the dough forms. Dust a working surface with flour and transfer the dough onto it. Knead until the surface becomes smooth, about 15 minutes.

Spray a thin layer of oil onto the bottom of a large bowl. Place the dough inside. Cover with plastic wrap. Let rest at room temperature for 20 minutes.

While resting the dough, marinate the lamb and chop the veggies.

When the dough has rested, prepare a large cutting board (or working surface). Brush a thin layer of oil in the middle. Place the dough on top. Press it into a 1-cm (1/3-inch) sheet with your hands.

Brush oil on top of the dough. Cover loosely with plastic wrap and let rest for 10 minutes.

Bring a large pot of water to a boil.

Make sure your working surface is covered with a thin layer of oil.

Slice the dough sheet into 10 to 12 strips. Make sure you leave enough space in between them, to prevent them from sticking together.

Work on the strips one by one. Use both hands to pull the strip into a 5-mm (1/4-inch) wide noodle.

Brush a thin layer of oil onto the noodles to prevent them from sticking.

Gather the noodles together again. Cut into 1-cm (1/3-inch) long pieces. The noodles may stick together at this point, but will separate during boiling.

Add the noodles into the boiling water right after you cut them. Immediately stir with a spatula to separate the noodles. Let cook until the noodles are floating on top. Continue cooking for 2 to 3 minutes, until the noodles are almost cooked through.

Drain the noodles and rinse them with tap water, to stop the cooking.
Marinate lamb
Combine ground lamb (or cubed lamb leg), Shaoxing wine, salt, Sichuan peppercorn, and potato starch in a small bowl. Mix well. Let marinate for 10 to 15 minutes.
Make sauce
Combine tomato sauce, light soy sauce, black vinegar, sugar, and salt in a small bowl. Set aside.

Heat oil over medium high heat until hot. Add onion, garlic, and ginger. Cook until the onion turns slightly golden, 2 to 3 minutes.

Use the spatula to move everything to one side of the pan. Add ground lamb onto the other side. Spread the lamb to let the bottom brown slightly. Stir until the surface is cooked.

Mix everything together. Add the tomato sauce mixture. Stir to mix well.

Pour the drained noodles into the skillet. Stir to mix well. Adjust seasoning if necessary. If the noodles are still a bit raw inside, cover and let steam for a minute or so, until cooked through.

Add tomato and anaheim pepper. Stir a few times to gently cook the veggies.

Transfer to plates and serve immediately.

(Optional) Pour a spoonful of black vinegar onto your noodles before eating, just like real Xinjiang people do.
Notes
You can use Chinese noodles (the wide type), Farfalloni or Rotini to make this dish as well. If you use Chinese noodles, chop them into 5-cm (2-inch) pieces and boil them until al dente.
I used hot water from the tap, about 50 degrees C (120 to 130 F).
You can use other ground meat too, such as chicken or beef. Most Xinjiang dishes are halal. To keep the dish authentic, stay away from pork.
The original dish only uses the minimum amount of sauce as a seasoning. I have increased the sauce, but the amount is still moderate. If you like lots of sauce, skip the salt and double the sauce given here. You can adjust seasoning at the end of the cooking.
I used Muir Glen arabella select plum tomatoes sauce

, which have a bright and fresh flavor. Alternatively, you can use 3 tablespoons tomato paste with 3 tablespoons water.