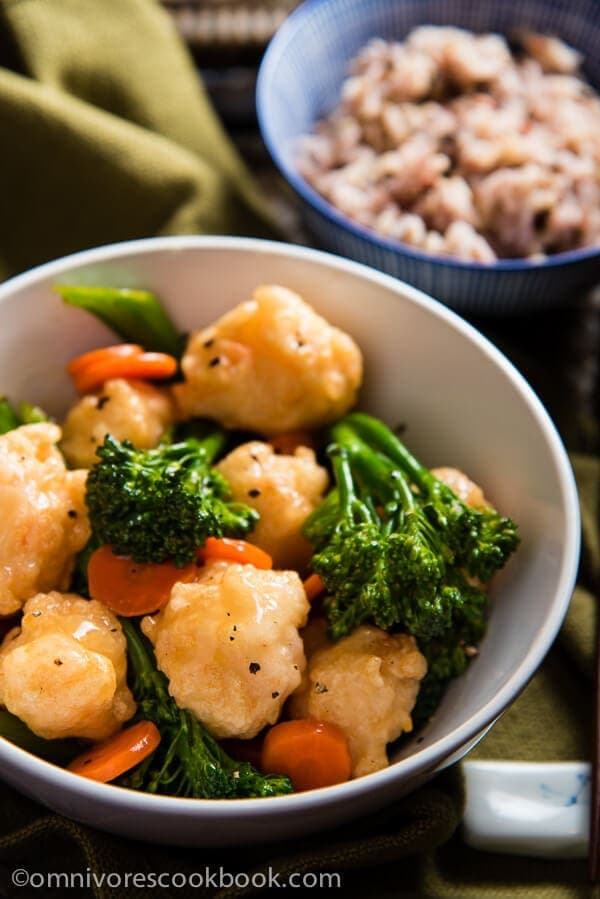 Lemon shrimp balls can be served as a light main dish or as a cold salad. The shrimp balls have a hint of coconut flavor and a springy mouthfeel. The lemon sauce is simple and appetizing and brings out the flavor of the sea. Check out the recipe to learn a whole new way to enjoy shrimp!
Yesterday I got a big box of goodies delivered to my door . It was the Paleo Prime Plus package from SizzleFish – a collection of shrimp, scallops, salmon, cod, and several other types of fish. I was grinning like a five-year old who had just been given a bag of candy. It was almost too difficult to decide which one to cook first. Thank you, SizzleFish for sending this awesome welcome gift!
Thomas and I both love seafood. We have at least one fish dish on our dinner table every week. I love shrimp even more than I love fish. If I see some inexpensive, fresh shrimp at the supermarket, I grab a bag and store it in the freezer. I like to add shrimp to all sorts of dishes: appetizers, salads, pastas, soups, congee, braised, and stir-fried dishes, grilled, etc. It is just so easy and fast to cook and tastes great with almost any seasoning.
I tried a slightly different thing yesterday. I combined the Cantonese style shrimp balls with the sauce from lemon chicken, to create a whole new way to enjoy shrimp.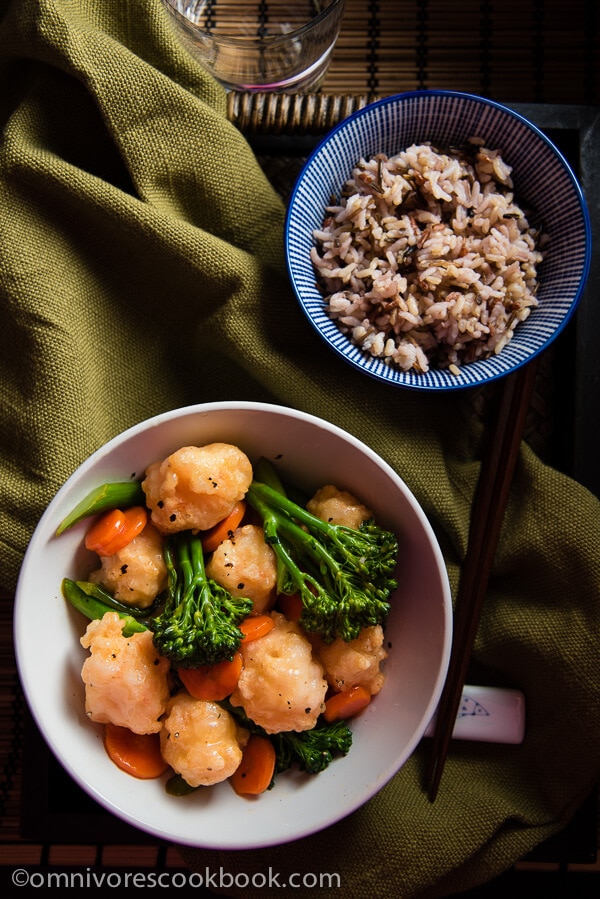 To cook really tasty shrimp balls, you need to use very fresh shrimp, make a proper paste, and fry them correctly. In Cantonese cuisine, it requires adding lard into the paste, so the shrimp balls will be springy, extra tender, and have a great taste. In this recipe, I replaced lard with coconut oil. It helps to create a healthier paste while still keeping the shrimp balls tender, and it adds a nice sweet coconut flavor.
You might imagine the cooking would be messy, since it requires frying. That's not true at all.
If you use a deep, heavy pan, such as a traditional wok, a flat-bottom wok, or a dutch oven, you won't get any oil spatter at all. If you're using a gas stove, use medium heat to heat the oil slowly, so the it won't get too hot too quickly. I was using an electric stove and set the heat to six (out of ten) all the way through. The frying was so easy and made zero mess.
The other thing to note is that you should add plenty of oil to cover the ingredients. It seems like the recipe contains a lot of oil, but the shrimp balls will only absorb a tiny amount during cooking. You could reuse the oil later, too. Since this recipe does not require batter, the leftover oil comes out really clean, so clean that I didn't need to filter it.
The truth is, these fried shrimp balls are so good that you can totally enjoy them directly after frying. If you want an easy appetizer, simply serve them with salt and pepper, sriracha, or Thai sweet chili sauce.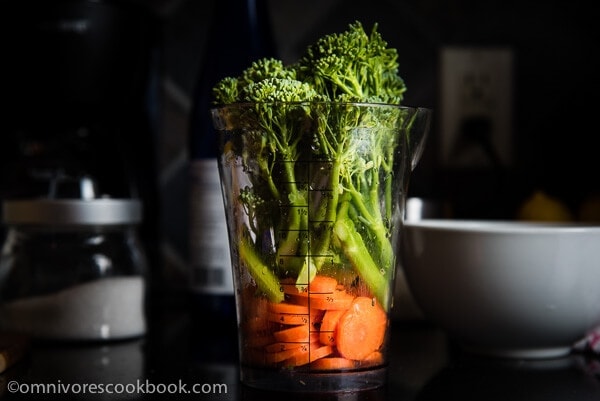 If you want to have a more balanced meal with some veggies, use this light and appetizing sauce to create a quick stir fry or salad dressing. It takes only another 10 minutes to prep and cook. You can cook the shrimp balls and veggies in the lemon sauce and serve them warm as a main. Or you can wait for the sauce to cool off, drizzle it on the shrimp and veggies to make a cold salad. They're both so delicious!
Meal Plan:
Light Dinner: Lemon Shrimp Ball Salad (Double the sauce and veggies) + whole grain bread
Classic Chinese: Steamed rice + Spicy Cauliflower Stir Fry + Lemon Shrimp Balls
Grain-free: Green Onion Tofu Salad (10 mins) + Lemon Shrimp Balls + Oyster Mushroom Stir-fry (15 mins)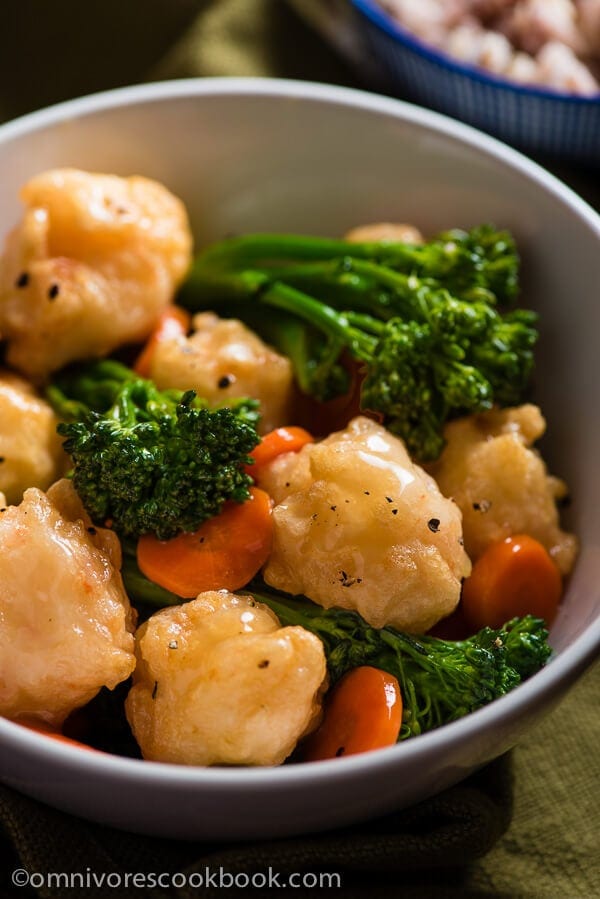 Want to Know More?
Receive our 5-Day Chinese Cooking Crash Course & Recipe Updates! Subscribe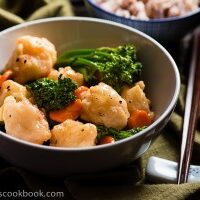 Lemon Shrimp Balls
Lemon shrimp balls can be served as a light main dish or as a cold salad. The shrimp balls have a hint of coconut flavor and a springy mouthfeel. The lemon sauce is simple and appetizing and brings out the flavor of the sea. Check out the recipe to learn a whole new way to enjoy shrimp!
Ingredients
Shrimp balls
8

ounces (230 grams)

shrimp

, peeled and deveined (I used wild caught Gulf shrimp from SizzleFish)

1

egg white

1

tablespoon

coconut oil

1/4

teaspoon

salt

1

tablespoon

potato starch

1/4

teaspoon

ginger juicy

(or 1/8 teaspoons ginger powder)
Sauce
3

tablespoons

lemon juice

the yield of 1 big lemon

2

tablespoons

sugar

2

teaspoons

potato starch

1/2

teaspoon

salt
Stir-fry
Vegetable oil for frying

1

carrot

, sliced

1

small batch (100 grams)

broccolini

(or broccoli)

Black pepper to garnish

(Optional)
Instructions
Pat shrimp dry with paper towel. Chop shrimp into small pieces. Use a cleaver or a heavy knife to chop and smash the shrimp into a paste. Alternatively, you could make the shrimp paste with a food processor. Transfer to a big bowl.

Add egg white, coconut oil, salt, potato starch, and white pepper powder to the shrimp paste. Chop 2 slices fresh ginger. Use a garlic press to squeeze about 1/4 teaspoon ginger juice onto the shrimp paste (or add ginger powder).

Mix the shrimp and all the ingredients until it forms a consistent and sticky paste that can just hold its shape.

Mix the all the ingredients for the sauce with 1/4 cup water in a small bowl.

Add oil to a wok until it's 1 inch (2.5 cm) deep (*see footnote) and heat over medium high heat.

When heating the oil, prep the vegetables.

When the oil is getting hot (registering 350 degrees F / 150 C), use a spoon to carefully shape the shrimp paste into a ball. Carefully place it into the oil. Continue to form and place them into the oil one by one. Cook a few shrimp balls at a time, so the wok won't become too crowded, and the oil temperature doesn't drop too fast.

Fry until the shrimp balls turn pale golden brown, 3 to 4 minutes. Use a slotted spoon to drain them gently, then transfer them to a plate lined with paper towels.

Heat 1/2 tablespoon oil in a nonstick skillet over medium high heat until warm. Add carrot and broccolini. Stir and cook for 1 minute. Swirl in 2 tablespoons water and cover immediately. Steam until the veggies are cooked through, 2 minutes. Transfer to a plate.

Heat a skillet over medium low heat until warm. Add lemon sauce. Cook and stir until sauce thickens. Turn off heat.

(Option 1) Add shrimp balls and veggies back into the skillet. Stir until the ingredients are evenly covered with sauce. Transfer everything to a plate. Grate black pepper over the dish to garnish. Serve by itself or over steamed rice as a main.

(Option 2) Transfer the sauce to a bowl to cool. Add shrimp balls and veggies to a big bowl, drizzle with the lemon sauce to serve as a cold salad.
Notes
I recommend using a wok or a flat-bottom wok here, because it requires less oil. Alternatively, you can use a small, deep pot for the frying.
Nutrition
Serving:
348
g
,
Calories:
410
kcal
,
Carbohydrates:
28.1
g
,
Protein:
49.2
g
,
Fat:
10.6
g
,
Saturated Fat:
7.1
g
,
Cholesterol:
421
mg
,
Sodium:
1419
mg
,
Potassium:
650
mg
,
Fiber:
2.2
g
,
Sugar:
14.9
g
,
Vitamin A:
6000
IU
,
Vitamin C:
78.4
mg
,
Calcium:
220
mg
,
Iron:
1.1
mg