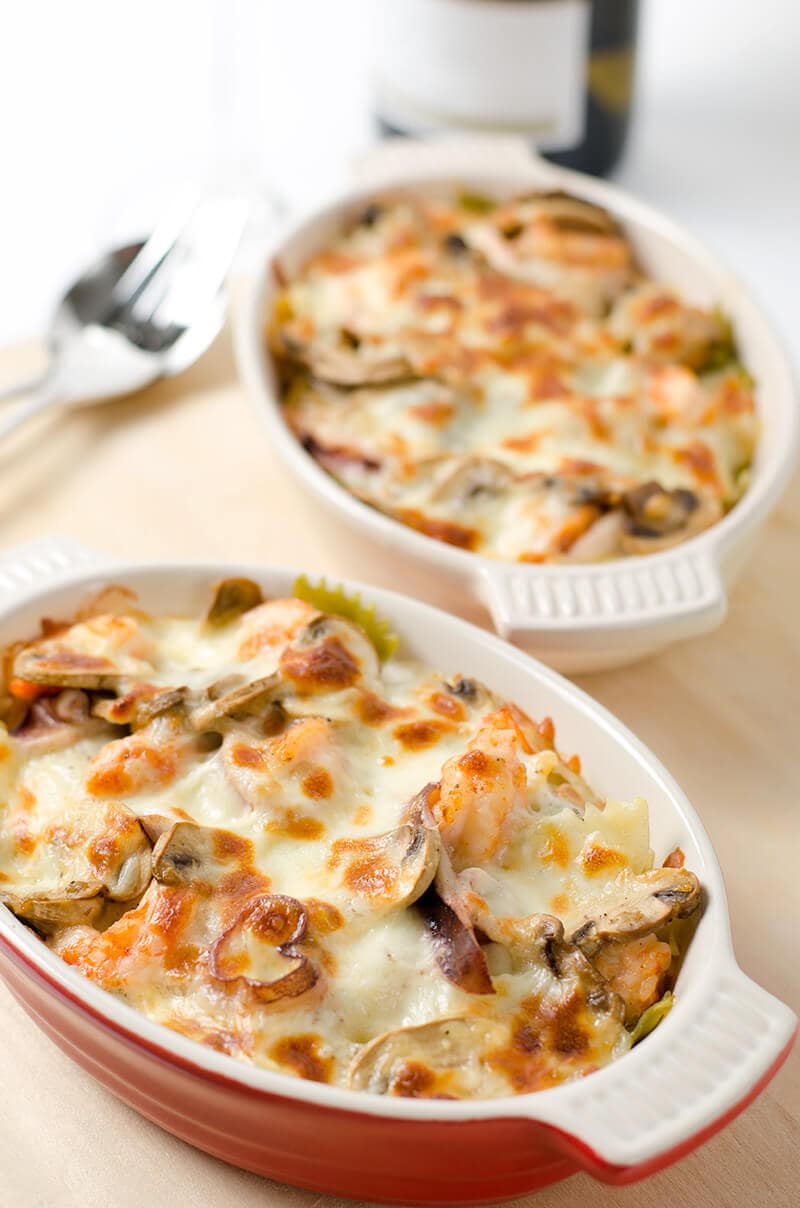 I love pasta. I love anything cooked with white sauce and cheese. I also love seafood. So guess what the best combination for me is? Baked seafood pasta, of course!
This recipe was inspired by this Seafood Pasta Bake by Paula Jones. Although most of my blog posts focus on Chinese and Asian cooking, this is the kind of dish that I can never get enough of, and it's difficult for me not to blog about it.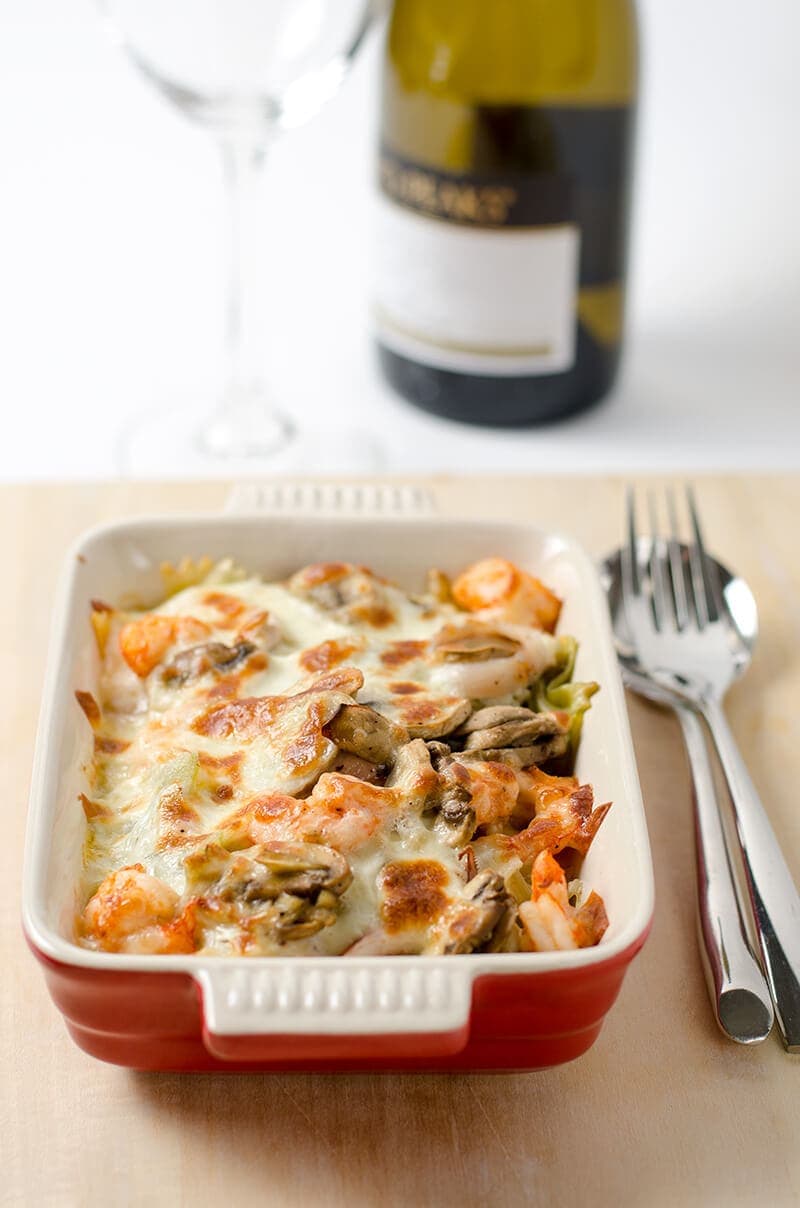 To speak of my early encounters with Italian food, the truth is, I didn't have any authentic dishes at all. There was only one Italian restaurant near my home, which was called "Spaghetti House". Like every diner that serves unfamiliar foreign food and wants to survive, it had to adapt to the local palate, dining habits and preferences. This so-called "Italian" place served grilled chicken wings, fried cheese, onion rings, and Spanish seafood paella. They did not serve risotto, stuffed pasta, such as ravioli or tortellini, fresh mozzarella, or any salad dressing made with olive oil. Sound crazy enough? The first time I went to a real Italian restaurant, almost nothing looked familiar to me.
However, there was one dish I did love from the Spaghetti House – baked seafood pasta. In this recipe, I tried to recreate the dish I loved, authentic or not. I'd say, mine tastes even better than the one in the restaurant, because it uses plenty of shrimp and squid, which make it very rich.
This dish takes some time to prepare, but if you get everything half cooked and assembled ahead of time, the cooking will be very easy. It's especially convenient if you cook it for a lot of people or use it for a party. You could also cook a big batch and freeze the leftovers.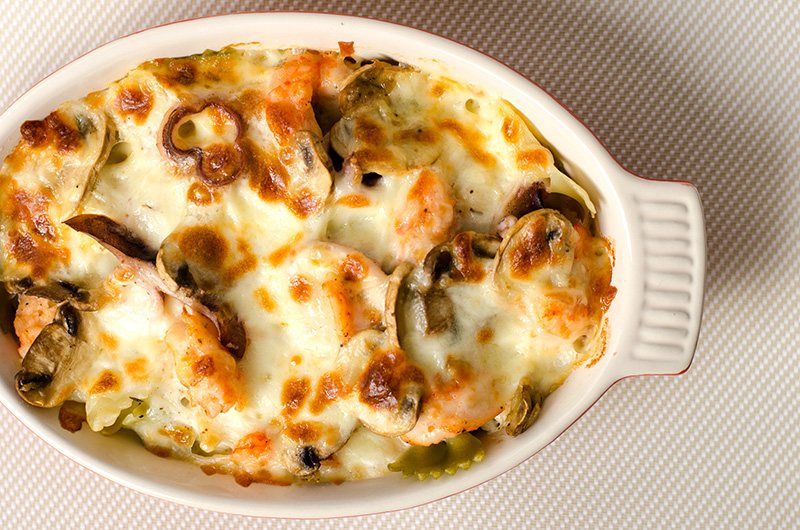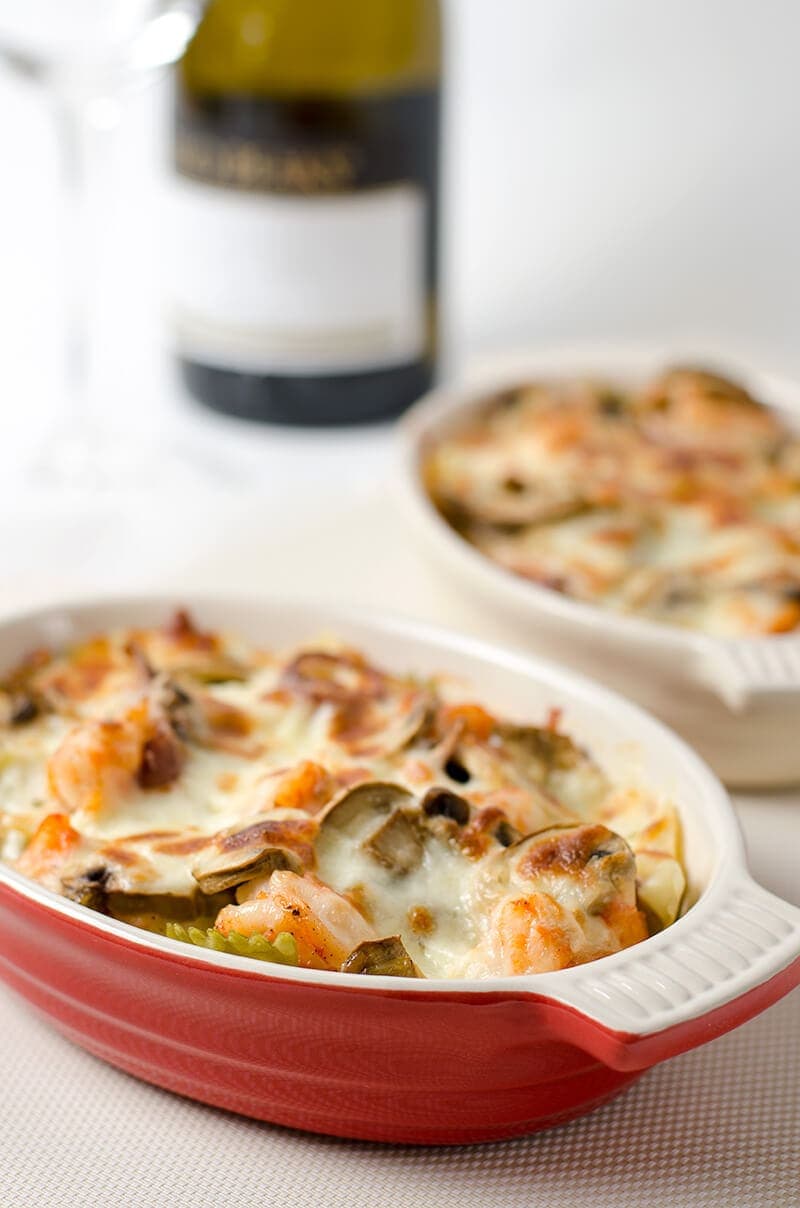 Baked Seafood Pasta
Ingredients
2 teaspoons white rum
200 grams (7 ounces) peeled shrimp
1 squid, cut into rings
sea salt and pepper to taste
3 tablespoons butter
3 tablespoons all purpose flour
3 cups milk
1/4 teaspoon chicken bouillon
1/2 teaspoon thyme
1/4 teaspoon nutmeg
2 tablespoons olive oil
2 cups white mushroom, sliced
4 cloves garlic, chopped
250 grams (9 ounces) pasta
1 and 1/2 cup shredded mozzarella cheese
Instructions
In a small bowl, add the shrimp, 1 teaspoon rum, slightly grated salt and pepper and mix well with a fork.
In another small bowl, add the squid, the rest of the rum, slightly grated salt and pepper and mix well with a fork.
In a medium sizde sauce pan, melt the butter on medium low heat, whisk in the flour and mix with a wooden spatula immediately, mixing until the flour is completely integrated with the butter. Keep stirring for another 1 or 2 minutes, pour in all the milk at one time and immediately stir with a spatula. Turn to medium heat and keep stirring, until boiling, then turn to medium low heat. Add salt, pepper, chicken bouillon, thyme and nutmeg. Simmer until the sauce turns thick, after about 5 minutes. Adjust seasoning by adding more salt and pepper. The sauce should taste a bit salty by itself.
Bring a big pot of water to a boil and cook pasta according to instructions until al dente. Drain and set aside.
In a non-stick skillet, add 1 tablespoon of olive oil and heat on medium high heat. When oil is warm, add garlic and stir until fragrant. Add mushrooms and stir fry until mushrooms are cooked through and juice is fully absorbed. Place mushroom on a plate and set aside.
In the same skillet, heat half a tablespoon of olive oil, grill shrimp side by side, until both surfaces turn pink but the shrimp are not cooked through yet. Place shrimp on a plate and set aside.
In the same skillet, heat the rest of the olive oil and add squid, stirring until the surface of the squid turns white but the squid is not yet cooked through. Place squid on a plate and set aside.
Preheat oven to 180 degrees C (350 F).
To assemble pasta, place a layer of pasta in a baking pan / casserole dish, add pasta and white sauce, place a layer of shrimp, squid and mushroom, then top with mozzarella. Cover the pan with aluminum foil, bake on the middle rack for 15 minutes, then uncover and bake at 200 degrees C (400F) for another 5 minutes, until the cheese turns golden.
Let the pasta cool down for about 5 minutes, then serve warm with chilled sparkling wine or dry white.
The nutrition facts are calculated base 1 of the 4 servings produced by the recipe.