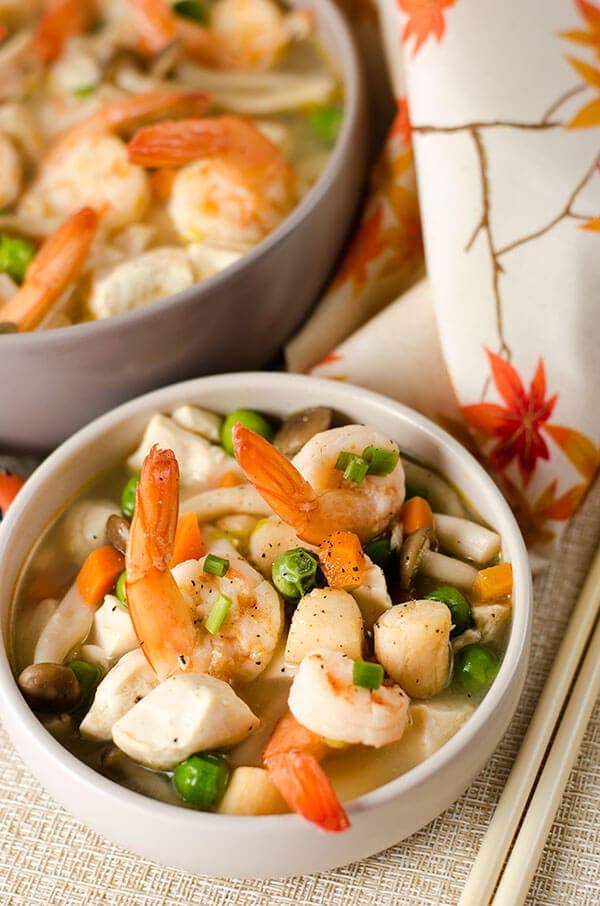 Seafood tofu stew is hearty, rich, and packed with nutrition. The soft and silky tofu is braised in a scrumptious chicken soup that is further enhanced by shrimp and scallops. The soup is buttery, rich, and abundant with goodies. It has a savory taste that is balanced by the light sweetness of the carrots and peas. One serving contains only 200 calories and the whole thing takes 30 minutes to prepare. What a perfect comfort dish for a cold winter day!
Beijing is getting colder every day and moving quickly toward winter. When a light jacket and thin sweater cannot protect me from the chilling wind, I start to crave hot stew and soup. I really like the seafood stew served at a nearby Chinese restaurant. Last weekend, I decided to recreate this dish at home.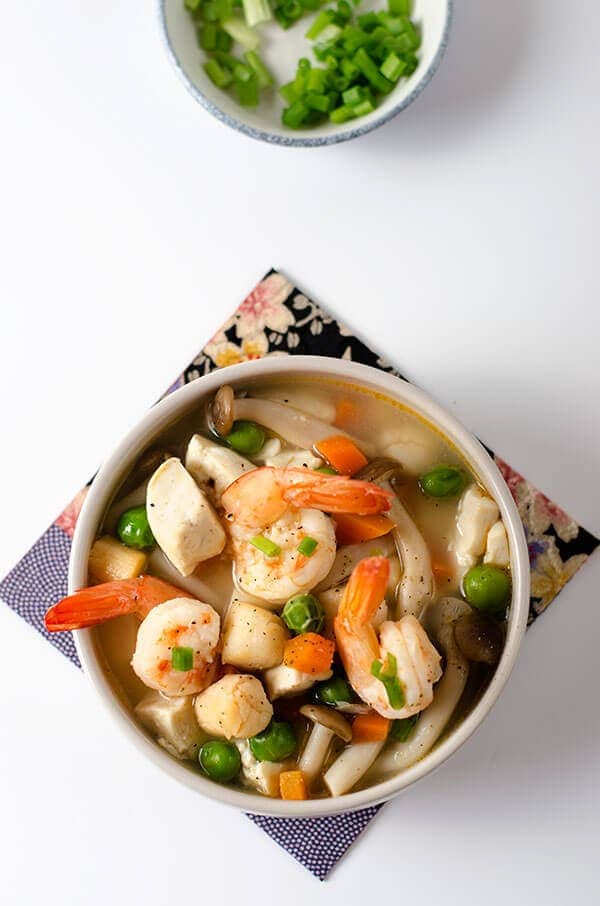 The idea of the soup is really simple. You just need a rich chicken broth to make the soup base, some frozen seafood to add flavor, and a pack of soft tofu to take the lead role. When I made the dish at home, I slightly altered it by adding mushrooms and some colorful veggies to make it even healthier and look better in photos. The veggies added a nice sweetness and the mushrooms made the dish near perfect, which I wasn't expecting.
My boyfriend was coming to Beijing to visit the week I made the stew. When I showed (read: showed off) the stew picture to him, he loved the idea and immediately asked me to make it for his first dinner. After a 14-hour flight, with 13 hours' time difference of jet lag, what could be more comforting than a hot, hearty stew?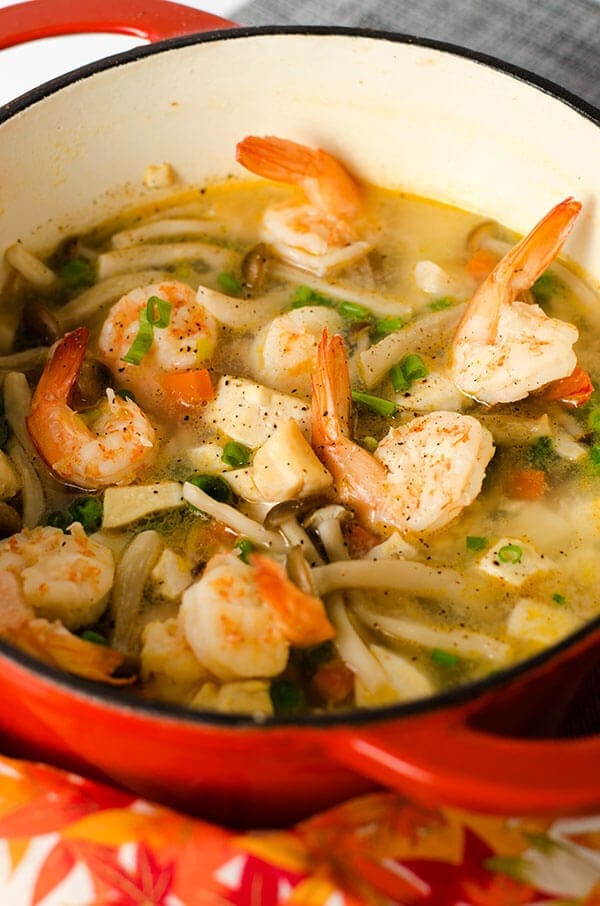 The truth is, the first time I cooked the dish at home, I took a shortcut and used chicken bouillon powder. The soup tasted great and I loved it. But when making it for my boyfriend, I decided to try it with the real deal chicken stock instead. So, I went to shop for a high grade free range whole chicken over the weekend and made a very condensed chicken stock. I made the stew again with the same recipe, only replacing the chicken bouillon with chicken broth. The result was AMAZING!
It was so amazing that even I was surprised at the result! Can you imagine a soup very dense in texture, with a semi-opaque color, without adding any cornstarch to thicken the soup? I need to start using real chicken stock instead of chicken bouillon powder in every dish I make from now on!
A Few Quick Tips for Cooking This Dish
Coat the seafood in a thin layer of cornstarch – this will help the seafood stay tender during cooking without drying out. If you don't like cornstarch, though, simply skip it.
Stir fry the seafood and veggies before adding them into the soup – this will eliminate the fishy smell, enhance the flavor of the stew, and quicken the braising process. It may sound like a bit of a hassle, but is really worth the time.
Use the right size pot – says Julia Child. In this case, use a 1.4-liter (1.5-quart) baby dutch oven, as it can just hold everything.
Choose soft or silken tofu. The stew will be finished in a short period of time, so a softer tofu will make for better texture and flavor. You can use a small knife to cut the tofu while is is in the package, and add it into the pot directly. Use a wooden spatula to stir the stew after seasoning. This way, the tofu will hold its shape well through the braising process.
Use real chicken stock. This really makes a difference. But if you don't have chicken broth, using chicken bouillon powder will work too.
Add a spoonful of grease from the top of the chicken stock, if you have any. Of course it will add a few calories to the dish, but chicken grease contains a very condensed flavor and it will thicken the soup once emulsified.
Add enough salt, preferably sea salt, until the broth tastes a bit salty by itself. If you have a spoonful of soup with tofu, seafood and veggies, it should taste just right.
I'm getting hungry all over again, just writing this post. I'll stop here today and head to the kitchen! What should I cook the next? Come back soon to check out my next recipe! 🙂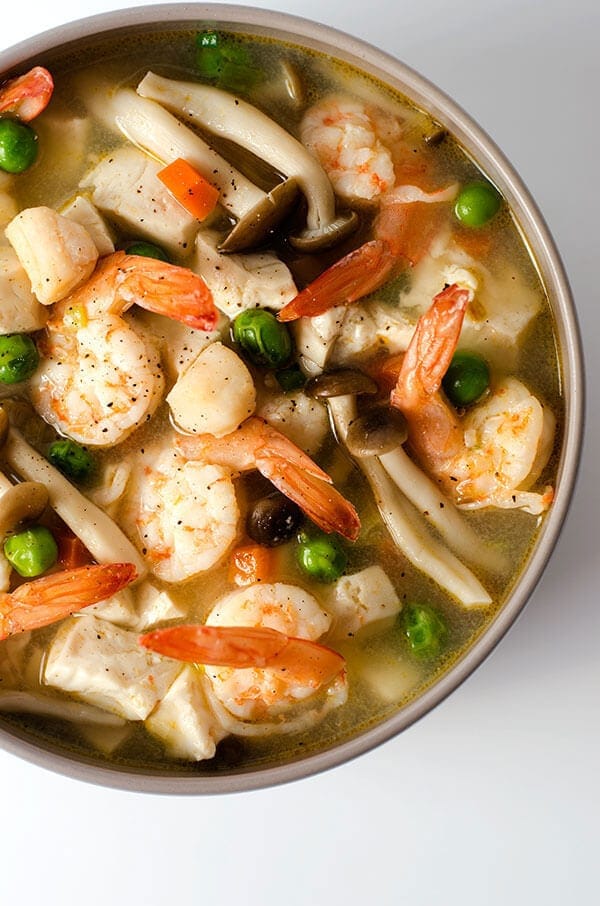 Want to Know More?
Receive our 5-Day Chinese Cooking Crash Course & Recipe Updates! Subscribe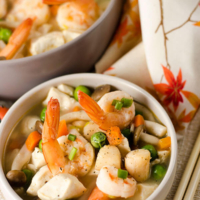 Seafood Tofu Stew
This recipe yields 2 servings as main and 4 servings as side.
Ingredients
250

grams

9 ounces mixed seafood (about 1 and 1/2 cup shrimp, scallops and / or squid)

salt and pepper

1

teaspoon

cornstarch

2

teaspoons

vegetable oil

1

teaspoon

sliced ginger

2

tablespoons

chopped green onion

optional 1 cup mixed diced carrot and peas

1

pack 450 grams

1 pound soft tofu, cubed

1

cup

shimeji mushroom

or other preferred type

2

cups

chicken stock

or 1 teaspoon chicken bouillon and 2 cups water
Instructions
Dry mixed seafood with a paper towel. Place seafood in a small bowl, lightly season with salt and pepper, and mix well. Add cornstarch, mix well, and allow to sit at room temperature for 10 minutes.

While marinating the seafood, prepare the vegetables.

Heat vegetable oil in a non-stick skillet. When oil is warm, add ginger and green onion. Stir a few times, until fragrant. Add carrot and peas, stir for 2 minutes, until the veggies are half cooked through. Add seafood and stir until the surface is cooked, about 1 minute. Stop heat.

In a 2-quart dutch oven, carefully spread the tofu on the bottom. Transfer the seafood and vegetables onto the tofu. Add chicken broth. Bring to a boil over medium high heat. Turn to low heat. Simmer, covered, for 10 minutes. Add salt and black pepper to taste. The broth should taste slightly salty by itself, but just right when eaten with the tofu.

Serve warm.
The nutrition facts are calculated based on 1 of the 4 servings generated by the recipe.