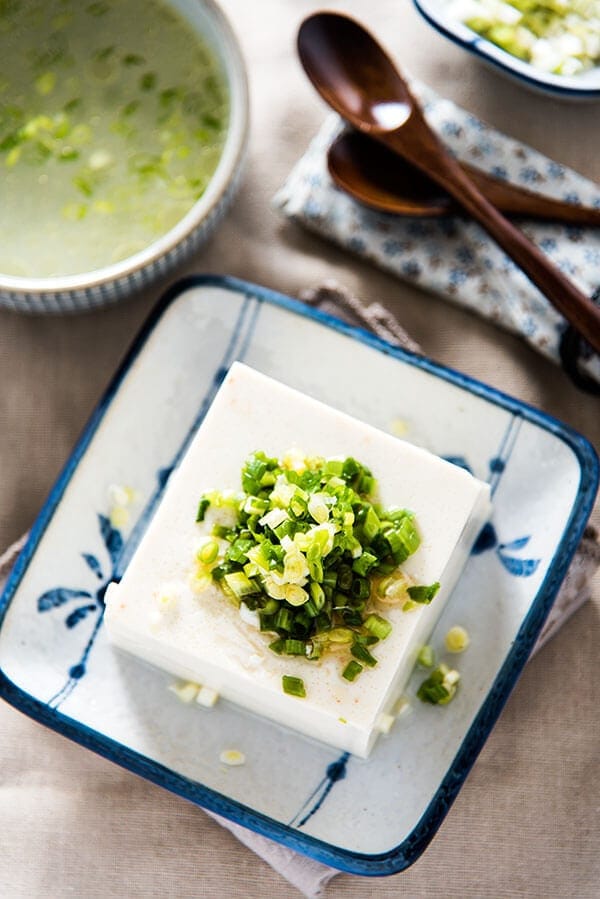 Green onion tofu salad contains only four ingredients and takes five minutes to prepare. The tofu tastes so refreshing with the nutty sesame oil and pungent green onion.
Green onion tofu salad is the best example of the simplicity of Chinese cold dishes, as an appetizer in the context of Western cuisine. It contains only four ingredients and takes five minutes to put together. The salad has a very refreshing flavor and the nutty sesame oil makes it stand out. It's one of the best and tastiest ways to add healthy protein to your daily meal without adding many calories or spending much time in the kitchen.
This salad is a classic dish in Chinese home cooking. You can also easily find it in small restaurants, especially those that serve simple food such as congee and steamed buns. It's one of the most popular cold dishes in China, but it's so simple that it is rarely mentioned on food websites.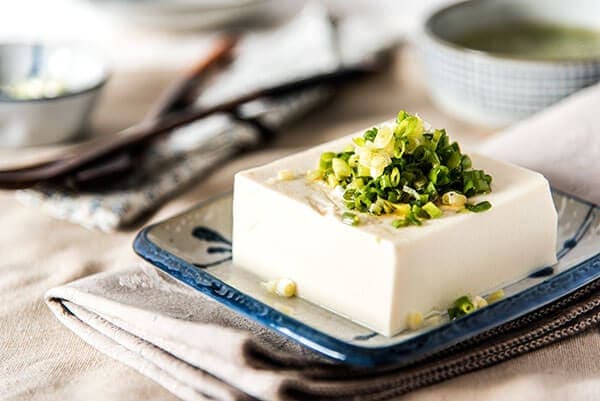 You might be familiar with cooking firm or semi-firm tofu in stir-fry, braised dishes, or frying. But did you know that you can cook a lot of dishes with silken tofu too? It's true, the soft tofu is so fragile and will easily fall apart. But if you're careful enough and learn a few tricks about how to handle it, the finished tofu dish will be beautiful and delicious (not a pile of random chunks!).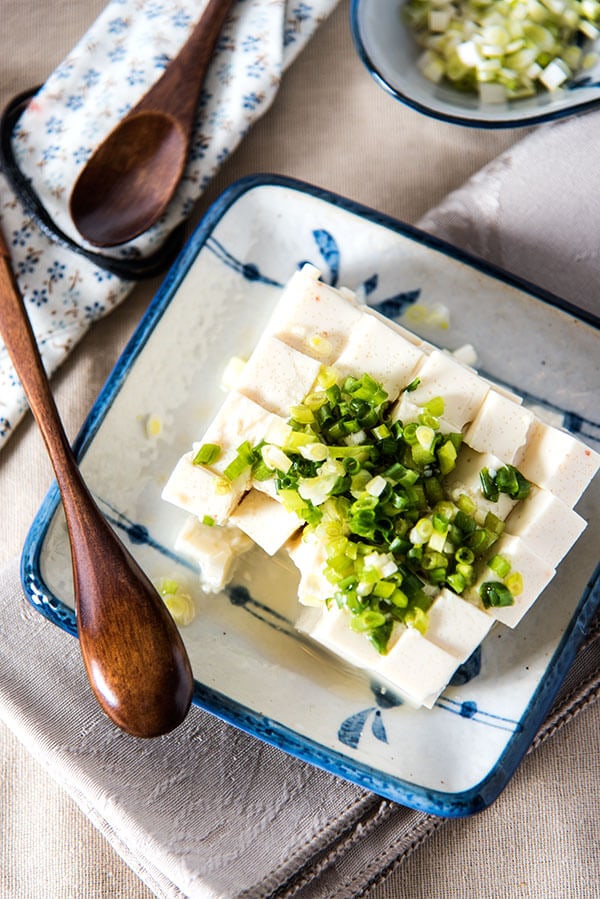 How to Deal with Silken Tofu
Today, let's start with the simplest dish.
Transfer the tofu directly onto the serving plate from the package instead of putting it first on a cutting board, when using silken tofu in a cold dish. Sliced tofu will be easily smashed and is very difficult to transfer it once sliced.
Use a knife to cut the edges of the tofu to separate it from the plastic pack first. Then, you only need to quickly flip the package and the tofu will land on the plate in one piece.
Let the tofu sit 20 to 30 minutes to let the water drain from it, if you don't plan to serve the dish immediately. You can skip this step if serving the dish immediately.
Use a paper towel to gently absorb the extra water from the plate, before adding the other ingredients.
Slice the tofu into smaller blocks and add toppings right before serving. The dish will become watery if you add the toppings too early.
Gently mix the tofu with all the ingredients to get the salt mixed well before eating. And yes, the dish will be messed up a bit, but you'll be surprised how appetizing the flavor is!
A few words about the ingredients. This dish uses very minimal seasoning so that everything stands out. You need to use fresh green onion and Chinese sesame oil to make the dish work. Chinese sesame oil has a very different flavor from, and a stronger nuttiness than the Korean and Japanese varieties. Try to get a Chinese brand if possible, as it will really make a difference in the flavor of the dish.
For more easy Chinese cold dishes, check out my cucumber salad, potato strip salad, and spinach peanut salad. They are all vegan appetizers that use the simplest ingredients to create wonderful flavors.
Happy cooking!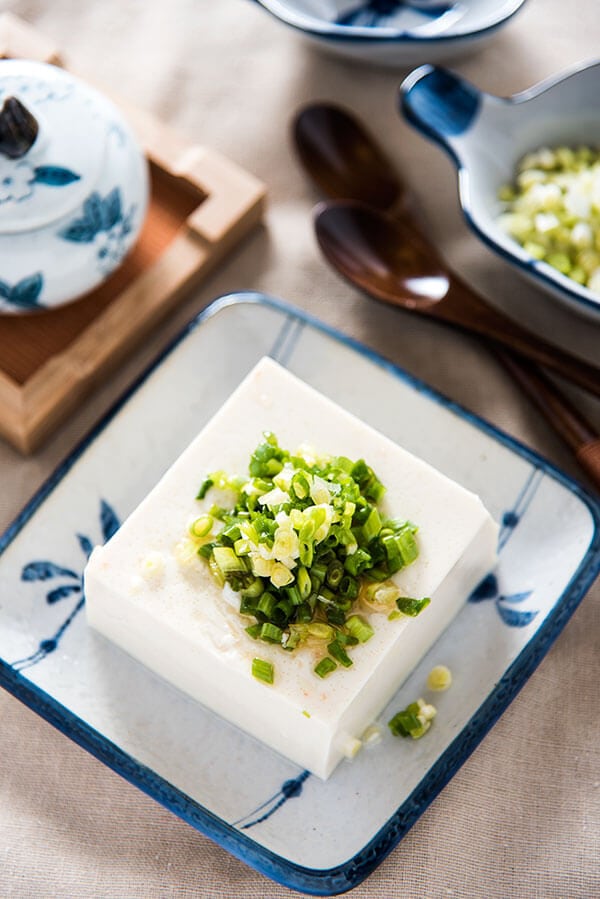 Want to Know More?
Receive our 5-Day Chinese Cooking Crash Course & Recipe Updates! Subscribe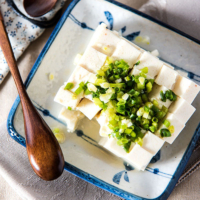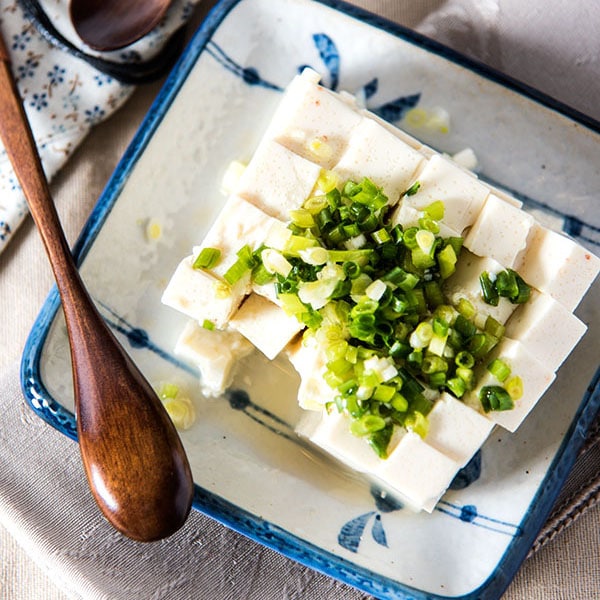 Green Onion Tofu Salad (小葱拌豆腐)
Green onion tofu salad contains only four ingredients and takes five minutes to prepare. The tofu tastes so refreshing with the nutty sesame oil and pungent green onion.

Ingredients
1

block (325 grams / 12 ounces)

silken tofu

1/4

teaspoon

sea salt

(or to taste)

1/2

cup

green onion

, chopped (green part)

2

teaspoons

Chinese sesame oil
Instructions
Carefully transfer the tofu from the package to a medium-size plate.

Sprinkle sea salt over tofu and top with green onion and a drizzle of sesame oil. Use a knife to slice tofu into strips, then gently mix it with a pair of chopsticks.

Serve immediately.
Nutrition
Serving:
79
g
,
Calories:
58
kcal
,
Carbohydrates:
2.4
g
,
Protein:
4
g
,
Fat:
3.9
g
,
Sodium:
142
mg
,
Potassium:
35
mg
,
Sugar:
1
g
,
Vitamin A:
2
IU
,
Vitamin C:
4
mg
,
Calcium:
5
mg
,
Iron:
6
mg
The nutrition facts are calculated based on 1 of the 4 servings generated by this recipe.