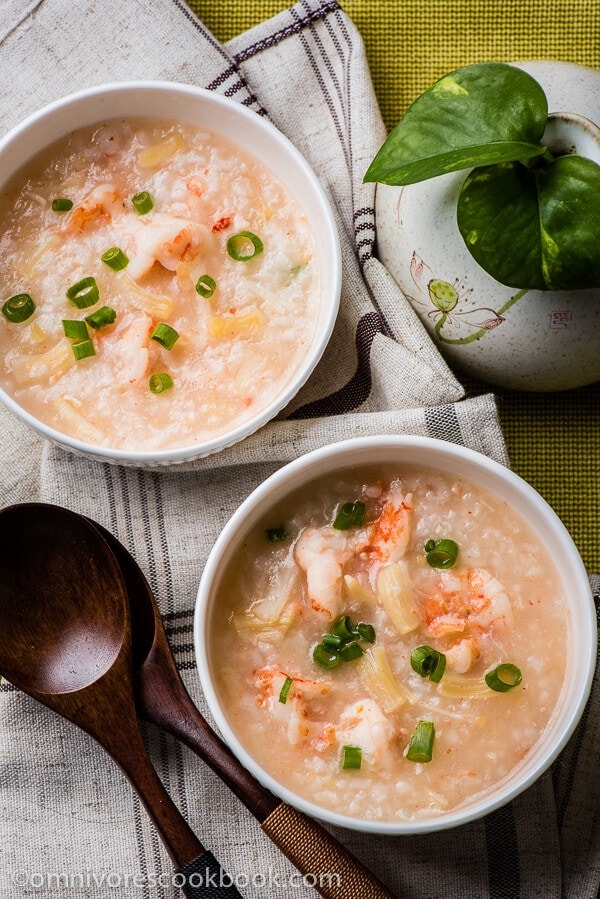 Seafood congee is the ultimate comfort food. The rice is cooked into a tender, silky and rich broth that is full of goodies. This recipe reveals the secret of using dried scallop to create a super flavorful broth, totally effortlessly.
Everyone has a few comfort dishes deep down. Seafood congee is that kind of dish for me. It's not the easiest thing to make. But it is so soothing and nice, that I miss it if I don't have it at least once a week.
Although the dish is called seafood congee, it contains only a few ingredients – a handful of dried scallop and a few pieces of shrimp. However, it has such a rich flavor that you can hardly imagine it contains just water, and no chicken stock.

MY LATEST VIDEOS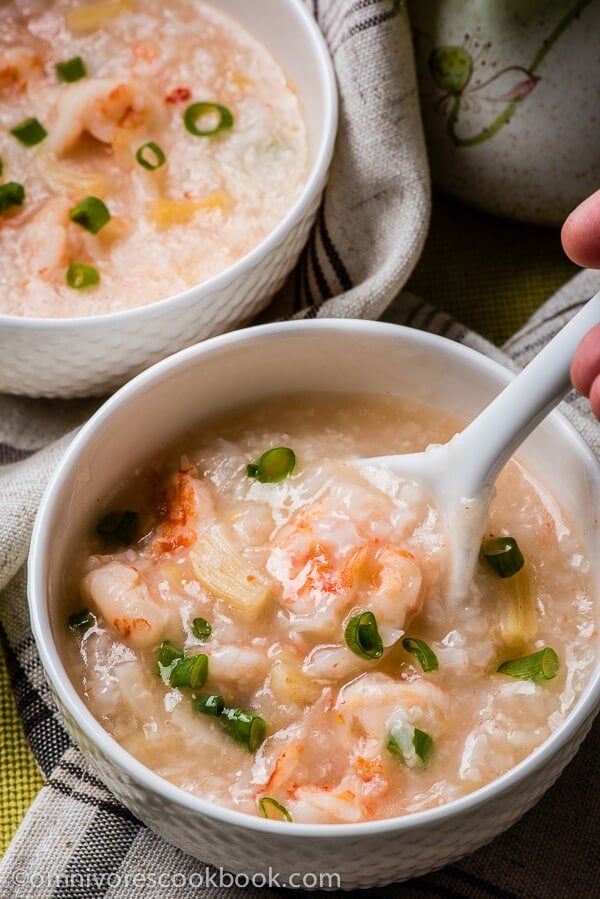 The star of this dish is dried scallop (conpoy, 干贝).
Dried scallop is made from the adductor muscles of scallops.Pungent and compact, it has a highly concentrated flavor of the sea. Different from dried shrimp, which are also widely used in Chinese cuisine, conpoy is known for its sweet and delicate aroma.
Dried scallop is a common ingredient in Cantonese cuisine. In northern China, we use it to infuse a rich, savory flavor into congees, soups, and sauces without adding any meat or seafood to the dish. So you can see, dried scallop is more like a stock cube, only with a better taste. It's also edible itself.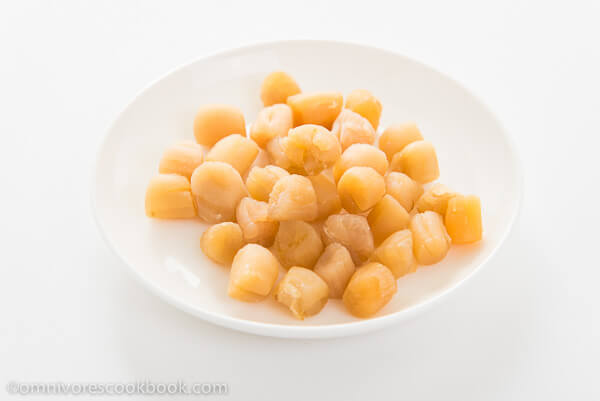 There are two main types of conpoy: one made from river scallops and one made from sea scallops (also known as hotate in Japanese). We often use the river type, which has a milder and sweeter flavor. They won't be particularly overwhelming in a light dish like this congee.
It's quite magical, that you only need a few pieces of dried scallop to create a rich broth or sauce within minutes.
Dried scallop might not be a common ingredient in your pantry, but definitely grab it if you see it next time you're at an Asian market. It lasts up to a year in the fridge, and even longer in the freezer. Whenever you're out of stock or meat, just pop a few scallops into your soup. The rich flavor will surprise you!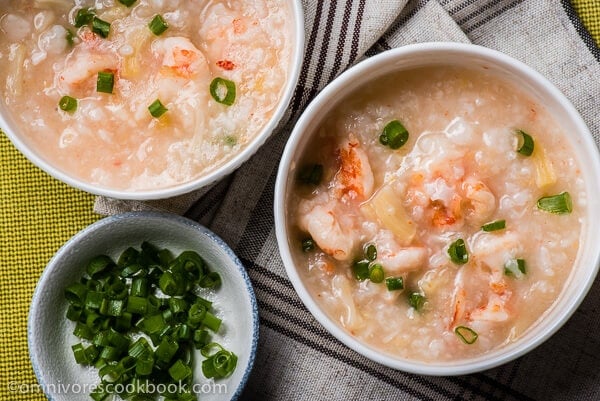 I found that cold appetizers, such as cucumber salad, potato strips salad, and Bang Bang chicken, go great with this congee.
If you cook this seafood congee, don't forget to take a picture and post it on my Facebook fan page. I love seeing your photos!
Print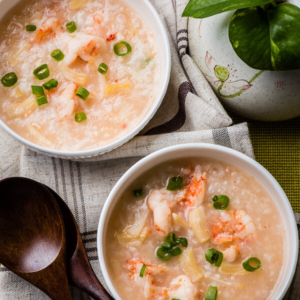 Seafood Congee
---
Author:

Prep Time:

2 hours

Cook Time:

1 hour

Total Time:

3 hours

Yield:

4

1

x
Category:

Main, Side

Cuisine:

Chinese
Ingredients
50

grams (1/2 cup) dried scallop

100

grams (1/3 cup) rice

100

grams (8 – 10) shrimp

1 teaspoon

Shaoxing wine (or Japanese sake)

1/2 teaspoon

minced ginger

3/8 teaspoon

salt, or to taste

1/2 teaspoon

sesame oil

2 tablespoon

s chopped green onion (green part)
---
Instructions
Rinse dried scallop. Place in a small bowl and tap water to cover. Let rehydrate for 2 to 3 hours.

Rinse rice a few times and transfer to a large pot. Add 2 liters (8 cups) water. Bring to a boil over high heat. Stir a few times. Turn to medium low or medium heat. Cover the pot halfway to keep the water boiling without spilling. Cook for 30 minutes. Stir the congee a few times during cooking.

Cut the shrimp down the center of the back into two thin pieces.

Combine shrimp, Shaoxing wine, 1/2 teaspoon ginger, and 1/8 teaspoon salt in a small bowl. Mix well and set aside.

Drain dried scallop. Tear into smaller pieces by hand. Set aside.

When the congee has been cooking for 30 minutes and starts to thicken, add dried scallop. Keep cooking with the pot half covered, until the congee achieves the desired thickness, 15 to 20 minutes. Be careful, the congee will get quite thick and sticky towards the end. Stand close to the pot and stir frequently. It will easily spill if covered too much or if the heat is too high. The rice will stick to the bottom if you don't stir enough.

When the congee is cooked, add shrimp and the remaining 1/4 teaspoon ginger. Stir a few times. Stop heat immediately. Add the remaining 1/4 teaspoon salt or salt to taste. Stir well. Drizzle with sesame oil and scatter with green onion.

Serve warm.
The nutrition facts are calculated based on 1 of the 4 servings generated by this recipe.