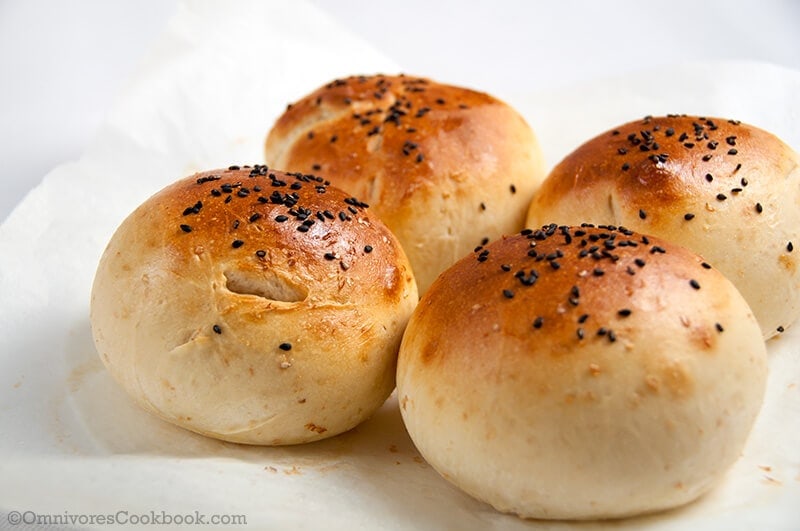 I had my first burger in my life when I was 8. More accurately, my first 2 burgers. They're cold leftover KFC chicken burgers I found on my grandparents's kitchen table. They tasted so good that I devoured the 2 burgers within 5 minutes. Best food I had ever! McDonald and KFC were quite trendy back at that time. They were also the only burger choices. Nowadays, there're more burger shops open, and you could easily find it at domestic fast food place, pub, international chain store, fancier burger restaurants etc. But I seldom eat burger after I grew up, since I will choose something else for healthier option, and also because it's difficult to find a place to have really good ones.
However, I suddenly had a crave on burger the other day, and I decided to make one from scratch. I did some research online and I finally chose Annalise's Homemade Burger Bun from Completely Delicious. The burger bun turned out so great, that fluffy inside and crispy outside. My kitchen filled with the fresh bread smell that feel like a bakery. The bread tasted very nice itself with the nutty smell of sesame on top. The bread goes well with butter and jam, and good enough to eat alone while warm and fresh.
Don't forget to come back and check on my beef burger recipe, which will be released soon.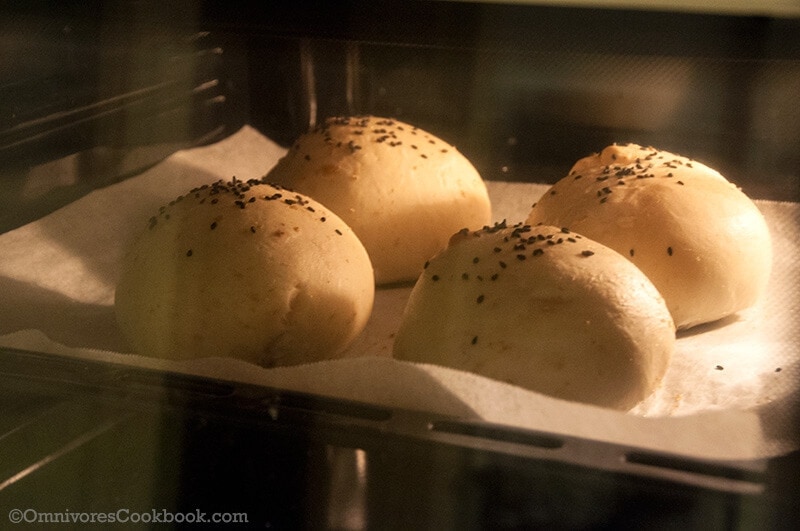 Want to Know More?
Receive our 5-Day Chinese Cooking Crash Course & Recipe Updates! Subscribe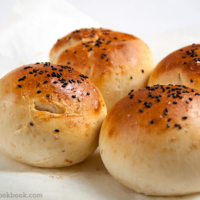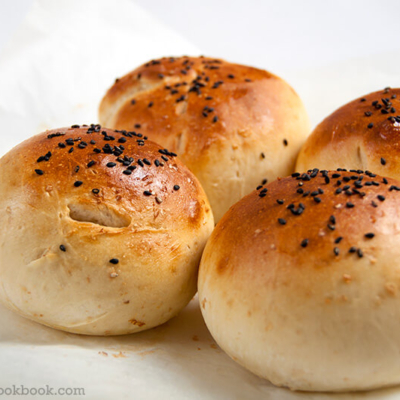 Fluffy Burger Bun
Ingredients
150

milliliter

milk

100

milliliter

water

2 1/2

tablespoons

butter

480

grams

17 oz. bread flour

2 1/4

teaspoons

dry yeast

2 1/2

tablespoons

sugar

2

medium size eggs

beaten

1 1/2

teaspoons

salt

olive oil to grease the baking tray

1

egg white for the egg wash

sesame seed
Instructions
Add milk, water and butter in a small pot and heat on medium low heat, until butter is melt. Mix the liquid well and set aside for 5 minutes.

Add 300 grams bread flour, dry yeast, sugar into a large bowl, mix well with a spatula. Add all the liquid from step one, eggs and salt into flour mix, mix by electric mixer on low speed (or by a spatula), until the liquid is cooperated with flour. Gradually add the remaining flour, 2 tablespoons at a time, and continue to mix by low speed (or knead the dough by hand), until the dough clears the side of the bowl but still a bit stick to the bottom of the bowl. If the dough doesn't come off the bowl, add in more flour and keep knead. If the dough is too dry, add in a teaspoon of water. The whole process might take 15 - 20 minutes or longer. The finished dough should be elastic and spongy. Cover the dough with a clean wet kitchen cloth or plastic wrap, and let it rest for 1 to 2 hours, until the size of dough doubled.

Line baking tray with parchment sheet, brush a thin layer of vegetable oil, set aside. Dust a big cutting board with flour and dust both hands with flour. Take the dough out and place on cutting board. Knead the dough a few more times, divide equally into 8 pieces by knife. Shape the dough into ball (or other shape you prefer) by hands, place on parchment sheet and slightly press it. (*see footnote) Cover the baking tray with plastic wrap and let the dough rise for another half to 1 hour.

While dough is rising, preheat oven to 200 degrees C (400 F). Gently brush egg white on the dough by fingers, sprinkle with black sesame seeds. Bake for around 10 minutes, until the bun turns golden brown. Chill down the burger bun a bit before serve.
Notes
The dough could be stored in freezer up to 3 months. Store dough ball into ziplock bag at this stage. To use frozen dough, transfer the dough into fridge to thaw overnight before using. Or you could take frozen dough out of freezer and place under room temperature. After dough is thawed and dough temperature is close to room temperature, wait for another 1 to 2 hours, until the second ferment is complete and dough size becomes slightly larger.