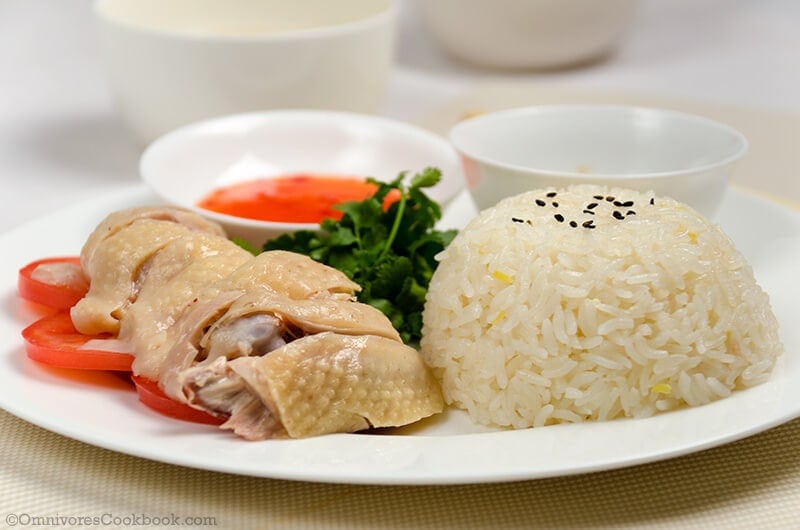 I learnt the name of Hainanese chicken rice long time ago, when I was in Japan. It was strange to me, because I never heard about this dish in China, although its name Hainan is a province of China. After some research, I found this one was adopted and developed by countries in south east Asia, mainly in Singapore and Malaysia. The idea and special place about this dish is, it utilizes the whole chicken, by using the chicken broth for cooking rice and soup, serves with the boiled chicken meat.
I never thought about this dish so much, because soft boiled chicken is kind of common in Chinese cuisine. And according to the recipe, the whole dish looks quite light and kind of plain. Until the first time I had Hainanese chicken rice in Singapore. I was so surprised how good it is! Especially the rice. Yes, the rice! It's not like any white rice I ever had. The rice in this dish was so flavorful and delicious, that I almost ignored the chicken besides it.
After the trip in Singapore, I tried to cook this dish at home and now I want to share the recipe with you. You need to remember, it's difficult to cook authentic Hainanese chicken rice at home. Because like any dish with a subtle flavor, you should use really good breed chicken, namely Wenchang chicken. The chicken should be raised up in open ground instead of having its whole life in a cage. It's the same idea of using good milk to make cheese, that the goat should have a healthy and balanced life for better flavor milk, which will produce higher quality cheese than the ubiquitous plain one from mass production.
However, if you follow the recipe, you can still get a very delicious dish, with soft and juicy chicken, flavorful rice and hearty soup. Try to find a younger chicken is also one way to make the dish taste better. I adopted the recipe from Steamy Kitchen. I did some chances to the sauce. It's a very easy sauce that goes very well with any boiled meat, like chicken, pork or beef. My family always use it to dip the meat came from the bone, after making chicken or pork broth. For a different flavor sauce, you could also use Thai sweet chili sauce for dipping.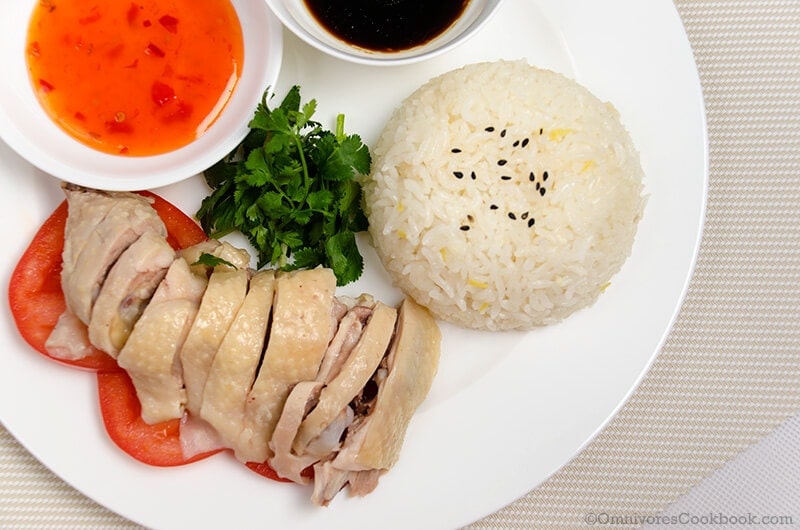 Hainanese Chicken Rice
I used a small chicken in this recipe. Double the ingredients amount if using a large chicken.
Author:
Omnivore's Cookbook
Ingredients
For the chicken
500 grams (18 ounces) whole young chicken, washed
1 thumb ginger, sliced
3 green onions, cut into 6 cm (2.5 inches) in length
3 teaspoons sea salt
1 tablespoon sesame oil
chopped cilantro for garnish
For the rice
1 tablespoon vegetable oil
1/2 teaspoon minced ginger
1 1/2 teaspoons minced garlic
1 cup white rice (250 grams / 8.5 ounces), rinsed and drained
2 cups of chicken broth from boiling the chicken
1 1/2 teaspoon sea salt
For dipping sauce
1 tablespoon light soy sauce
1 tablespoon rice vinegar
1 teaspoon sugar
1 teaspoon sesame oil
extra chopped cilantro and/or green onion to add into chicken soup
Instructions
Place the whole chicken in a pot that could hold the chicken, but not too big. Add water until it covers the chicken (It was 6 cups of water in my case). Bring water to a boil on medium hight heat with lid on, then turn to the lowest heat immediately and keep simmer till the chicken just cooked through, in about 20 minutes (30 minutes for larger chicken). Test the doneness by poking chicken thigh and the juice should come out clear. Or use thermometer to test the inside of chicken, it should register 77 degrees C (170 F). Skim the brown foam on top of the broth by spoon during the simmer. When the chicken is done, remove the pot from heat immediately and place chicken into ice water to cool down. This process will tighten the chicken skin and make the texture of chicken better. It also will let the chicken stop cooking and keep the meat soft. Reserve chicken broth for cooking rice and making chicken soup.
While boiling the chicken, prepare for the rice. Heat vegetable oil in a non-sticky skillet on medium heat, add ginger and garlic, stir fry until fragrant. Add white rice and keep stir fry till the rice is mixed well with all spices and turns pale yellow, in about 2 minutes. Stop heat, transfer rice with all ingredients to rice cooker. Add salt and 2 cups of chicken from step 2. Cook under instruction of your rice cooker.
While cooking the rice, prepare the chicken and sauce. Take the chicken from ice water, dry with kitchen towel and chop into smaller pieces. Place chicken into a plate, drizzle with sesame oil, garnish with cilantro. For the sauce, mix soy sauce, vinegar, sugar and sesame oil in a small bowl, set aside.
When rice is done, reheat chicken broth till hot. Garnish hot soup with cilantro and green onion, serve immediately with rice and chicken. Enjoy!