Instant Pot Congee with tender chicken and spinach is your perfect one-bowl dinner. It only takes 2 minutes to prepare and you'll have dinner ready in 30 minutes. The recipe also works in a pressure cooker.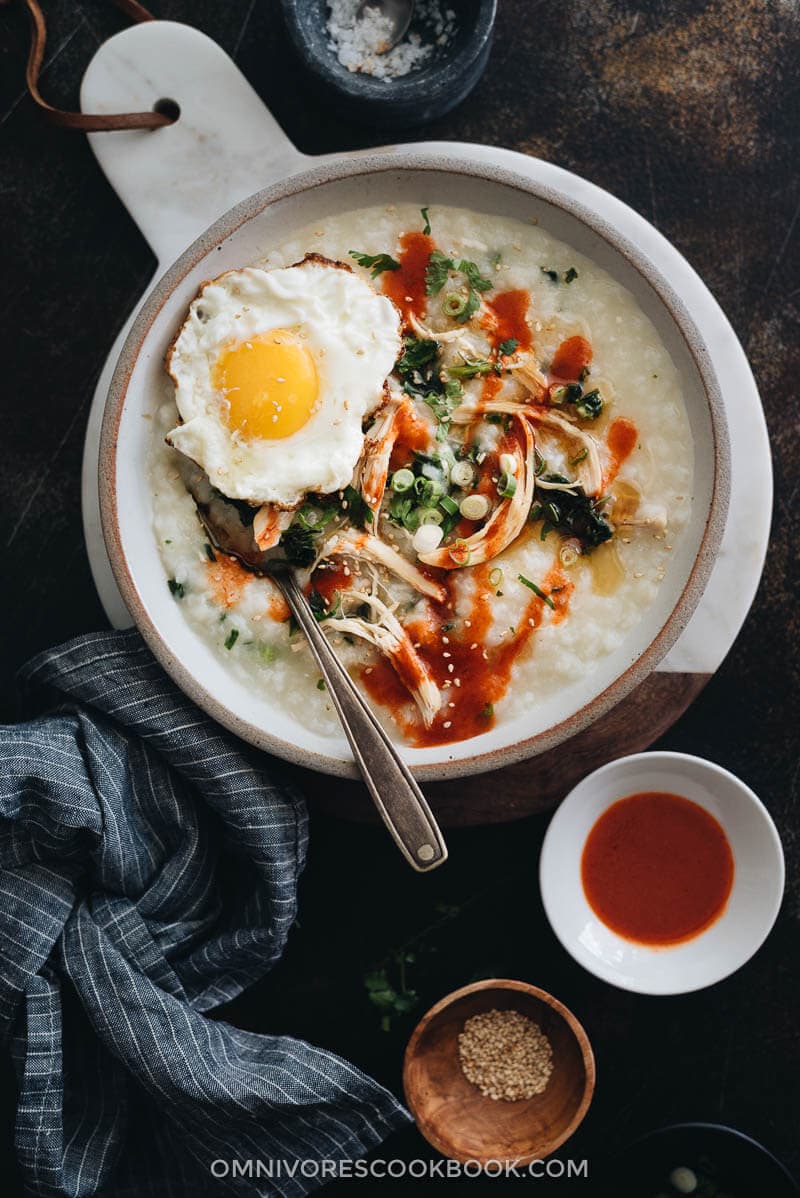 When I'm feeling a bit under the weather, I always crave a hot chicken noodle soup. When I feel really sick, though, nothing beats a bowl of silky congee made with hearty chicken stock, tender chicken, and some refreshing veggies. It's not only soothing to eat and easy on my stomach, but also contains enough nutrition to give me the strength to fight the illness.
In the past, I've usually made my congee on the stovetop. Not this time. I was down with a cold after a long trip to New York. The only thing I wanted to do was sleep, or read a book in bed if I happened to be awake. Unfortunately, Thomas wasn't home for a couple of days and I needed to cook myself. And trust me, ordering greasy takeout food was the last thing that came to my mind.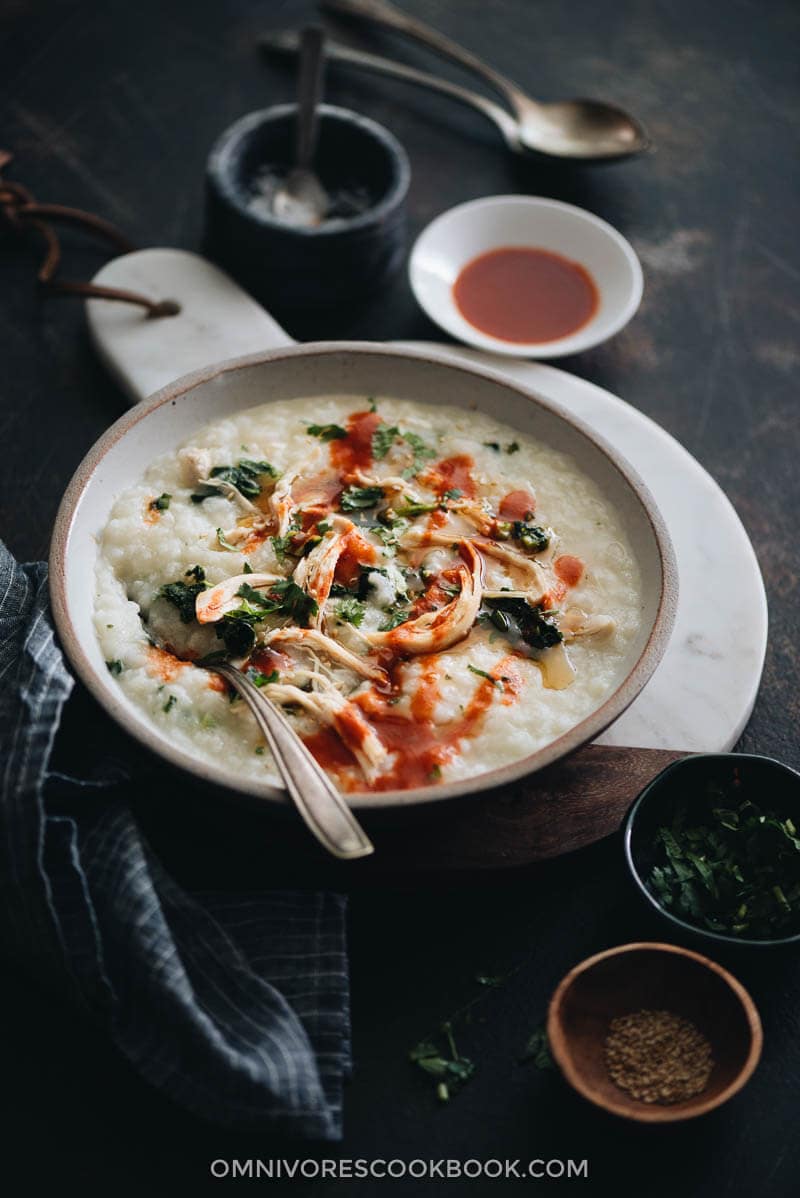 So I ordered groceries online using Amazon Prime Now and made this super easy Instant Pot chicken. It requires next to zero prep. All I had to do was dump everything into the Instant Pot and hit start. The congee took 15 minutes to make. The texture came out perfect, with a silky and gooey texture. The chicken was so tender that I could easily shred it with forks.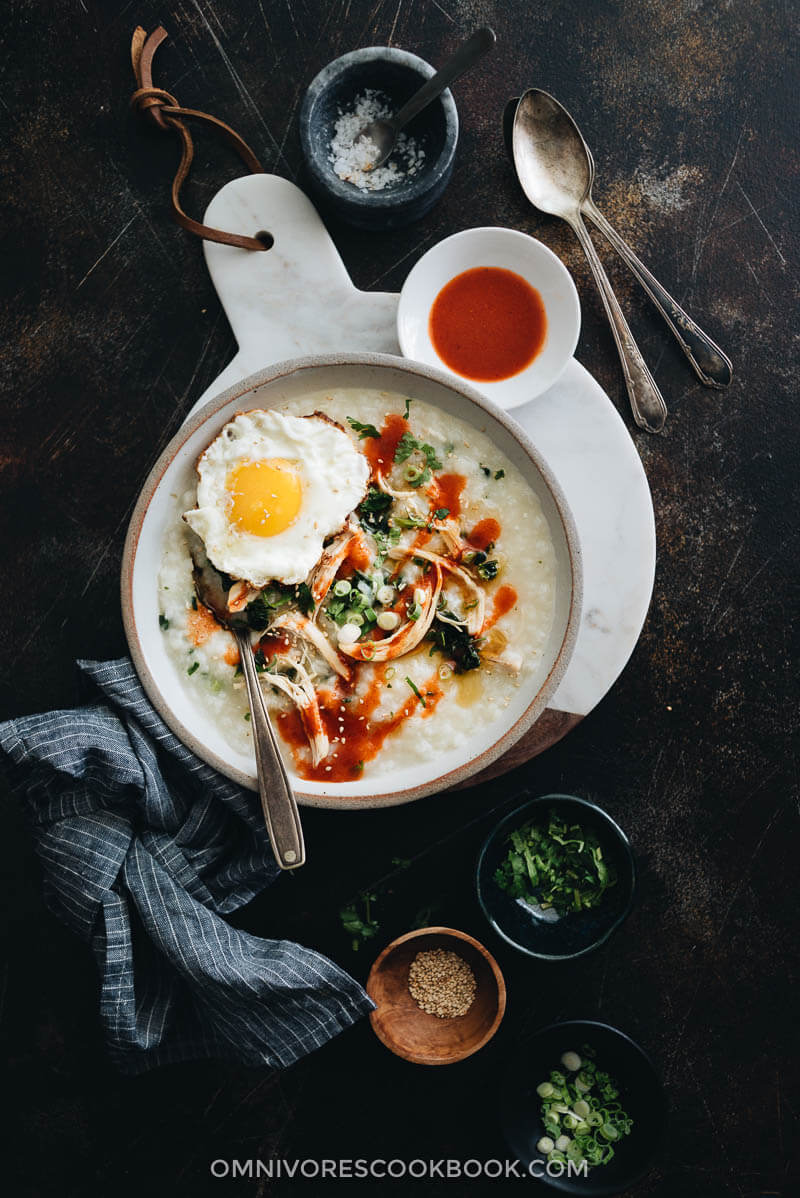 Why Instant Pot Congee
Here are a few reasons you'll want to cook congee in your Instant Pot:
It takes only a quarter of the time of the stovetop version. Even waiting for the pressure to release naturally, you'll still finish the dish with half in the time of the stovetop method.
No time monitoring required. If cooking congee on the stovetop, you have to monitor and stir the congee constantly at the beginning and during the last 10 minutes. Because the rice can easily stick to the bottom of the pan and get scorched.
You can poach the chicken at the same time and get perfect results. With the stovetop method, you need to cook the chicken separately without overcooking it. The Instant Pot method really saves a lot of time and clean-up.
There are tons of methods to garnish your Instant Pot congee and make it even tastier. My favorite way is to top it with sunny side up eggs and drizzle with a generous amount of Sriracha. YUM!
Instant Pot congee is so satisfying and delicious, that I wouldn't mind eating for breakfast, lunch or dinner.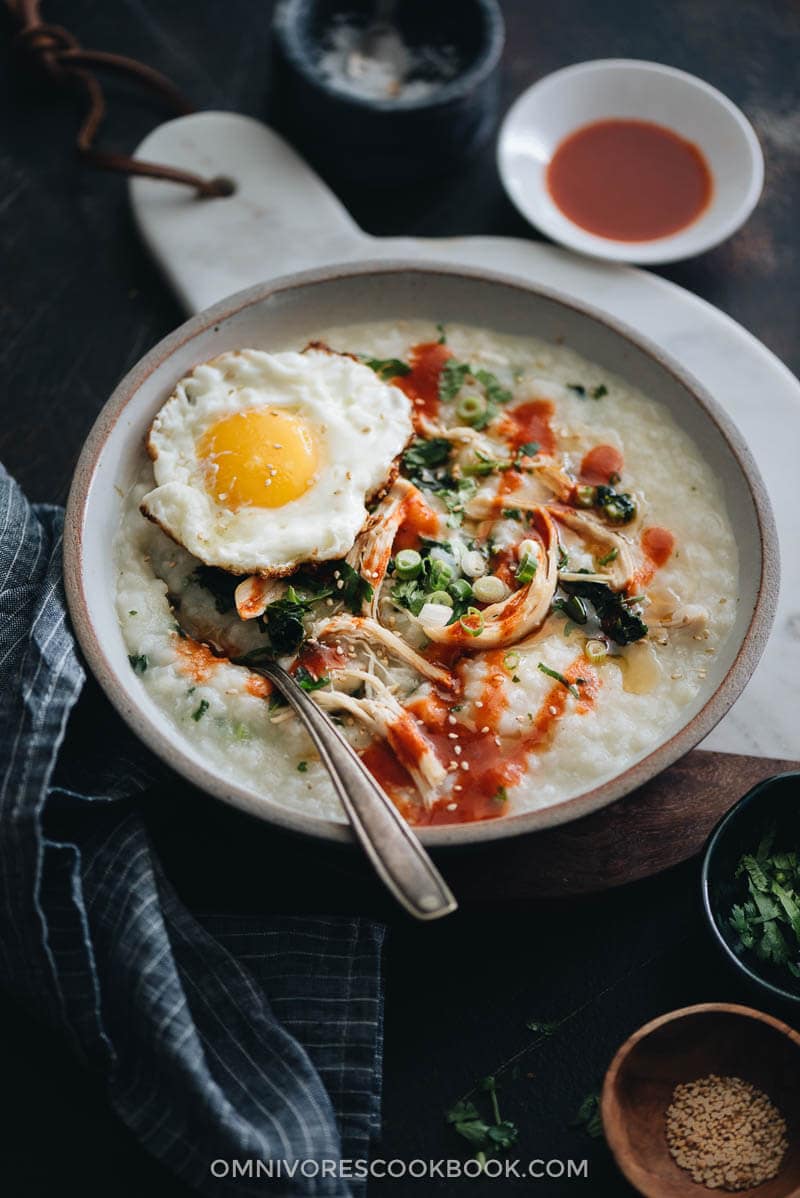 More Instant Pot Recipes
If you give this recipe a try, let us know! Leave a comment, rate it (once you've tried it), and take a picture and tag it @omnivorescookbook on Instagram! I'd love to see what you come up with.
Want to Know More?
Receive our 5-Day Chinese Cooking Crash Course & Recipe Updates! Subscribe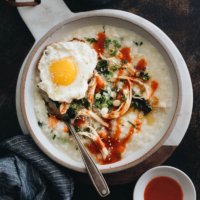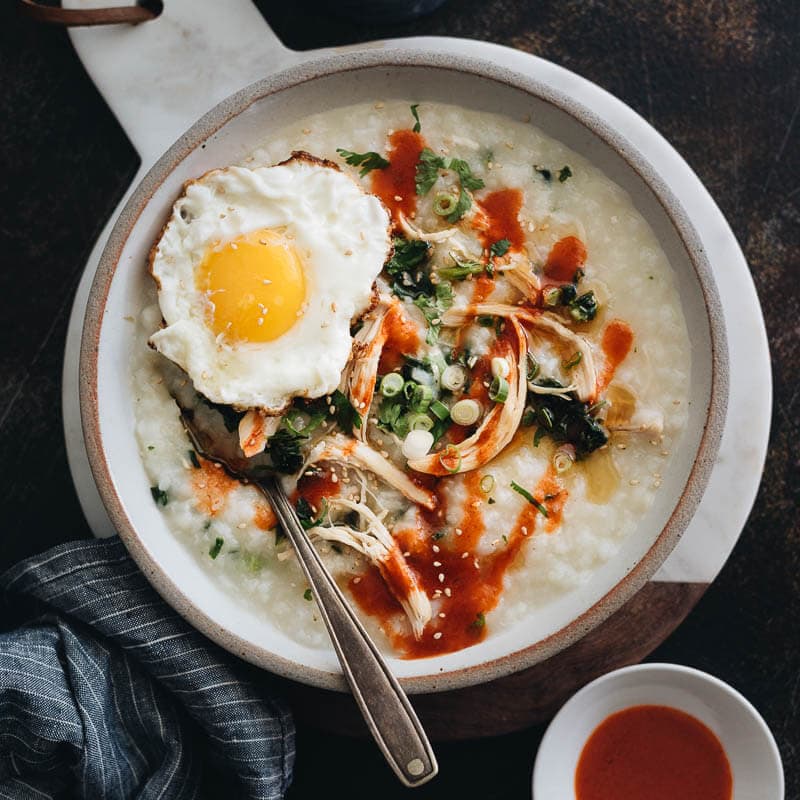 Instant Pot Congee (鸡肉菠菜粥)
This is your perfect one-bowl dinner. It only takes 2 minutes prepare and you'll have dinner ready in 30 minutes.
The recipe works in a normal pressure cooker too.
Ingredients
1

cup

uncooked Jasmine rice

6

cups

chicken broth

, for a thicker congee (7 to 8 cups for thinner congee)

2

chicken breasts

(or 4 boneless skinless thighs, about 1.5 lbs (680 g))

2

teaspoons

ginger

, grated

1/2

teaspoon

fine sea salt

(or to taste)

4

cups

baby spinach

(or 2 cups frozen spinach) (*Footnote 1)

2

teaspoons

toasted sesame oil

2

green onions

, chopped
Optional Toppings
Boiled or fried eggs

Sriracha sauce or homemade chili oil

Chinese pickles or fermented tofu

Crushed roasted peanuts or roasted sesame seeds

Chopped cilantro
Instructions
Add Jasmine rice into a large bowl. Add tap water to cover. Use your hand to rinse the rice gently a couple times, then drain the water. Repeat 2 times. Transfer the drained rice into the Instant pot. Add chicken broth, chicken, and ginger.

Close and seal the lid. Set to cook in manual mode on high pressure for 15 minutes. If using a pressure cooker, cook over medium heat until the pressure is added. Then cook on high pressure with medium-low heat for 15 minutes.

Use natural release once done. Do not use fast release. (*Footnote 2)

Transfer the chicken breasts to a big plate and shred them with forks. Transfer the chicken back into the pot.

Turn on saute function. Add the spinach into the pot. Cook and stir for 1 minute and turn off the Instant Pot.

Add toasted sesame oil and green onion. Stir to mix well.

Transfer the congee into small serving bowls. Garnish with any toppings you prefer. Or you can simply serve the hot congee as it is.
Notes
Other vegetables such as bok choy, kale, and mustard greens work as well.

Do not use fast release when making congee. Due to its starchy texture, it will clog the valve easily and spill congee everywhere.
Nutrition
Serving:
6
g
,
Calories:
253
kcal
,
Carbohydrates:
26.4
g
,
Protein:
23.6
g
,
Fat:
4.9
g
,
Saturated Fat:
0.6
g
,
Cholesterol:
48
mg
,
Sodium:
915
mg
,
Potassium:
620
mg
,
Fiber:
2
g
,
Sugar:
0.9
g
,
Calcium:
30
mg
,
Iron:
2.3
mg