This recipe uses frozen chicken to create a flavorful and healthy chicken soup in no time. It comes with a bonus recipe – a 5-minute crispy chicken.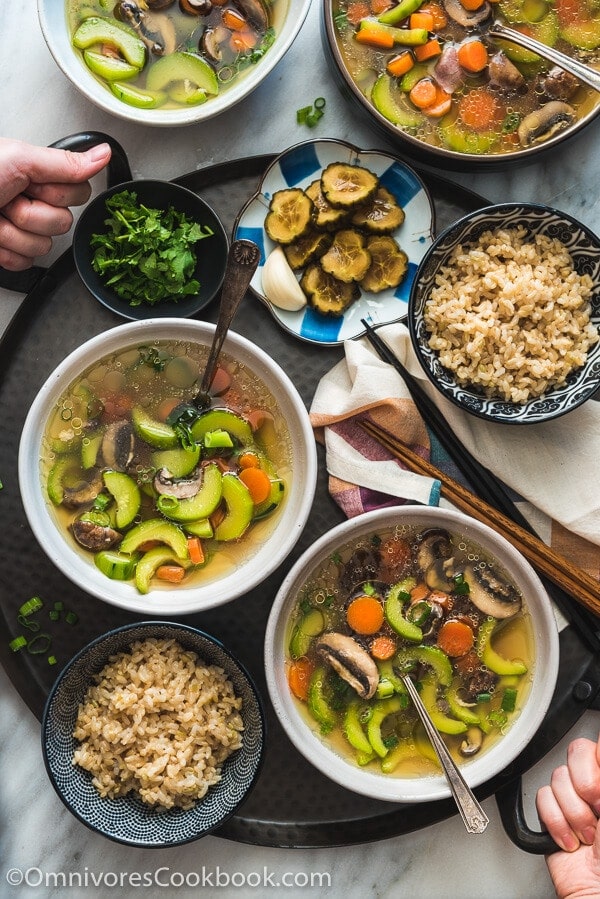 Since I discovered how to use a pressure cooker to make a quick chicken soup, I've been cooking this dish every week. Sometimes two days in a row! It is the easiest way to create a hearty soup and add plenty of vegetables to your dinner table.
The greatest part about this recipe is that you can use frozen chicken without thawing it. Simply pull it out of the freezer and dump it into your pressure cooker. Add a few herbs and some water. Set the timer for 30 minutes of high pressure cooking. You'll have a quick and rich chicken broth in no time.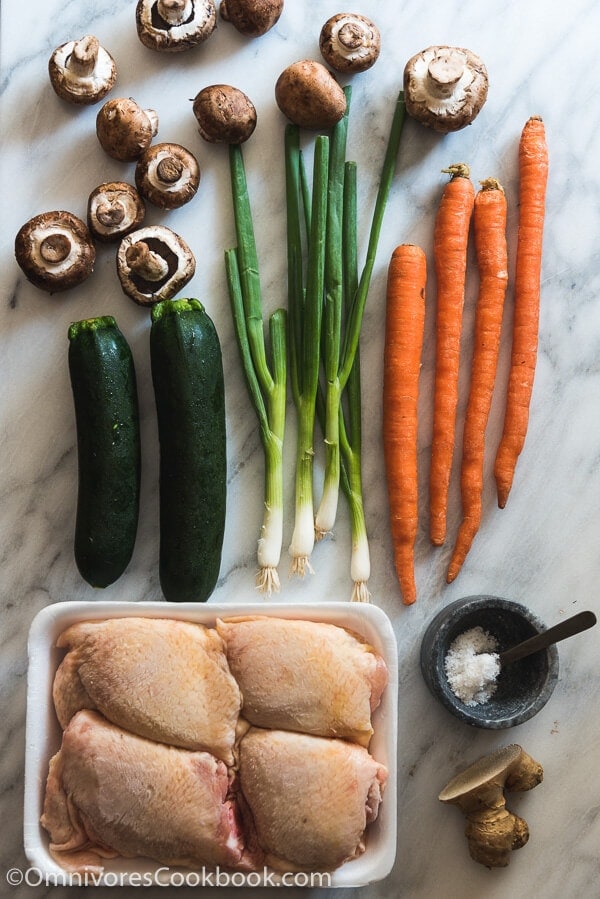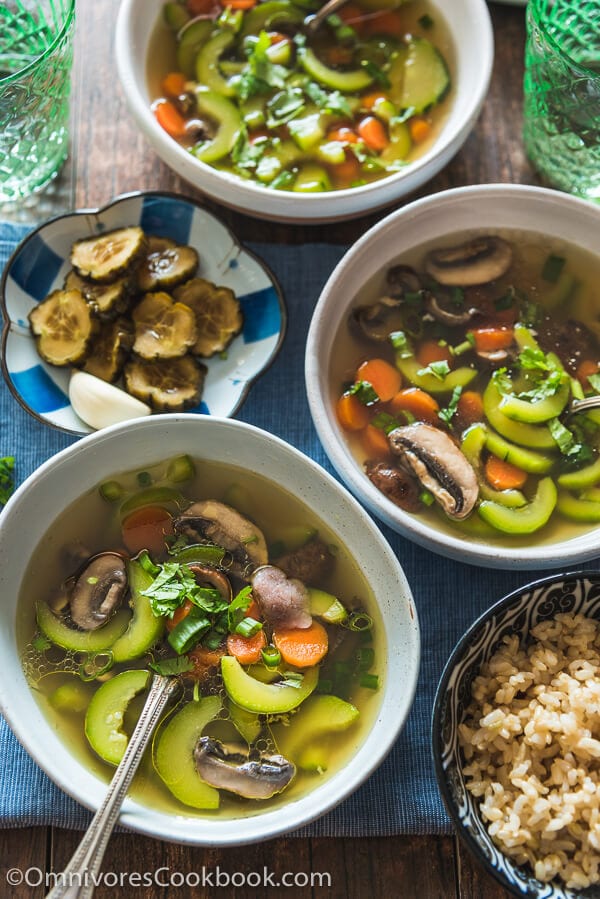 After cooking the broth, you can add some vegetables (and/or noodles, if needed) and continue cooking. I have tried adding kale, asparagus, cabbage, carrot, and many others. My favorite combination is carrot, zucchini, and mushrooms. These three ingredients will add a sweet and savory flavor to the soup and make it even more delicious.
I have tried cooking the vegetables with the broth at high pressure. Of course, I used root vegetables like potatoes and carrots in that case. The soup turned out good, but the vegetables were way overcooked. Now I prefer to cook the vegetables separately, after releasing the pressure. It only takes 10 minutes.
In the bonus part of this recipe, you can re-purpose the boiled chicken and use it to make a main dish in 10 minutes (Woohoo!).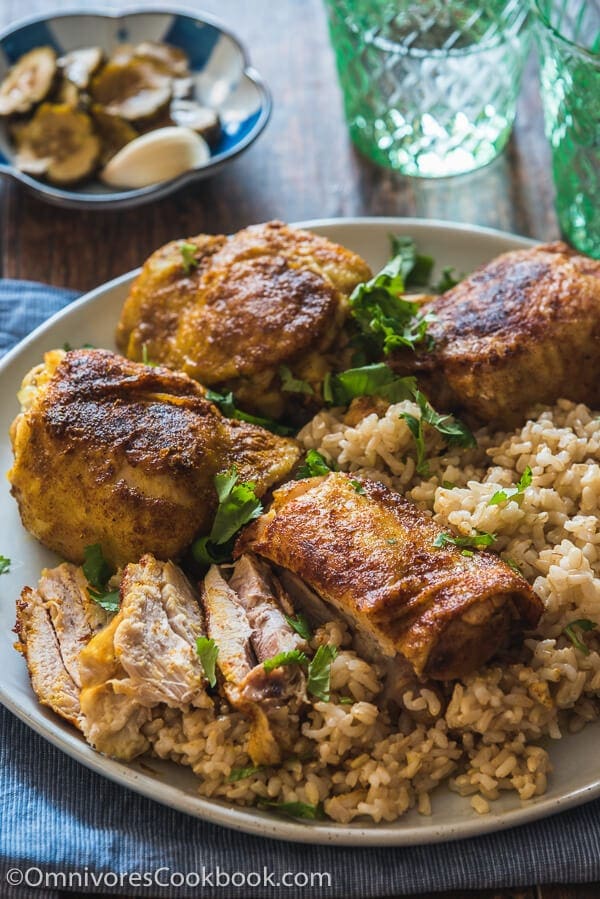 Of course you can serve the chicken in the soup. But I found it quite plain and not very interesting. So I usually remove the chicken from the soup, coat it with spices, and then cook it in a separate pan. The process will further render some oil from the chicken skin, to create a perfectly "fried" chicken with crispy skin. The chicken will also be properly seasoned this way, and stay tender in texture.
I usually serve the chicken with some brown rice as a main dish and the chicken soup as a side. The whole process involves about 20 minutes of active cooking time, and yields a delicious and healthy two-course meal. Isn't it wonderful?
A quick tip. After you prepare and cut the vegetables, do not throw the tough ends and rinds away. Save your mushroom stems, carrot peelings, and zucchini seeds in a gallon-sized ziplock bag, and then freeze them. When you've accumulated a bag full of vegetable scraps, you can make a very nice vegetable stock with them 🙂
Want to read more pressure cooker recipes? Check out the one-pot rice pilaf, braised whole lamb leg (3 ways to serve), and crispy potatoes.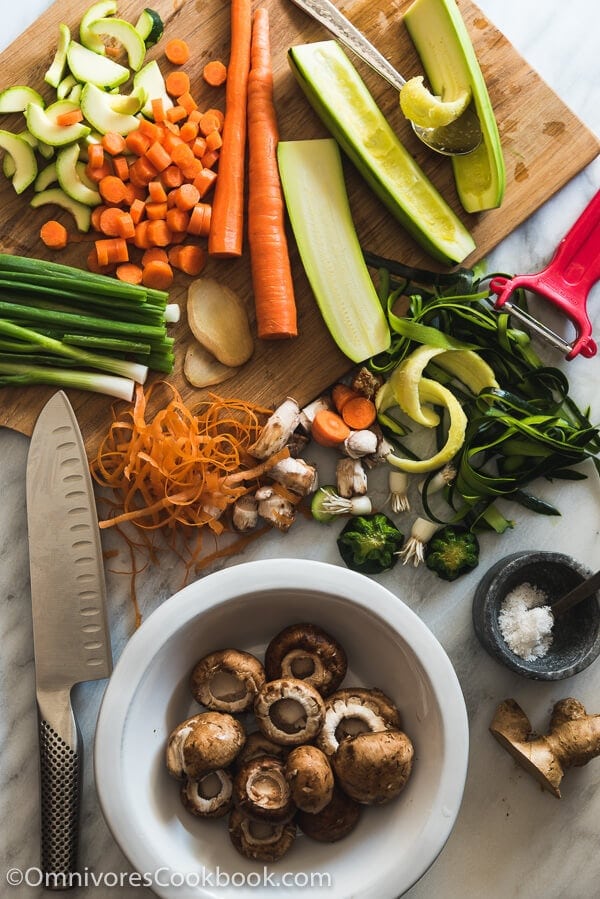 If you give this recipe a try, let us know! Leave a comment, rate it (once you've tried it), and take a picture and tag it #omnivorescookbook on Instagram! I'd love to see what you come up with. Cheers, friends!
Want to Know More?
Receive our 5-Day Chinese Cooking Crash Course & Recipe Updates! Subscribe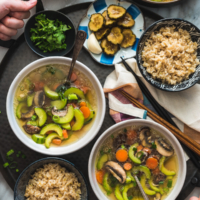 Pressure Cooker Chicken Soup (with Frozen Chicken)
This recipe uses frozen chicken to create a flavorful and healthy chicken soup in no time. It comes with a bonus recipe – a 5-minute crispy chicken.
Ingredients
Chicken broth
4

frozen bone-in skin-on chicken thighs

(*see footnote 1)

2

cups

chicken stock

(or water) (*see footnote 2)

2

slices

ginger

4

green onions

, chopped (or 1/2 onion, chopped)
Soup ingredients
4

carrots

, peeled and sliced

2

zucchinis

, peeled, seeded and sliced

1

pound

mushrooms

, stemmed and sliced

Salt and black pepper to taste
Instructions
Combine chicken, chicken stock, 2 cups water, ginger, and green onion in a pressure cooker. Cook at high pressure for 30 minutes. If using an

Instant Pot

, choose manual, and set timer to 30 minutes. If using a stovetop pressure cooker, cook over medium high heat until high pressure is reached. Turn to medium low heat. Continue to cook 30 minutes.

While cooking the stock, prepare and cut the veggies.

(Optional) When the broth is cooked, you can remove the chicken and use the recipe below to cook a 5-minute crispy chicken. Alternatively, you can continue to cook the soup.

Remove ginger and green onion from the soup and discard. If you're using onion, leave the onions in the soup.

(Optional) If you prefer not to have a bit of fat content in the soup, you can strain the soup, transfer it into a fat separator and remove the fat. I always keep the fat because it adds great flavor.

Add carrot, zucchini, and mushroom to the soup. Cook over medium heat, uncovered, for 10 minutes, or until the vegetables turn tender. If using an Instant Pot, choose sautee and let cook until the vegetables are cooked through.

Add salt and black pepper to adjust seasoning according to your taste.

Serve warm.
Notes
You can use fresh or thawed chicken thigh as well. Reduce cooking time to 20 minutes in this case.
You can use water and get a less concentrated soup. But it will still be very delicious.
Bonus recipe: 5-Minute Crispy chicken
4 boiled chicken thighs

1 to 2 teaspoons of any chicken rub you like (I used satay spice mix in my recipe. If you don't have a chicken rub, some curry powder, or cumin and chili powder will do the trick as well) 

Sea salt to taste

1 tablespoon vegetable oil
Remove chicken thighs from the broth and place on a colander to strain any extra moisture.

Transfer the chicken onto a plate. Sprinkle with spice mix and sea salt on both sides. Sprinkle your favorite chicken dry rub on both sides. I used a bottled satay spice mix. You can also try out mixing 1/2 teaspoon of each of: curry powder, turmeric, paprika, garlic and cayenne. 

Heat 1 tablespoon oil in a large nonstick skillet over medium high heat until hot. Carefully place chicken thighs into the pan, skin side down. Let cook without moving for 2 to 3 minutes, or until the bottom side turns golden brown and crispy. Gently flip with a pair of tongs and try not to tear the chicken apart. It will be very tender! Cook until the bottom side is charred. Transfer to a plate.

Serve over rice or noodles as a main, with the soup as a side. Don't forget to save the chicken bones so you can use them to make

chicken stock

later.