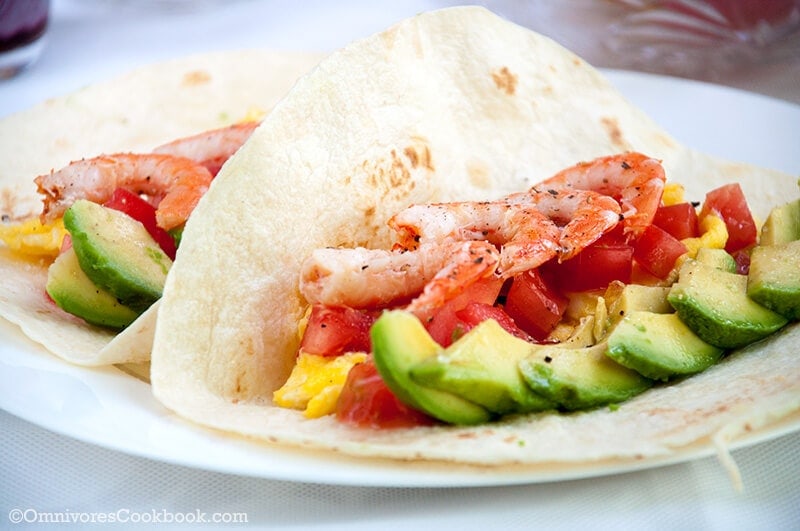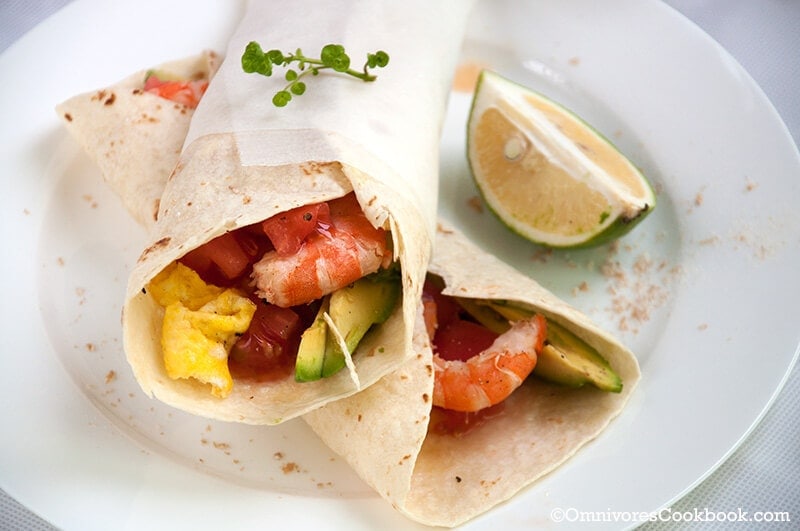 This colorful and healthy breakfast burrito is stuffed with goodies – such as eggs, tomato, shrimps, avocado and cheese. They're also packed with nutrition, offering a bit of carbs, fat, vitamins, and protein. This recipe is perfect for a weekend brunch, packing for lunch, a light dinner, and also great for cooking for a crowd.
It's so easy to chop the veggies in big batches and assemble the wraps ahead of time. You can use cherry tomatoes instead of normal sized tomatoes, so the tortillas won't get soggy. Also, drizzling lime juice on top of the avocado will prevent it from turning brown. You can serve the wrap cold or lightly grill it before serving. It tastes great both ways!
I originally found this idea for the breakfast veggie wrap at Amy's site, and have made them so many times. I sometimes changed the filling to scrabbled eggs or added sauteed sausage and pepper. All the versions turned out great, because of the magic combination of fresh tomato and avocado. During the holiday season, I usually make a fancier version, by adding boiled shrimp or roasted chicken. For a paired drink, if you're tired of orange juice, try out this easy champagne cocktail and enjoy a long and lazy holiday brunch!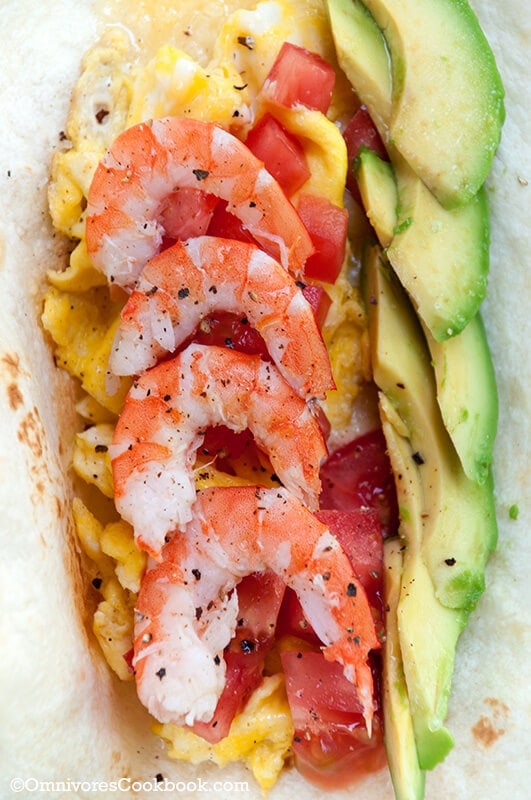 Want to Know More?
Receive our 5-Day Chinese Cooking Crash Course & Recipe Updates! Subscribe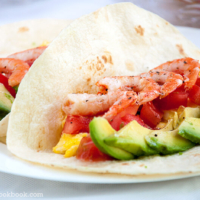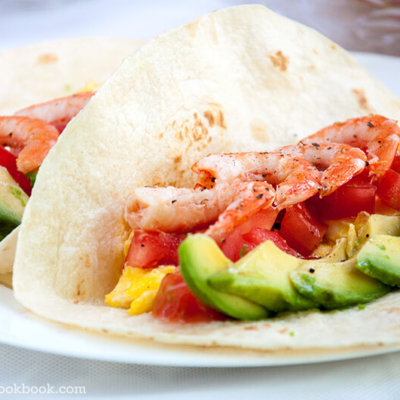 Healthy Breakfast Burrito
Ingredients
4 to

rtillas

1/2

cup

shredded mozzarella

4

eggs

1

teaspoon

olive oil

2

small tomatoes

diced

1

avocado

sliced

8

boiled shrimp

peeled

1/4

lime

salt and pepper to taste
Instructions
Lightly toast tortillas in a nonstick skillet or oven and transfer to serving plate. Spread mozzarella in the middle of each tortilla.

Beat eggs in a small bowl. Heat olive oil in the same skillet over medium heat. Add egg and stir until egg is just cooked through. Divide the egg into four portions and immediately transfer to the top of each tortilla, letting the heat of the egg melt the cheese.

Top tortillas with tomato, avocado and shrimp. Drizzle lime juice on top. Season with salt and pepper.

Serve immediately.