This egg katsu sando recipe is sponsored by Pete and Gerry's Organic Eggs. All opinions expressed are my own. Thank you for supporting the companies that keep this blog going.
This Shake Shack egg katsu sando copycat recipe makes for the perfect special weekend brunch for any egg lover!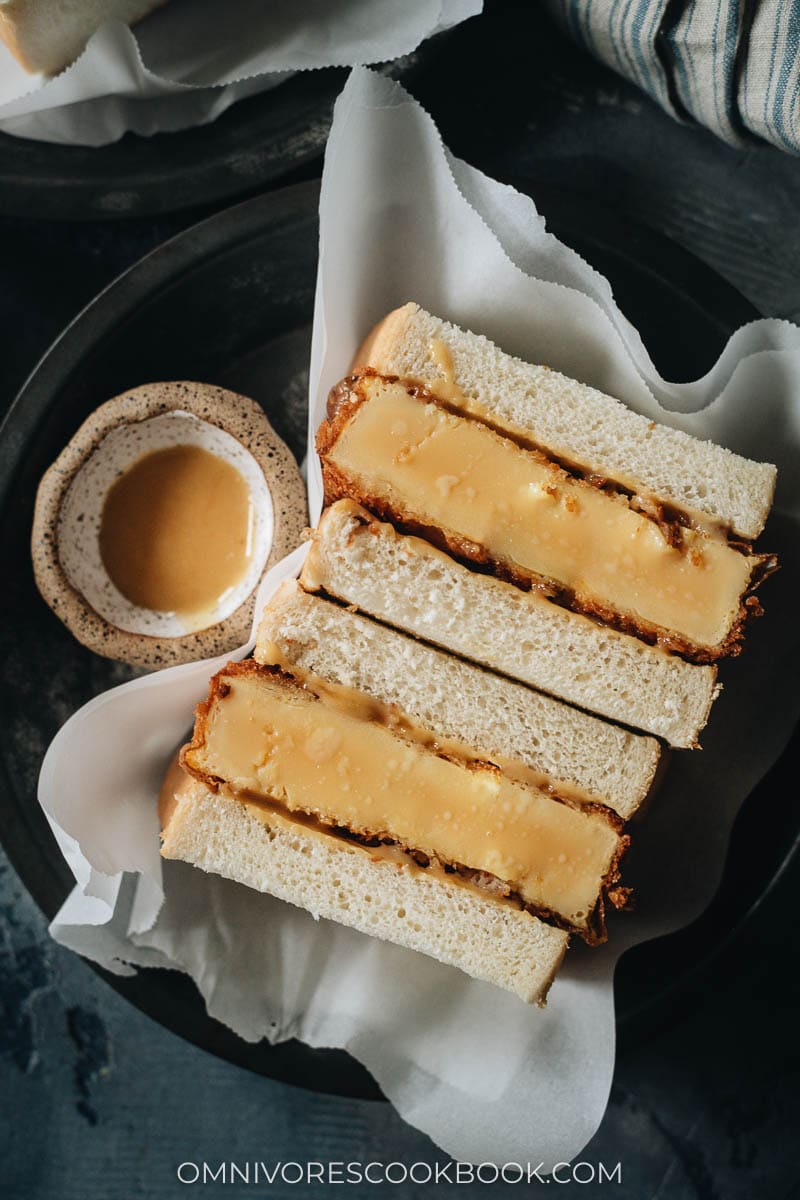 I am a huge fan of Shake Shack. And if you are too, chances are, you may have had the pleasure of tasting their egg katsu sando. It was a special collaboration with Dominque Ansel, the man who brought us the cronut. Shake Shack no longer serves the sando, so if you've got a hankering for it, you're going to have to make it yourself.
Good thing I've got the perfect egg katsu sando copycat recipe for you. It's a sandwich made from super tender and silky steamed eggs that get crispy panko fried on the outside. The original was served on milk bread, though you can use any kind of bread you like. The finishing touch is a miso honey mayo sauce that pulls the whole thing together.
It's not a simple recipe, which is why it's ideal for a special brunch, especially if you love eggs as much as I do. It's very unique and once you taste it, you will crave it again and again. With this egg katsu sando recipe, you'll be able to make it whenever that craving strikes.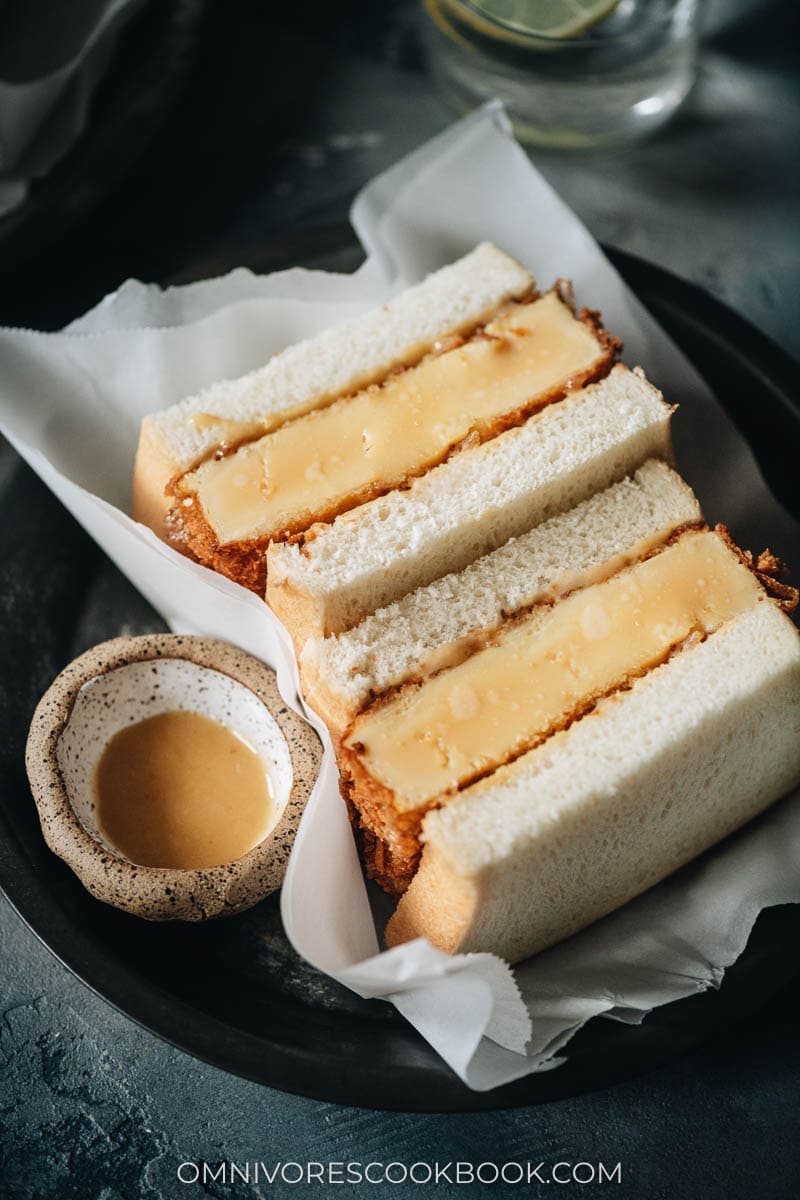 Cooking process
Cooking the egg katsu sando involves two main steps: (1) Steaming the egg mixture and (2) Coating the steamed egg with batter and frying it before assembling the sandwich.
Part 1: Steaming the eggs
Beat the eggs
Strain the beaten eggs
Skim off the foam
Pour the egg mixture into a heat-proof square-shaped container
Steam until just cooked through
Transfer to the fridge to chill completely
NOTE:
This part can be done beforehand and you can chill the eggs in the fridge overnight.
The steamed eggs will have a slightly uneven surface on top. But don't worry, once you fry the eggs and assemble the sandwich, you won't even notice it.
Part 2: Finish up
Trim the steamed egg so it looks like a perfect square
Coat the steamed egg with flour
Dip the steamed egg in beaten egg
Finish up by pressing panko breadcrumbs onto the steamed egg
Shallow fry the egg patty
Once the egg is golden on both sides, transfer it to a wire rack to cool
Spread the mayo sauce onto milk bread
Stuff with the egg katsu and enjoy!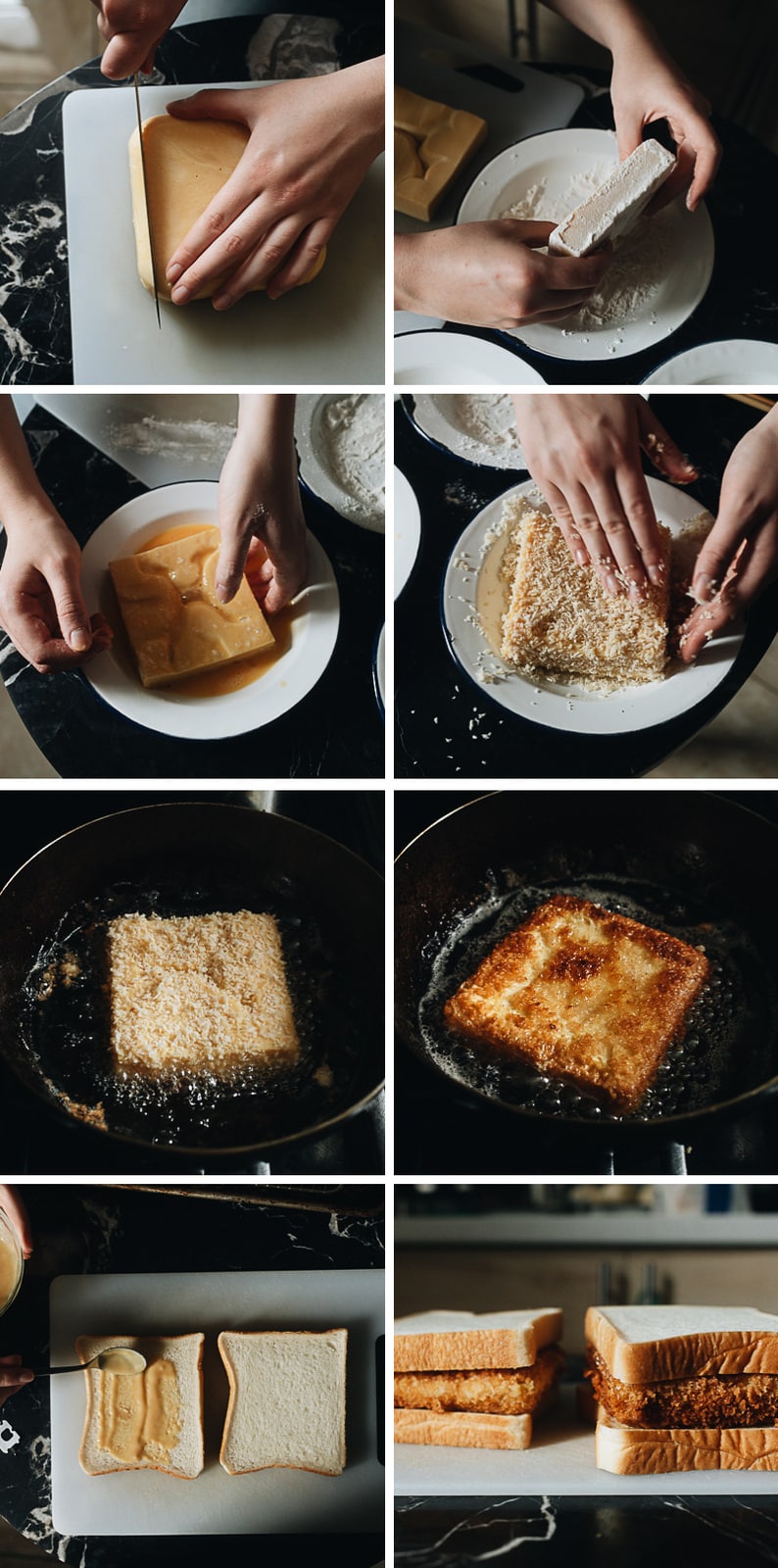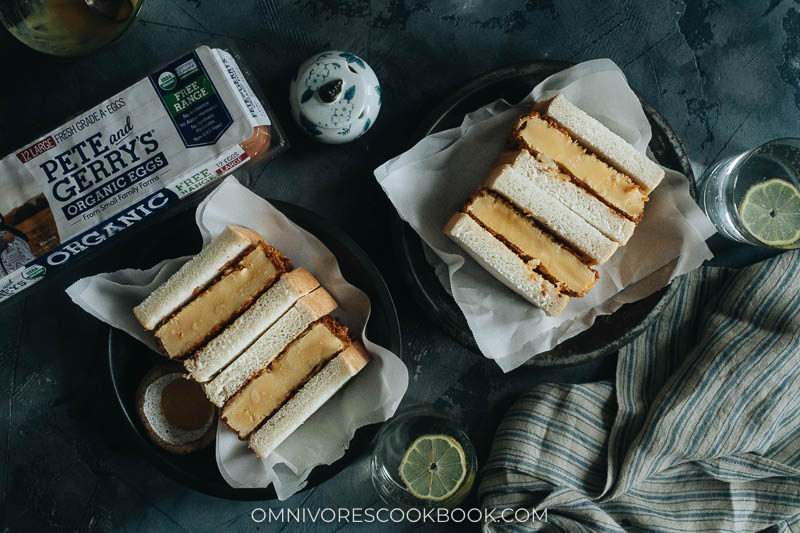 Egg quality matters
One thing I have to stress is that the quality of your eggs makes a big difference. The egg patty is the star of this dish. It comes out with a delicate taste and texture, and the better the eggs you use, the more incredible this sando will taste.
I love to use Pete and Gerry's Organic Eggs. They're a socially and environmentally-conscious company too, committed to producing eggs through small-scale farming. These eggs are USDA Certified Organic, and the hens are free to roam, which makes my heart happy. Contrary to what you might have heard, it's not the color of the eggshells that tells you about the quality of the egg. The color has to do with the breed of hen. For top quality eggs, the shells are thicker and the yolks are more vibrant in color.
With top quality eggs, this egg katsu sando comes out on top and will totally steal your heart as it did mine!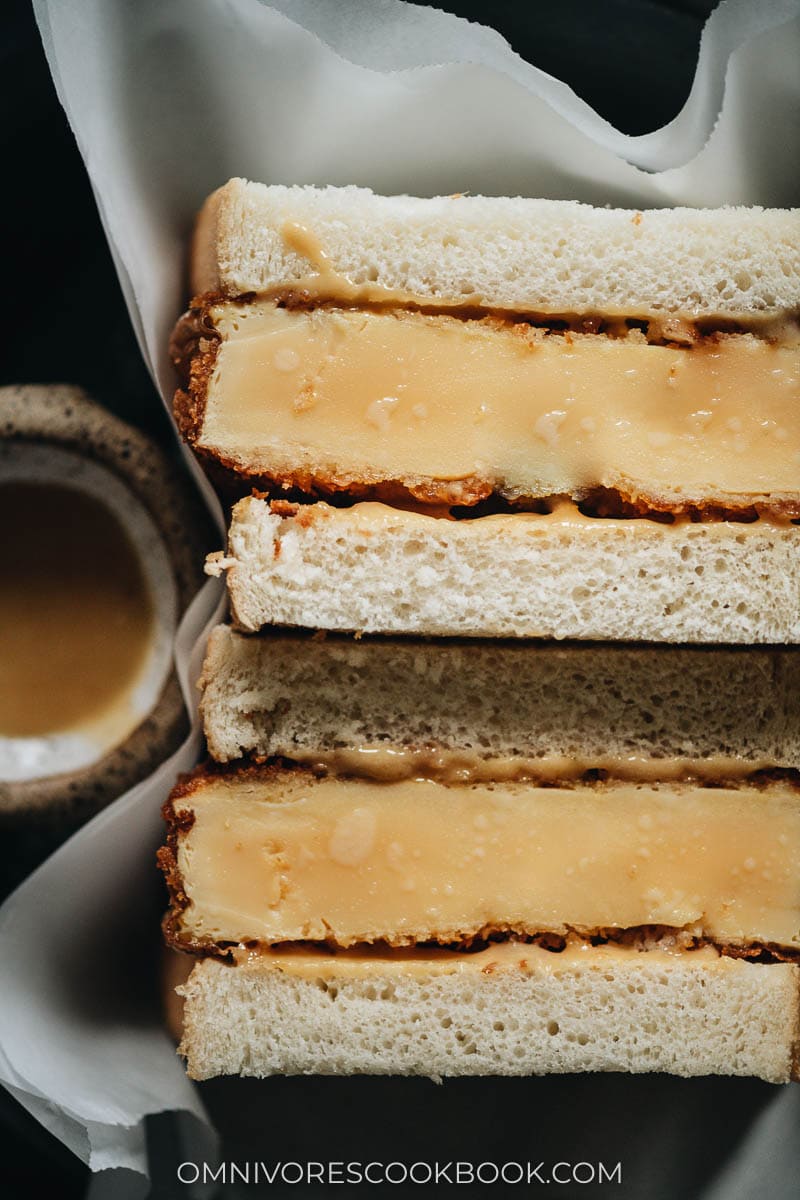 Want to learn more about Chinese Cooking? Sign up my newsletter to receive the 5-Day Chinese Cooking Crash Course and recipe update!
Want to Know More?
Receive our 5-Day Chinese Cooking Crash Course & Recipe Updates! Subscribe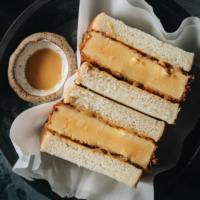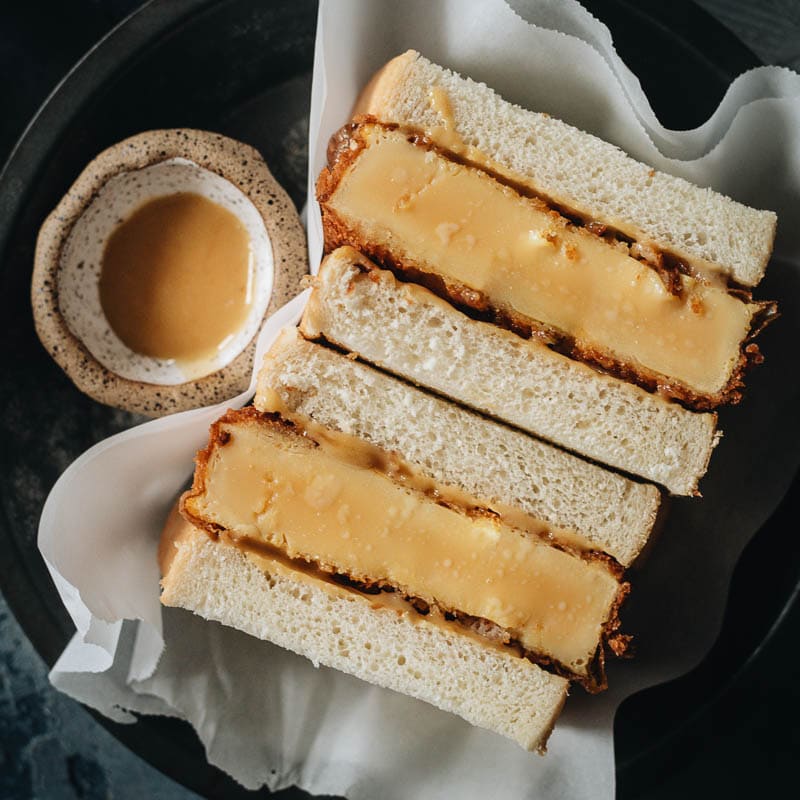 Egg Katsu Sando
This Shake Shack egg katsu sando copycat recipe makes for the perfect special weekend brunch for any egg lover!
Ingredients
Miso Honey Mayo
1

tablespoon

kewpie mayo

(or regular mayo)

2

teaspoons

white miso

1

teaspoon

honey
Sando
2

slices

milk bread

(or bread of your choice)
Instructions
Make the steamed egg
Combine the eggs, salt, sugar, soy sauce, and Shaoxing wine in a large deep bowl. Blend with a hand mixer until smooth. This can be done with a whisk or fork, but it will take longer and won't be as smooth. You can do this in a traditional blender, but it will introduce a lot of air so you'll have to let the eggs settle for 30 minutes or so.

Moisten the inside of a heatproof glass container (mine was about 5" x 5") with some water. Carefully line the inside with plastic wrap – the moisture inside should help the plastic wrap stick nicely. You want as smooth a surface as possible.

Pour the egg mixture through a strainer into the glass dish, avoiding adding foam as much as possible. Skim the foam from the surface of the egg mixture.

Set up a steamer and steam the egg mixture for 9 minutes. Remove the glass container and let the steamed eggs cool completely in the fridge, 5 to 6 hours.
Assemble
Combine the miso honey mayo ingredients in a small bowl and stir until smooth.

Add the frying oil into a small skillet until it just reaches half the height of the steamed egg. Heat over medium heat until it reaches 375°F (190°C).

Remove the steamed egg patty from the glass container and plastic wrap, being careful not to crack it. Trim off the edges so that it fits the size of your bread.

Set up the flour, beaten egg, and panko on 3 separate plates. Coat the steamed egg in flour, then in a thin layer of egg, then press it into the panko on both sides.

Add the coated egg patty into the hot oil and fry it until golden-brown on both sides, 1 minute per side. Place the fried egg patty on a wire rack or paper towel to drain. Season with salt and pepper if desired.

Spread a layer of mayo onto both pieces of bread. Place the fried egg patty between them.

Enjoy!
Nutrition
Serving:
1
serving
,
Calories:
296
kcal
,
Carbohydrates:
16.4
g
,
Protein:
15
g
,
Fat:
18.9
g
,
Saturated Fat:
4.8
g
,
Cholesterol:
369
mg
,
Sodium:
733
mg
,
Potassium:
173
mg
,
Fiber:
0.9
g
,
Sugar:
3.9
g
,
Calcium:
87
mg
,
Iron:
3
mg
If you give this recipe a try, let us know! Leave a comment, rate it (once you've tried it), and take a picture and tag @omnivorescookbook and @peteandgerrys on Instagram! We'd love to see what you come up with.