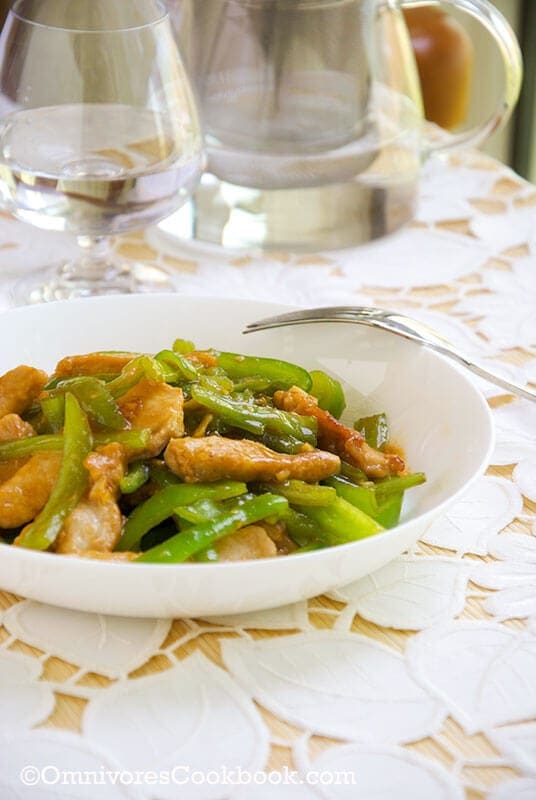 Pork and pepper stir-fry is a very easy and healthy dish. It contains vegetable and meat in the same dish and the taste is strong and appetizing.  You could pack it in lunch box with rice or serve it on top of noodles as quick dinner.  This recipe also helps you consume spicy peppers (anaheim, jalapeno or other types), for example clean up leftover peppers the day after making salsa. If you don't like spicy food, you could also replace the spicy pepper with bell pepper. One interesting thing I noticed, the pork and bell pepper stir-fry is a popular Chinese dish in Japan, but you cannot find such dish in China, neither for home cooking nor in restaurants.
Pork and Pepper Stir-Fry
Anaheim pepper could be substitute with jalapeno pepper. If it's too spicy for you, use bell pepper instead.
Author:
Omnivore's Cookbook
Ingredients
230 grams pork loin, cut into sticks(1cm wide, 1cm high, 5cm deep)
3 tablespoons soy sauce
1 tablespoon of Chinese cooking wine
1 tablespoon+1 teaspoon cornstarch
2 teaspoons chopped ginger
2 tablespoon vegetable oil
3 Anaheim pepper, chopped
1 tablespoon sugar
3 tablespoon water
1/4 teaspoon salt
Instructions
Add pork, 2 tablespoons soy sauce, cooking wine, 1 tablespoon cornstarch and 1 teaspoon ginger to a bowl, mix well by hand, marinate for 10 to 15 minutes.
Mix the rest soy sauce, sugar and 1 tablespoon water in a small bowl.
Mix the rest cornstarch and water in a small bowl.
Heat 1 tablespoon oil in a non-sticky skillet on medium heat, add pork and all the marinate juice, flip occasionally and saute till all sides of pork turning white. Be careful not to over cook the pork. Put cooked pork in a plate.
In the same skillet, heat the rest of oil on medium heat. Add ginger and saute till fragrant. Add pepper and stir fry for 1-2 minutes. Add cooked pork, give it a quick stir, then add mix liquid of soy sauce, sugar and water, stir fry till mix well, for about 1 minute. Stir the mixture of cornstarch and water again to let them blend well, add into the skillet and give it a quick stir, then turn off heat. Serve immediately.