Turn your Thanksgiving leftovers of mashed potatoes and turkey into this classic Chinese dim sum dish – really easy!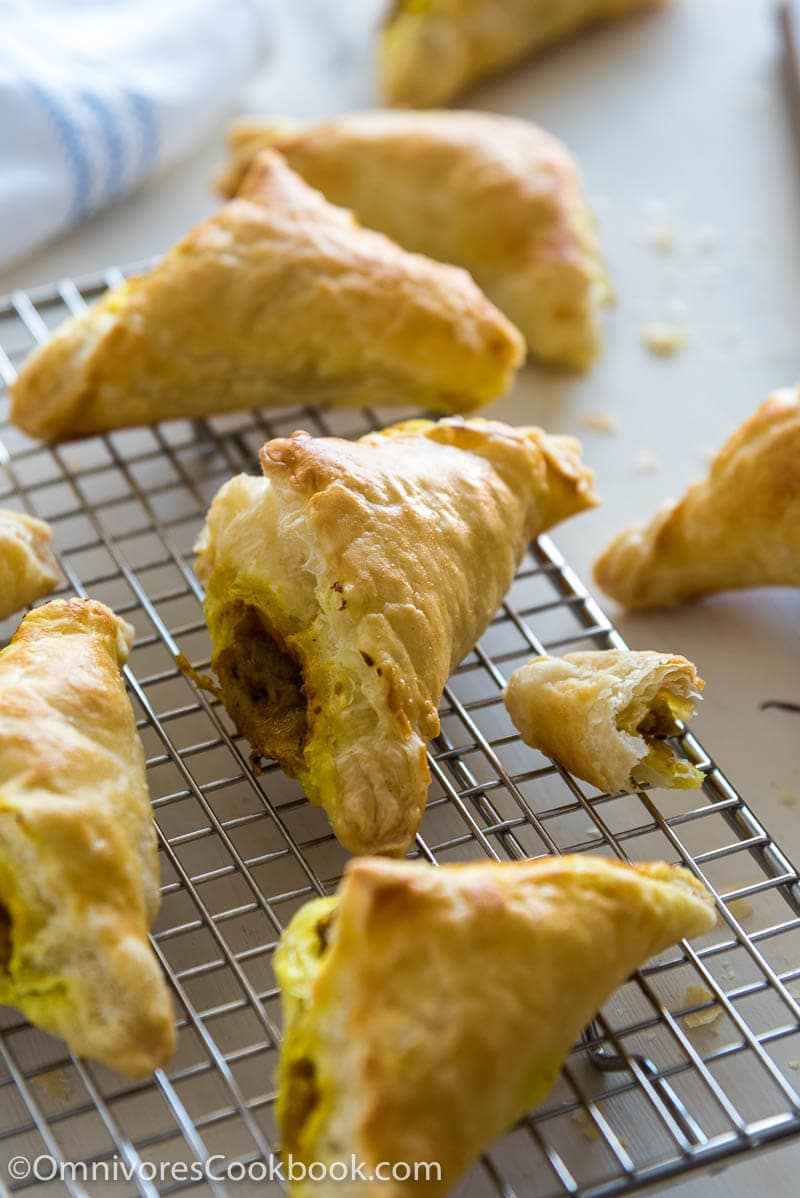 I'm partnering with the Idaho Potato Commission (IPC) to share this recipe with you. All opinions and endorsements are my own. Thanks for your support!
Curry puff is a Cantonese dim sum dish that is usually made with a thick and dry meat curry stew and puff pastry. Sometimes you can find a much larger version in a Chinese bakery that you can eat as breakfast or a quick snack. The spicy and flavorful filling and crispy bread tastes especially delicious when it is still warm.
Making curry puff from scratch can be a bit of a hassle and very time consuming. That's why I made this easier version by using leftovers from the fridge.
You will probably have tons of leftover mashed potatoes and turkey the day after thanksgiving. If you're tired of eating turkey sandwiches, definitely give this recipe a try! It turns your leftovers into a fancy restaurant dish that has a totally different taste! Plus, these curry puffs freeze very well. You could always save them for later and warm them up in the oven.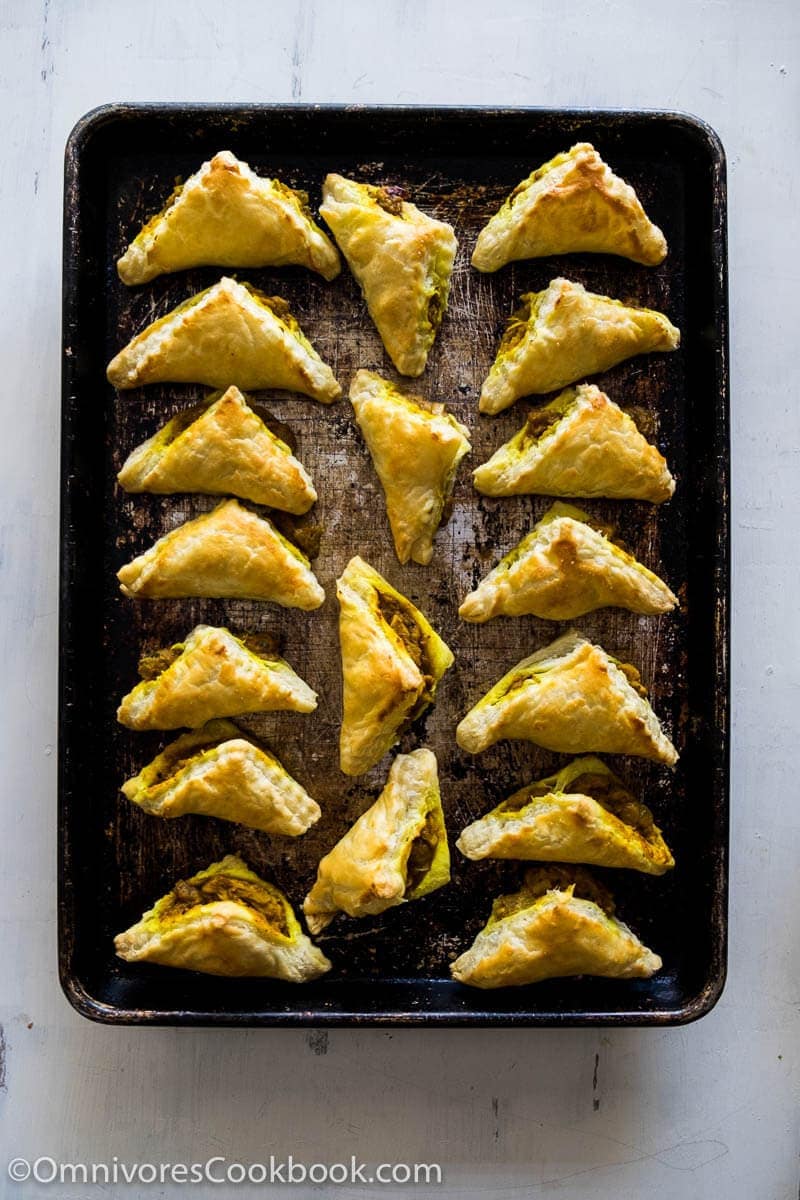 Extra delicious tips for using leftovers
If wrapping puffs is too much trouble for you, here are some other ideas to use the curry filling in this recipe:
You can stuff this curry filling into a pie crust to bake a pie.
Too lazy to bake? Use the filling as batter to cook curry pancakes by cooking them in a skillet lightly greased with oil. Skip the salt in this recipe and follow the steps to make the filling.
Need a quick lunch? Use the filling to make a sandwich, cheese melt, or stuffed pita bread.
Too much leftovers to get rid of? Make a cheesy casserole by doubling (or tripling) the mashed potato and turkey without adding more curry mix, then transfer the "filling" into a baking dish, top with cheese and bake until the cheese melts.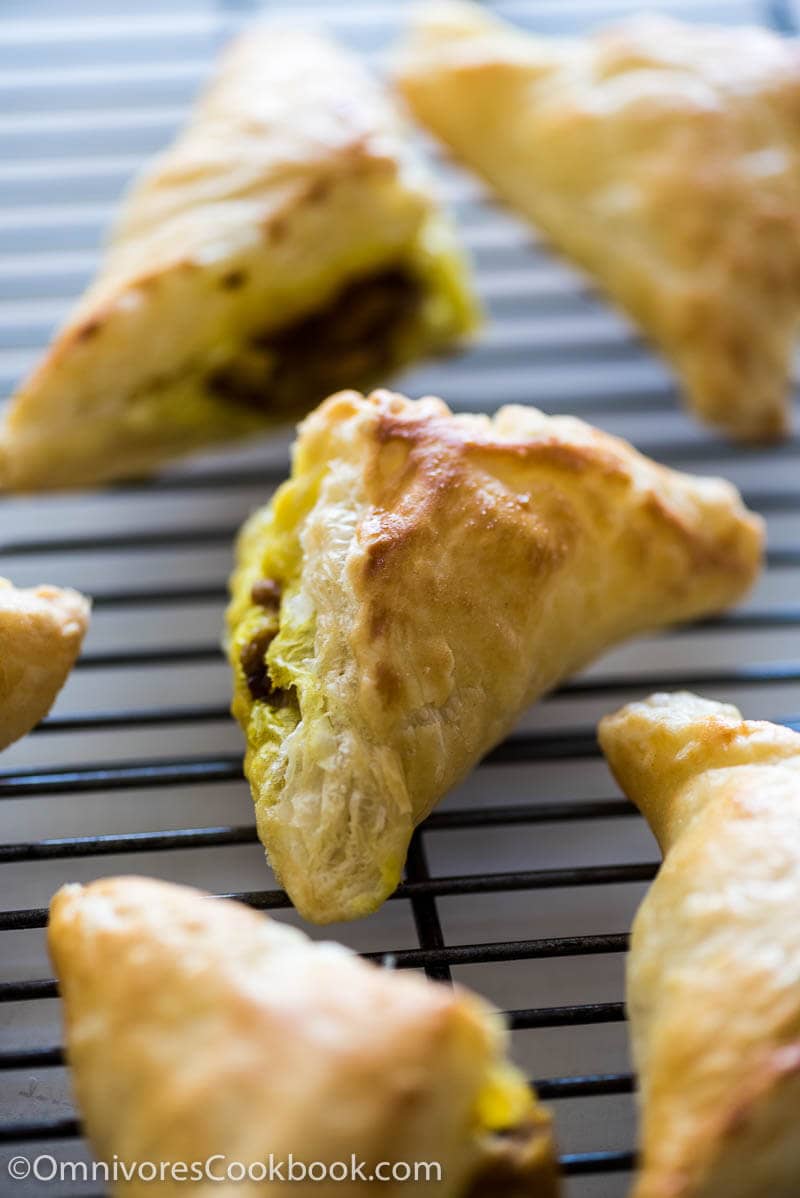 OK, I might be off the topic of curry puff! I just want you guys to know that there are many delicious ways to get rid of your Thanksgiving leftovers 🙂
Bon Appétit!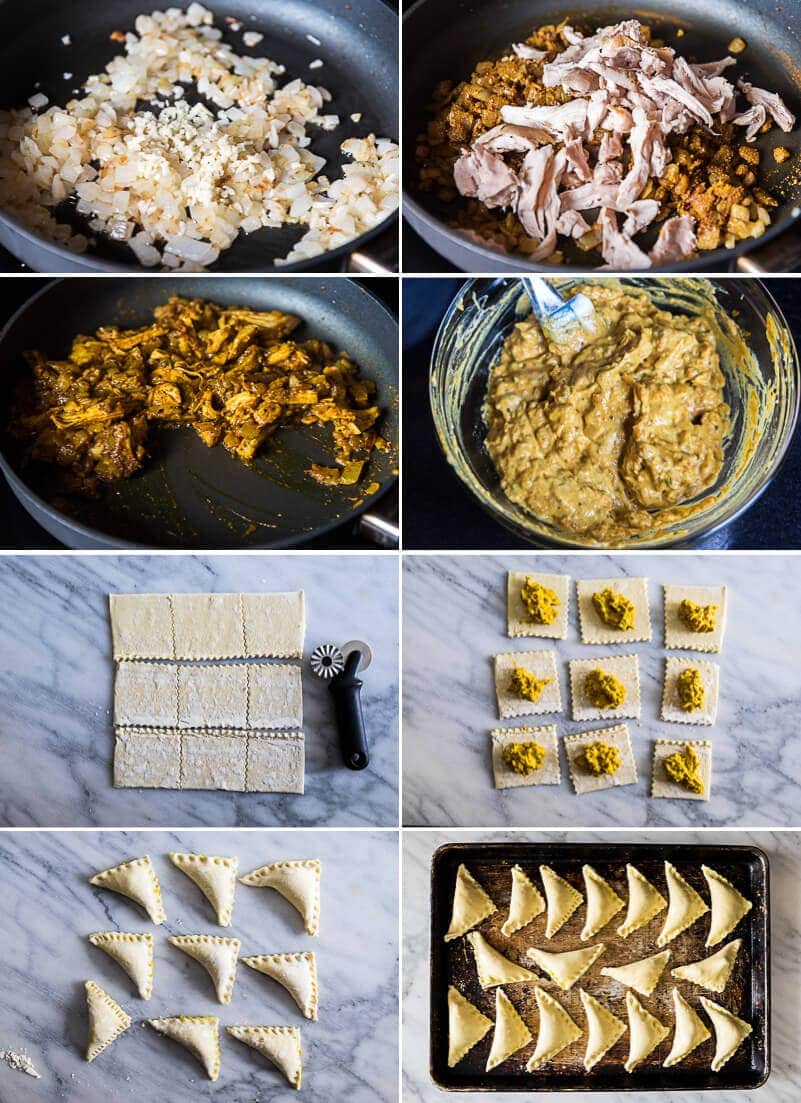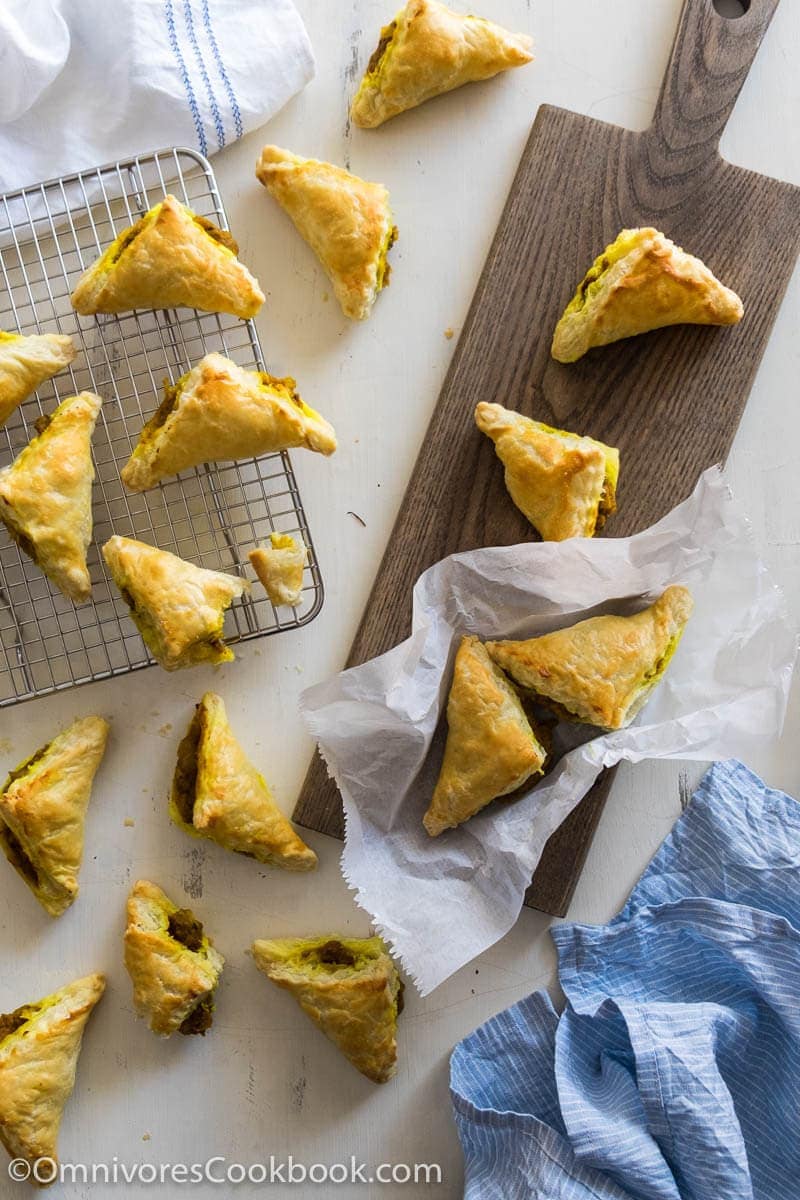 This post is for Day Five of the #PotatoPalooza event co-hosted by Bowl of Delicious, Panning the Globe and Omnivore's Cookbook. Check out what recipes the others posted today!
Special thanks to the Idaho Potato Commission for sponsoring #PotatoPalooza of 2016! For more delicious potato recipes, check out Idaho® potatoes' website.
Want to Know More?
Receive our 5-Day Chinese Cooking Crash Course & Recipe Updates! Subscribe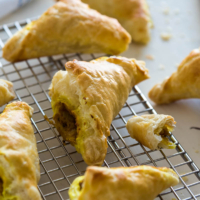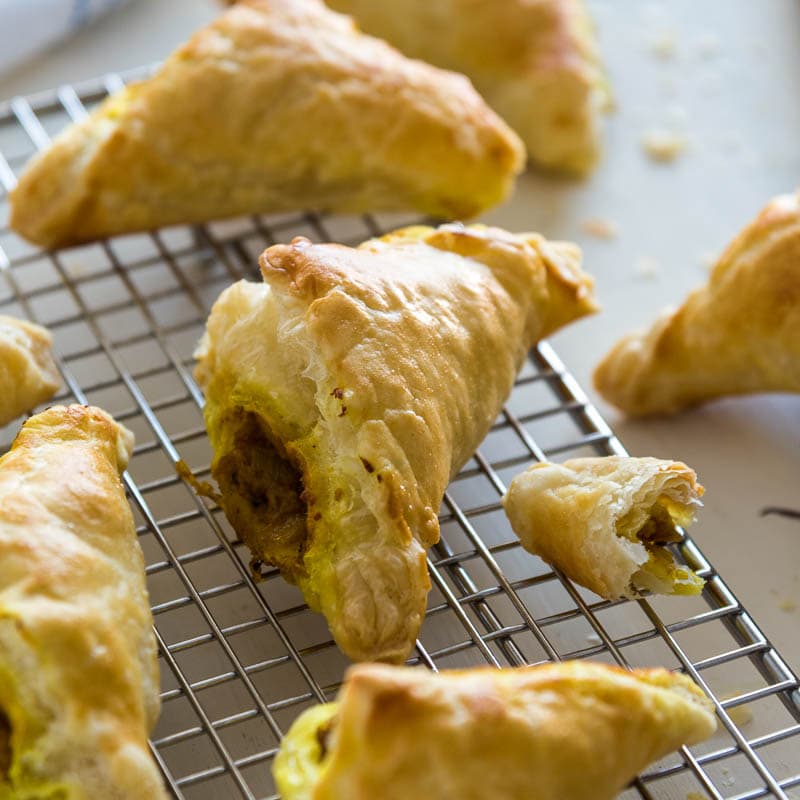 Thanksgiving Leftover Curry Puffs (咖喱角)
Turn your Thanksgiving leftovers of mashed potatoes and turkey into this classic Chinese dim sum dish – really easy!

Ingredients
Curry mix
1

tablespoon

curry powder

1

teaspoon

cumin powder

1

teaspoon

turmeric powder

1

teaspoon

fine sea salt

1/2

teaspoon

sugar

1/2

teaspoon

black pepper powder
Puffs
2

tablespoon

peanut oil

(or vegetable oil)

1

white onion

, minced

2

cloves

garlic

, minced

1/4

cup

chicken stock

(or vegetable stock)

1

and 1/2 cups

leftover mashed potato and turkey

(*Footnote 1)

1

pack (17.25-oz)

frozen puff pastry

, thawed in fridge (*Footnote 2)

1

egg
Instructions
Combine the curry powder, cumin powder, turmeric powder, sea salt, sugar and black pepper in a small bowl. Mix well and set aside.

Heat oil in a large skillet over medium heat until warm. Add white onion. Cook and stir until translucent and the edges are lightly brown, 8 to 15 minutes. Add garlic. Cook another minute until softened. Turn to medium low heat if the skillet gets too hot.

Add the curry mix. Cook for a minute or so, until fragrant but not burned.

Add chicken stock. It should be brought to a boil immediately. Remove the pan from the stove.

Place leftover mashed potato in a large bowl and pour in the curry mixture. Mix with a spatula until the liquid is absorbed. Let cool completely.

To make egg wash, beat the egg with 1 tablespoon water in a small bowl.

Unfold puff pastry. Cut the sheet into 9 squares. Place about 2 to 3 tablespoons of the filling in the center of each square, then fold diagonally to form a triangle. Press the edges together with your fingers to seal. Transfer the puffs onto baking sheet, two fingers apart between.

Place the puffs into the fridge to let cool for at least 15 minutes while preheating the oven.

Preheat oven to 400 F.

When the puffs are chilled, gently brush with a thin layer of egg wash. Transfer into the oven immediately. Bake for 15 to 18 minutes, or until golden brown.

Transfer onto a wire rack and let cool for 10 minutes or longer.

Serve warm or at room temperature.

Cool the puff pastry completely before storing. Store leftover puffs in a airtight container in the fridge for 2 to 3 days or in the freezer for up to 2 months. Reheat in oven at 150 degrees C (300 F) to let crisp up. You can heat the puffs on a skillet too.
Notes
For the mashed potato to turkey ratio, I used 1 cup of mashed potato plus 1/2 cup turkey. The ratio of 1:1 works too. You can also replace turkey with other leftover meat, such as chicken and beef.
Properly thawing the puff pastry is the key. It usually takes 4 hours to thaw in the fridge, or 20 to 40 minutes to thaw in room temperature (check it often in this case). The dough should be cold but not frozen.
The nutrition facts are calculated based on 1 of the 18 curry puffs generated by this recipe.