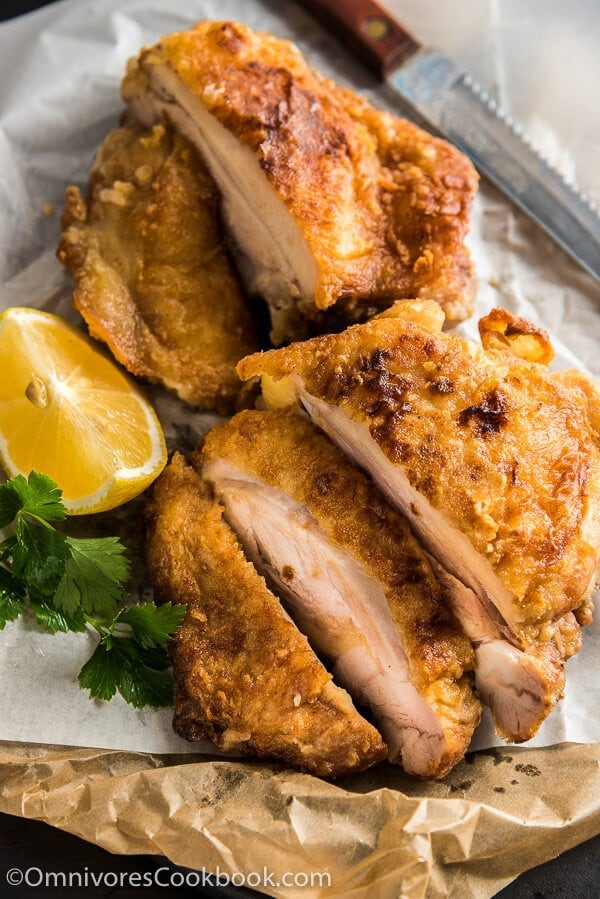 This recipe offers a new approach to creating crispy and flavorful fried chicken on the stovetop using the minimum amount of oil.
Chinese crispy chicken, or Chinese crunchy chicken, uses a very different approach in order to create perfectly fried chicken without deep-frying. The chicken is marinated, steamed, then coated with batter and cooked on the stovetop with much less oil than usually required for frying. It yields a flavorful, moist, and tender chicken with a crispy crust.
This method was originally used in traditional Chinese cooking, for a whole duck or whole chicken. The goal was to create a deep-fried bird on the stovetop.
The approach of the traditional recipe is almost the same as this one. By steaming the bird first, it will be cooked thoroughly. You then coat it with flour and cook the surface to crisp it up. Instead of using a giant deep-fryer, the chef usually uses a wok with a pool of oil that only covers one-third of the bird, and the perfectly fried texture is attained by constantly basting it with hot oil. The bird would then be chopped into bone-in bite-size pieces and served immediately. The method creates a very flavorful and tender bird with a crispy surface, without a deep fryer or an oven.
I discovered this method when reading the recipe – Szechuan Crunchy Chicken from The Key to Chinese Cooking (by Irene Kuo).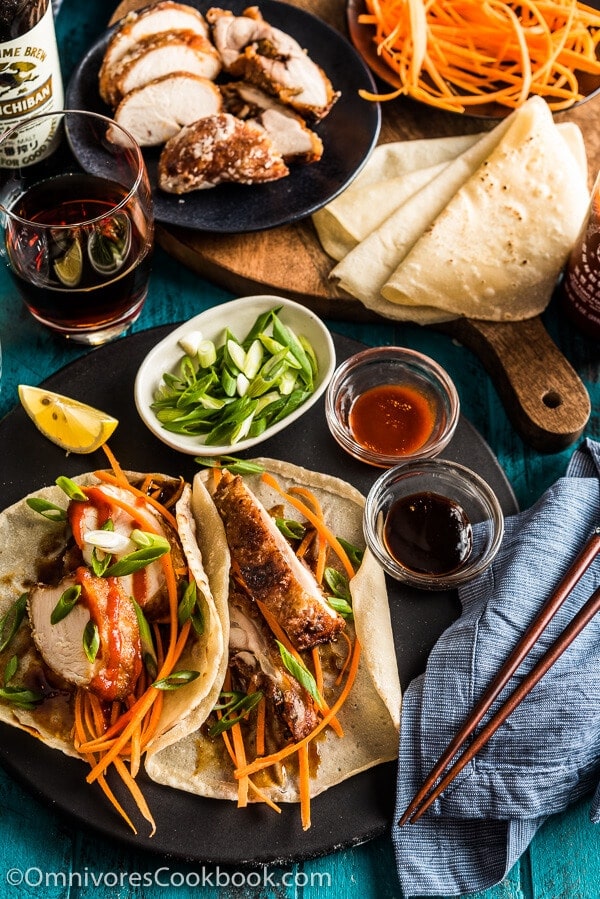 I was intrigued by the steam-and-fry method. However, the restaurant dish does not seem very practical for everyday home cooking. In the end, I created this new recipe using smaller cuts and less oil, to make it easier to cook at home.
I admit, there are tons of methods for creating super crispy chicken without deep-frying. You can coat the chicken with bread crumbs and bake it to get deep fried results. Or you can use the famous baking soda approach to make crispy chicken wings in the oven. You can also coat the chicken with flour and use the minimum amount of oil to fry it on the stovetop.
So why this recipe?
It shortens the active cooking time of skillet fried chicken
It yields tender and moist chicken without effort, even with chicken breasts
It uses 1/3 the oil that normal deep-fried chicken does
You can use this method to create gluten-free fried chicken
It doesn't take up oven space
I found this recipe a great choice for holiday cooking or for whenever you're craving fried chicken. You can marinate the chicken ahead of time, put it in the steamer, and forget it. Then, you just need to fry it with a bit of oil to create a perfectly crispy surface.
When I was developing this recipe, I experimented with both flour and cornstarch. They both produced very tasty results. If you use flour to coat the chicken, it will yield a crunchy crispy texture similar to that of traditional fried chicken (the first picture of this post). If you use cornstarch to create gluten-free chicken (see the two pictures below), it yields a chewy crispy crust similar to that of karaage (Japanese fried chicken). You'll love them both.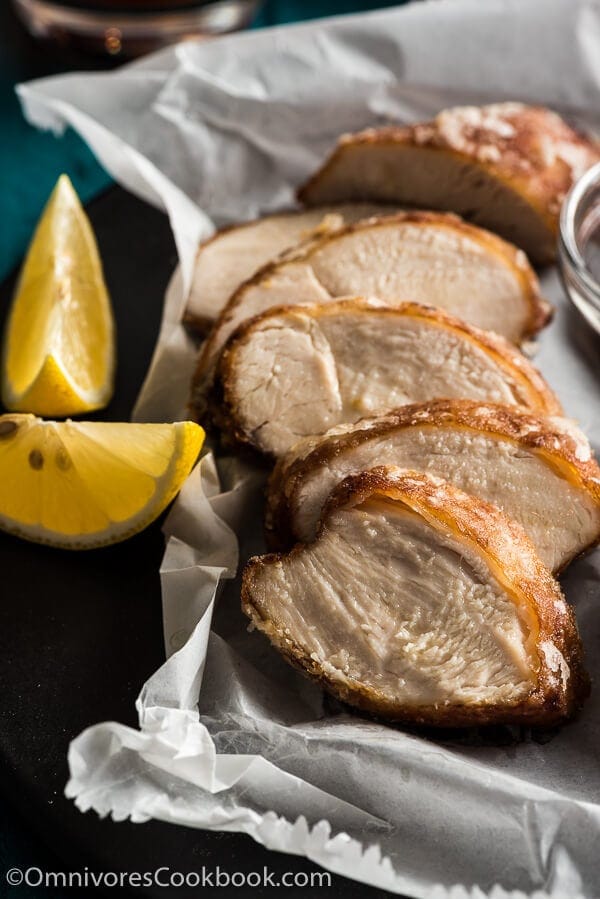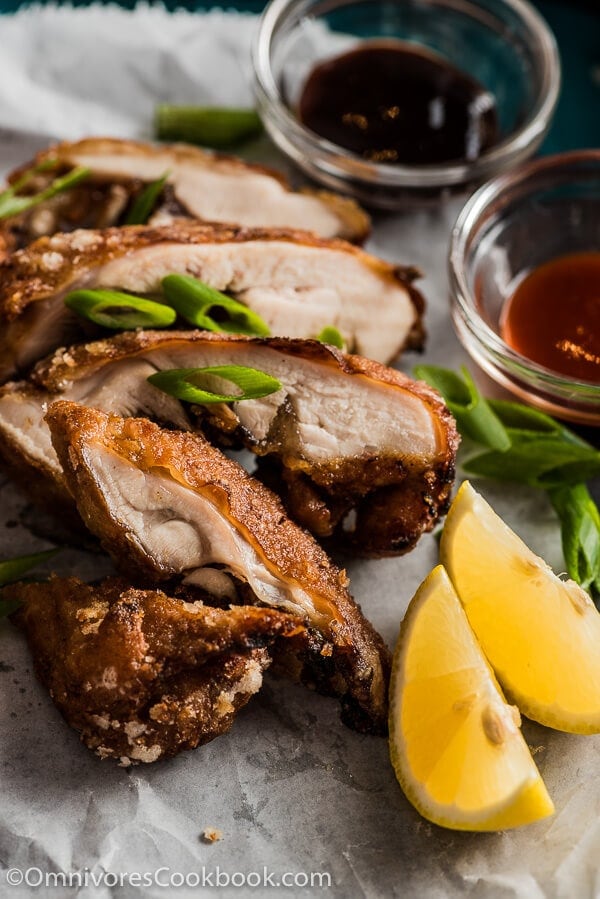 If you want to cook this ahead of time and serve it later, that's totally fine, too. You can reheat the chicken in the oven at 180 degrees C (350 F). The texture will remain moist and the surface crispy.
To serve the chicken, my favorite way is to wrap a few slices of it in a homemade duck pancake with hoisin sauce and green onion. Believe it or not, it will give you the satisfying sensation of Peking duck!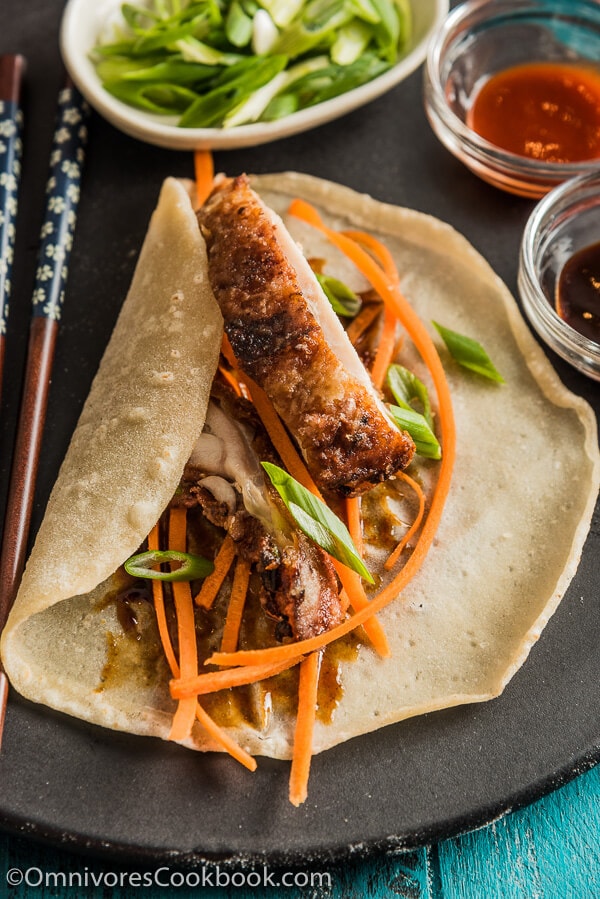 Do you like my recipes? Sign up for Omnivore's Cookbook's weekly newsletter to get the latest updates delivered to your inbox and a free e-cookbook!
Want to Know More?
Receive our 5-Day Chinese Cooking Crash Course & Recipe Updates! Subscribe
Crispy Chicken without Deep-Frying (香酥鸡)
This recipe offers a new approach to creating crispy and flavorful fried chicken on the stovetop using the minimum amount of oil.
Ingredients
4

(700 grams / 1.5 pound)

bone-in skin-on chicken thighs

(or boneless thighs, or breasts) (*see footnote 1)
Marinade
2

tablespoons

soy sauce

(or tamari for gluten-free)

1

tablespoon

Shaoxing wine

(or dry sherry, or Japanese sake)

1

tablespoon

sugar

1/2

teaspoon

salt

1/2

teaspoon

Sichuan peppercorn

(or whole black peppercorn)

1/16

teaspoon

five spice powder

3

green onion

, coarsely chopped

1

thumb ginger

, sliced
Cook
1/3 to 1/2

cup

all-purpose flour

(or potato starch for gluten-free)

Vegetable oil for frying
Instructions
Marinate
Combine all the ingredients for the marinade in a bowl. Mix well. Transfer chicken and the marinade into a ziplock bag. Seal the bag two thirds of the way across. Press as much air out as possible, then seal. Massage the bag a few times so that the marinade covers the surface of the chicken evenly. Marinate at room temperature for 2 hours, or in the fridge overnight.
Steam
Transfer chicken with all the marinade onto a deep plate. Arrange the chicken so there is as little overlap as possible.

Add water to the steamer and place the plate of chicken onto the steaming rack. Bring to a boil over high heat. Turn to medium-high heat (keeping the water boiling), and steam for 25 to 30 minutes. The internal temperature of the chicken should reach 74 degrees C (165 F).

Transfer the chicken to a big mesh strainer on top of a bowl to cool and drain. Wait until it has cooled enough to handle.
Skillet-fry
(Option 1) Coat chicken evenly with all-purpose flour. Shake off any extra flour.

(Option 2) Brush chicken with a thin layer of soy sauce (it creates a nice brown color). Coat chicken evenly with potato starch. Shake off any extra starch.

Heat oil (1/2-cm or 1/4-inch deep) in a wok over medium-high heat until very hot. (*see footnote 3)

Cook chicken one piece at a time. Carefully place chicken into the wok, skin side down. Cook until the bottom side turns golden brown, about 1 minute. Flip chicken and cook for another minute, until the other side turns golden brown.

Transfer chicken to a mesh strainer on top of a big bowl to drain the extra oil.

Cook the rest of the chicken using the same method.
Serve
Serve the chicken warm. You can serve it as a main and add a side to it. Or you can serve it with pancakes.

To serve the chicken with pancakes - Cook

Chinese pancakes

beforehand (or use some that you've purchased) and reheat them right before serving (as you let the fried chicken cool). Serve pancakes, chicken, hoisin sauce, chopped green onion, and sliced veggies (cucumber or carrot). Spread a single pancake on a plate, brush a thin layer of hoisin sauce in the center, and top with 1 to 2 pieces fried chicken and a few pieces of green onion. Fold and tuck three sides of the pancake to form a roll, like you're making a burrito. Enjoy!
Notes
Boneless chicken breast works too, but the result is not as great as with thighs. They will be tender and moist right after cooking, but become a bit tough after reheating.
If you don't want to serve the chicken with pancakes, you can serve it with steamed rice, or add it to noodle soup (such as soy sauce noodles

, or

tomato noodle sou

p).

You can use a skillet to cook the chicken too, but it will require more oil to cover the bottom of the pan.
Nutrition
Serving:
125
g
,
Calories:
262
kcal
,
Carbohydrates:
14.7
g
,
Protein:
27
g
,
Fat:
10.1
g
,
Saturated Fat:
2.5
g
,
Cholesterol:
78
mg
,
Sodium:
336
mg
,
Potassium:
280
mg
,
Fiber:
0.8
g
,
Sugar:
4.4
g
,
Vitamin A:
150
IU
,
Vitamin C:
3.3
mg
,
Calcium:
30
mg
,
Iron:
2
mg