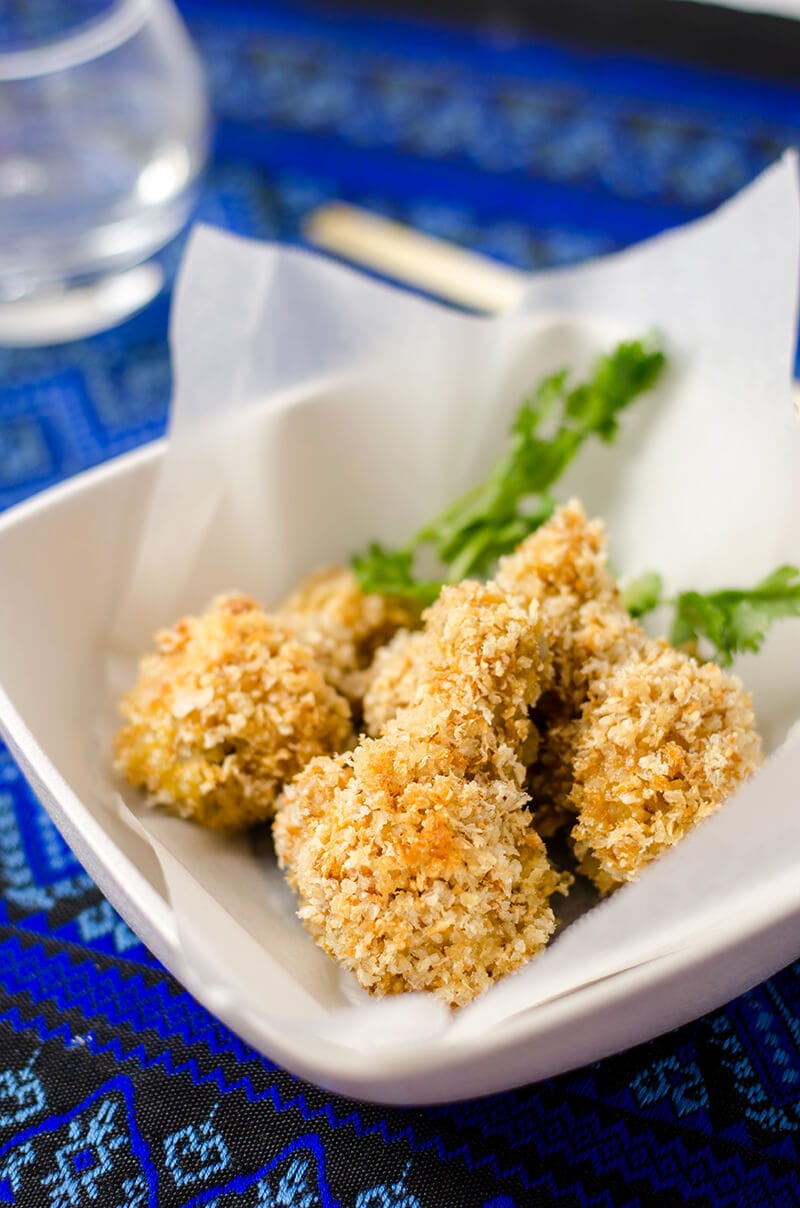 Healthy food always tastes bad, and the most delicious food is almost invariably unhealthy. Although I don't want to admit it, it's the truth. I'm struggling between eating healthily and satisfying my taste buds 24 hours a day, 7 days a week (yes, I sleep-eat!). It's like maintaining your work-life balance in that you're constantly working to achieve a comfortable equilibrium.

To better reach that equilibrium, people have started to invent smarter cooking methods, like the method for this crispy oven fried chicken. Is it really that much healthier than proper fried chicken? I really don't have any solid statistics to back up my claim, but it does use far less oil and thus contains fewer calories. Does it taste as good as real fried chicken? If I say yes, you won't believe me, anyway. So I'd say, it's something very tasty and satisfying to eat on a football night. This recipe has been extremely helpful to me lately, because the World Cup is going on, and I just crave fried chicken and beer every night, LATE at night.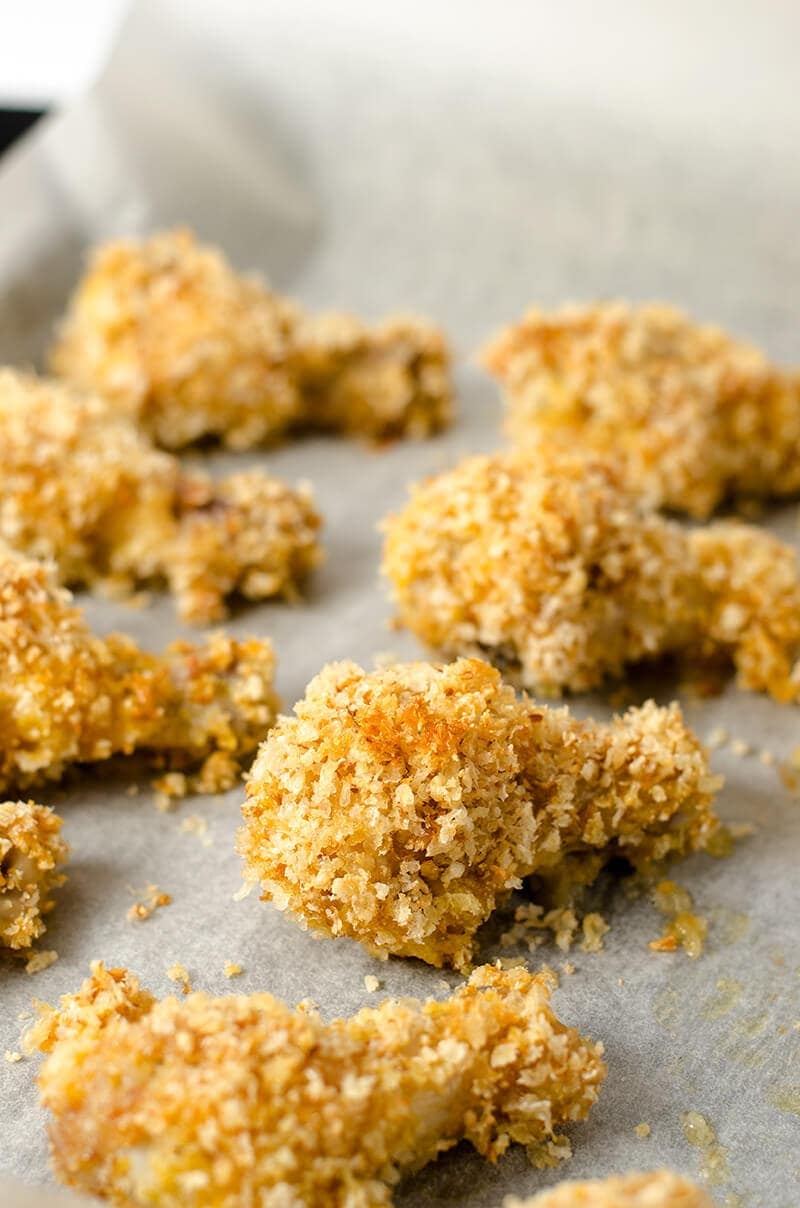 This recipe reminds me a type of oil-absorbent kitchen paper that I used while living in Japan. It's specially designed for re-heating fried food in the microwave. It's said that if you place left-over or pre-cooked frozen fried chicken on the sheet, 30% of the oil will be absorbed by the sheet and the chicken will contain far fewer calories and become very crispy. It's one of the greatest inventions I ever came across and it makes me feel far less guilty about eating fried chicken 4 days a week. I can't find it in Beijing now and I miss it. So I have to find another way to eat fried chicken in a healthier (?) way.
I once posted a recipe for baked chicken legs on the blog. The idea for this fried chicken is the same, but I use an Asian style marinade in this one. Both of them are very tasty. Also, I learned a very useful tip from Nami's Baked Tonkatsu recipe. I found it very useful to stir fry the bread crumbs in olive oil before coating the chicken with them. The chicken will finish with a beautiful golden color, even though it is only baked in the oven for 20 minutes (my earlier chicken leg recipe requires baking for 50 minutes, which  brings the bread crumb coating to a nice color without pre-sauteing).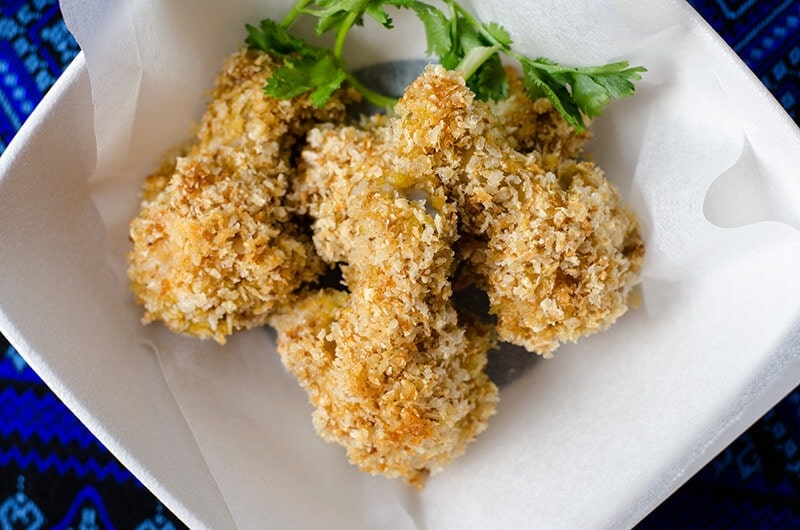 Want to Know More?
Receive our 5-Day Chinese Cooking Crash Course & Recipe Updates! Subscribe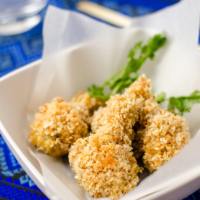 Crispy Baked Fried Chicken
Ingredients
15

chicken wings

2

tablespoons

Shaoxing wine

3

cloves

garlic

minced

1/2

teaspoon

cayenne pepper

1

teaspoon

cumin powder

salt & pepper

1

cup

bread crumbs

2

tablespoons

olive oil

2

eggs
Instructions
Place chicken wings into a big bowl, add Shaoxing wine, garlic, cayenne pepper, cumin powder, salt and pepper. Mix well and marinate under room temperature for 20 minutes or overnight in the fridge.

Spread bread crumbs in a non-sticky skillet, drizzle olive oil, turn on medium heat. Stir with spatula to mix well and saute till bread crumbs turn golden brown. Turn off heat and set aside.

In a small bowl, add eggs and beat well.

Transfer chicken wings to a plate and discard marinate liquid. Dry wings thoroughly with kitchen towel.

Preheat oven to 200 degrees C (400 F). Line a baking sheet with with parchment paper.

Dip chicken wing into egg mixture to coat well, then place on the bread crumb, flip to coat well, gently transfer chicken wings onto prepared baking sheet. Work out the rest wings by the same way.

Bake chicken wings for about 20 minutes, until juice runs clear if poking the wing with a chopstick.

Transfer chicken wings to a place and cool for 2 to 3 minutes. Serve while warm with cold beer.
The nutrition facts are calculated based on 1 chicken wing.