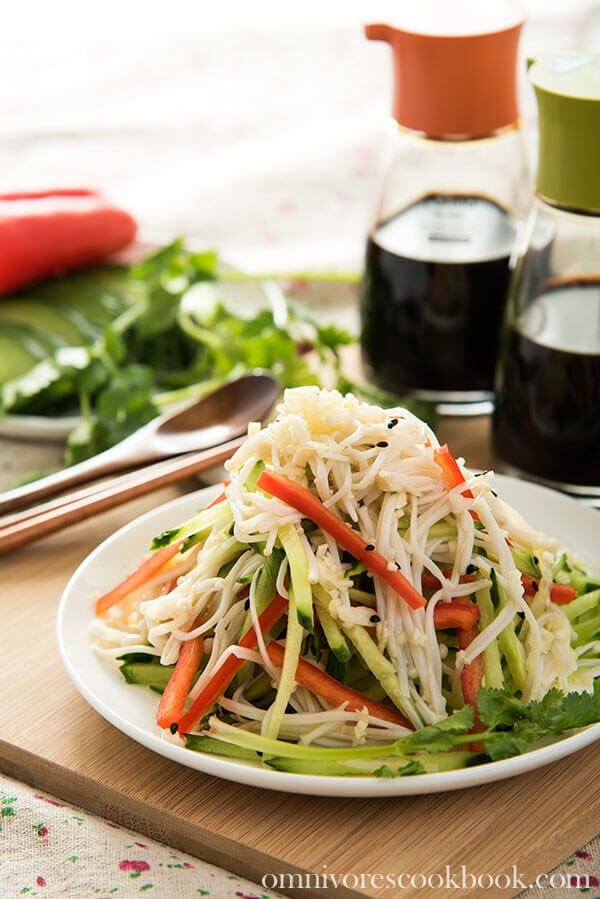 A refreshing and appetizing salad drizzled with a slightly sweet savory sauce. It takes only 15 minutes to get ready, loaded with nutritions and is low in calories.
The holiday is coming to an end and the new year has just started. If you're planning to start a healthy diet and give your stomach a break, you've come to the right place!
Chinese cold dishes, or appetizers, are a hidden treasure waiting to be discovered. You might have never seen a big collection of appetizers or salad dishes at overseas Chinese restaurants. But if you ever come to China, you might be surprised at the endlessly long list of cold dishes. It's common practice for an average restaurant to serve more than 30 types of appetizer. Even a small bistro that only serves a standard set menu (which costs less than 3 dollars for a whole meal) will still have 10 appetizers on their small paper menu.
Cold dishes in China are like meze in Turkey; they come in a wide variety and consist of simple and delicious items. Although there are various meat dishes among Chinese appetizers, including chashu and sausage, most cold dishes are vegetarian or vegan dishes. In Chinese style salads, the veggies are usually drizzled with a simple soy sauce or vinegar-based sauce, and are mixed with fresh herbs such as garlic, ginger, and green onion.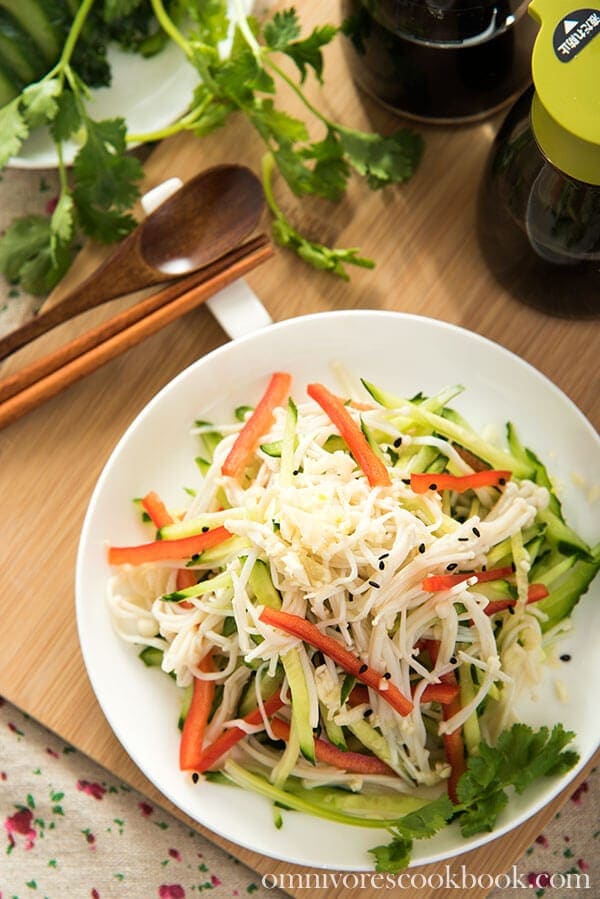 This golden needle mushroom (also called enoki mushroom) dish falls into the same genre. The mushrooms are slightly blanched to get a crunchy yet soft texture. Some cucumber and pepper are added, to lend some color and a crispy and moist texture. The sauce is light but flavorful. The soy sauce, sugar, sesame oil, and garlic work well together to create a slightly sweet and savory taste that goes great with the mushrooms and veggies.
Golden needle mushroom salad is a super healthy and refreshing cold dish that can be whipped up in under 15 minutes. If you look at the nutrition facts below, you'll see it's rated as grade A. It has a super long list of health benefits, including being low in fat, cholesterol-free, high in dietary fiber, iron, potassium, and various vitamins.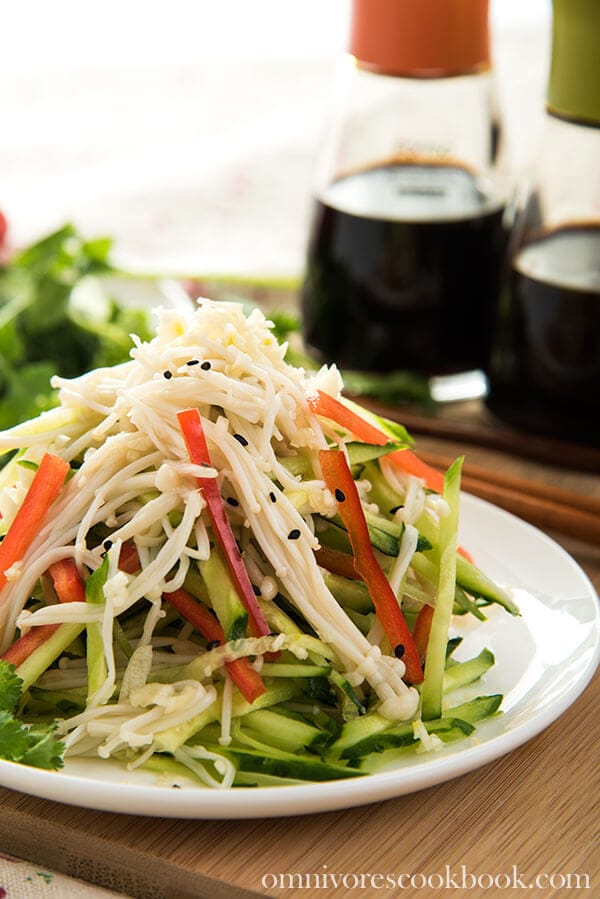 The beauty of the cold dish is that it takes almost no time to prepare and contains a good amount of veggies. It's one of the best ways to add vitamins and fiber to your daily meal without adding many calories. The most important point, they are super delicious, too!
Next week, I'm teaming up with a few bloggers to publish a healthy recipe roundup. Don't forget to come back then for more delicious and healthy recipes!
More Simple Vegan Dishes from Omnivore's Cookbook
Easy Cucumber salad
Green Onion Tofu Salad
Spinach and Peanut Salad
Chinese Style Potato Salad
Wood Ear Salad
Green Beans with Spicy Peanut Sauce
Salt and Pepper Tofu
Want to Know More?
Receive our 5-Day Chinese Cooking Crash Course & Recipe Updates! Subscribe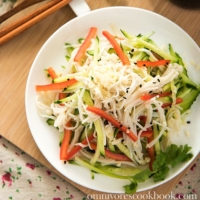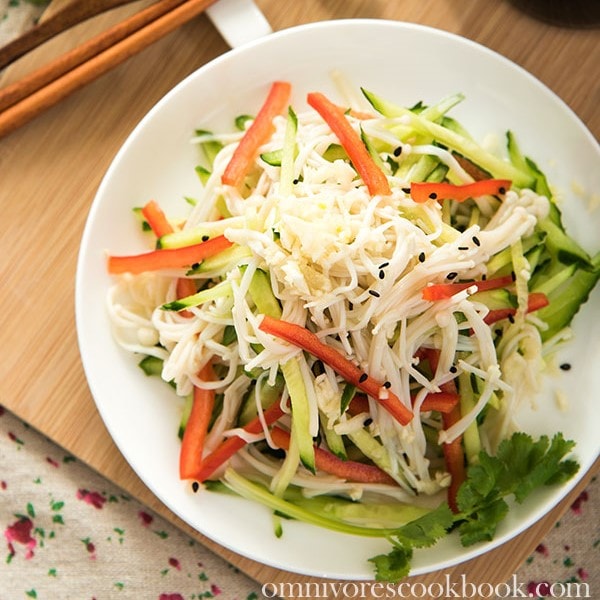 Golden Needle Mushroom Salad
A refreshing and appetizing salad drizzled with a slightly sweet savory sauce. It takes only 15 minutes to get ready, loaded with nutritions and is low in calories.

Ingredients
1

stalk (300 grams / 10 ounces)

golden needle mushrooms

, tough ends removed (enoki mushrooms)

1

cucumber

, sliced into strips

1

jalapeno

, cut into strips (Optional)

1

clove

garlic

, minced
Instructions
Bring a medium-sized pot of water to a boil. Add golden needle mushrooms and cook over medium heat for 1 minute, until the mushrooms are just cooked through. Transfer mushrooms to a colander and run tap water over them to stop cooking. Drain and set aside.

Prepare the rest of the vegetables. Combine mushrooms, cucumber, jalapeno, and garlic in a bowl.

Mix light soy sauce, sugar, salt, and sesame oil in a small bowl.

Right before serving, pour sauce over the salad and mix well. Serve immediately as a side or an appetizer.
Nutrition
Serving:
214
g
,
Calories:
76
kcal
,
Carbohydrates:
13.7
g
,
Protein:
3.7
g
,
Fat:
1.2
g
,
Sodium:
403
mg
,
Potassium:
541
mg
,
Fiber:
3.4
g
,
Sugar:
3.5
g
,
Vitamin A:
150
IU
,
Vitamin C:
7.4
mg
,
Calcium:
20
mg
,
Iron:
1.4
mg