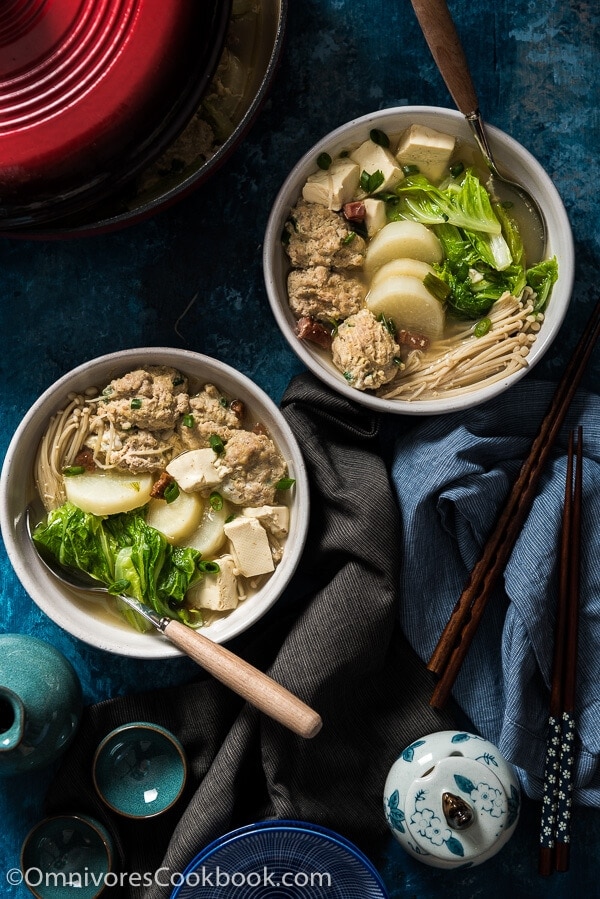 Learn to cook the heartiest soup, plus two tips on how to quickly create a rich broth with just a few ingredients!
Napa cabbage soup is a dish my mom would serve for dinner almost every day during the winter. It takes no effort to make and it tastes really hearty. It has healing powers that warm your body and heart after a long, cold day.
Napa cabbage is a very special thing for us northerners. In the 80s and early 90s, there wasn't much choice when it came to veggies available during the winter in Beijing. Most families would stock up on as much napa cabbage as they could, and serve it on a daily basis, no matter whether stir-fried, braised, or put into a soup. They also made tons of Chinese sauerkraut, and sometimes kimchi. They could then use the preserved cabbage to make dumplings and buns.

MY LATEST VIDEOS
I still remember when I was a kid, my grandma would always get tons of napa cabbage from the market and store it in a cool part of the house, so we could have veggies on the table every day. These dishes were so simple and plain. But they were the most comforting dishes, and I still enjoy them every winter, even after moving to the US.
One of the most common ways to serve napa cabbage is in soup. We usually use pork stock as a base, with dried shrimp for extra flavor. In the soup, we simply add tofu and napa cabbage. I don't know why, but these two go wonderfully together. Sometimes we would also add meatballs, radishes, mushrooms, and mung bean noodles to make the soup even more satisfying.
Napa cabbage soup is a simple soup that you should be able to cook with your eyes closed. I shared this recipe more as a guide, so you can use whatever you have on hand to make your own version.
Two quick and rich broths
Like I mentioned above, the traditional way to make this soup is using pork stock. It's delicious. And it's very cheap to make.
I understand you probably don't want to spend tons of time making a stock just for this soup. Me neither! So I figured out a few ways to make a quick and easy soup base without compromising on flavor.
1. Quick pork and chicken broth
I just discovered this recently and I can't stop using it!
The secret to the stock is… Pancetta.
OK, it might sound strange to use an Italian ingredient in such a classic Chinese dish. But I found it very efficient and economical. We got a big block of Ventrèche French Pancetta
 from Thomas's parents during Christmas, and we have been cooking various dishes with it.
I discovered you can make a very rich broth with pancetta, that tastes just like homemade pork stock, in 1/20th the time and with very few ingredients.
If you've never heard of pancetta, it's like the Italian version of bacon, but it isn't smoked during the curing process. Basically, it's a very salty, rich, raw cured pork belly. I found that it functions pretty similarly to Chinese sausage and cured ham – a little goes a long way.

You only need 3 to 4 tablespoons of chopped pancetta and 10 minutes to make 2 cups of rich pork broth. Isn't it amazing? The process is really simple – you need to chop the pancetta into small pieces (so it will release flavor quickly); slowly cook the fatty parts to render the oil (same idea as bacon fat); brown the lean part; and add water to boil. This will result in a light brown broth that is just salty enough, and quite richly flavored.
In this recipe, I mixed in some chicken stock to make the soup even more flavorful. If you have dried shrimp, add some of them to the broth. It will make the broth irresistible (adding dried seafood into pork or chicken stock is the traditional way to make a soup base for Cantonese noodles and dumplings).
If you do not want to use chicken stock here, you can add water (1 more cup), with a bit of oyster sauce (or hoisin sauce) to add flavor.
See? You can have a rich and flavorful soup really easily!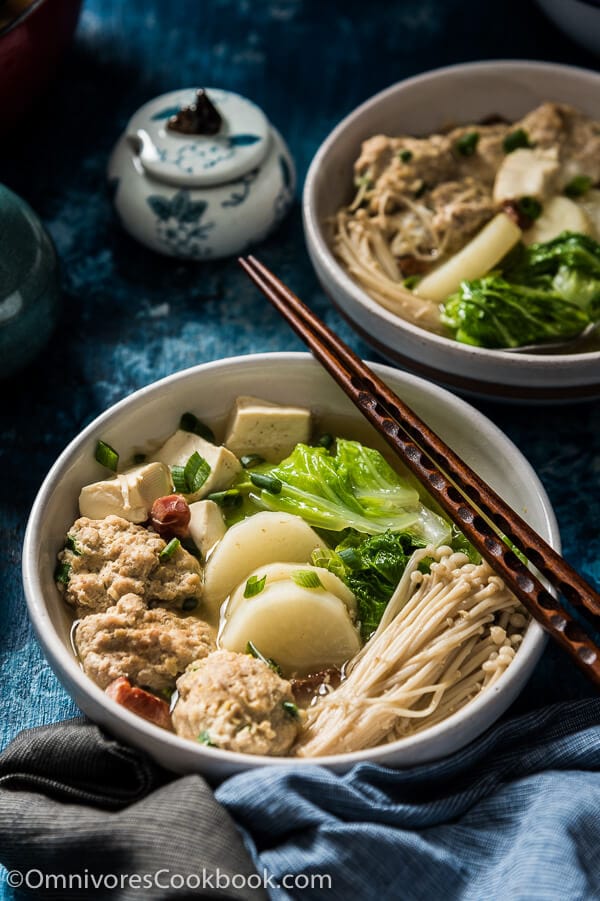 2. Quick seafood broth
This is another trick my mom uses all the time. All you need are a few dried shrimp and dried scallops. Soak them ahead of time and cook them with water for 10 minutes. It produces a clear, mild soup that goes great with veggies.
This is the most economical and quick way, if you're serving soup for dinner on a daily basis. And the prep takes no effort once you've tried it. Sometimes when my mom wants to serve a quick soup for dinner, she simply uses this broth and throws in a few green leaves of napa cabbage, or some mustard greens. That's it!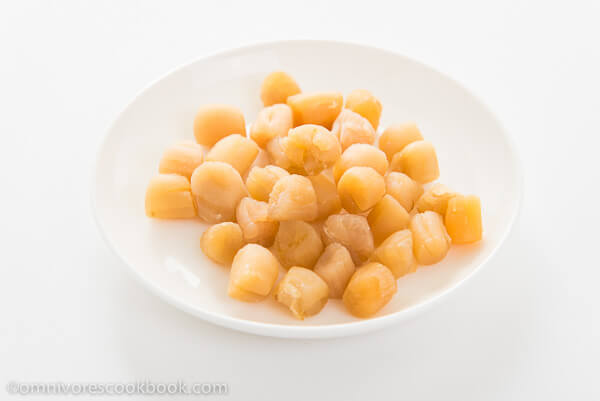 Variations on the soup
Like I mentioned above, please feel free to tweak the soup ingredients according to your preferences.
I added meatballs into the soup because I was serving it as the main dish for dinner, with a few slices of toasted bread. It only takes another 10 minutes to make these super tender and moist turkey meatballs, which turn a soup into a main dish without adding too many calories.
Of course, you can skip the meatballs and add tons of veggies into the dish. You can also boil some wontons, dumplings, or noodles (wheat or rice), and add them into the soup at the end. The soup will be soothing and delicious no matter which way you go ♥
Do you like my recipes? Sign up for Omnivore's Cookbook's weekly newsletter to get the latest updates delivered to your inbox and a free e-cookbook!
Print
Napa Cabbage Soup with Tofu and Meatballs
---
Author:

Prep Time:

5 mins

Cook Time:

25 mins

Total Time:

30 mins

Yield:

2 to 4

Category:

Main, Side

Cuisine:

Chinese
Description
This soup can be served as a main dish for two, or as a side for four people.
---
Ingredients
Soup base
2 large slices ginger
3 to 4 green onions, chopped
(Option 1) Quick pork and chicken broth
1/4 cup chopped pancetta (or bacon)
(Optional) 1 cup chicken stock (or 2 cups, if you want the soup to be extra rich)
(Option 2) Clear seafood broth
(Option 3) Easy broth
3 cups chicken stock (or pork stock)
Meatballs
(230 grams) 1/2 pound ground turkey (or ground pork)
(Optional) 1/4 cup finely chopped green onion (green part)
1 tablespoon Shaoxing wine (or dry sherry or Japanese sake)
2 teaspoons soy sauce or tamari for gluten-free
2 teaspoons potato starch
1 teaspoon grated ginger
1 large egg
1/4 teaspoon salt
1 teaspoon sesame oil (or peanut oil, or vegetable oil)
Soup
6 to 8 large napa cabbage leaves, chopped (generate 6 to 8 cups)
(Optional) 1/2 daikon radish, peeled and chopped (generates 2 cups)
1 batch enoki mushrooms (golden needle mushrooms), tough ends removed and separated
1/2 (400g / 14-ounces) block soft tofu, chopped
Sea salt to taste
---
Instructions
Soup base option 1 – Quick pork and chicken broth
Heat a 3.8-liter (4-quart) pot over medium heat and add the fatty parts of the pancetta. When it starts to sizzle, turn to medium low heat. Stirring occasionally, cook until the fat renders and the pancetta turns golden.

Add the lean parts of the pancetta. Continue cooking and stirring until brown.

Add chicken stock and immediately use a spatula to scrape the brown bits off the bottom of the pot. Add 2 cups water (add 1 cup water, if using 2 cups chicken stock; or 3 cups water + 1 tablespoon oyster sauce or hoisin sauce, if you do not want to use chicken stock), ginger, and green onion. Cook over high heat until boiling. Turn to medium low heat. Cover and boil for 5 minutes.

Soup base option 2 – Clear seafood broth
Rinse dried scallops. Place scallops in a small bowl and add water to cover. Rehydrate for 2 to 3 hours. Drain and tear into small pieces.

Rinse dried shrimp, transfer to a small bowl, and add water to cover. Rehydrate for 30 minutes. Drain and set aside.
Combine the rehydrated scallops and shrimp, ginger, green onion, and 3 cups water in a 3.8-liter (4-quart) pot. Heat over high heat until boiling. Turn to medium heat. Cover and let simmer for 5 minutes.
Soup base option 3 – Easy broth
Combine chicken stock (or pork stock), ginger, and green onion in a 3.8-liter (4-quart) pot. Heat over high heat until boiling. Turn to medium heat. Cover and boil for 5 minutes.
Meatballs
Combine all the ingredients for the meatballs in a large bowl. Stir until all ingredients are just combined and form a slightly runny mixture. Do not over-stir it. Let sit for 5 to 10 minutes.

Soup
Rinse and cut veggies while letting the stock simmer.
Add daikon radish into the soup pot. Cover and cook for 5 minutes.
Add the thick parts of the napa cabbage. Cover and cook for 5 minutes.

Add the green parts of the napa cabbage and enoki mushroom into the soup. Cook for 2 to 3 minutes.
You can adjust the seasoning at this point, by adding a bit salt, if needed.
Add soft tofu. Push all the ingredients to one side of the pot, to clear some space for the meatballs. (If you don't have enough space in the pot, you can take out some of the napa cabbage leaves)

Use a spoon to scoop 1 to 1.5 tablespoons of the meatball mixture and carefully add it into the soup. Repeat this until you've made about 15 meatballs.

Cover the pot and simmer until the meatballs are just cooked through, 4 to 5 minutes. Turn off heat immediately and remove the pot from the stove, keeping it covered.

Serve hot as a main or side. To make it a full meal, you can boil some noodles (or mung bean noodles or shirataki noodles) and add them into the soup at the end of cooking. In this case, you might want to add a bit more salt or light soy sauce, to make the broth a bit saltier. This way, it will taste just right with the noodles.
The nutrition facts are calculated based on 1 of the 4 servings generated by this recipe (by using chicken stock).