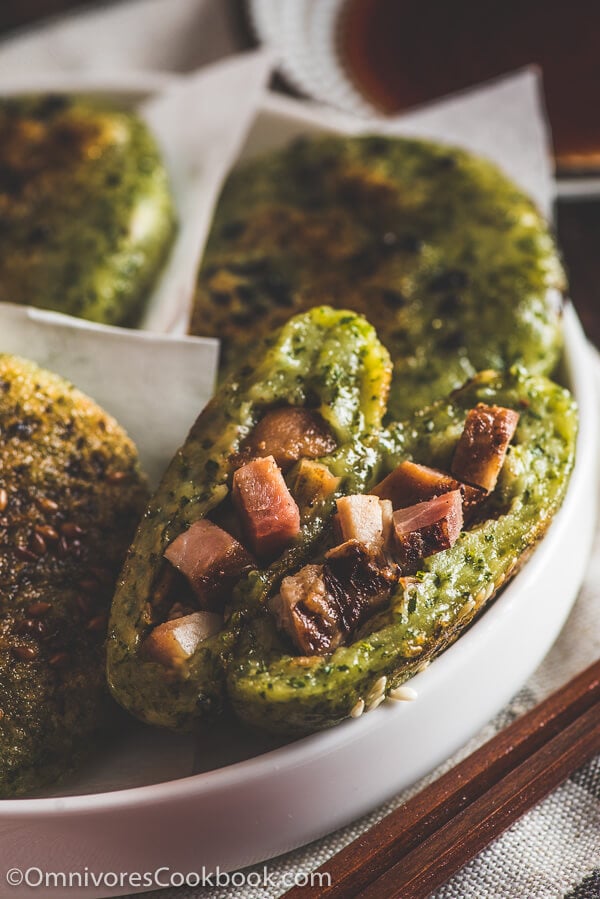 This sticky rice cake recipe teaches you a fun way to enjoy leftover Chinese BBQ. It uses kale to create a gooey green-colored bun that has a delicate flavor and goes great with the meaty filling.
If you've been following my blog, you know that Thomas and I had a great BBQ session a while back. We grilled so many things that I felt like I didn't need to cook meat for a year. Well, in reality, I didn't have to cook meat for nearly two weeks.
What could we do with all the leftover BBQ? Tacos and salad were two obvious choices, and we did cook such dishes several times. By the way, although the BBQ was seasoned with Chinese spices, it worked out great on a green salad with a Western style dressing. Try it out next time and you'll love it.
Well, adding leftover meat to tacos and salad was not exactly a new idea. So the question was left unanswered – what should I do with these leftovers, to make something more interesting?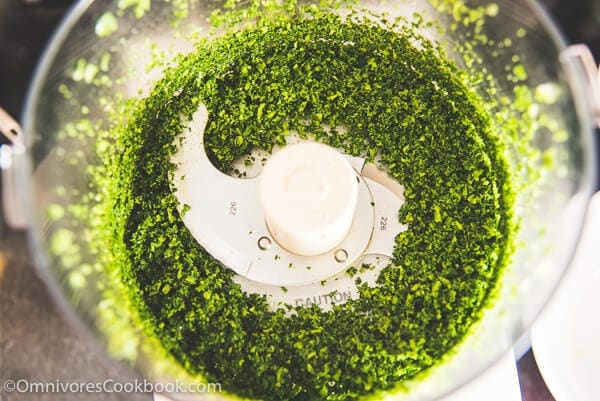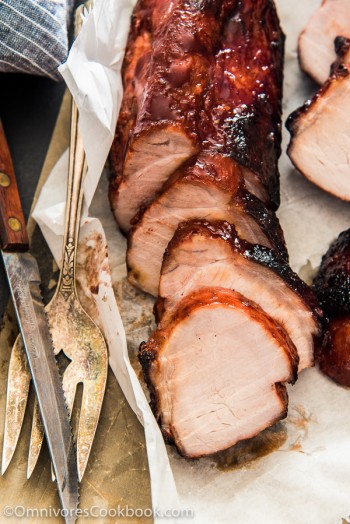 Thanks to my reader Kara, I discovered a wonderful answer – the kale sticky rice with BBQ filling!
Kara is a good friend and we always discuss food. A while ago, she told me she was making my pumpkin bun recipe. Besides the golden buns, she also wanted to do a small batch of green buns, so the dish would look prettier. I suggested a sweet savory Chinese BBQ filling would go well with a spinach dough. But later on, she used kale instead of spinach, and created an awesome green cake with a great refreshing flavor!
I loved how the dish sounded, so I tried it out in my kitchen too.
The kale adds a nice layer of flavor to the sticky rice, and makes a very interesting bun that has a strong flavor of kale. It counterbalanced by the rich BBQ, resulting in a fingerlicking-delicious snack!
What is glutinous rice flour?
Glutinous rice flour, also called sticky rice flour, is actually gluten-free. Cooked glutinous rice dough has a gooey texture and always works well with sweet flavors. However, once I tried it, I found that it goes great with savory ingredients, too. It's just like a doughnut. It leaves people a sweet image in their minds, but once you add bacon to it, it just becomes even more irresistible. I was joking with Thomas, that Chinese BBQ pork is destined to become the new bacon, because it works so wonderfully with everything.
If you've never worked with sticky rice flour, don't be intimidated by it. It can be made into dough really easily. It requires much less time and effort than does a wheat-based dough. If a typical wheat flour dough requires ten minutes of kneading, a rice flour needs three or five minutes. Also, even if the rice dough turns out slightly drier or wetter than it should be, it usually won't cause a big problem.
Ready to cook? Let's look at how easy it is to create a fun snack for your dinner (or party!).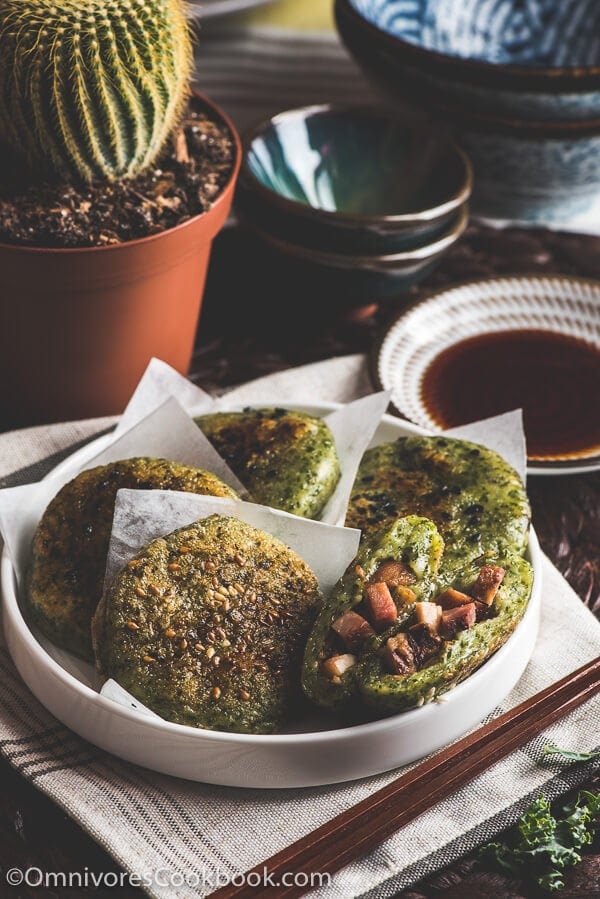 And don't forget to take a picture if you cooked this dish, and post it on my Facebook fan page. I love to see your photos!
Want to Know More?
Receive our 5-Day Chinese Cooking Crash Course & Recipe Updates! Subscribe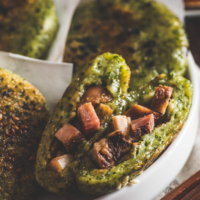 Chinese BBQ Sticky Rice Cake
I blended kale into the rice cake to make a green bun for this recipe. If you don't want to use kale in the dough, please refer to the normal rice dough in
this recipe
.
Ingredients
2/3

cup

chopped Chinese BBQ pork or chicken

I have a grilled Chinese BBQ recipe here and a baked char siu recipe

1

cup

chopped kale

yield from two kale leaves

2

tablespoons

and 1/4 teaspoon olive oil

or vegetable oil

1

cup

125 grams glutinous rice flour

1/2

teaspoon

salt

Optional 1 tablespoon sesame seeds to garnish

1

tablespoon

light soy sauce
Instructions
Chop Chinese BBQ meat into small pieces. The smaller you chop it, the easier it will be to wrap the cakes later.

Chop kale into bite sized pieces. Add kale and 1/4 teaspoon olive oil into a food processor. Blend until the kale turns to tiny bits.

Add glutinous rice flour into a big bowl. Add salt and mix well.

Transfer the kale to the rice flour bowl. Mix well.

Prepare 1/2 cup water. Slowly blend water into flour, mixing with a pair of chopsticks. Keep adding water until small chunks of dough forms and there is no dry flour on the bottom of the bowl. You might need slightly more or less water (*see footnote 1).

Start to knead the dough by hand, until the texture becomes consistent.

Transfer the dough to a working surface (or cutting board). Knead the dough a few more times and shape the dough into round shape.

Divide the dough in half.

Shape each piece of dough into a long stick, and further divide into 6 pieces. Work on the dough pieces one at a time.

Shape each small dough into a ball with both hands.

Gently press the dough into a flat, round disk.

Add about 1 tablespoon of BBQ meat into the center of the flat dough.

Use both hands to gather the edges of the dough to seal the filling inside. Gently press the dough ball to shape it into a flat, round cake (Footnote 2).

(Optional) Spread a pinch of sesame seeds on top of the cake to garnish.

Heat 1 tablespoon oil in a large nonstick skillet over medium low heat until warm. Place the rice cakes in the skillet without overlapping them (you might need to cook the cakes in two batches). Cook until the bottom side turns golden, about 2 minutes. Flip to cook the other side, until the dough is fully cooked and turns semi-translucent, about 2 minutes. If the bottom side has already turned golden but the dough is still a bit raw, cover the skillet and cook over low heat for 1 or 2 minutes.

Transfer the sticky rice cakes to a plate to cool for a few minutes.

Serve warm with soy sauce. Dip the rice cake in soy sauce when eating.
Notes
(1) Unlike wheat flour, glutinous flour is very easy to mix and it won't be a big problem if the dough is a bit wet. It may stick to your hands a bit, but won't make a mess. I personally prefer to make the dough a bit wet, so it will be easier to shape later. Plus, a wet dough will dry out a bit after being cut into smaller sized pieces later.
(2) The filling will tear the dough apart if you squeeze too hard. However, even if the filling leaks a bit, it won't cause a problem, since the sticky rice holds its shape pretty well.
The nutrition facts are calculated based on 1 of the 12 cakes generated by this recipe.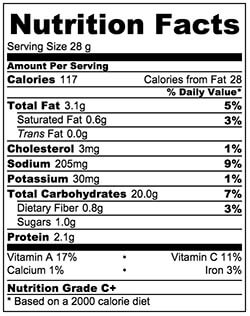 You may also like:
Sticky Rice Cake with Red Bean Paste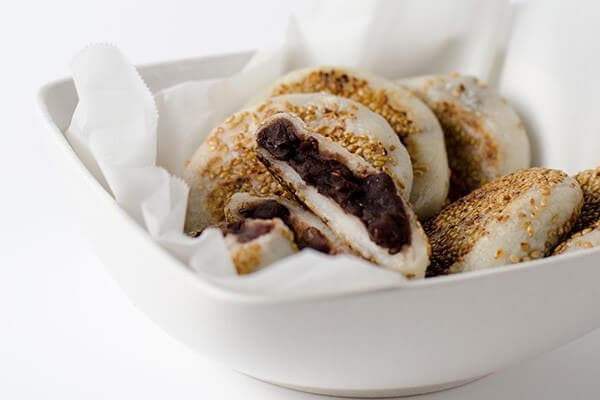 Zongzi with Red Bean Paste (Sticky Rice Dumplings)