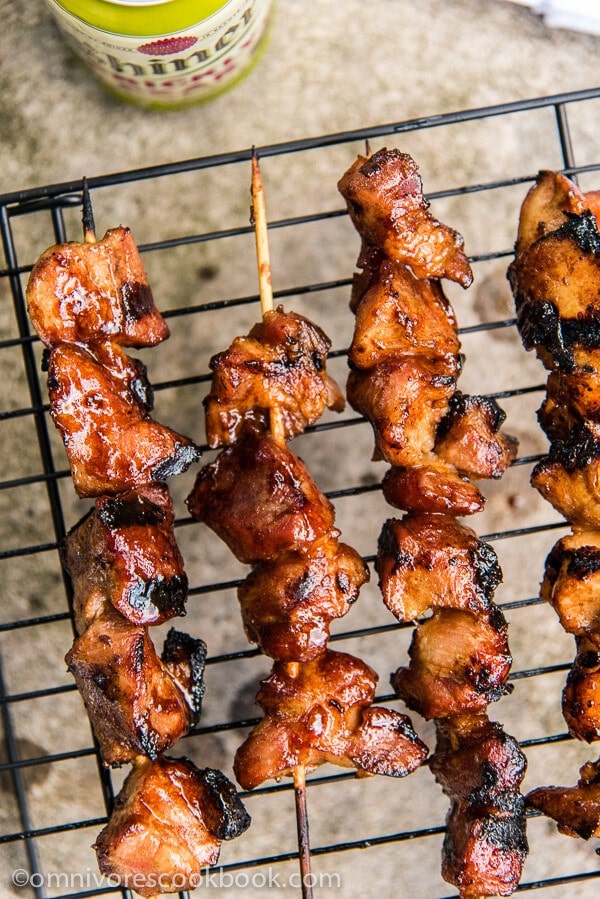 Chinese Cha Siu is super delicious. Cha Siu cooked on a charcoal grill is divine! The meat is beautifully charred with a shiny glaze. You can smell the wonderful smoky aroma from afar. The kebab style BBQ is the best choice for your summer grilling party. It cooks very quickly and is addictively tasty.
Cha siu kebabs came onto my radar about two weeks ago in a conversation I had with Paulina, a reader from Russia. She told me that instead of cooking traditional style BBQ pork, her family usually does a Russian style barbecue – shashlik, cooked on a manghal. The manghal is like a mini version of the American barbeque grill, fueled by charcoal and used exclusively for cooking kebabs.
I found this idea very intriguing. Manghal is quite like the Chinese grilling pit used to cook lamb skewers, one of the most popular street foods in China. It gives the meat a great smoky flavor that you can't get from an oven or gas grill.

MY LATEST VIDEOS
When Paulina shared her family's favorite BBQ pork kebab recipe, I knew I had to try it out! It looked SO good. Plus, it was a perfect opportunity to do some grilling – Thomas could help me with prep and start the fire, and we have several public grills located near the house.
Besides the kebab-style cooking, I tried out a few more things, including whole bone-in chicken thighs, chicken thigh skewers, chicken wings, and bigger cuts of pork shoulder. I have included cooking notes for all of those in the recipe below.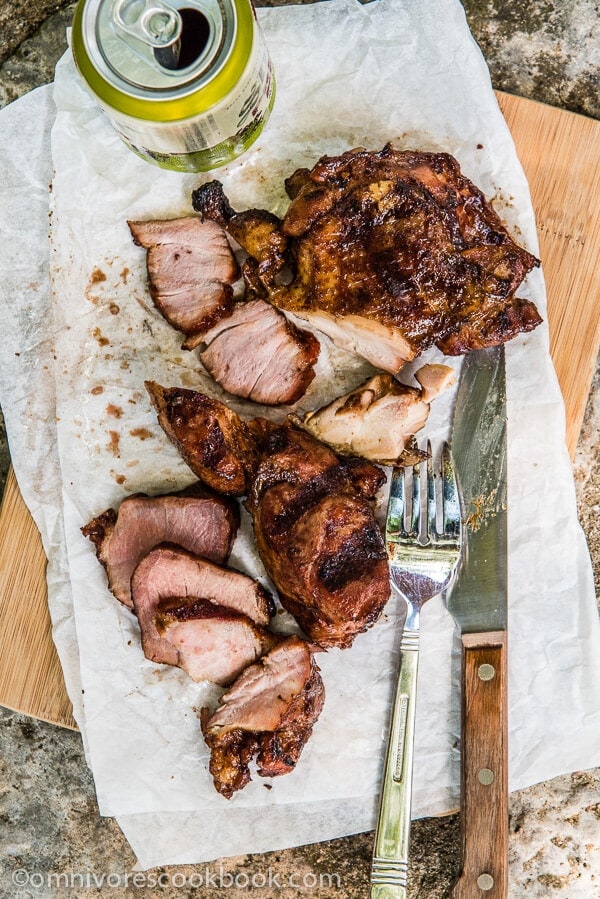 Our grilling party didn't go so smoothly the first time. We marinated the meat and prepared to grill it on Memorial Day. However, after 30 minutes of grilling, it started to rain extremely heavily and continued all day. We got to cook all the pork kebabs, but we couldn't finish cooking the pork shoulder or chicken thighs.
The pork kebabs turned out perfectly. The surface of the meat was beautifully charred, with a super moist texture. They cooked extremely quickly, many times faster than bigger cuts. I found them to be a perfect snack for a party.
The pork shoulder and chicken thighs were halfway cooked when it started to rain. So we had to continue cooking them in the oven. But since they had been cooked partially on the grill, they still had a very nice smoky flavor.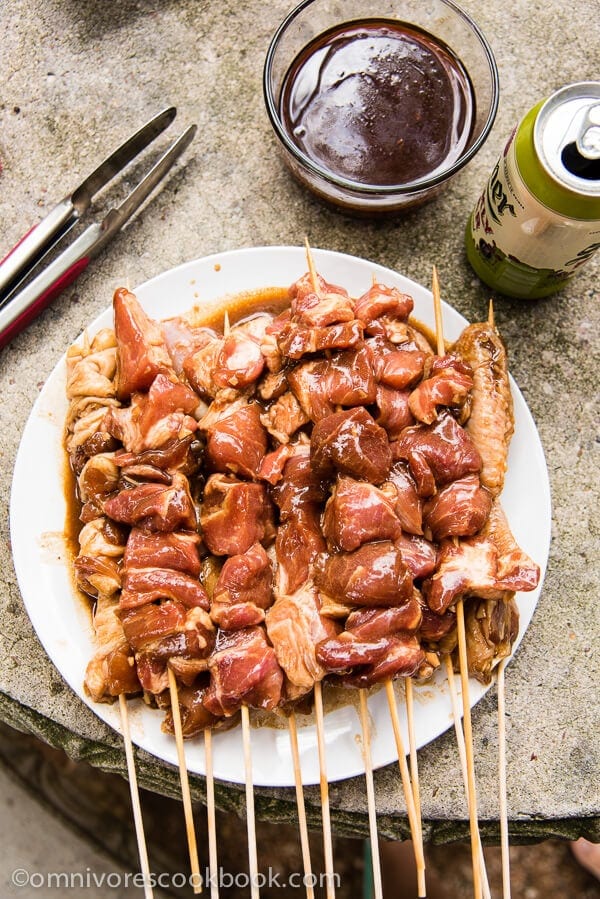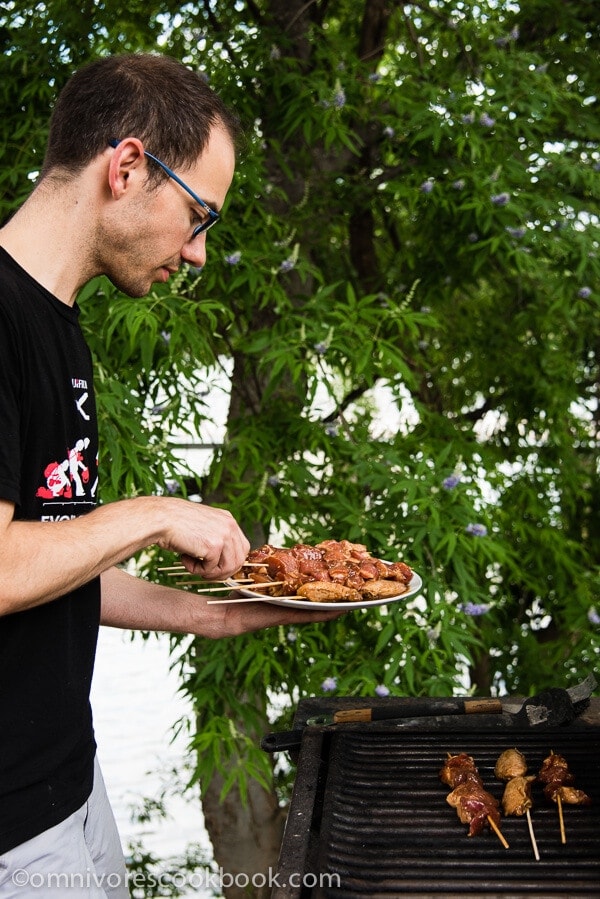 Last weekend, we did the whole process all over again. Luckily the weather was perfect – sunny, cool and windy. We got a huge batch of marinated meat prepared, with more variety this time. I'm so glad we tried it again. We experienced a bit more trial and error as we perfected the grilling process.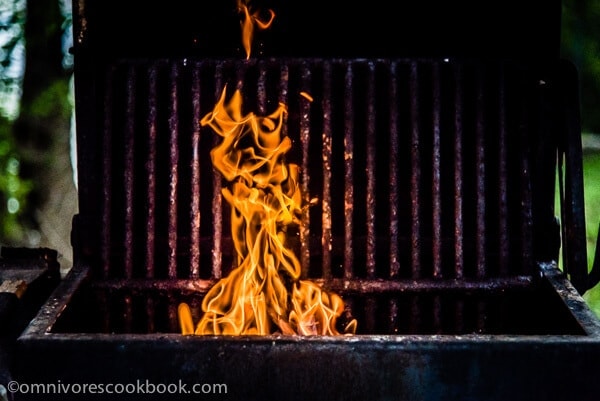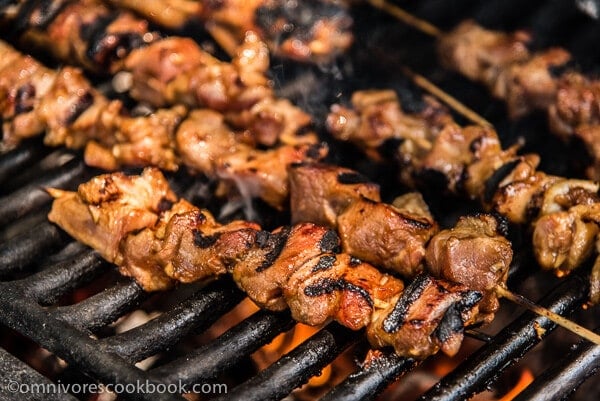 There were a few cooking notes:
– If you're hosting a party, definitely try the kebab style BBQ. It cooks so much more quickly and is a much easier method for generating super moist meat.
– Start a fire that is not too strong, you should able to cook the kebabs all the way through over direct heat without burning the meat (the glaze on the meat should burn/caramelize a bit, though).
– Do not cut the meat into smaller cubes before marinating. It causes the meat to dry out. I tried both ways. Although you need more marinating time, using bigger cuts of meat in the marinating stage generates much tastier, moister meat.
– If you're cooking larger cuts of meat, make sure to pile the charcoal on one side of the grill. You will need to move the meat to the indirect heat side after the surface is charred.
– The seasoning in this recipe is toward the savory end of the BBQ spectrum. If you have a sweeter tooth, add more honey into the marinade.
– Definitely try cooking with chicken, too. It's a bit similar to teriyaki chicken, only with a great smoky flavor. I prefer thighs and wings, because they yield a very moist texture. You could use chicken breasts, too.
Do you like Chinese style BBQ? If yes, definitely try cooking it over charcoal. The smokiness adds extra points to the BBQ and makes it so addictive!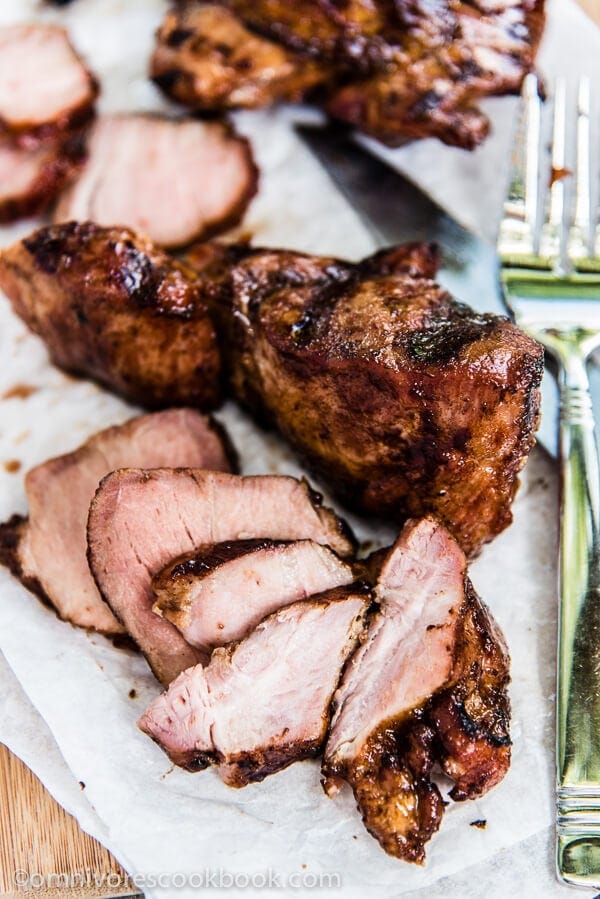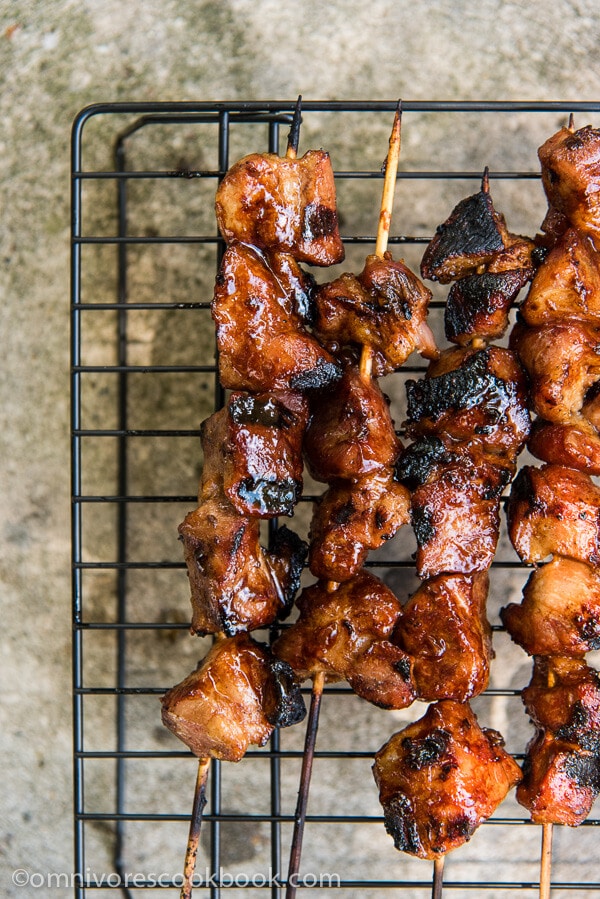 Print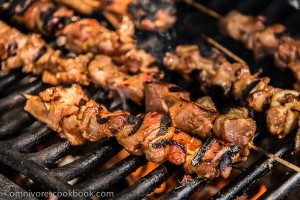 Cha Siu Kebab 叉烧肉 (Chinese BBQ)
---
Author:

Prep Time:

40 mins

Cook Time:

30 mins

Total Time:

1 hour 10 mins

Yield:

8

-

10

skewers

1

x
Category:

Main, Snack

Cuisine:

Chinese
Description
The recipe was shared by Paulina Golovanova.
The cooking time of this recipe depends on the type of meat you cook. You can finish cooking in 30 minute if you cook the kebab style. If you are cooking bigger cut of meat, the cooking time will be longer, in about 1 hour.
---
Ingredients
For the BBQ sauce
3 tablespoon

s hoisin sauce

3 tablespoon

s oyster sauce

3 tablespoon

s Shaoxing wine

3 tablespoon

s honey (

4 tablespoon

s for a sweeter taste)

2 tablespoon

s light soy sauce (

3 tablespoon

s light soy sauce for a saltier taste)

1 tablespoon

dark soy sauce

1 teaspoon

sesame oil

1 teaspoon

white pepper

1/4 teaspoon

five spice powder

1/8 teaspoon

chili flakes

3 tablespoon

s vegetable oil

1/2

thumb ginger, minced

8

cloves garlic, minced

1

kilogram (2 1/4 pounds) meat (options: pork shoulder, pork neck, chicken thigh, chicken breast, wings) (*see footnote 1)
Special equipment:
Bamboo skewers (or metal skewers)
---
Instructions
To marinate the meat
Combine all ingredients for the BBQ sauce except the vegetable oil, ginger, and garlic in a bowl and mix well.
Heat vegetable oil in a saucepan over medium heat until warm. Turn to low heat. Add ginger and garlic. Cook and stir a few times until fragrant. Add the BBQ sauce. Cook and stir until the texture becomes smooth, 1 to 2 minutes.

Transfer the sauce to a bowl to cool.
Add meat to a ziplock bag and 2/3 of the sauce (*see footnote 2). Press the air out of the bag and seal it. Give the bag a good massage, so that the sauce covers the meat evenly.

Save the rest of the sauce in an airtight container and place it in the fridge. You will use it for the glaze later.
Marinate meat in the fridge for 24 hours.
To prepare barbecue
(Optional) If using bamboo skewers, soak 8 skewers in water for 15 minutes.
Transfer the meat to a plate and discard the marinade.
If you are cooking pork or chicken skewers, transfer the meat to a cutting board and cut it into bite sized cubes (about 1 inches / 2.5 centimeters). (*see footnote 3)
Thread the meat onto the bamboo or metal skewers.

Add charcoal to one end of the grill and start a fire. When the coals are evenly lit, close the grill and allow it to warm up.
To cook skewers
Place meat skewers on the direct heat (i.e. above the coals) and close the lid to cook, until nicely charred on the bottom, 2 to 3 minutes. Brush glaze on the meat. Turn meat to cook the other side. Close the lid and let cook for another 2 to 3 minutes. If the meat is getting burned, move the skewers to the other side of the grill (the one with no coals under it) and close the lid. Keep cooking over indirect heat until cooked through.

Serve warm.
To cook bigger cuts of meat
Place marinated pork shoulder or chicken thigh over direct heat and cook until nicely charred, about 5 minutes per side. Brush glaze on the meat. Move the meat to the indirectly heated side, cover the grill, and allow to cook. Check on the meat every 5 minutes and brush with glaze. Cook until a thermometer inserted into the center of the meat reads 150 to 160 F degrees (65 to 70 C) for pork, and 165 F (74 C) for chicken, about 30 minutes.

Transfer the meat to a plate and let rest for 5 minutes.
Serve warm.
Save the leftovers in an airtight container for up to 1 week in the fridge or up to 1 month in the freezer.
Notes
1. For cooking larger cuts of pork shoulder, I used a strip that was about 20cm (8") in length and 4cm (1.5" in width). It cooked faster than a whole piece and yielded more flavorful meat.
2. Do not cut the meat into small pieces when marinating. It causes the meat to dry out during cooking.
3. You can cook chicken skewers by using boneless skinless thighs, chicken breasts, or wings. For wings, thread onto skewers without cutting.
The nutrition facts are calculated based on 1 of the 10 skewers generated by this recipe.