This post is sponsored by Vermicular. All opinions expressed are my own. Thank you for supporting the companies that keep this blog going.
A super simple one-pot chicken udon soup that guarantees maximum satisfaction with beautifully seared chicken, rich soup, thick noodles, and tender veggies.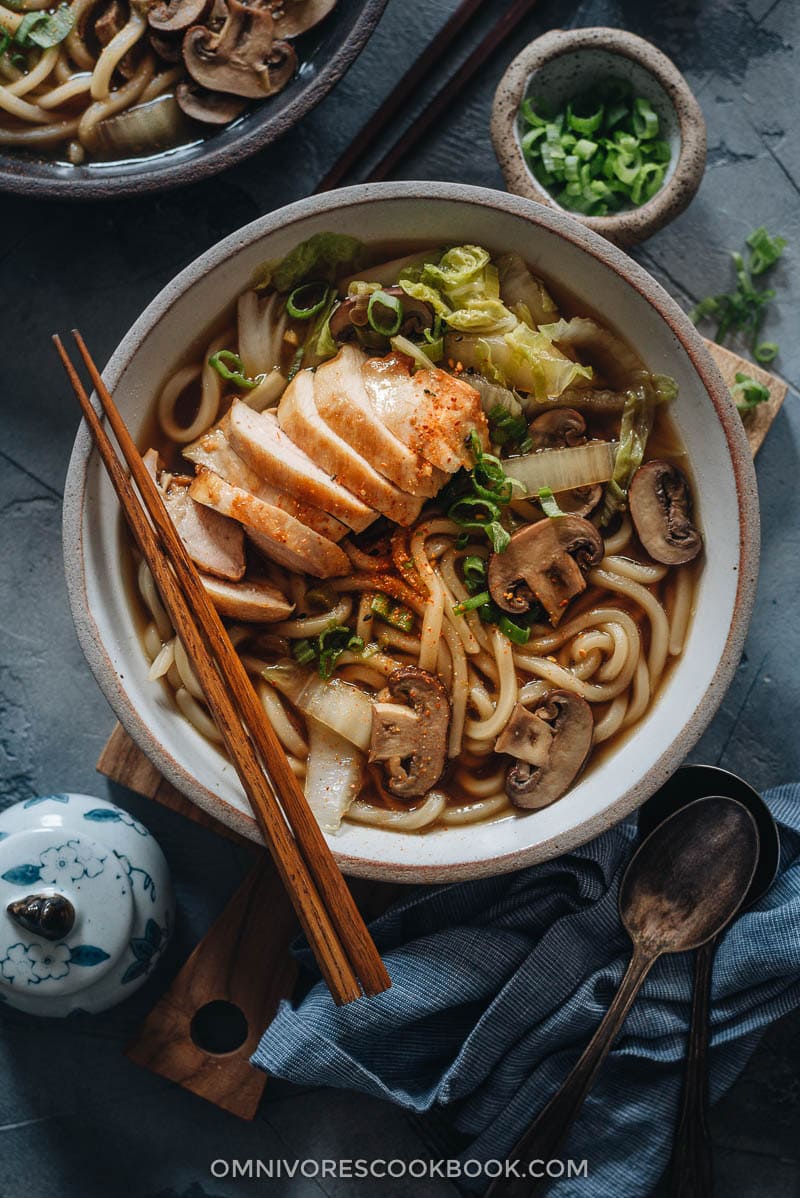 After moving from Austin to New York this March, I came across some difficult situations in my kitchen.
First of all, our apartment didn't have gas for six months due to a fire that happened on the ground floor. Since both our stove and oven are powered by gas, we basically had to cook with electric devices and a portable stove.
Also, we spent the first month with a tiny kitchen counter that is 14" (35 cm) wide and 24" (60 cm) deep. I can barely fit two cutting boards on it. I had to dry my dishes on the floor because, of course, the kitchen doesn't have a dishwasher. Welcome to New York! I ended up furnishing the other side of the kitchen with two sets of cabinets from Ikea later on. But before the construction was done, I had to cook on this tiny counter without gas.
It felt like college dorm life all over again.
Luckily, Vermicular came to my rescue. The Vermicular Musui–Kamado is a popular Japanese cooking device that comes with an enameled cast-iron pot with a three-dimensional electric induction heating device. Earlier this year, the company launched this product in the US. I was lucky enough to receive one to test it out. The pot was so convenient that I used it to cook everything I wanted, even before I had unpacked all our kitchen gear. Fried eggs, toast, steamed rice, sauteed veggies, noodle soup, kimchi stew… You name it. Thanks to this magical multi-function cooker, I was able to enjoy hearty and healthy homemade meals during that hectic moving time.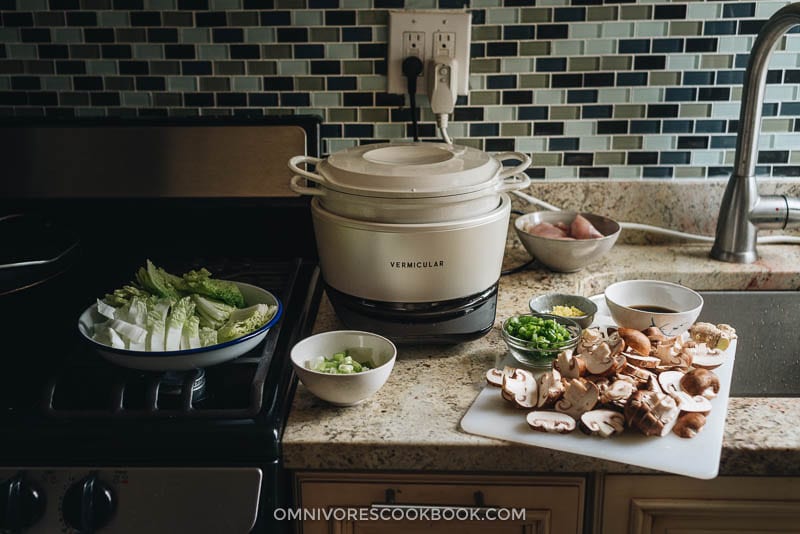 Why this recipe
During the months when we didn't have gas, I developed many one-pot recipes using my Musui–Kamado because that was the only way to cook dinner without spending hours in the kitchen. Today I want to share this delicious chicken udon soup. Below are the differences between this recipe and most chicken udon soup recipes out there. And why this method makes a better dish.
1. Better chicken
Most chicken udon soup recipes boil the chicken in the soup or use leftover chicken as the topping. It's a very easy method, but the flavor of the chicken often falls flat.
In my recipe, I used a different approach by searing the chicken and then briefly steam-roasting it in a 3-ingredient sauce. Steam-roasting creates a beautifully browned chicken that is extra rich and flavorful. And by searing the chicken first in the Musui, it leads to the next benefit.
2. Extra rich soup
Once you sear the chicken and steam-roast it in the sauce, it will render delicious juice and some fat into the sauce. Simply add the remaining ingredients into the pot, and your udon soup will come out extra rich. No sauteed aromatics or sesame oil required. In fact, the result is so good that most of the time I actually use vegetable broth instead of chicken broth to make my meal slightly healthier. The hint of sweetness from the veggie broth adds a nice touch to the dish, and the dark color makes the soup look more appetizing.
3. Easy ingredients
Traditional Japanese udon usually uses dashi broth made by slowly simmering seaweed and dried fish flakes (katsuobushi). Although you can use store-bought dashi or dashi powder, you may not have that on hand. Using the method and simple sauce in this recipe, you can skip this special ingredient and still get a great result.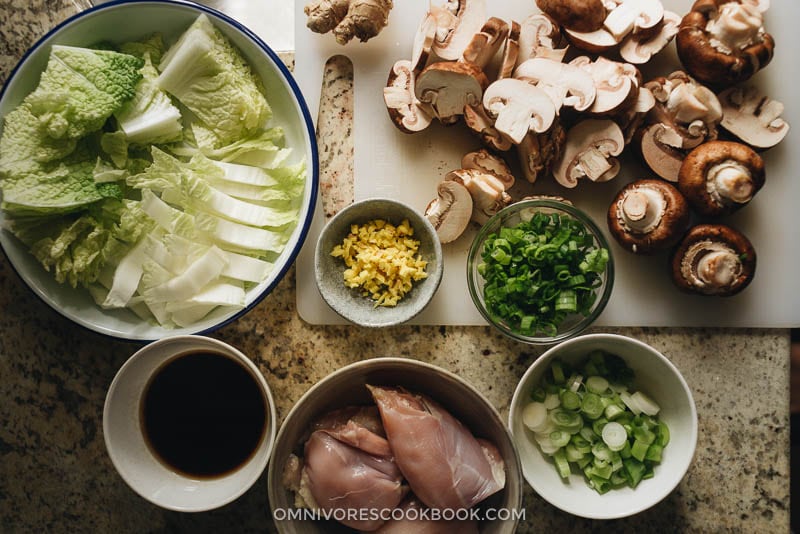 Cooking notes
1. Cut of chicken
Although you can use chicken breast in this recipe, I highly recommend using chicken thighs. Dark meat will release much more umami into the broth and make the soup taste better. Alternatively, you can use bone-in skin-on thighs if you like crispy chicken skin. Make sure you place them skin-side-up once you sear the chicken, and only add the sauce around the chicken, not on top of it, without touching the skin. If you end up using chicken breast or bone-in thighs, adjust the cooking time accordingly since both cuts take longer to cook through.
2. The types of noodles to use
I always prefer to use extra-thick udon noodles in this dish. This type of udon noodle is sold pre-cooked and frozen. You simply need to throw them into the soup and they will be ready once heated through. I really love the fact that you don't need to boil another pot of water to cook the noodles.
If dried udon is the only product you have access to, you can use it instead. Please note, the noodles will come out quite narrow and flat. And they will look different from the dish shown in the pictures here and they'll have a different texture.
3. A word on Japanese sake
I always use the combination of Japanese sake and sugar to replace mirin in all of my Japanese recipes. For me, mirin tastes just like that combination, only with slightly lower quality and a sweeter taste. That being said, if you only have mirin on hand, you can use 2 tablespoons of mirin to replace the sake and sugar in the recipe. Alternatively, you can replace the sake with 2 tablespoons of dry sherry or Shaoxing wine.
4. How to cut napa cabbage
To evenly cook napa cabbage, the best way is to separate the white thick part from the green part and cook them for different lengths of time.
To cut napa cabbage:
Slice crosswise to separate the white and green parts.
Slice the white part into strips.
Slice the green part into bite-size pieces that are larger than the pieces of white part. The green part will shrink a lot once cooked, so you should make those pieces larger.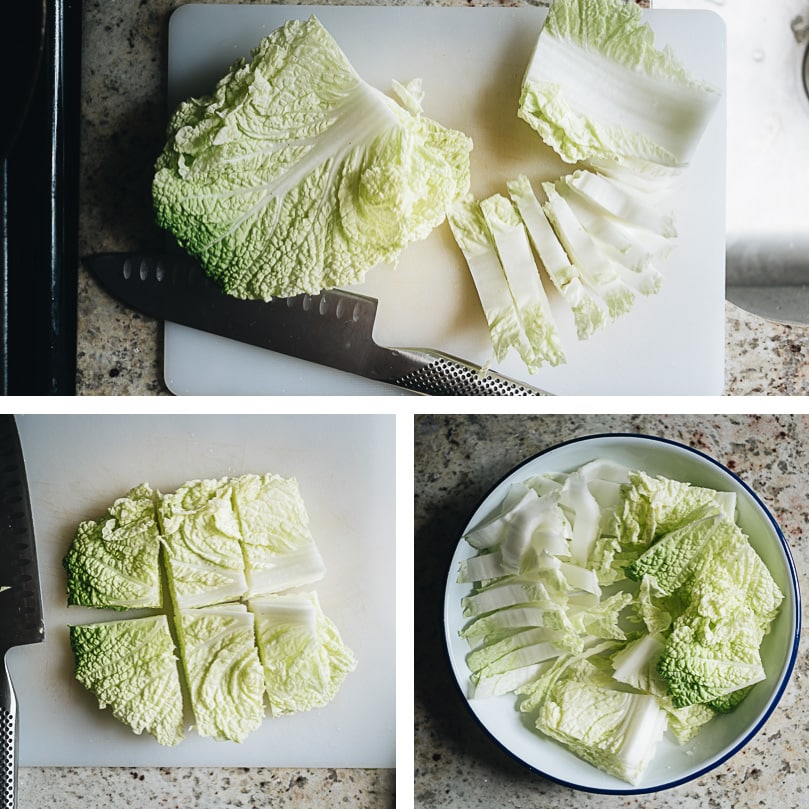 5. Cook with a regular pot
I made this dish using the Vermicular Musui–Kamado. But you can use a dutch oven or heavy-duty pot on the stovetop for this recipe as well.
A word on the cookware
The gas in our apartment finally came back this month. However, our frequent use of the Vermicular Musui–Kamado continues.
Different from setting a cast iron pot on a flat electric stove, the Musui–Kamado uses its three-dimensional induction heating base, the Kamado, that heats up quickly, evenly, and with precision temperature control. I love the fact that when I cook a large pot of stew or soup, I can leave it cooking without needing to stir it all the time to ensure even cooking.
The Musui enameled cast-iron pot comes with a lid that features a precision tight-fit seal, engineered to draw out the umami of the ingredients. Sometimes when we're lazy but want healthy homemade food, we simply throw a bunch of chopped veggies such as cauliflower and broccoli into the pot and add a drizzle of broth and a pinch of spices. The veggies come out lightly browned on the bottom, tender in texture, and with a lovely sweet flavor.
I would recommend Vermicular's Musui–Kamado to anyone who is a serious cook or needs a single cooking device to simplify their life. It has a rice cooking function (including brown rice and porridge/congee) built in, so it effectively doubles as a rice cooker. The device also has low-temperature setting (Extra Low) to be used as a slow cooker. Finally, it has a [WARM] mode. In addition to keeping foods warm, the [WARM] mode also allows controlled ultra-low temperature (below boiling) cooking. This way you can ferment or precision cook (like sous vide, by filling the Musui with water, setting it to a specific temperature and then placing your vacuum-sealed ingredients into the pot to gently cook.) So if you wanted to make your own miso or sous-vide steak at home, the Musui–Kamado would make it very easy for you.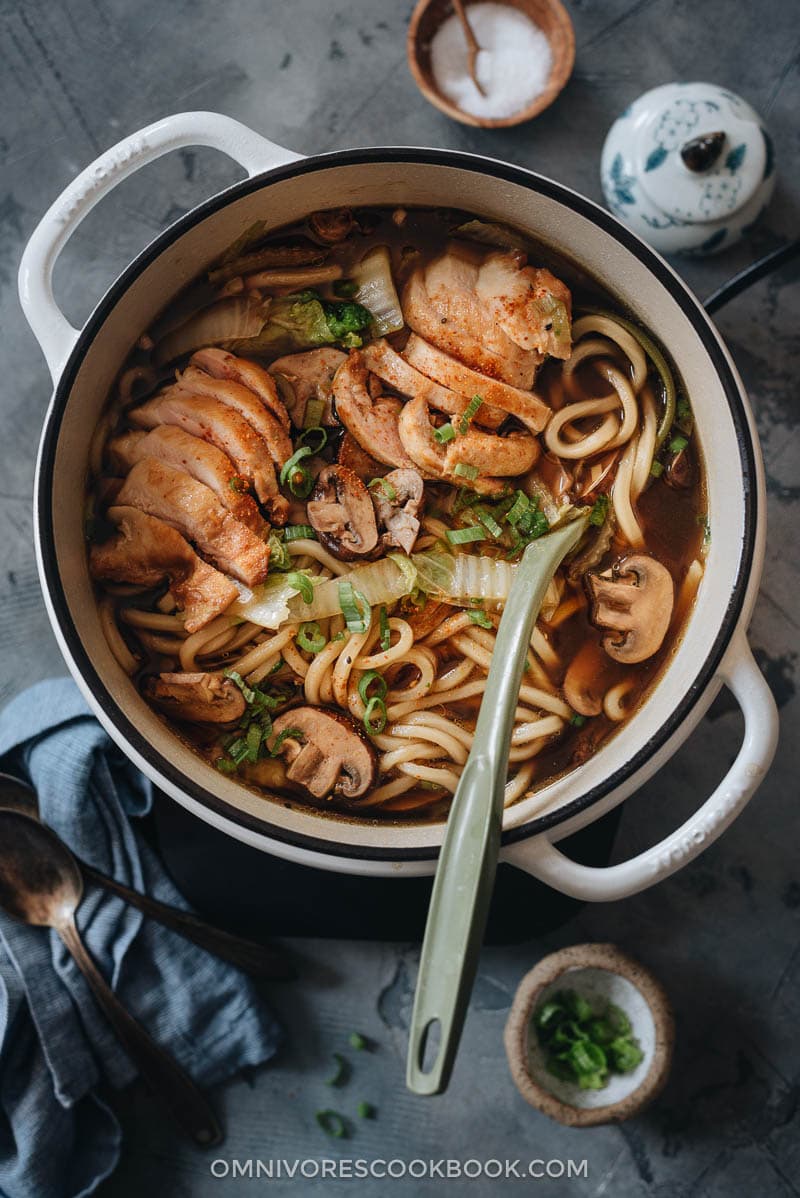 Afterthoughts
The weather is still plenty hot and I try to spend as little time in the kitchen as possible. But because of my Asian habits, I can't help craving a bowl of noodle soup at any time of year. And this chicken udon soup is perfect on such an occasion. Because it's so easy and fast to make. I hope you enjoy the dish!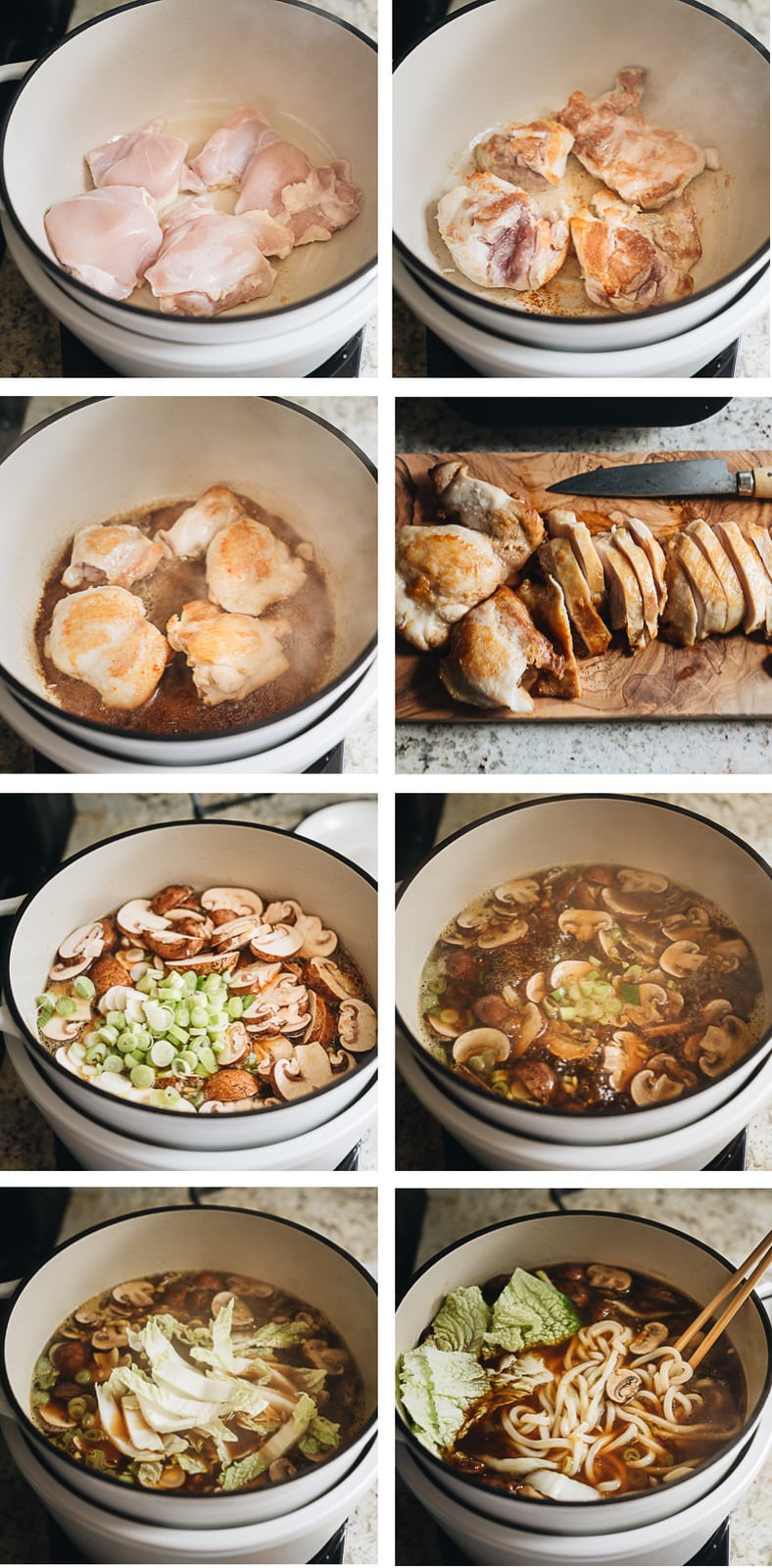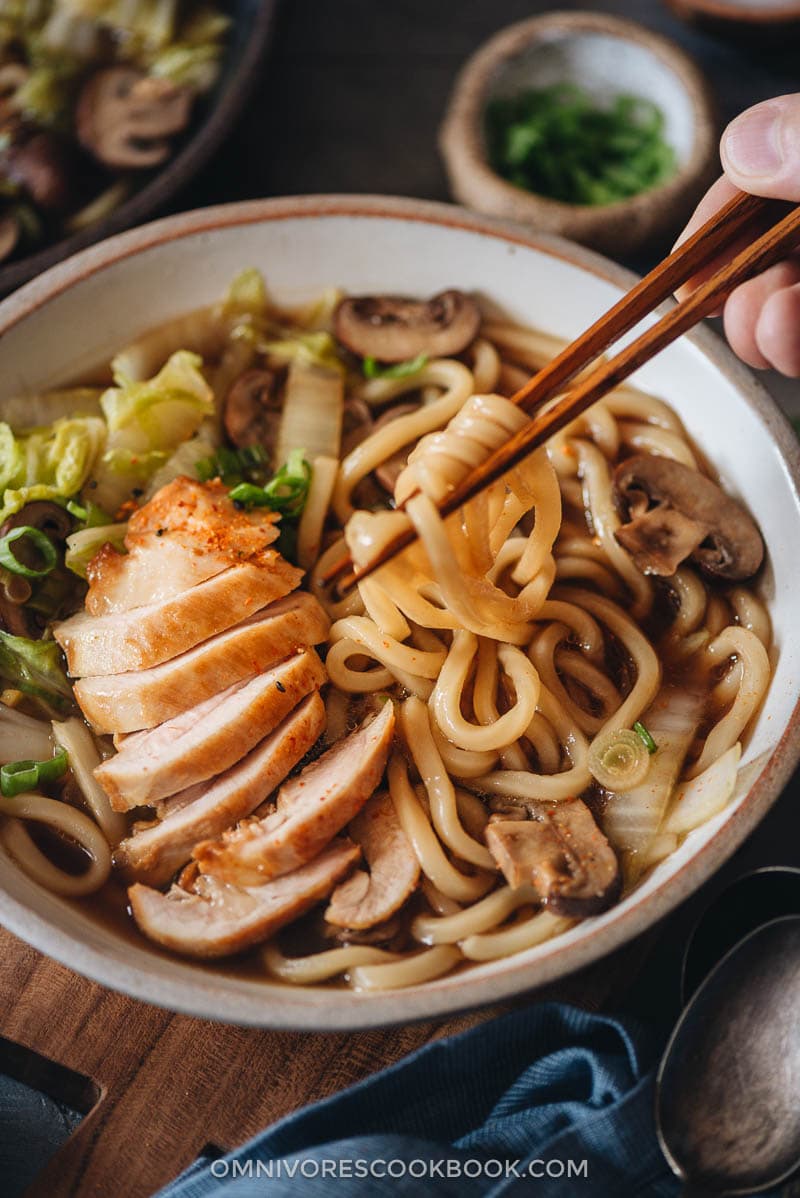 More delicious one-pot recipes
If you give this recipe a try, let us know! Leave a comment, rate it (once you've tried it), and take a picture and tag it @omnivorescookbook on Instagram! I'd love to see what you come up with.
Want to Know More?
Receive our 5-Day Chinese Cooking Crash Course & Recipe Updates! Subscribe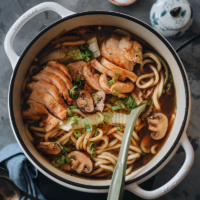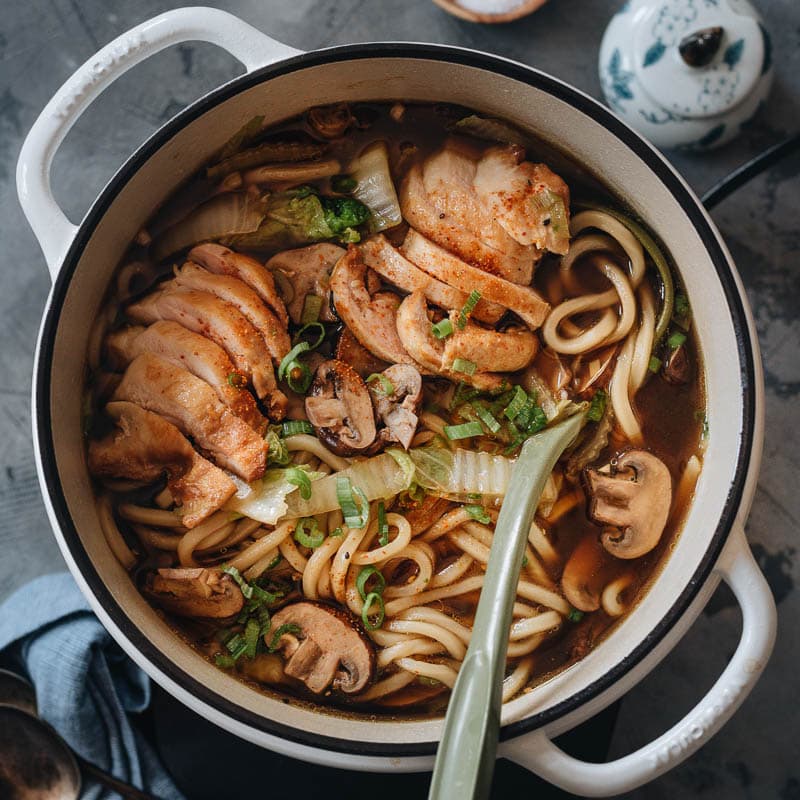 Chicken Udon Soup (鸡肉乌冬面)
A super simple one-pot chicken udon soup that guarantees maximum satisfaction with beautifully seared chicken, rich soup, thick noodles, and tender veggies.

The recipe yields 2 big servings as a main or 4 small servings as a side.

I made this dish using the Vermicular Musui–Kamado. But you can use a dutch oven or heavy-duty pot for this recipe instead.
Ingredients
1

tablespoon

peanut oil

(or vegetable oil)

1

lb (450 g)

boneless skinless chicken thigh

(or breast)
Sauce
3

tablespoons

Japanese sake

(or 2 tablespoons dry sherry)

3

tablespoons

soy sauce

2

teaspoons

sugar
Soup
4

cups

chicken broth

(or vegetable broth)

1/2

lb (225 g)

brown mushrooms

, sliced (or 8 fresh shiitake mushrooms)

3

green onions

, sliced, green and white parts separated

1

tablespoon

ginger

, minced

4

cups

napa cabbage

, chopped

2

packs (17-oz./500 g)

udon noodles

, frozen (or dried udon noodle) (*Footnote 1)
Instructions
Add the oil into the Vermicular Musui–Kamado (or a 4-quart dutch oven). Turn to medium heat setting. Let it heat up until it shows "Grill OK".

Mix the sauce in a small bowl while heating up the pot.

Add the chicken thighs into the pot without overlapping. Sear until the bottom turns golden brown, 2 to 3 minutes. Flip and sear the other side.

Once both sides of the chicken are seared, pour the sauce into the pot. Turn to low heat. Cover and let it cook until the chicken thighs are cooked through, 5 minutes or so. Once done, transfer the chicken to a big plate.

Add the broth, mushrooms, white part of the green onion, and ginger. Turn the heat setting to medium. Cover and cook until the mushrooms are cooked through, about 10 minutes.

Add the white part of the napa cabbage and cover again. Cook for 3 minutes.

Add the noodles, the green part of the cabbage, and the green part of the green onions. Cook until the noodles heat up and the cabbage turns tender, about 2 minutes. Turn off the heat.

Slice the cooked chicken and place it on top of the noodles.

Serve hot as a main dish.
Notes
If you use dried udon noodles, you'll need to cook them according to the instructions on the package in separate pot before adding them to the broth. In this case, add the noodles at the end of the cooking once everything else is ready.
Nutrition
Serving:
4
servings
,
Calories:
454
kcal
,
Carbohydrates:
47.9
g
,
Protein:
39
g
,
Fat:
12.4
g
,
Saturated Fat:
2.6
g
,
Cholesterol:
71
mg
,
Sodium:
1256
mg
,
Potassium:
986
mg
,
Fiber:
4.6
g
,
Sugar:
12.6
g
,
Calcium:
107
mg
,
Iron:
6
mg