Japanese strawberry shortcake is great for holidays or birthday occasions. It's simple, yet tastes very delicious. The cake is assembled with fluffy sponge cake, whipping cream and lots of fruits. The cake and cream are not so sweet, and the fresh fruits balance well with the rest of the cake and made it a pure delight. This is a not so heavy dessert and could bring you the feeling of happiness while eating. For me, it's grate option for Christmas, because it's colorful and make me imagine of snow. Also it'll be nice to have a light dessert after big Christmas meals. I also like to make this cake for birthday of family members. I got tons of praise every time and people love this one.
I had so many delicious cakes and desserts while I was living in Japan, and the strawberry cake was one of my favorite. A funny thing is, among all the deserts, I enjoyed the western dessert that made was in Japan the most. Because they did a good job to adjust recipe and make the dessert not too sweet, that give you a more subtle and balanced flavor. Like this recipe, you'll find the cake doesn't use a lot of sugar, but you'll find the result very satisfying.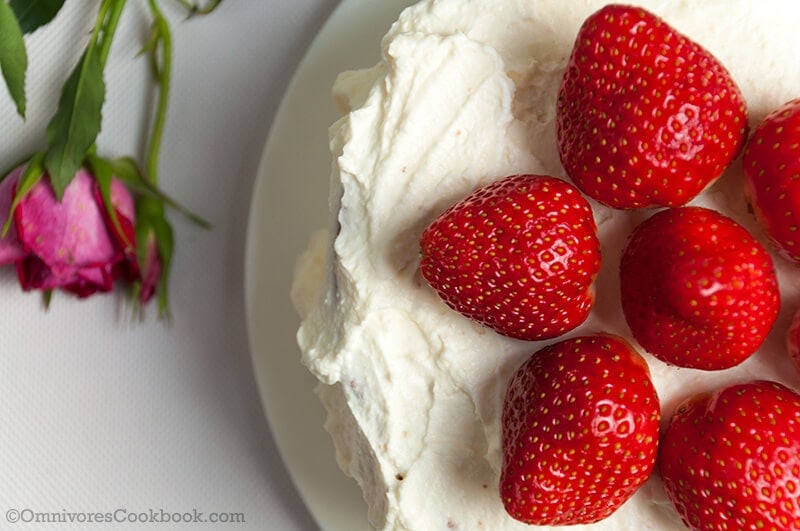 The important thing about the sponge cake is, you really want it be fluffy, fine and moist in texture . But at the same time, you want it sturdy to keep a nice shape while slicing for further decoration. Because you always want a holiday cake looks pretty and fancy, right? For the cream decoration, you want it be light and give the cake a fine touch without overwhelm the rest parts. In this recipe, a bit of whiskey is added into the cream to create a subtle flavor. Do not skip this step, since it makes this cream different.
The cake recipe was adapted from Milk Sponge Cake and cream recipe was adapted from The Best Cheese Cream.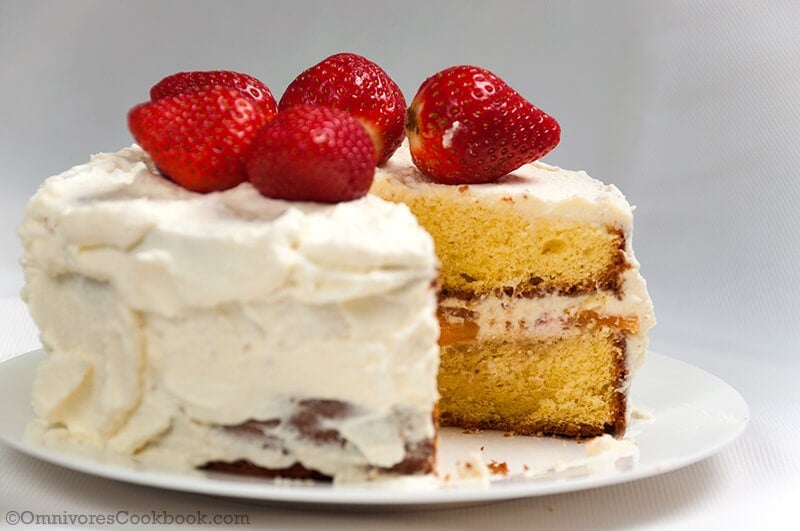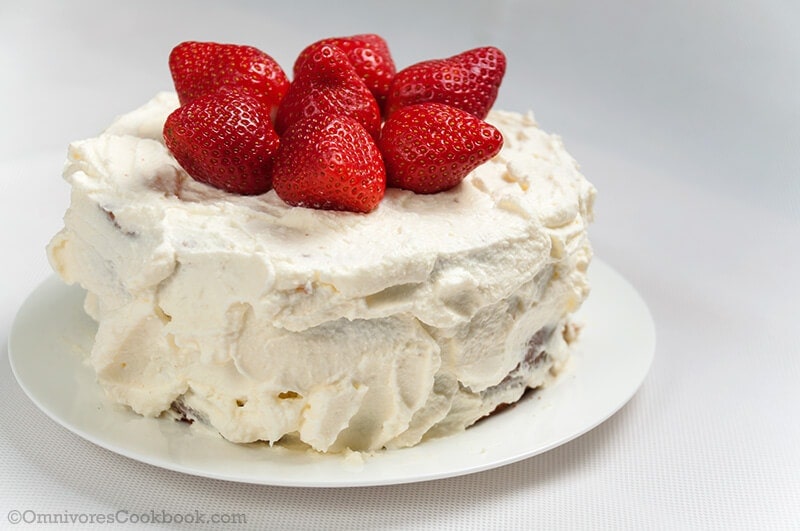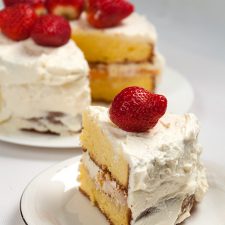 Japanese Strawberry Shortcake
You could use this cake recipe to cook a 15cm-18cm (6-7 inches) cake.
Print
Pin
Rate
Ingredients
For the sponge cake
50

milliliters

3 tablespoons + 1 teaspoon milk

30

grams

butter

extra butter and flour to coat baking pan

4

medium size eggs white

120

grams

4.2 ounces white sugar

4

medium size eggs yolk

1/4

teaspoon

vanilla extract

100

grams

3.5 ounces cake flour
For syrup (optional)
2

tablespoons

white sugar

4

tablespoons

water

1

teaspoon

whiskey or brandy
For the frosting
100

grams

3.5 ounces cream cheese

40

grams

confectioners sugar

2

teaspoons

whiskey or brandy

1

cup

whipping cream
For cake decoration
1

cups

strawberries

or mixed fruits like kiwi, canned yellow peach, lycee, pineapple, sliced

2

cups

strawberries or mixed fruits for toppings
Instructions
For the cake
Place milk and butter into a small bowl, heat under medium low heat in microwave for 1 minute, mix a few times until butter is melt, set aside to chill down.

Preheat oven to 170 degrees C (338F). Grease butter on baking pan, then sprinkle with flour.

In a large bowl, add egg white and mix by medium speed with a electronic mixer until it shapes a very light, fluffy and even foam (left picture). Add half amount of sugar and keep mix by medium speed until sugar is cooperate, then add the rest of sugar, keep mix until the texture turns to creamy and firm. When you pull the mixer out off the mixture, the cream could shape a triangle and stand. Then it's ready. (right picture)

Add egg york and mix by low speed for a few seconds, then add vanilla extract and mix for another few seconds.

Switch from electronic mixer into rubber spatula. Whisk flour into the mixture and use spatula to mix gently, until flour is fully cooperate. Do not over mix. Slowly add milk and butter, and mix gently until the mixture turns to a even and medium thick batter. Pour batter into baking pan.

Place 2 layers of towel on table, drop the baking pan from 20 centimeters (0.6 feet) high, in order to get the surface of batter flat and get extra air out. Place in low level of oven and bake for around 30 minutes, until the surface turns brown. Put a toothpick into the cake and pull out, the toothpick should come out clear.

After the cake is cooked, take out from oven, and immediately drop the baking pan from 30 centimeters (1 feet) high. Flip baking pan on a clean wet towel, let it rest for 2 to 3 minutes, in order to flat the surface. Flip the cake again and place it on a cooling rack, cover with a clean wet towel in order to keep the cake moist.

After the cake is cooled, slice it into half. To make the slice accurate and straight, use several toothpicks to line up the half way of cake, use a bread knife to slice against toothpicks. Set aside for decoration.
For the syrup (optional)
Add sugar and water in a small sauce pan and heat on stove, slowly mix with spoon until sugar is melt and mixed well with water. Remove sauce pan from heat and add whiskey, give it a final stir.
For the frosting
Add cream cheese into a big bowl, use fork to cut it into small chunks. Add sugar and brandy, use low speed of electric mixer to mix everything together. Slowly add cream and keep whipping, until the cream turns thicker. Set aside.
To assemble the cake
Brush syrup on top of base layer and upper layer of cake. Spread a thin layer of cream on the base layer of cake, place a layer of sliced fruits, then add more cream on top until the layer is flat. Flip the upper layer of cake and place on top, to use the flat side for decoration. Decorate the rest of cream outside of whole cake and place fruits on top. Serve the cake at the same day or store it in fridge up to 3 days.