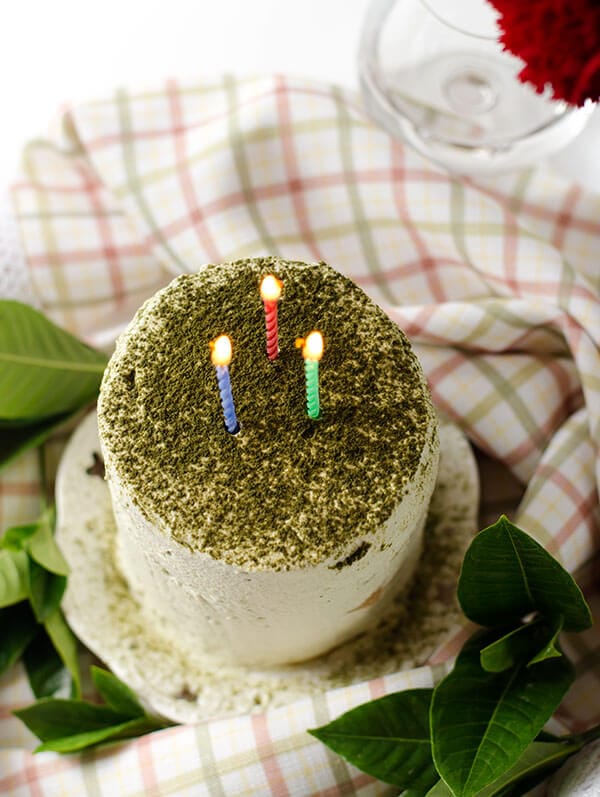 This matcha cake has a very spongy and soft texture with red bean paste and whipped cream frosting. It has a plain appearance yet a wonderful flavor. The mouthfeel is bittersweet yet delightful. Just like life itself.
Turning Thirty
It was my birthday last Friday. It was a big day for me, because I was turning 3X. I didn't shout out loud "God, why did you do this to me!?" But I did feel a bit sad.
There is a saying, attributed to Confucius, in Chinese – "At thirty, a man can stand" – that is to say, "be successful and independent at thirty". It also includes the meaning that the life philosophy, worldview, and personality of a man should be mature and established when turning thirty.
I could not help but ask myself, have I achieved this yet? My instinctive answer is, I can't say for sure.
Negative Thoughts
My career is far from being successful.
Still living with my parents. I'm doing this painfully to save money for my new life. I know I cannot have everything all at once, but it still hurts.
My blog stats suck.
Well, that's are all I can think of so far. I'm always trying to avoid negative thoughts, but sometimes those thoughts shatter my self-esteem.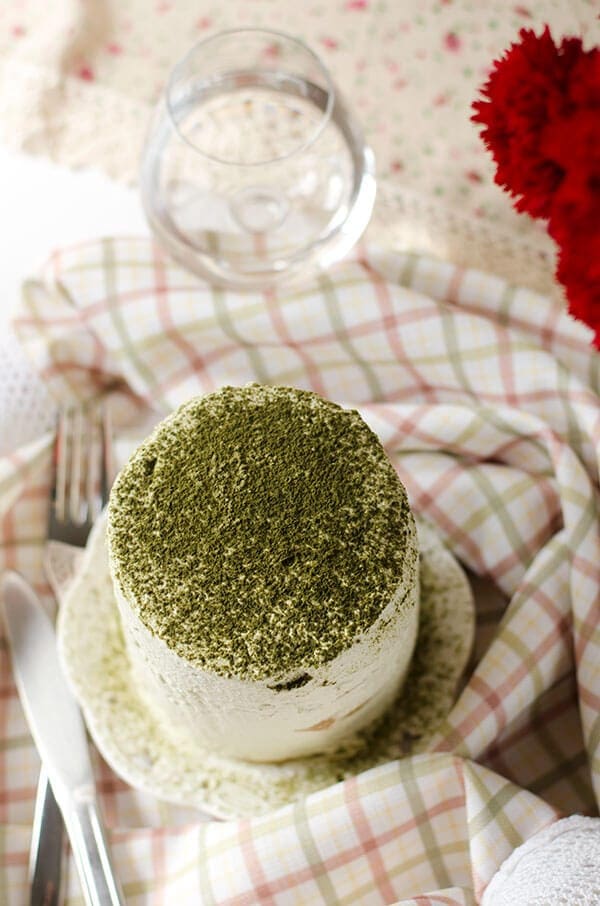 But Think of the Positive
I'm healthy and working on building a healthier lifestyle.
My parents are healthy and happy about life.
I have a boyfriend who cares about me a lot.
I finally have some savings and can move out of Beijing any time I want.
I started blogging and it has been one of the best things that have happened in my life.
I have met so many great friends through blogging.
I started drawing again after 8 years of hiatus (I'll talk about this another time).
My photography has improved a lot. 16 months ago, I had no idea about aperture or shutter speed.
I discovered that I can write. I'm still trying very hard to improve it, but I'm doing much better than I thought I could ever achieve.
I have super happy moments sometimes. For example, when someone cooks my recipe or a reader sends me an email.
After all, did I achieve what I should have at 30? After thinking carefully, the answer is still "I can't say for sure".
There are so many ways to define success, yet I haven't achieved any of them. However, I'm trying very hard to learn and progress everyday.
Through blogging, I learned a very important lesson. There is nothing you can do to achieve success overnight. Not even over a year or two. But if you keep accumulating progress, you will eventually get somewhere.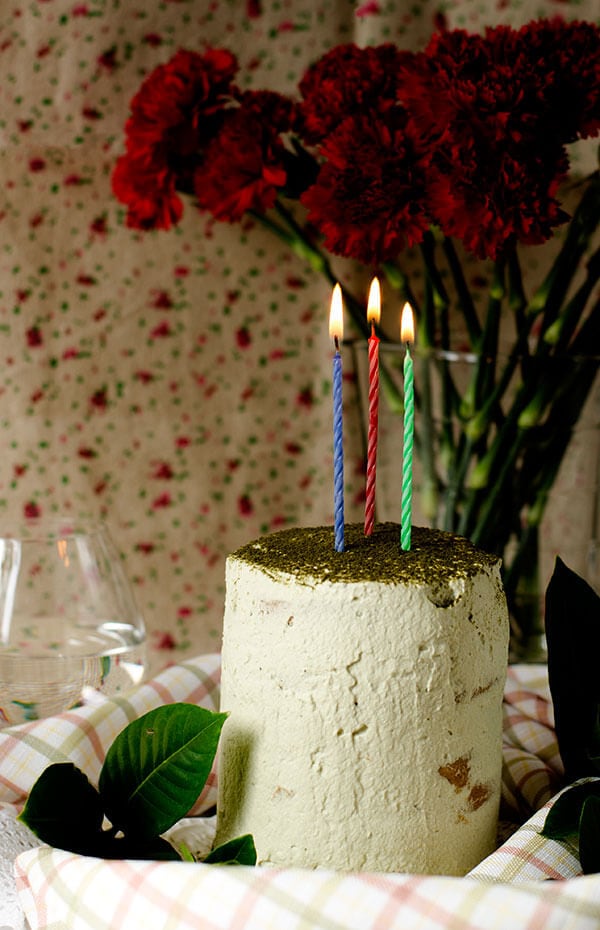 About the Cake
Back to the topic of cooking.
I'm very old fashioned when it comes to celebration. Whenever there's something to celebrate, I think about baking a cake. However, I'm not a baker (read: very bad at baking). In the end, every celebration ends up with some sort of misery in the kitchen. This time was no exception.
My boyfriend came from the US to visit me 2 weeks ago. After some discussion, We decided to bake a green tea cake for my birthday. The baking process went well, but I failed at frosting in the end. While I was imagining a cute and tall matcha cake, it turned out plain and ugly.
But fortunately, the cake tasted wonderful! I'm still surprised at the recipe and its result. The recipe doesn't call for baking powder, baking soda or yeast. It only contains very small amount of flour and sugar. However it resulted in a very soft, spongy and fluffy cake. The kind that you could easily crush when slicing, even with a very sharp knife.
The frosting is very creamy. It contains a dash of matcha, but no sugar. Through the bitterness of the matcha powder, you can actually taste the sweetness of the cream itself. I added two layers of red bean paste in the cake to balance the bitter flavor and it worked out very well.
The sweetness of the cake is very much on the Asian end of the spectrum. Depending on your perspective of how a dessert should taste, this cake might not seem sweet enough. But if you like matcha flavor, definitely try out the recipe. It has a great texture, similar to that of a cake from a Japanese bakery. This recipe is adapted from the Green Tea Cake by Kitchen Tigress.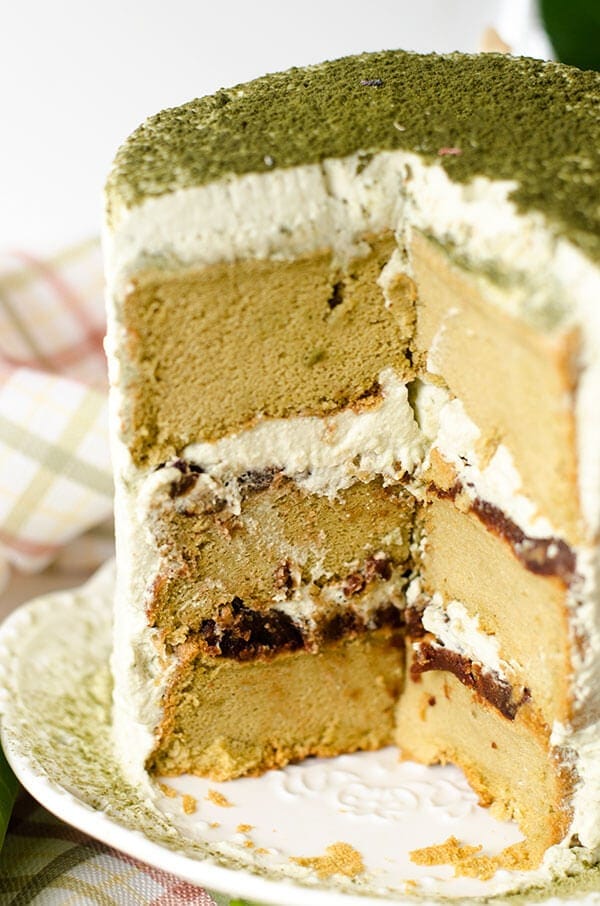 Want to Know More?
Receive our 5-Day Chinese Cooking Crash Course & Recipe Updates! Subscribe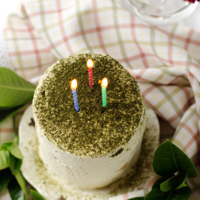 Matcha Cake
The recipe yields a 3-layer, 4-inch diameter cake, about 5 inches tall.
Ingredients
For matcha cake
2

teaspoons

matcha powder

4

egg yolks

10

grams

0.35 ounces (about 2 and 1/2 teaspoons) sugar

30

grams

1 ounce (about 2 tablespoons and 1 teaspoon) grapeseed oil (*see footnote 1)

40

grams

1.4 ounces cake flour

4

egg whites

1

teaspoon

lemon juice

45

grams

1.6 ounces (about 3 and 3/4 tablespoons) sugar
For frosting
200

grams

whipping cream

contains 35% butterfat

1

teaspoon

matcha powder

6

tablespoons

red bean paste
Instructions
To cook the cake
Preheat oven to 160 degrees C (320 F). Line the bottom of each cake pan with two layers of parchment (see footnote 2). Grease the walls of each cake pan with grapeseed oil. Set aside.

Combine matcha powder, 1 tablespoon and 1 teaspoon of hot water in a small bowl, stir with a spoon until matcha powder is fully dissolved in the water. Add 2 tablespoons of cool water and whisk until matcha is thoroughly mixed.

In a large bowl, combine egg yolks and sugar. Whisk until the sugar is fully dissolved and incorporated into the egg yolk.

Add oil and whisk until fully combined.

Use a spoon to stir the matcha mixture several times, then add it into the large bowl. Whisk several times until matcha is mixed evenly.

Add cake flour and whisk until fully incorporated. It's OK if there are some lumps in the mixture.

In another clean medium sized bowl, add the egg whites. Whisk with an electric mixer at low speed until the egg white starts foaming, about 1 minute. Stop mixer and add lemon juice (see footnote 3).

Mix at medium speed until the foam bubbles become tiny, firm and even, about 3 minutes. Add sugar slowly and mix at high speed until the mixture has a firm peak when you lift the mixer from the mixture. From here, you should move as quickly as you can in the following steps.

Add half of the egg white mixture into the egg yolk mixture. Use a whisk to mix gently, until the egg white is just mixed.

Add the rest of the egg white mixture and continue to mix, until fully incorporated.

Use a rubber spatula to fold the batter gently, until the batter becomes a consistent, pale green color without any obvious dark green spots.

Pour the batter into the cake pans. The batter should almost fill the pans. Bake on the middle oven rack for 20 minutes. Check the cake. If the surface turns brown, move the cake pans to the bottom rack and continue to bake until cooked through, about 10 minutes. Use a toothpick to pierce the middle of the cake. The cake is done when the toothpick comes out clean.

Remove cake pans from oven. Place two layers of wet towels or a trivet on the table. Drop each cake pan from 30 centimeters (12 inches) high onto the cushion two to three times. Doing this helps prevent the cake from shrinking significantly. Flip the cake pans and allow the cakes to cool upside down on a cooling rack.

When the cakes have cooled down, use a knife to separate each cake from the pan first. The cake should then come out easily when you flip the pan. Peel off and discard the parchment.
To prepare whipped cream
Add whipping cream into a large bowl and mix with an electric mixer, until it just becomes thick and can hold its shape. Add matcha powder. Use a whisk to mix by hand until the matcha powder is incorporated evenly. The cream should become thicker and not any obvious lumps.
To assemble the cake
Wait until the cakes have cooled down completely.

Add about 3 tablespoons red bean paste onto a piece of parchment and place another piece of parchment on top. Use your hand to spread the paste into a round shape, large enough to cover the cake. Uncover the paste and place the cake pan on top, to be used as a stencil. Use a knife to carve the red bean paste to the exact shape of the cake pan.

Place one layer of the cake on a working surface, upside down. Place the layer of red bean paste on top of the cake and carefully peel off the parchment.

Spread a layer of matcha cream onto the red bean paste layer. Place another layer of cake, upside down, on top of the first layer. Repeat the process, adding one layer of red bean paste and one of cream. Place the third cake layer on top, upside down. Use the rest of the matcha cream to frost the cake. Sprinkle matcha powder on top of the cake for decoration.

Serve the cake immediately after frosting.

For storage, cover the cake and store at room temperature after frosting. If you cannot find a container that is tall enough, you can store the cake separately and make the frosting immediately before you intend to serve it. Store leftover cake in an airtight container in the fridge, for up to 3 days. You can refer to

these tips

on storing a cake for longer periods of time, but I always prefer to serve the cake the same day I make it, for the freshest flavor.
Notes
(1) You can use any flavorless vegetable oil to replace the grapeseed oil, for example corn oil or canola oil.
(2) Using two layers of parchment will prevent the bottom of the cake from getting wet.
(3) Adding lemon juice helps stabilize the egg white once whipped. You can replace it with 1/16 teaspoon of cream of tartar.
The nutrition facts are calculated based on 1 of the 6 servings generated by this recipe.