Did you know, that besides having peanut butter as a sweet treat, you can use it to create a savory Chinese dish too? Sometimes I am so surprised at how versatile an ingredient could become, when used in a different context. This green bean salad with spicy peanut sauce is one of the best examples. With a splash of soy sauce, rice vinegar and chili oil, the peanut butter turns to an appetizing nutty sweet-sour-spicy sauce, with a fragrance of toasted sesame.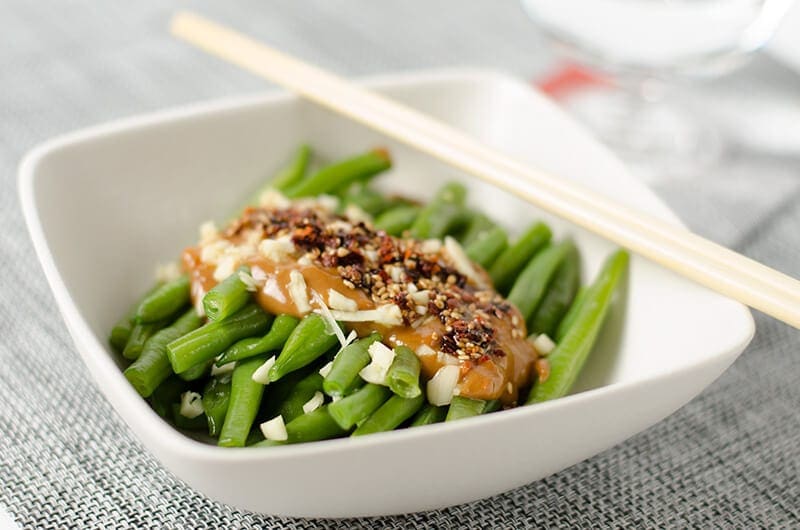 It is very common to use nutty sauces in Chinese cuisine, whether in cold dishes, salads or noodles. In authentic Chinese cooking, the base of the sauce is Chinese tahini (芝麻酱). It is a thick brown paste that is made from ground sesame and Chinese sesame oil. It has a super nutty flavor with a subtle salty-sweet taste. To make a savory sauce from Chinese tahini, you need to mix in other ingredients, like soy sauce or vinegar, to dilute it and add flavor. For example, Chinese tahini is used in Dan Dan Noodles and Chicken noodle salad.
However, Chinese tahini is not common in western supermarkets. Even you go to a Chinatown, it is still difficult to get the right type for a specific recipe. For example, a popular type of Chinese tahini in overseas market is the Taiwanese style tahini, which has a unique taste that is different from the Mainland ones. Even though they go by the same name, a dish will end up with a totally different flavor if you choose one instead of another.
The other day, when I saw the idea to use peanut butter to create a spicy peanut dressing, it struck me that I could use peanut sauce to replace Chinese tahini to make a savory sauce, too!
The idea turned out to be a great one, even more delicious than I expected!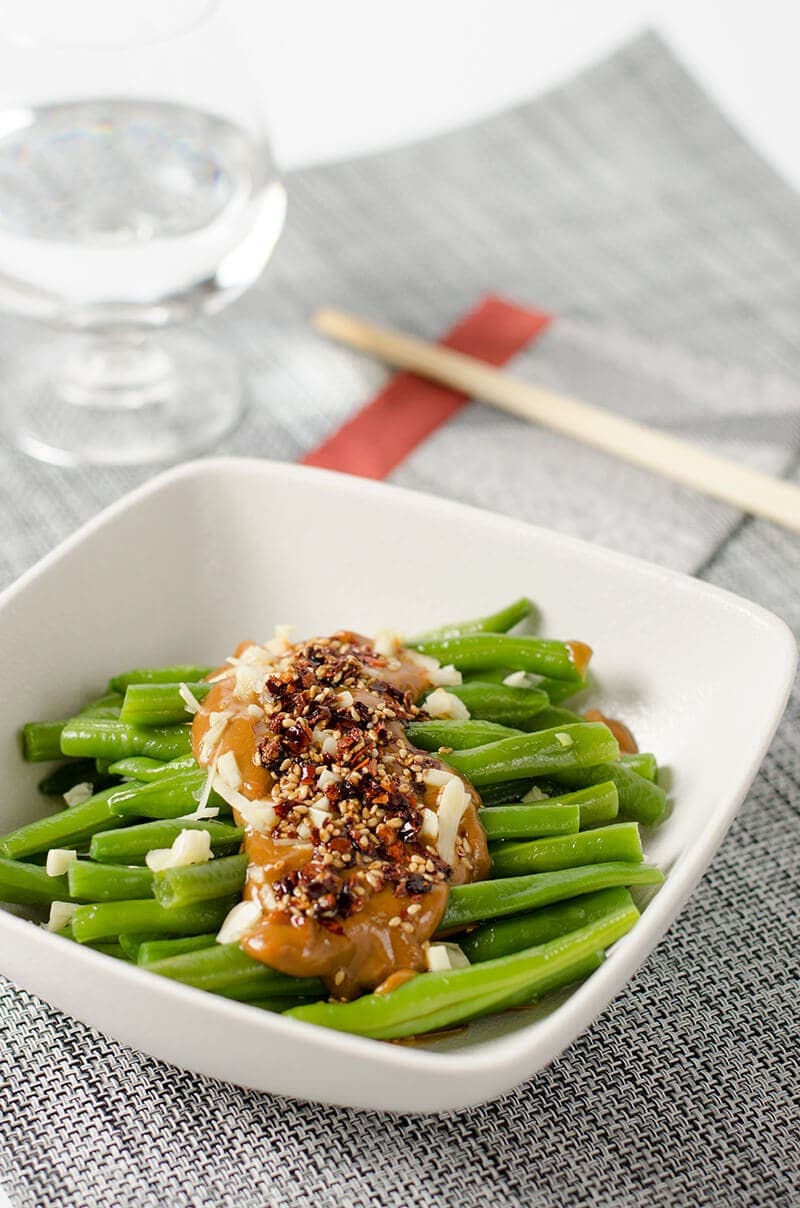 The sauce is so simple and appetizing and goes great with all sorts of green salads or blanched vegetables, for example, broccoli, gailan or asparagus. It is perfect for a quick weekday dinner on a hot summer day. This recipe will produce enough for two people as side dish, but I can devour a full plate in a few minutes!  It's a very healthy dish that is packed with fiber, nutrition and good fats. On a lazy evening, a light dinner could consist of just this salad.
The spicy peanut sauce is very flexible in that you can easily adjust the flavor by changing the ratio of the ingredients. In this recipe, I used a very balanced ratio so the sauce has a nutty savory taste without being overly sweet. If you have a sweet tooth, simply increase the amount of peanut butter until you're satisfied with the taste. I really like to use the crunchy peanut butter in this one. A bite of crisp green beans topped with sweet, spicy peanut bits is heavenly!
In the recipe, I will also introduce a way to make fresh chili oil, which tastes better than the bottled variety. If you want to use chili oil from the supermarket, you could add a teaspoon of sesame seeds into the salad to add flavor.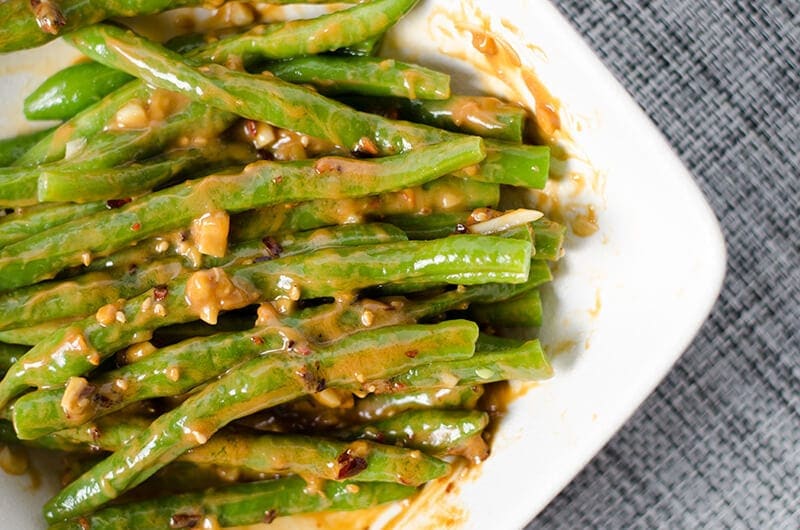 Want to Know More?
Receive our 5-Day Chinese Cooking Crash Course & Recipe Updates! Subscribe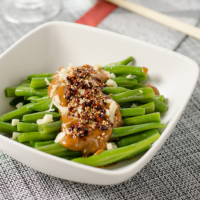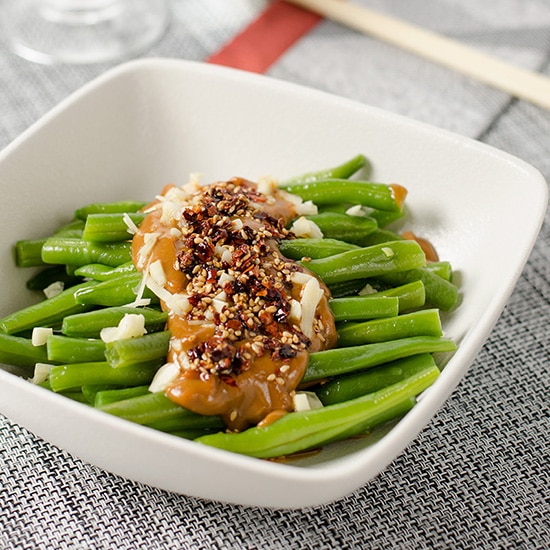 Green Beans with Spicy Peanut Sauce
Did you know, that besides having peanut butter as a sweet treat, you can use it to create a savory Chinese dish too? Sometimes I am so surprised at how versatile an ingredient could become, when used in a different context. 
Ingredients
250

grams (9 ounces)

green beans

, tough ends removed

1

tablespoon

peanut butter

1

teaspoon

light soy sauce

1

teaspoon

rice wine vinegar

1 1/2

tablespoon

chili flakes

1/2

teaspoon

Sichuan peppercorn

1

tablespoon

white sesame seeds

4

tablespoons

peanut oil

(or vegetable oil)

4

cloves

garlic

, minced
Instructions
Bring a pot of water to a boil. Add green beans and simmer until beans are cooked through. Run tap water over the beans to cool down. Drain and set aside.

In a small bowl, add peanut butter, light soy sauce and vinegar. Mix well and set aside.

To cook chili oil (*see footnote), add chili flakes, peppercorn, star anise and sesame seeds into a small bowl. Place the bowl on a heat resistant mat (or cutting board). Heat oil in a wok (or a skillet) until hot, when the oil just starts to smoke. Turn off heat immediately. Carefully use a ladle to transfer oil to the bowl of mixed spices. The oil will bubble for a few seconds and cook the spices. When the the oil stops bubbling, immediately use a spoon to stir gently, to mix everything well.

Place the green beans on a plate and top with peanut sauce and garlic. Gradually add spicy oil, 1 teaspoon at a time, and mix everything well. Taste the salad to see whether it's spicy to your liking. You can add more chili oil if you prefer a spicier dish.

Serve at room temperature.
Notes
There will be leftover chili oil generated by this recipe. You can store it at room temperature for about 1 week, or in the fridge for up to 2 weeks.
Nutrition
Serving:
153
g
,
Calories:
167
kcal
,
Carbohydrates:
13.4
g
,
Protein:
5.2
g
,
Fat:
11.7
g
,
Saturated Fat:
2.1
g
,
Sodium:
195
mg
,
Potassium:
362
mg
,
Fiber:
5.2
g
,
Sugar:
2.7
g
,
Vitamin A:
17
IU
,
Vitamin C:
40
mg
,
Calcium:
8
mg
,
Iron:
14
mg