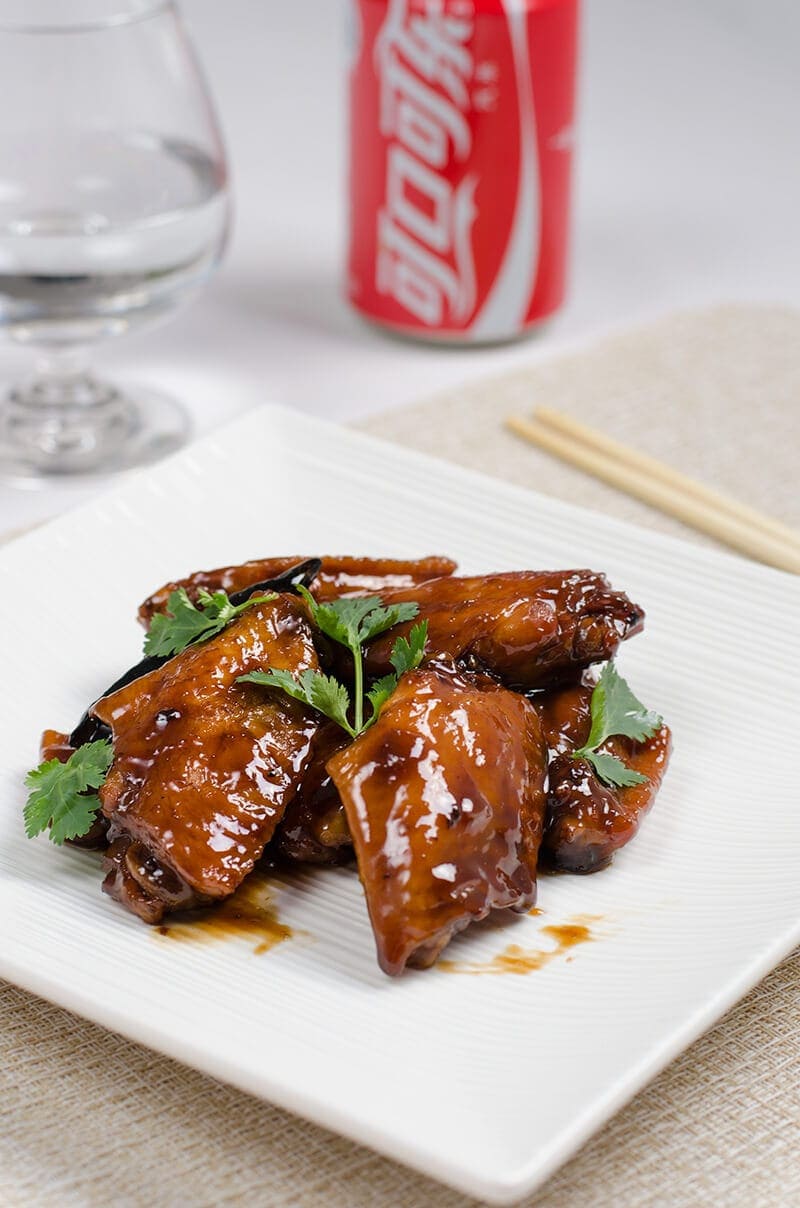 Braised Coca-Cola Chicken wings is one of the most popular dishes in China. It combines Chinese style braising and Coca-Cola to create juicy and savory BBQ style wings.
This recipe uses the standard Chinese braising process, which involves (1) stir frying the meat over high heat; (2) adding spices and sauce, then simmering until the meat is tender; and (3) adjusting the flavor and thickening the sauce at the end.
There are tons of ways to cook Coca-Cola chicken.  The easiest way is to dump chicken, soy sauce and cola into a skillet, then boil it all the way through. However, if you want the chicken to have a juicier texture, a charred surface (instead of sloppy skin), and a savory flavor that isn't just sweet, you'll need to spend a bit more effort.
This recipe may look a bit long, but it will walk you through every step with pictures. You'll find this dish very easy and quick to prepare.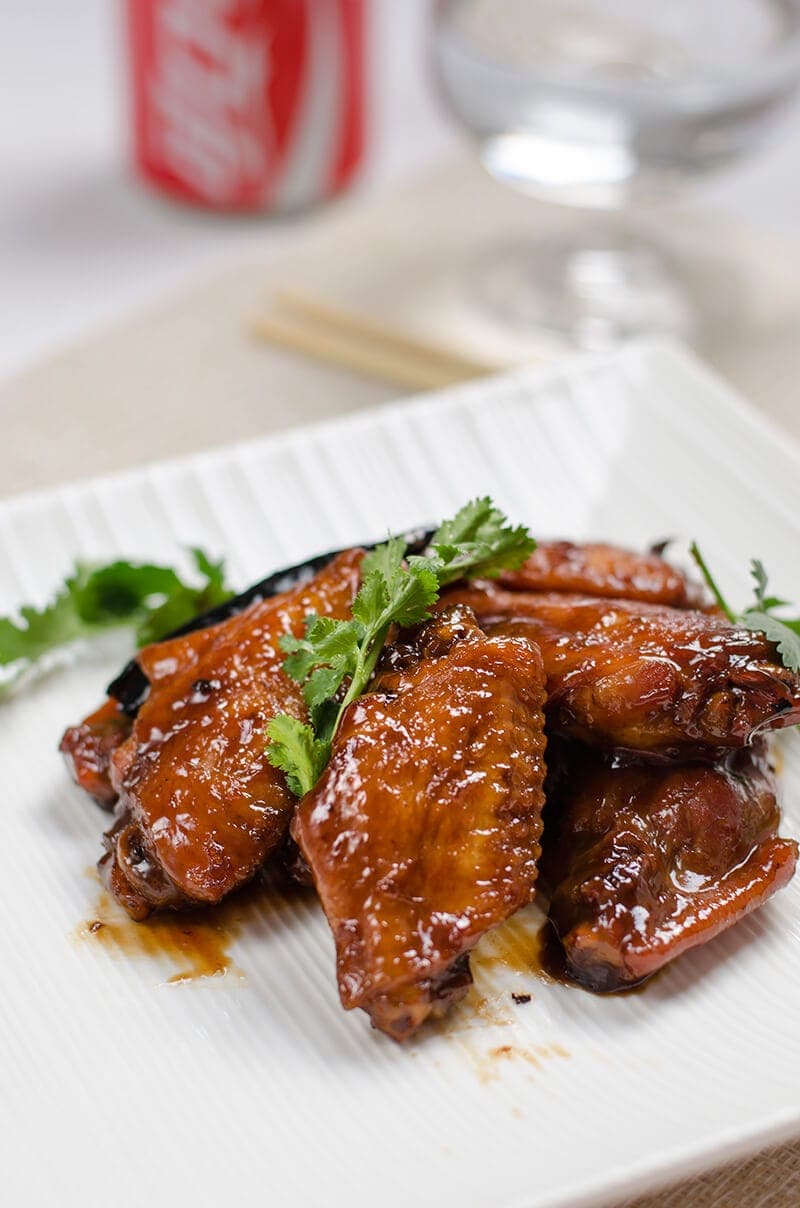 How to Cook Perfect Coca-Cola Chicken
Some recipes suggest you simply boil the chicken or do nothing before braising, but doing one of those might result in sloppy skin with a dry texture. On the other hand, frying the chicken with hot oil will tighten the texture of chicken and lock in the moisture. After braising, the wings will still hold tight together well, and the skin will be moist and waxy.
This recipe uses a nonstick skillet to grill the chicken instead of frying it in a wok. The chicken skin itself contains enough fat. Grilling with the natural chicken fat generates satisfying results and reduces the overall amount of oil.
Don't be stingy with the spices
Fresh herbs and pungent spices make a delicious dish taste better.
Ginger and scallions (or green onions) are two of the most basic and important spices in Chinese cuisine. These spices help eliminate the bad smell of the raw meat and add a subtle and fruity aroma to the dish.
You can add chili pepper without adding heat. Chili pepper has a similar effect to ginger and scallion. It also adds savory flavor to balance the sweetness, similar to adding mild pepper to a chocolate dessert. Coca-Cola itself is extremely sweet and can overpower other spices. The chicken will end up with plain, sweet, and dull flavor.
The finished sauce will be a bit spicy, but not overwhelming. Reduce the amount to 1 chili pepper if you're not a fan of spicy food.
You don't need to marinate the chicken wings
It takes time and doesn't make big difference. Unlike with baking chicken in the oven, which requires marinating first to let the flavor of the spices get into the meat, braising allows enough time for the chicken to absorb the sauce. Plus, the last step of braising will thicken the sauce so that it coats the wings nicely. It brings out the flavor of the chicken without tasting too heavy.
Have any questions? Please do not hesitate to drop me a message below and I will try my best to answer. Have fun cooking! 🙂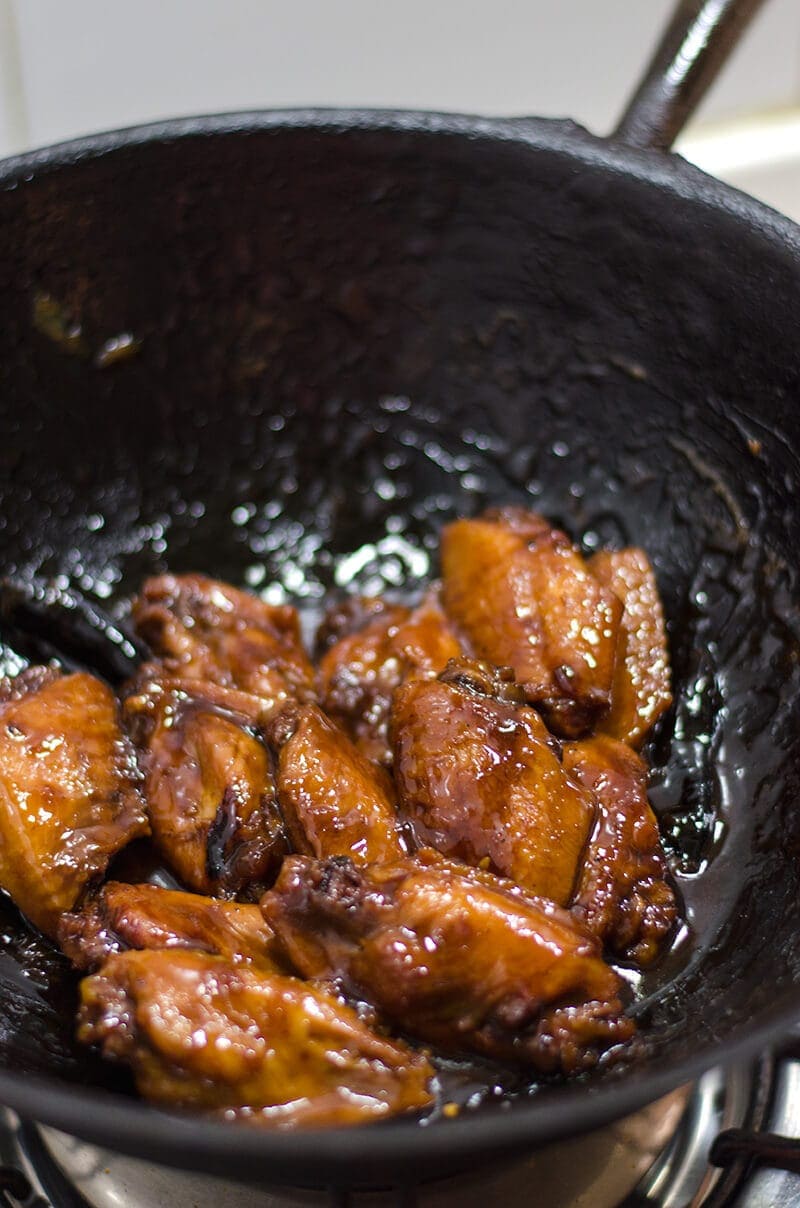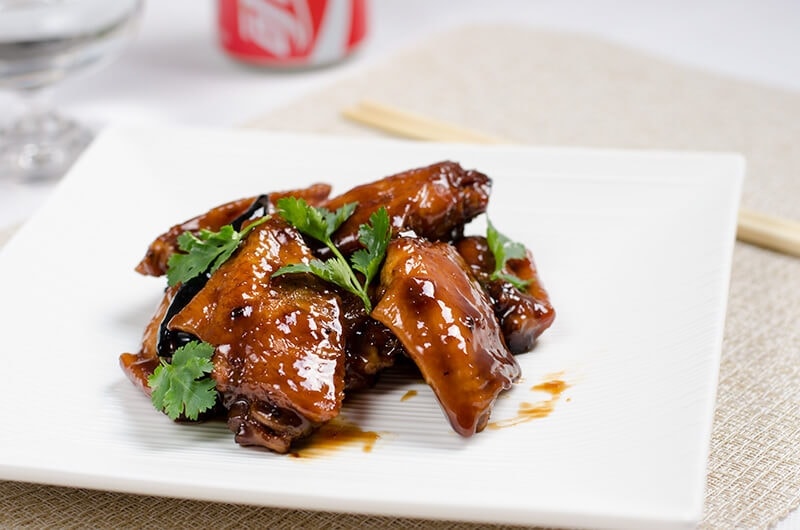 Want to Know More?
Receive our 5-Day Chinese Cooking Crash Course & Recipe Updates! Subscribe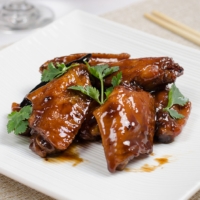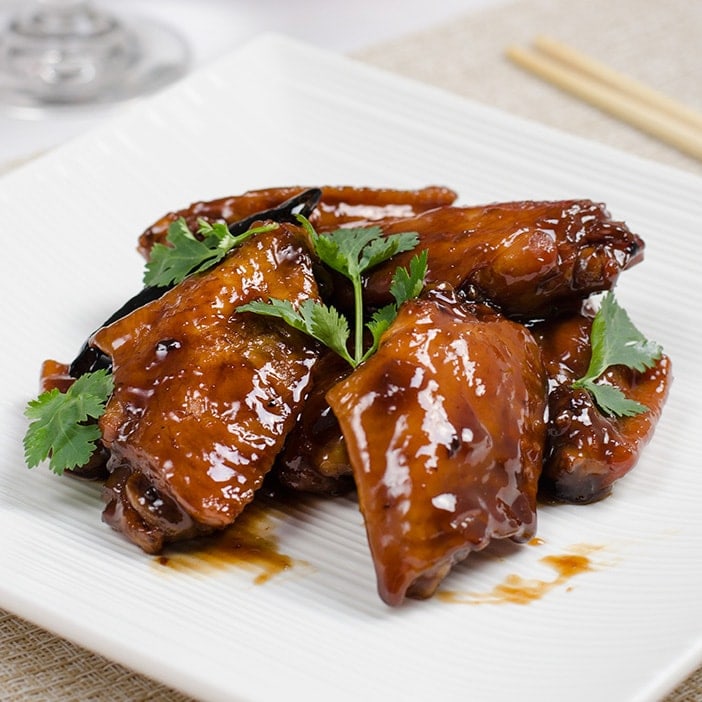 Braised Coca-Cola Chicken Wings
Braised Coca-Cola Chicken wings is one of the most popular dishes in China. It combines Chinese style braising and Coca-Cola to create juicy and savory BBQ style wings.
Ingredients
2

tablespoons

peanut oil

(or vegetable oil)

16

chicken wings

, dried by kitchen towel

2

pepper

, dried

1/2

scallion

about 10 centimeter / 4 inches long, chopped (or green onion)

3

slices

ginger

(size about 50 cent)

2

tablespoons

light soy sauce

2

tablespoons

Shaoxing wine

(or Chinese cooking wine)

1

can (350 milliliters / 12 ounces)

coca-cola

1

teaspoon

salt

(or to taste)

chopped cilantro or green onion for garnish

(Optional)
Instructions
Heat oil in a nonstick skillet over medium high heat. When oil is warm, add chicken wings, skin side down. Grill until the bottom side turns golden brown, 3 to 4 minutes. Flip wings and fry the other side until golden. Stop heat and transfer chicken wings to a plate. Set aside. Save the oil.

Heat a wok over medium high heat. When wok is hot, add the remaining oil from the skillet (about 2 tablespoons, add more if needed). Carefully lift the wok and swirl, to coat the lower third of the wok with oil. Turn to medium heat. Add chili pepper and let it cook for a few seconds, until dark. Add scallions and ginger and stir several times until fragrant. Add light soy sauce, Shaoxing wine and Coca-Cola and gently stir a few times. Carefully add chicken wings. Stir a few times to coat with sauce.

When the sauce starts to boil, turn to low heat and simmer for 20 minutes. During the first 15 minutes, use a spatula to stir 2 to 3 times, to avoid burning on the bottom, taking care to keep the wings evenly coated with sauce. When the sauce starts to thicken, add salt. Stay near the wok and stir frequently once the sauce has reduced to a third original amount. When the sauce has become very thick and coats the wings well, stop heat. If sauce is still thin after 20 minutes, turn to medium high heat to thicken the sauce. Be careful, as you can easily burn the chicken toward the end of braising. Transfer wings to a plate and garnish with cilantro or green onion.

Serve warm or cold.