A Northern Chinese delicacy, these fried stuffed eggplants feature a juicy filling, tender eggplant, and a super crispy crust. It's like fried dumplings, but using eggplant to replace the dough wrapper. This recipe shows you how to make the crust extra crispy so that it stays crispy for a long time, even after reheating. It is a perfect dish for dinner parties, holidays, and Chinese New Year.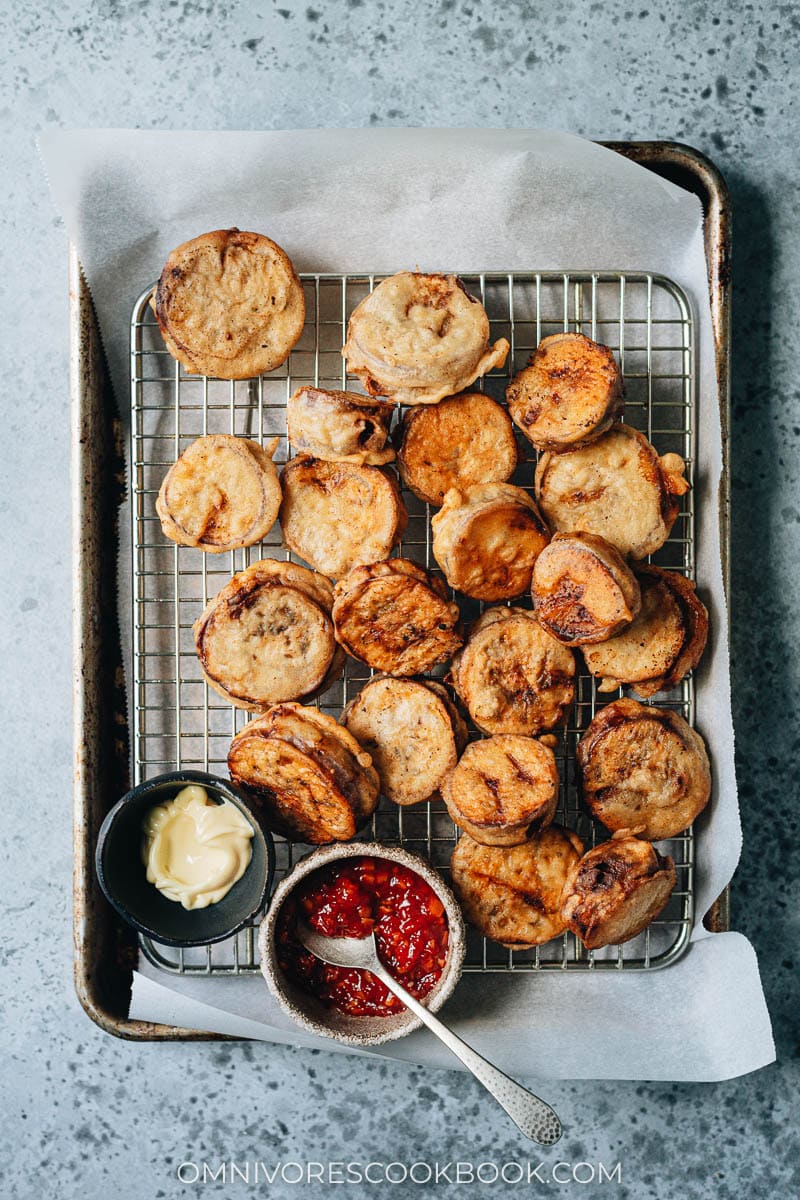 Fried stuffed eggplant, or Zha Qie He, can be translated as fried eggplant pocket or fried eggplant dumplings. It was one of my favorite childhood treats. It's a special occasion dish that my grandma made once in a while when I was growing up. My family also makes it during Chinese New Year because the stuffed eggplant looks like a golden coin and represents prosperity. Plus, it is so delicious!
To make the dish, the eggplant is sliced into thin pieces, then you stuff a meat filling in between the slices to form a "burger". Then you dip the eggplant burger into batter and fry it until golden crispy.
Deep frying is messy and nobody likes it, I know! But this dish is really worth the effort. Plus, it's actually quite easy to put together.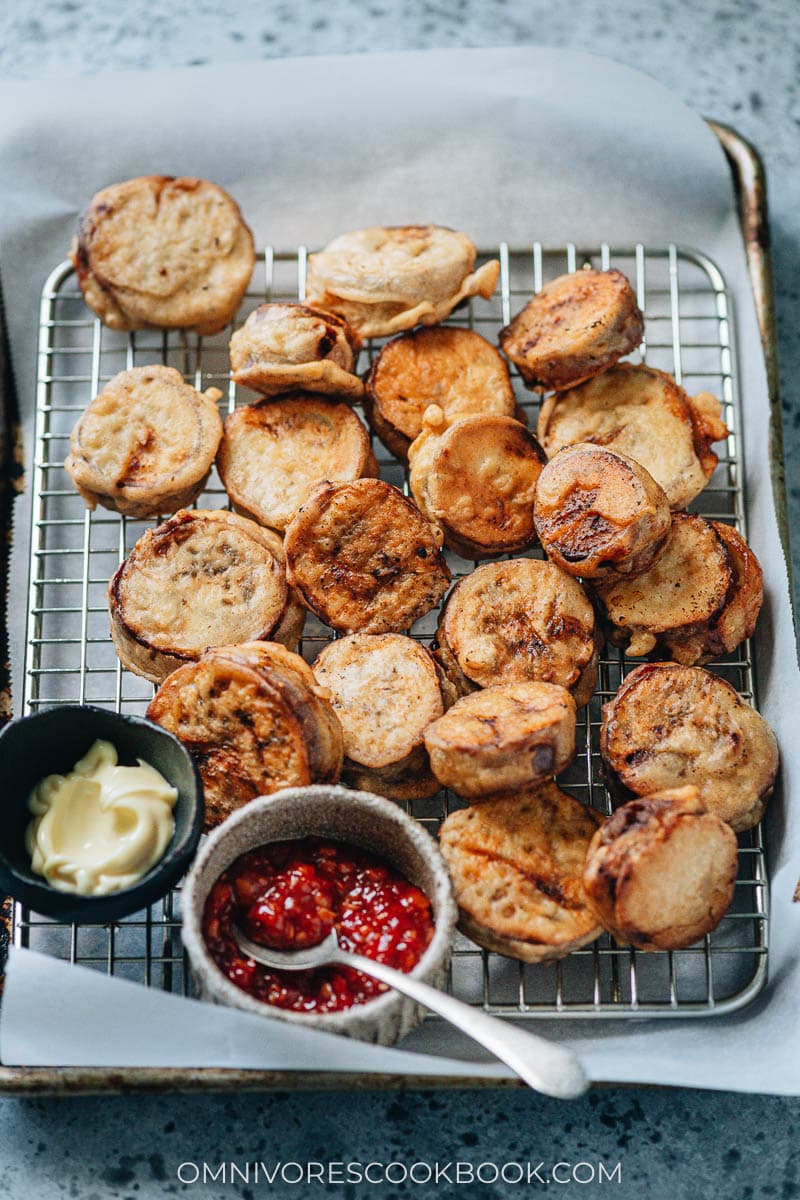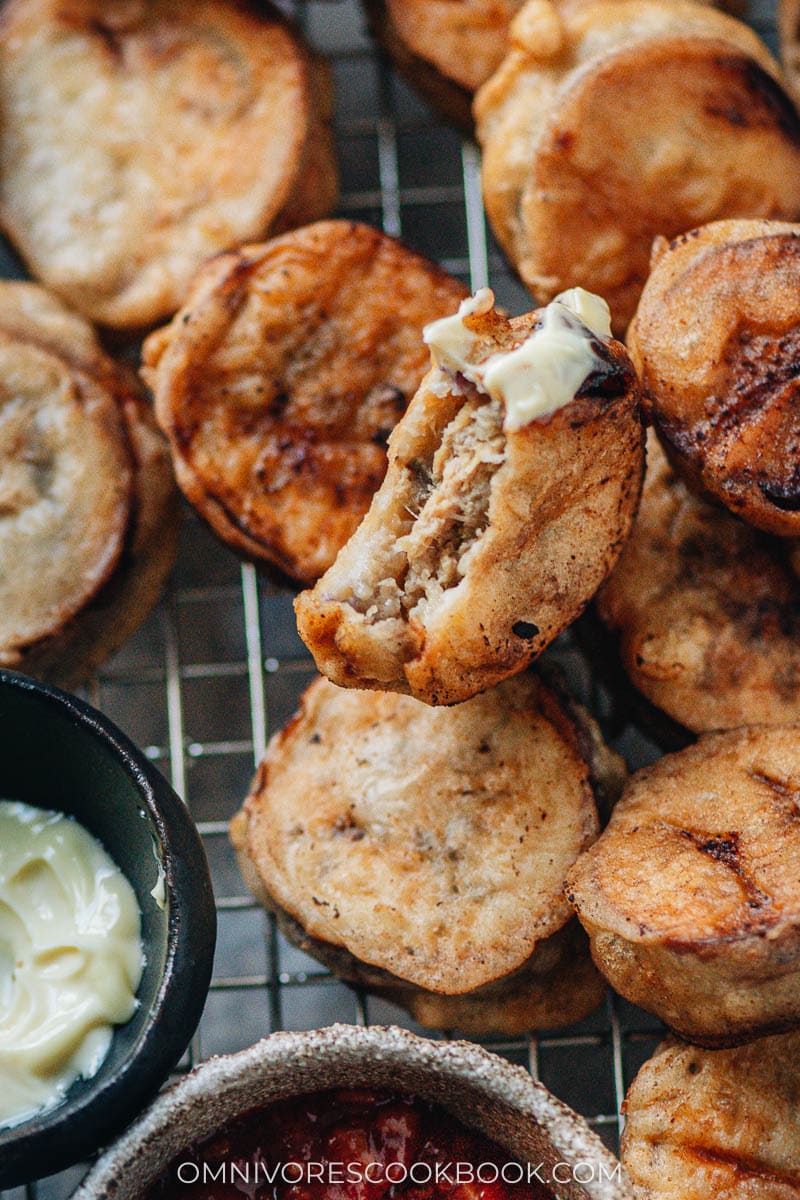 Why this recipe
The biggest challenge in this recipe is to get the crust crunchy crispy while keeping the inside tender and juicy. Because the eggplant releases moisture during and after the cooking, the crust might be crispy when it's fresh out of the pan but turn soggy immediately after. I've tried many combinations of ingredients and water ratios, and finally found the best way.
The key to making extra crunchy crispy fried stuffed eggplant is double frying. It makes a dramatic difference as compared with single frying, no matter what ingredients you use. Once doubled fried, the stuffed eggplant is super crunchy and crispy. Moreover, it stays crispy even after it cools down and turns cold, and after storing and reheating.
Double frying might sound like a lot of work. But truth to be told, you're already doing the messy deep frying. So the extra step is actually not that much more work.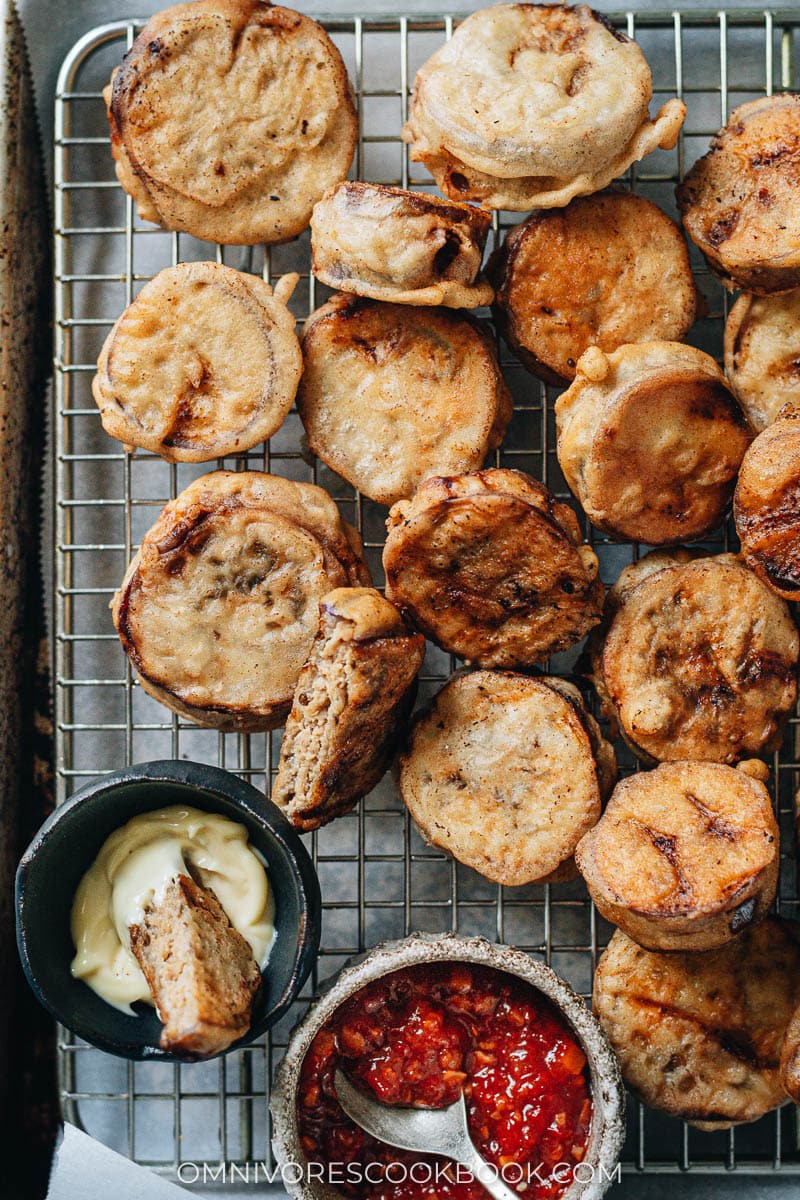 How to prepare fried stuffed eggplant
Preparing fried stuffed eggplant is relatively simple and the most time-consuming part is the frying.
Prepare the filling
To prepare the filling, make sure to mix the ingredients into the ground meat thoroughly. You should stir the filling long enough that it becomes stringy. The filling will stay together better and be easier to work with without falling apart.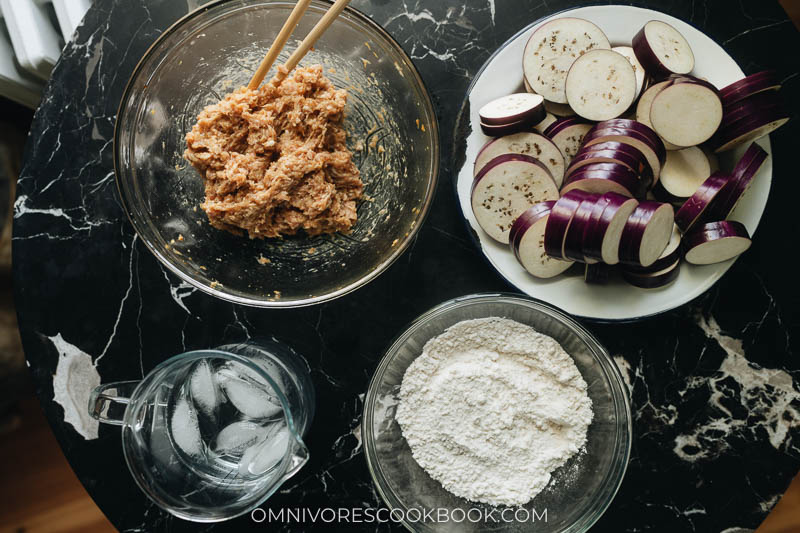 Cut the eggplant
Cutting the eggplant for this dish requires a little bit of knife skill. Basically, you want to create a pocket using two thin eggplant pieces with a small part attached, so it holds together well during frying. The best way to do it is to first slice the eggplant without cutting all the way through; then slice again, but this time cut all the way through.
Assemble
Once you've prepared the filing and the eggplants, stuff them to form eggplant burgers. Use your chopsticks to stuff a small ball of filling between the eggplant pieces and make sure to push all the way through. Then squeeze the two pieces together to even out the filling.
NOTE: It's important to not over stuff the eggplant. I found it's best to keep the filling as thick as the eggplant, for a better texture and taste. Over stuffing the eggplant can also cause undercooking later on.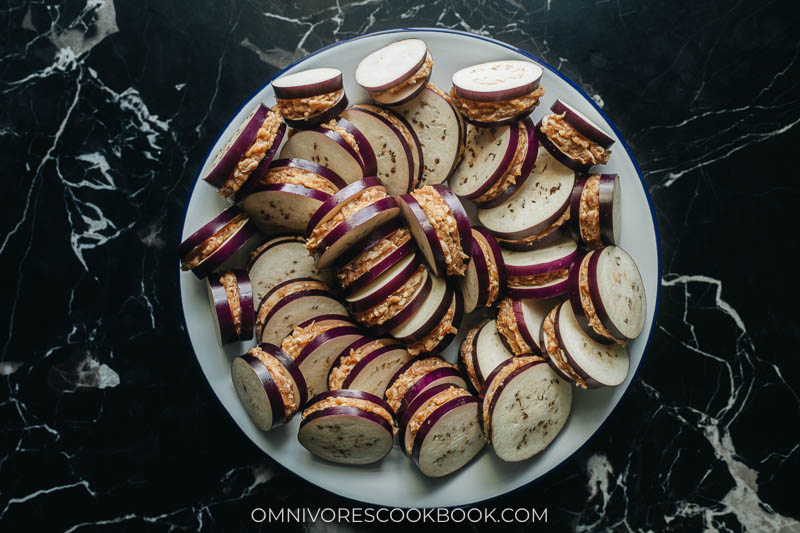 Cooking fried stuffed eggplant
When you're ready to cook, heat the oil while making the batter. The batter should be runny but thick enough to cling onto the eggplant.
Then you can dip the eggplant burgers into the batter and fry them as you go.
The eggplant will turn pale golden after the first fry, then golden brown and crispy after the second fry.

Tips on oil temperature
If you don't have a thermometer to measure the oil temperature, it's no big deal. You can adjust it by observing the eggplant.
During the first fry: medium-sized bubbles will rise around the eggplant, but you shouldn't hear loud splashy sounds. If the bubbles rise rapidly and make a lot of noise, turn down the heat. Once I heat up the pan, I usually use medium to medium-low heat for the frying process.
During the second fry: larger bubbles will rise rapidly and you will hear more bubbly noise. I usually use medium to medium-high heat for this process.
How to serve fried stuffed eggplant
Make sure to let the freshly cooked fried stuffed eggplant cool on a rack for a few minutes before serving. The filling will be steaming hot! After a few minutes, the crust will crisp up a bit more and it will taste SO GOOD!
Serve with dipping sauce
The northern Chinese style fried stuffed eggplant is flavorful enough to enjoy by itself. However, I do prefer to serve some dipping sauce on the side, such as mayonnaise, ketchup, or chili garlic sauce. You can also mix some salt and white pepper (1:1 ratio) for a pepper salt for dipping.
Serve with a stir fry sauce
Sometimes the fried stuffed eggplant is served with a stir fry sauce in restaurants. I didn't include that method in the recipe because I prefer to serve the crispy eggplant by itself. The stir fry sauce is a nice touch, but the eggplant will turn soggy really quick once you pour the sauce on.
If you still prefer a homemade sauce, try out:
All of these sauces go perfectly with these fried stuffed eggplants.
If you decide to make the sauce, pour the sauce onto the eggplant right before you serve them or serve the sauce on the side, to maximize the crispy texture.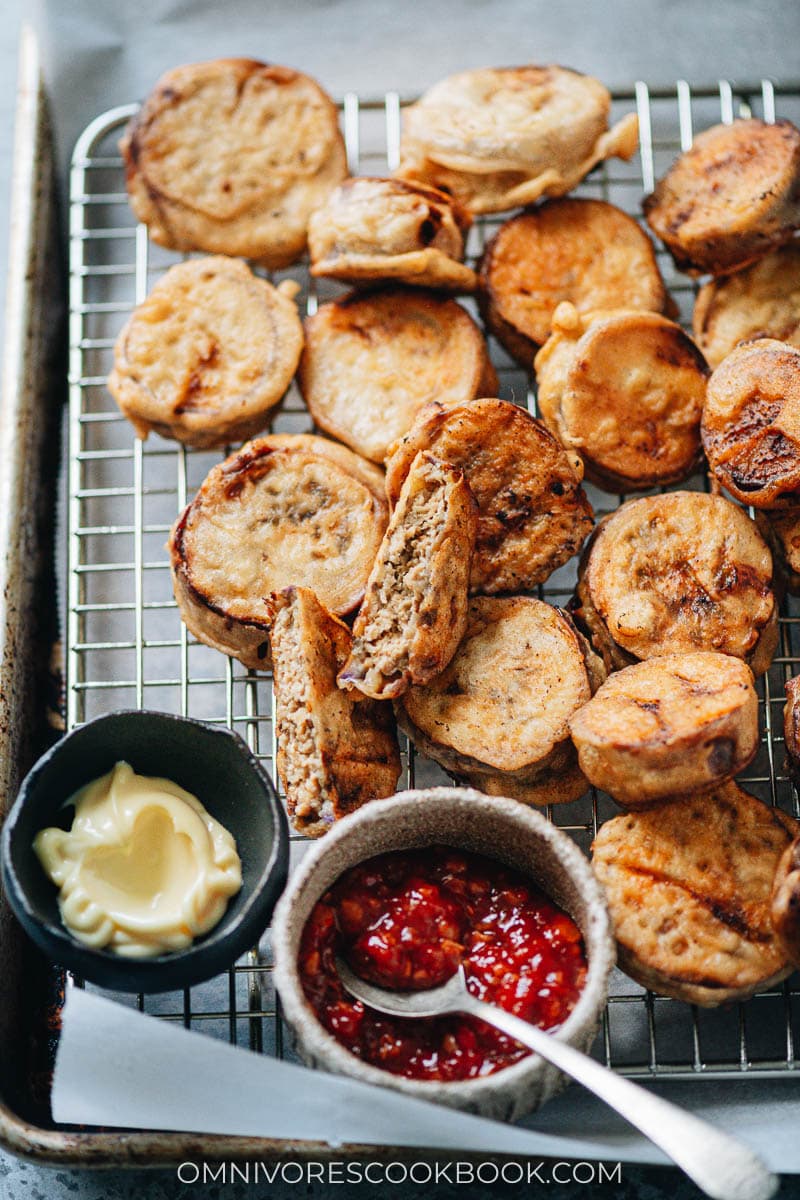 Store and reheat
The beauty of this fried stuffed eggplant recipe is that the eggplant will remain crispy and juicy even after reheating.
I have tested refrigerating and freezing the eggplant, then reheating it in an air fryer. Both worked out nicely. You can see the detailed information in the recipe below.
If you do not have an air fryer, oven reheating works as well. Definitely turn on the convection function if your oven has it.
Afterthoughts
Fried stuffed eggplant is such a fun dish and it tastes so good. For me it's a special occasion food because it does take some time to cook, and the cleanup is not much fun. The dish is perfect for your dinner party or celebrating Chinese New Year because the eggplant "burgers" hold up so well and stay crispy for a long time. You can warm them up in the oven if you prepare them ahead of time.
I think it's quite magical that you only need some eggplant, a small amount of meat, and some flour to make a big batch of food that everyone will love 🙂
Want to Know More?
Receive our 5-Day Chinese Cooking Crash Course & Recipe Updates! Subscribe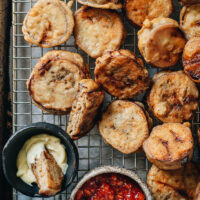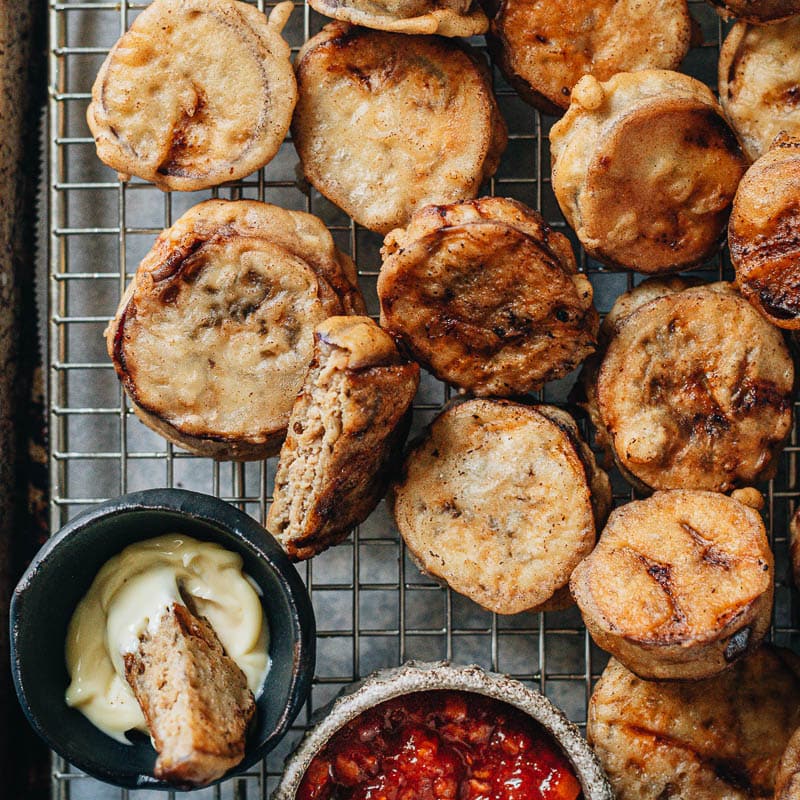 Chinese Fried Stuffed Eggplant (炸茄盒, Zha Qie He)
A Northern Chinese delicacy, these fried stuffed eggplants feature a juicy filling, tender eggplant, and a super crispy crust. It's like fried dumplings, but using eggplant to replace the dough wrapper. This recipe shows you how to make the crust extra crispy so that it stays crispy for a long time, even after reheating. It is a perfect dish for dinner parties, holidays, and Chinese New Year.
Servings:
4
to 6 servings
Ingredients
2

large (about 1 lb / 450 g)

Chinese eggplant

(*Footnote 1)
Batter
1

cup (150 g)

all-purpose flour

1

teaspoon

salt

1 1/3

cup (300 ml)

ice water
Cooking
3

to 4 cups

vegetable oil

(or enough for deep frying)
Instructions
To make the filling: Add the ground pork into a medium-sized bowl. Add all the seasoning ingredients except the sesame oil. Mix in one direction until sticky and streaky. Add the sesame oil and mix well. Set aside.

To prepare the eggplant: Cut off and discard the tough end of the eggplant. Slice the eggplant into 1/4" (1/2 cm) thick pieces without cutting through the eggplant, leaving a small part attached. Then keep cutting another 1/4" (1/2 cm) thick piece, this time slicing all the way through. So you will get an eggplant "slider bun" and use it to stuff the meat filling in between to form a burger. Repeat to cut all the eggplant the same way.

To assemble: Add 1 to 2 teaspoons of filling into each eggplant pocket, depending on the eggplant size. Push down the filling, then gently press the eggplants so the filling reaches the edges of the eggplant. Do not stuff too much filling, as doing so can make it hard to cook through later.

Make the batter: Add the flour and salt into a big bowl. Stir to mix well. Slowly add the ice water and stir with a spatula. Mix until the water is just incorporated. The batter should be runny but not too thick, able to coat the eggplant easily. You can adjust the batter by adding more water or flour, if needed.

To cook: Add the oil into a medium-sized pot (or high-walled pan). Heat over medium heat until it reaches 350°F (176°C). Prepare a baking sheet lined with parchment or a wire rack.

Working in batches of a few eggplant pockets at a time: dip each piece into the batter to coat well, then gently lower it into the hot oil.

Fry until the batter is set and turns pale yellow, flipping occasionally, about 3 to 4 minutes. Remove from the oil and transfer onto the lined baking sheet to cool.

Once you've fried all the eggplant, turn up the heat and wait until the oil reaches 375°F (190°C). Return all the eggplant to the pan in batches. Cook until the eggplant turns golden brown, another 4 to 5 minutes. Once done cooking, transfer the eggplant to the same baking sheet to cool slightly.

Serve hot by itself or with your favorite dipping sauce.
Store and reheat
To store, wait for the eggplant to cool off completely, transfer into a sealed container, and store in the refrigerator for up to 4 days or in the freezer for up to 2 months.

To reheat, set air fryer to 350°F (176°C). Reheat refrigerated eggplant for about 10 minutes, or frozen eggplant for 15 minutes. If using oven, reheat at 350°F (176°C) with convection or at 375°F (187°C) without convection until heated through and crispy.
Notes
It's possible to use other types of eggplant. I've tried using Italian eggplant and graffiti eggplant and they both worked. Although I highly recommend soaking the sliced eggplant in salt water for 15 minutes (use a bowl of water large enough to cover all the eggplant, mixed with 1 teaspoon salt). Then dry the eggplant completely with paper towels. The salt water will draw moisture from the eggplant and help it crisp up. American eggplant will work too, but you should try to find the smallest / skinniest ones available. Otherwise it will be hard to slice and cook.
Nutrition
Serving:
1
serving
,
Calories:
251
kcal
,
Carbohydrates:
22.5
g
,
Protein:
13.1
g
,
Fat:
12.3
g
,
Saturated Fat:
2.5
g
,
Cholesterol:
28
mg
,
Sodium:
682
mg
,
Potassium:
373
mg
,
Fiber:
3.4
g
,
Sugar:
3.1
g
,
Calcium:
17
mg
,
Iron:
2
mg
Other delicious eggplant recipes