These fried wontons are crispy little flavor bombs! They are packed with shrimp, pork, and fresh aromatics and they're a ton of fun to eat. Impress your guests by serving them as an appetizer at your next party with the included spicy dipping sauce. As a bonus – you can even make them in the air fryer!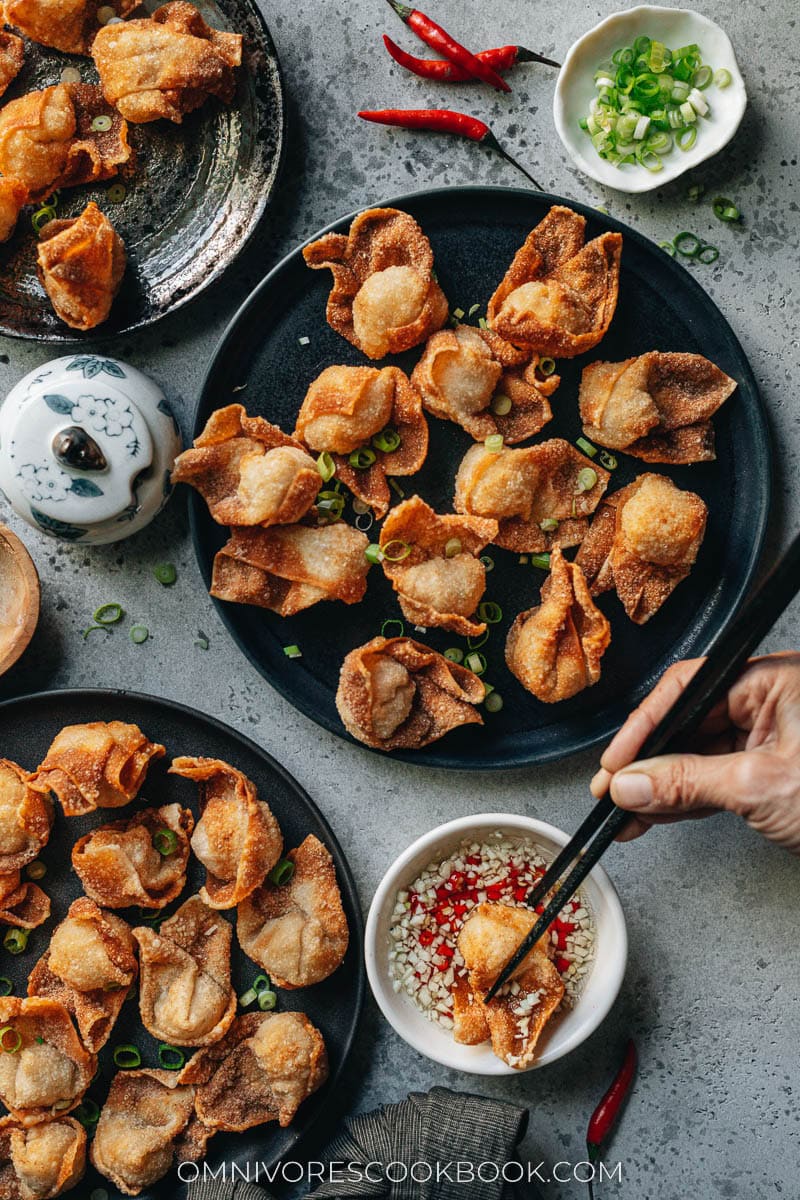 What are fried wontons?
Fried wontons are a special type of dumpling made with a square wrapper, deep fried until delightfully crispy, and typically enjoyed as an appetizer or side dish. The crispy wrapper has a really satisfying (and loud!) mouthfeel and the flavor inside is a very familiar pork and shrimp filling.
You've probably seen wontons in soup, and they're most commonly served like this. I do love a good wonton soup, but some places let the wontons get soggy and slippery, and that can make wontons seem less than ideal. I can assure you these crispy fried wontons will not disappoint!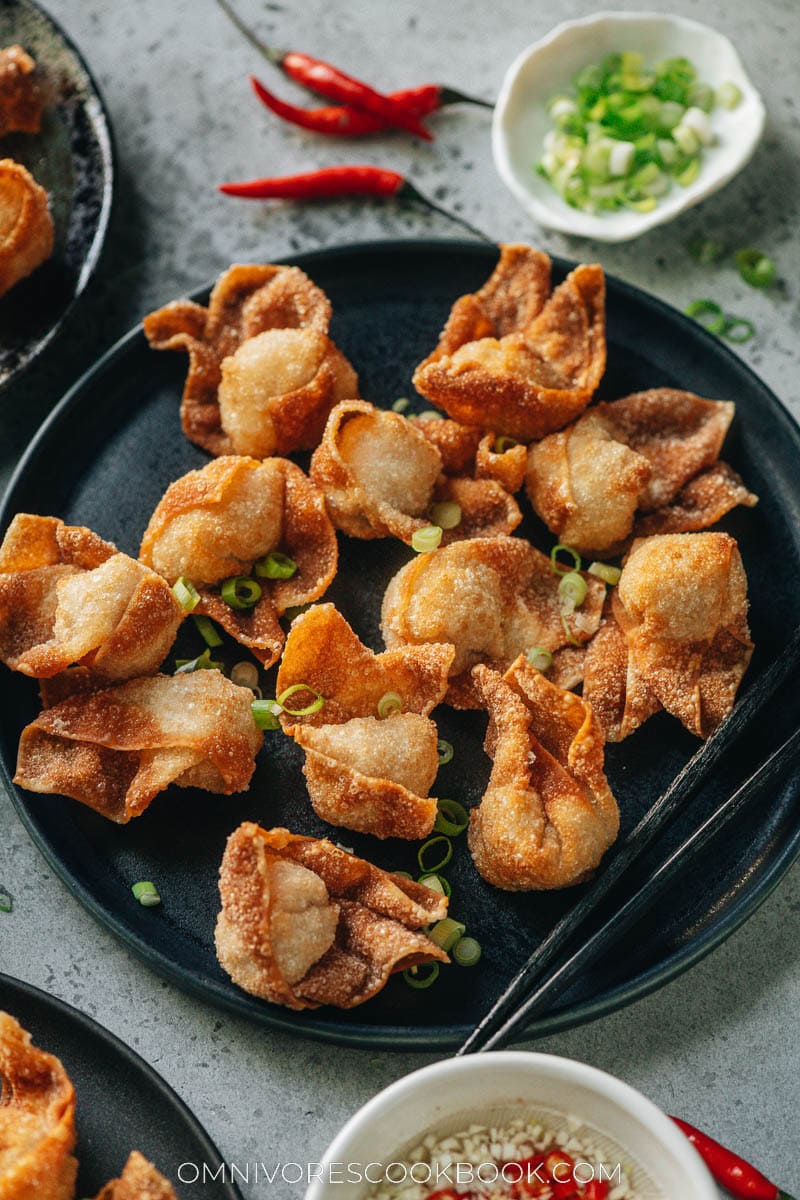 Fried wonton filling with pop
For awesome fried wontons you need a tasty, juicy filling in addition to the addictively crispy wrapper. My recipe below has a classic authentic Chinese wonton filling – pork, shrimp, and fresh aromatics with soy sauce, Shaoxing wine, and sesame oil. The ingredients combine for a deep and satisfying umami with a pop of bright flavor from the ginger and a hint of nuttiness from the sesame oil.
Fried wontons ingredients
Wonton wrappers
You should use proper wonton wrappers for this recipe if you plan to fold the wontons in the same way shown in the photos. This folding method creates lots of pointy corners that get very crispy when fried.
I like the Shanghai style wrappers shown in the photo below because they are thin yet very easy to work with.
If you only have round dumpling wrappers, you can still make this recipe, but make sure you enclose the filling completely to keep it juicy. In this case you can fold them either like half-moons or pleated dumplings.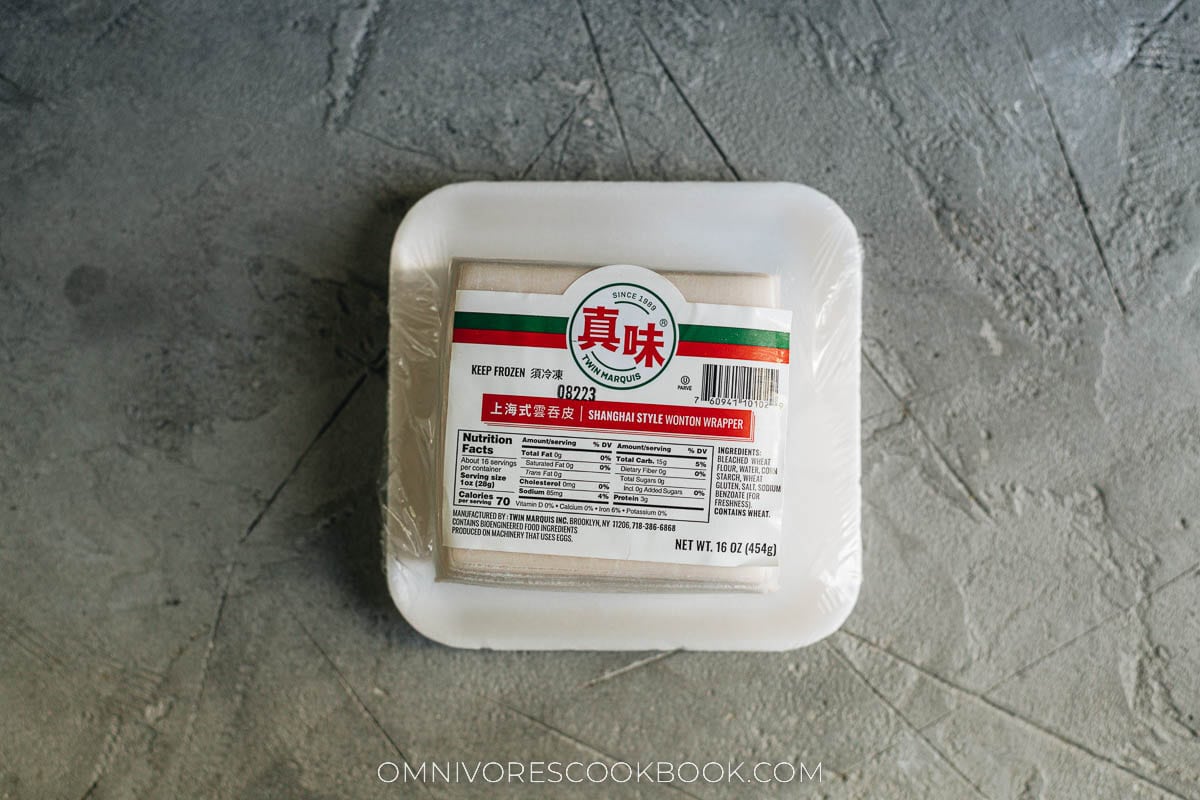 Filling
The filling I've included below is a pretty common filling for wontons, whether boiled or fried. It's well-balanced and flavorful but if you prefer to skip the shrimp, it's totally OK to replace the shrimp with pork and make an all-pork filling.
Fried wonton cooking process
Mix the filling
The fried wonton filling is really easy to make once you've prepped all your ingredients. Just combine them in a big bowl and give it a good stirring. You want the texture of the raw filling to be a little bit sticky so that the wontons will be easier to wrap.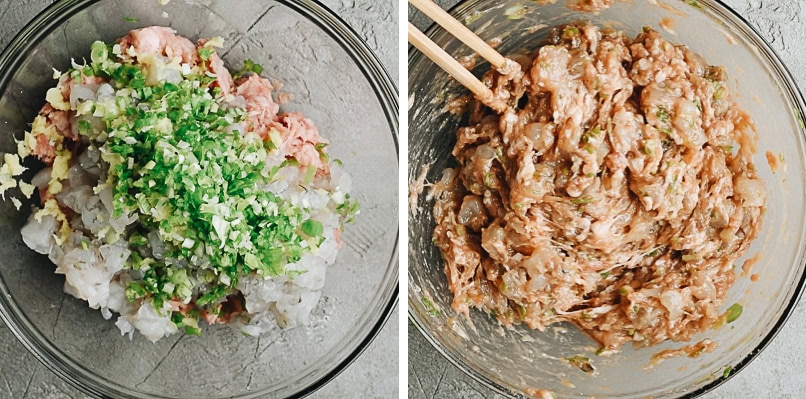 How to wrap wontons
I know wrapping wontons looks tricky, but it really isn't. And it doesn't even need much practice, either. It just takes a few wraps to get the hang of it. Here's how to do it:
Hold a wrapper in one hand and scoop a bit of the filling onto it.
Fold upward from the bottom (the corner facing you), then make one more fold in the same direction, so you have two "arms" reaching out to the right and left.
Use your finger to wipe a bit of water onto the wrapper at the base of those two "arms", and then press the two wet spots together as shown in the photo.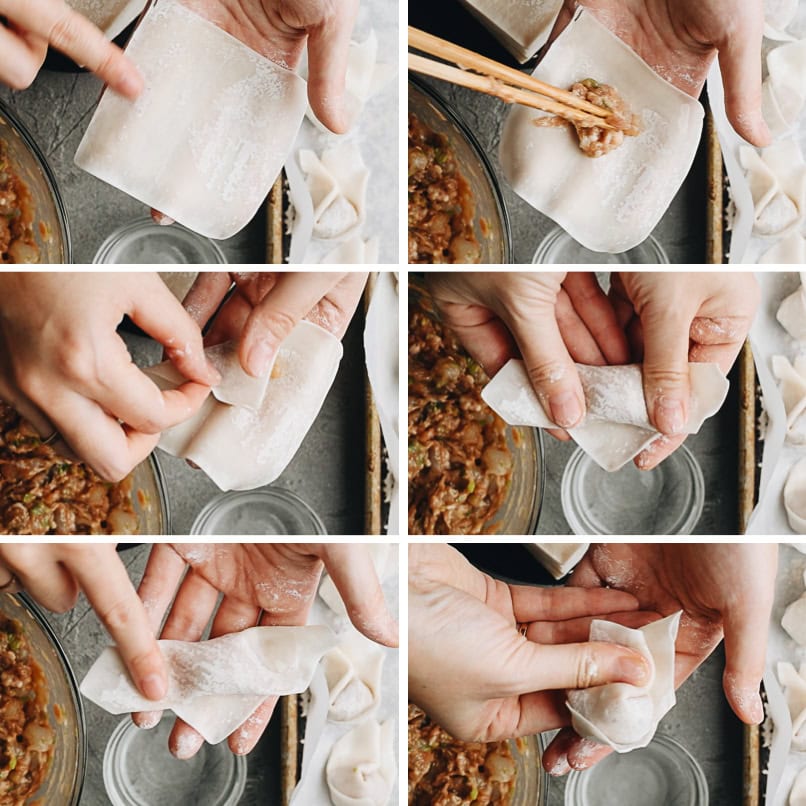 How to fry wontons
There are two ways to approach the frying – deep frying and air frying – and they have their pros and cons:
Deep frying will give you the most beautifully crispy finished wontons but it involves more work and cleanup.
Air Frying will give you pretty nice results, with less hassle, less cleanup, and fewer calories. But the surface of the wonton won't be as evenly browned as deep fried ones.
Deep fried wontons
You'll need to fill a large, deep frying pan or medium-sized pot with a couple of inches of oil to start. Once the oil is hot, add the wontons a few at a time without crowding the pot, and make sure they don't get stuck together. Flip them so they cook and crisp evenly.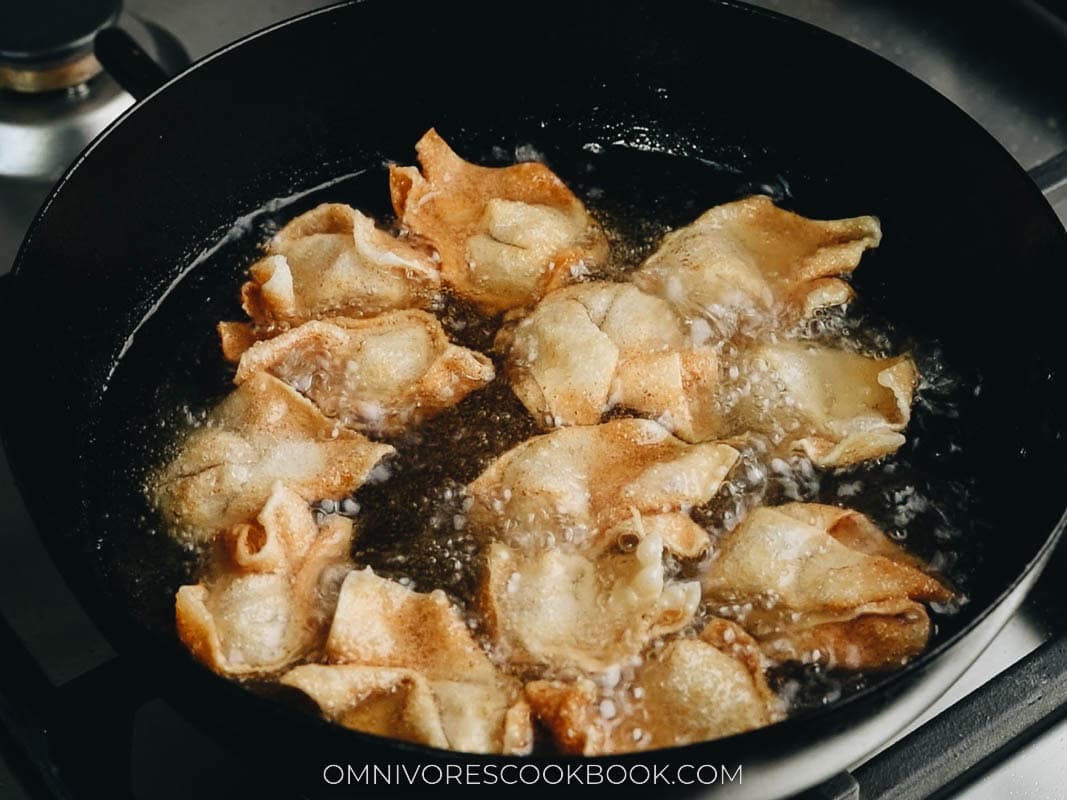 Air fried wontons
Use your air fryer basket or perforated parchment to allow airflow under the wontons, and arrange them so they aren't on top of each other. As you spray the wontons with oil, you want to be thorough but not excessive – the better the oil coverage, the more evenly crispy the wontons will be. And you should flip them once during the process.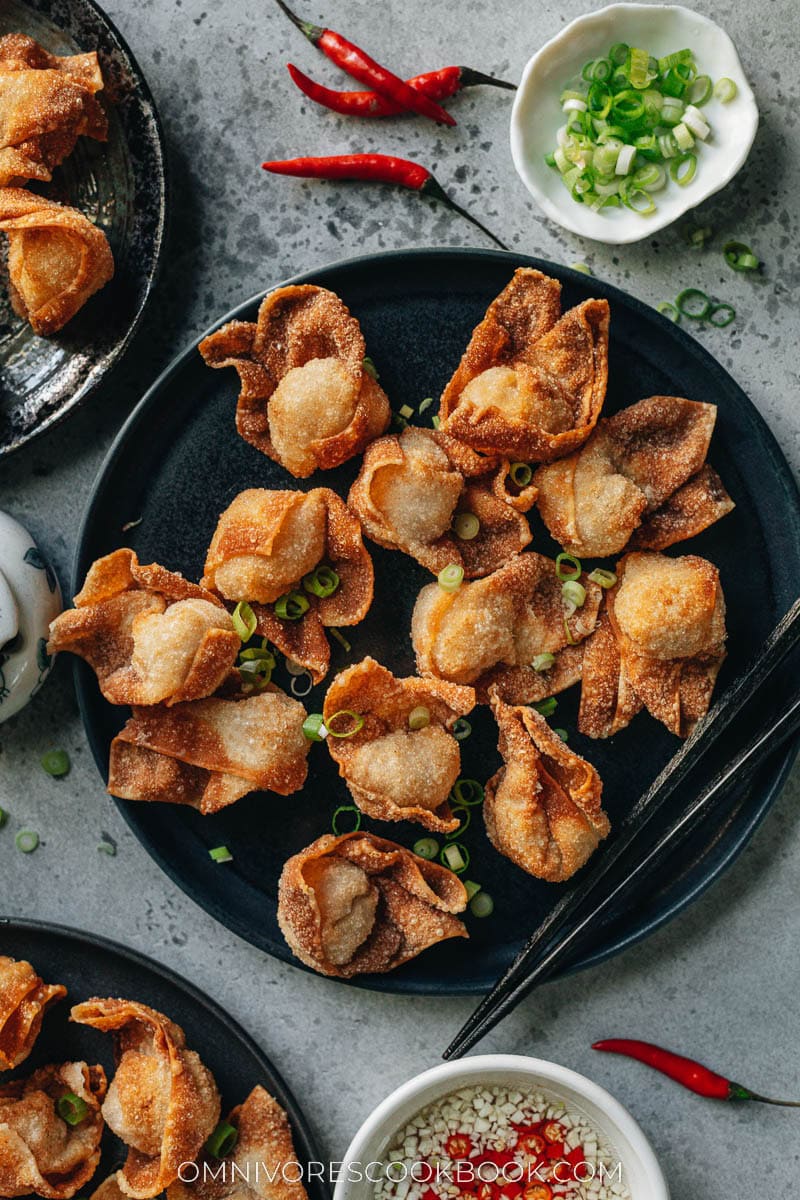 Dipping sauces for fried wontons
The dipping sauce I included in the recipe below is a bit Southeast Asian inspired – made with rice vinegar, sugar, bird's eye chili pepper, and garlic. It is a simple dipping sauce but it has a pretty strong KICK! Especially as you let the chili peppers steep longer in the liquid.
If you prefer your food a bit less spicy, I'd remove the seeds or use a milder kind of chili pepper, such as serrano or fresno.
If you want to go a different direction entirely, feel free to use any dipping sauce you like! Fried wontons are a type of dumplings, after all. The following are all good options:
Vinegar with a touch of soy sauce
Bottled sweet chili or chili garlic sauce
Spicy mayo
Final thoughts
If you're looking for a really fun appetizer you can't go wrong with these fried wontons. Wrapping them can be a nice group activity, and the end result is a rewarding celebration of crispiness and umami. If you try the recipe I hope you enjoy it!
More fun Asian party appetizers
Want to Know More?
Receive our 5-Day Chinese Cooking Crash Course & Recipe Updates! Subscribe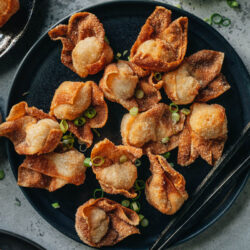 Fried Wontons (Air Fryer Version included)
These fried wontons are crispy little flavor bombs! They are packed with shrimp, pork, and fresh aromatics and they're a ton of fun to eat. Impress your guests by serving them as an appetizer at your next party with the included spicy dipping sauce. As a bonus – you can even make them in the air fryer!
Servings:
60
wontons (6 to 8 servings)
Ingredients
Filling
1/2

lb (225 g)

ground pork

1/2

lb (225 g)

shrimp

, peeled, chopped into small pieces

1

tablespoon

ginger

, finely grated

2

green onions

, minced

2

tablespoons

Shaoxing wine

(or dry sherry)

1

tablespoon

light soy sauce

(or soy sauce)

1/2

teaspoon

salt

2

tablespoons

sesame oil
Dipping sauce
4

tablespoons

rice vinegar

2

teaspoons

sugar

1

bird eye chili pepper

, thinly sliced (remove the seeds for a less spicy sauce)

1

clove

garlic

, finely minced

1/8

teaspoon

salt
Instructions
Make the filling
Combine ground pork, shrimp, ginger, green onion, soy sauce, Shaoxing wine and salt in a big bowl. Stir to mix well. Add the sesame. Stir until everything combines well together and the mixture feels a bit sticky.
Wrap the wonton
To make wontons, place a wonton wrapper in one hand, scoop a teaspoon of wonton filling and place it near the narrow side of the wonton wrapper (you can add more filling to the wonton if you like, as long as you can still wrap it). Fold the narrow side over the filling, then roll the filling all the way through the other side of the wrapper. Bind both ends and press together to lock the filling inside the wrapper. Brush a thin layer of water onto the wonton wrapper and press the ends together.

Make one wonton at a time, and line up all the wontons on a big wooden cutting board. If you aren't going to boil the wontons immediately, use a damp paper towel (or cheesecloth) to cover the wontons to prevent them from drying out.

If you aren't going to cook the wontons the same day, place them in an airtight container with several layers of wet paper towels on the bottom. This way, they can be stored in the fridge for up to 2 days.
Cook the wonton by deep frying
Heat 2" (5 cm) oil in a tall wall pan or a medium-size pot. Add the wontons a few at a time without crowding the pan. Fry until both sides turn golden crispy, flipping once or twice every minute for even frying. Transfer to a plate to cool. Only fry the portion you plan to serve.
Cook the wonton in the air fryer
Spray the wontons with oil and place them in the air fryer basket without overlapping.

(You can use a perforated parchment sheet on the bottom to prevent sticking).

Air fry at 350°F (176°C) for about 4 to 5 minutes, until golden. Flip the wontons over and air fry for 3 to 4 minutes longer, until golden brown and crisp. Serve hot with dipping sauce as an appetizer.
Store and reheat
Freeze any wrapped and uncooked wonton if you plan to serve them later. They are OK to store in the fridge if you will cook them within 2 days.

To cook frozen wonton, deep fry or air fry without thawing the wontons. It takes a little longer to cook them but not by much.
Nutrition
Serving:
1
serving
,
Calories:
223
kcal
,
Carbohydrates:
28.6
g
,
Protein:
16.4
g
,
Fat:
4.8
g
,
Saturated Fat:
0.9
g
,
Cholesterol:
61
mg
,
Sodium:
487
mg
,
Potassium:
175
mg
,
Fiber:
0.9
g
,
Sugar:
2.4
g
,
Calcium:
23
mg
,
Iron:
1
mg