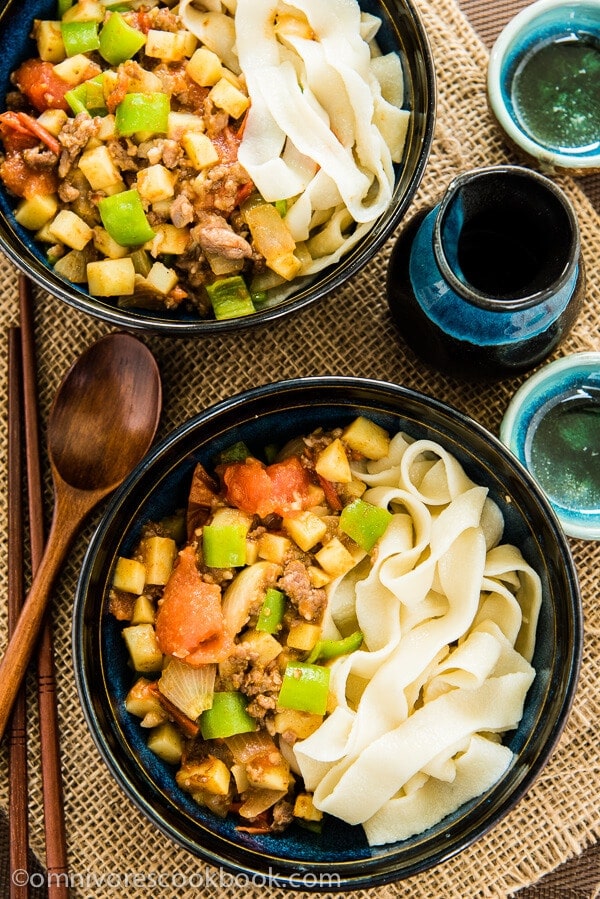 The tender ground lamb meat is cooked with potato, tomato, onion, and pepper to create a simple, colorful, and delectable noodle sauce. It is then poured on freshly boiled handmade noodles to make a delicious and healthy one-dish-meal.
I'm always amazed by the fact that the variety of noodle dishes in China is practically limitless. Not to mention there are eight types of mainstream cuisine, 23 provinces with completely different cooking styles, and 611 cities, each with its own specialty. Even two families living next door to one another have their own opinions towards cooking a given noodle dish, and might serve it in a totally different way.
If you travel to the western part of China, you will always find a type of dish that consists of boiled noodles served with a flavorful sauce. It's really close to the idea of pasta, but with Chinese style seasoning and noodles. It's called ban mian (拌面) in general terms, lo mein in Cantonese cuisine, and laghman in Xinjiang cuisine.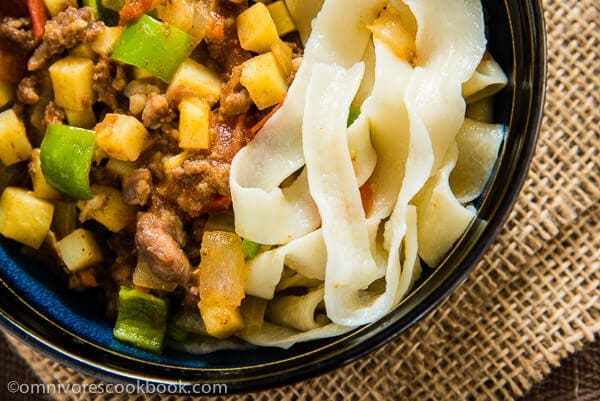 You might be familiar with the term lo mein. But today I would like to introduce a different way to enjoy noodles – the Uyghur style.
If you ever look at the general introduction of the Xinjiang region in my last post, you'll find that Uyghur food bears a lot of similarities to Middle Eastern cuisine, and laghman is no exception. The main ingredients of the noodle sauce are lamb, potato, onion, tomato, and pepper. They are cooked with very simple yet flavorful spices – cumin and white pepper – to create a mouthwatering sauce. It is then poured on freshly boiled noodles, creating a healthy and fulfilling dish.
The whole idea of this dish is simplicity and great flavor at a low budget.
To create the perfect Laghman, using hand-pulled noodles is a necessity. Don't let the name scare you off, though. I wrote a thorough post with a foolproof hand-pulled noodle recipe and you'll be able to nail it on the first try.
Of course, you can always use other types of noodles in this dish. Fresh Chinese noodles will be a great choice, but I also found dried udon noodles work well, too.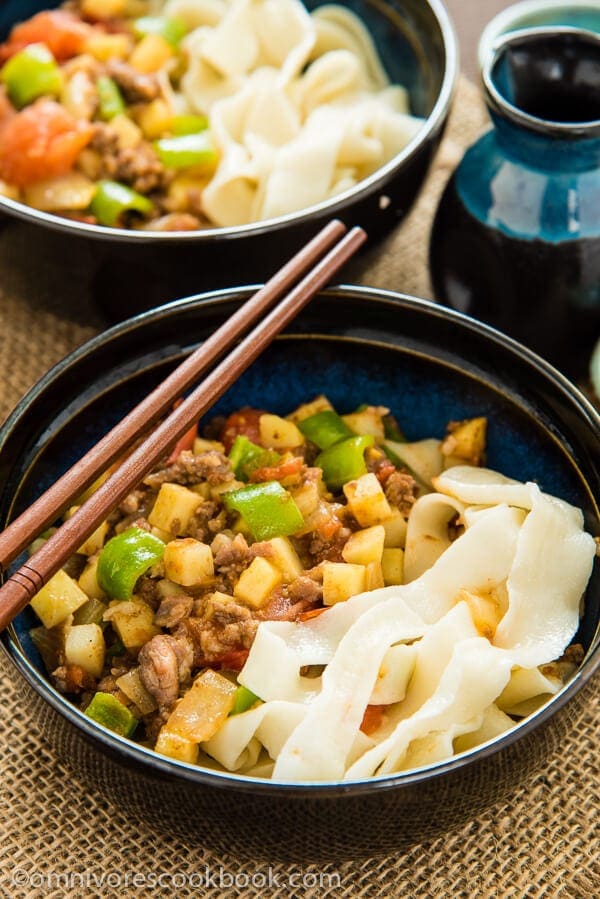 This is a really simple dish, but just take note of a few things:
Chop the veggies into small cubes, so they will be better seasoned and easy to cook through during the stir-frying.
Mix the ground lamb with cornstarch. It will help tenderize the meat and keep it moist during cooking.
Serve a small portion of noodles with a generous amount of sauce. I always prefer to keep the ratio of noodle and sauce at 1:1. Not the authentic way, but more delicious!
That's not so many things to remember, right? Because it's such an easy dish!
By the way, one last word about enjoying this dish the authentic way. If you go to a Xinjiang restaurant, you'll see Chinese black vinegar, chili oil, and raw garlic arranged neatly on the table. To eat the dish like a local, drizzle some vinegar and chili oil to mix with the sauce and noodles, and alternate between eating the noodles and taking bites from a chunk of raw garlic. I personally like to pour vinegar and chili oil onto the noodles, but am not a big fan of the garlic part 😉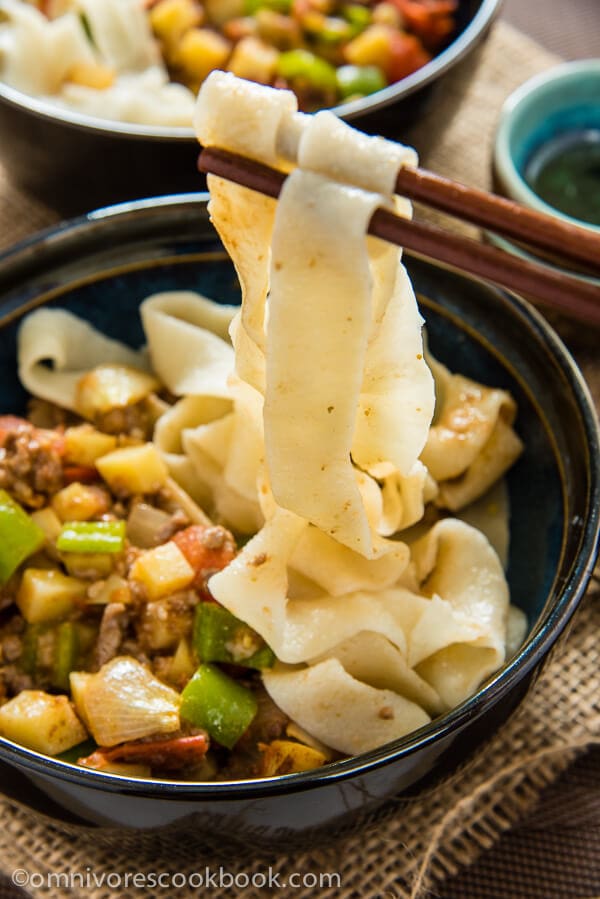 Do you like my recipe? Sign up for the Omnivore's Cookbook weekly newsletter to have the latest recipes delivered to your inbox and get a FREE e-cookbook!
Want to Know More?
Receive our 5-Day Chinese Cooking Crash Course & Recipe Updates! Subscribe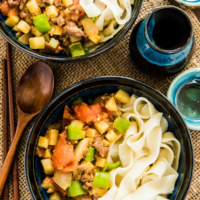 Uyghur-Style Noodles with Lamb Sauce (Laghman, 新疆拌面)
Ingredients
150

grams

5 ounces lamb leg meat or ground lamb meat (lean fat ratio 7:3)

2

teaspoons

cumin powder

2

tablespoons

vegetable oil

1

teaspoon

salt

1/2

teaspoon

white pepper powder

2

teaspoons

cornstarch

1/2

80 grams / 3 ounces small onion, cubed

1

200 grams / 7 ounces small potato, cubed

1

200 grams / 7 ounces tomato, chopped

1

50 grams / 2 ounces chili pepper (or bell pepper), cut to square

200

grams

7 ounces uncooked hand-pulled noodles (or 2 servings dried / fresh noodles)
Instructions
Cube lamb leg into 1-centimeter (0.4-inch) cubes (or use ground lamb directly) and add them to a small bowl. Add 1 teaspoon cumin powder, 1 teaspoon vegetable oil, 1/2 teaspoon salt, the white pepper, and the cornstarch. Mix well and allow to marinate at room temperature for about 15 minutes.

While marinating the lamb, prepare the vegetables. Try to cut the onion and the potato the same size as the lamb cubes.

Add water to a large pot and bring to a boil (for cooking the noodles) . Prepare the sauce while boiling the water.

Heat 1 tablespoon oil in a large nonstick skillet (or a wok) over medium heat (medium high heat if using an electric stove) and swirl to coat the bottom of the wok with oil. When the oil becomes warm, add lamb. Stir and cook until the surface turns light brown but the meat is still raw inside, about 2 minutes. Transfer the lamb to a plate and set aside. Save the oil in the skillet.

Prepare a small bowl of water and set aside.

Add the remaining 2 teaspoons oil (or less) until the oil in the skillet is about 1 tablespoon. Add onion and stir and cook for 1 minute. Add potato and stir a few times. Swirl in 2 tablespoons water to speed up the cooking. Continue to stir and cook until the potato is slightly charred, 3 to 4 minutes. Add tomato, the remaining 1/2 teaspoon salt and the remaining 1 teaspoon cumin powder and mix a few times.

Add back lamb and stir to mix well. Add chili pepper (or bell pepper) and keep stirring until cooked through. Stop heat and transfer the sauce to a large bowl.

Cook noodles according to the instructions.

Add noodles to serving plates and pour the sauce on top. Serve immediately.
The nutrition facts are generated from 1 of the 2 servings generated by this recipe.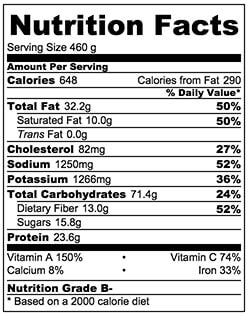 Related recipes and more Xinjiang dishes