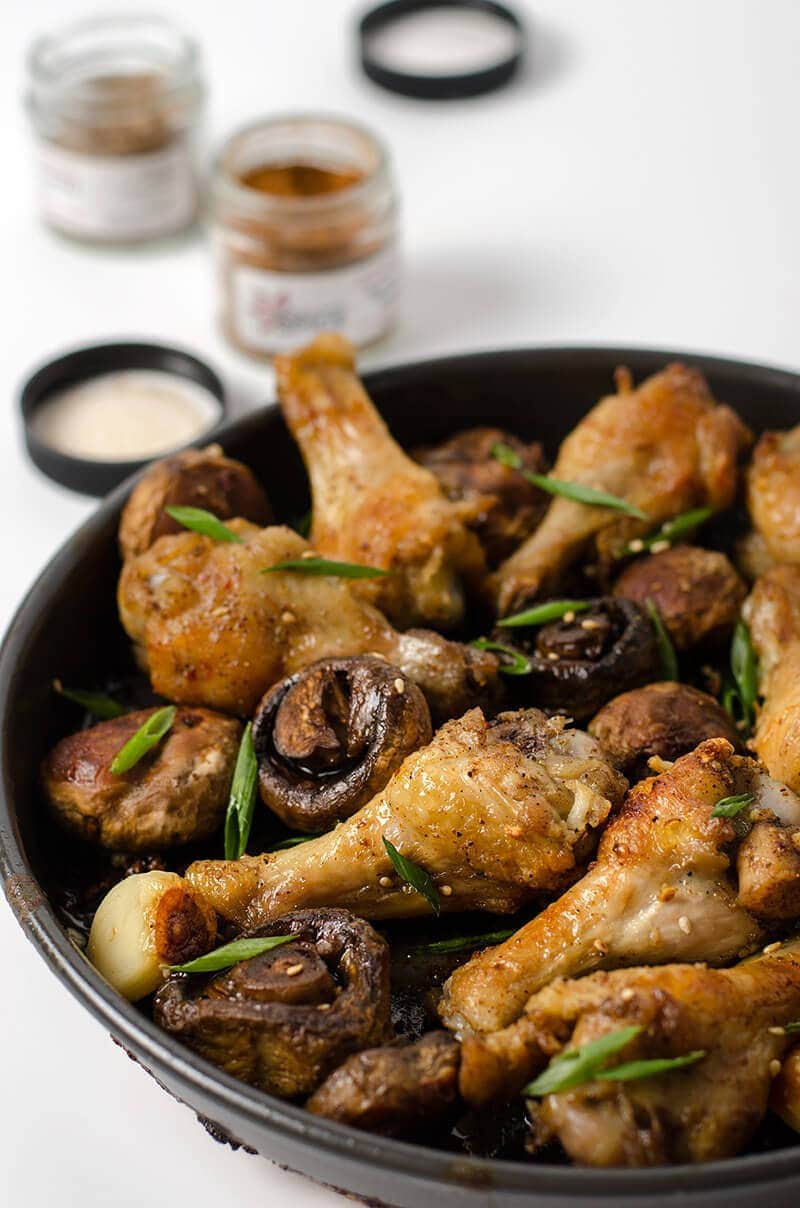 As a food blogger, I spend a lot of time and energy developing recipes and trying to find new ideas. To discover unfamiliar territory in the cooking world, I read other blogs, find inspiring pins, and brainstorm regularly. However, I still feel like I'm lacking ideas much of the time. I have also had tons of failed experiments, where I ruined a nice dish by forcing myself to add something new to it. Of course it's not always raining. Sometimes a great idea just hits me out of nowhere and I feel like I hit jackpot.
This kind of wonderful experience happened to me last weekend. I was making these spicy roast chicken wings and trying to develop a new recipe with the awesome spice blends I got from Season with Spice. I had tried to cook with the spices a few times, and I had my plans all laid out.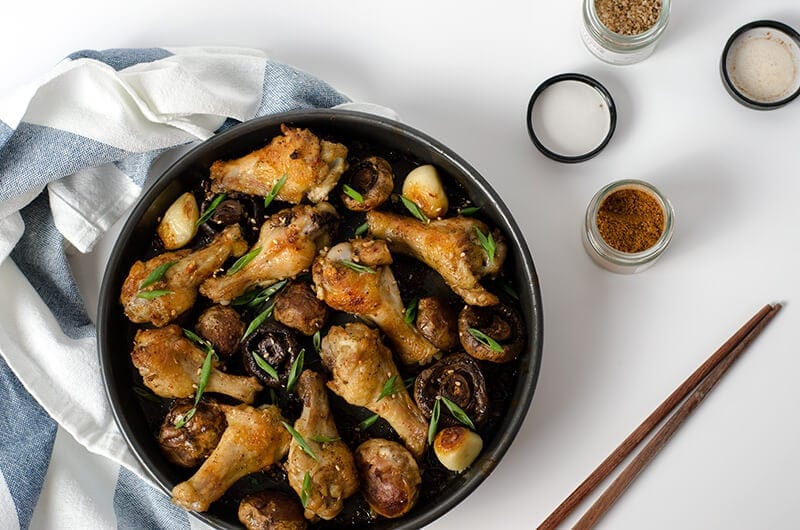 An idea hit me as I was finishing up with prep. After I put the marinated wings into the fridge, I thought, hmmm, it would be nice to add some vegetables to make the dish look better. I decided to add some mushrooms to the dish, because they're one of my favorite vegetables and they go so well with chicken. Since I had already decided to bake the wings in the oven, it just came to mind naturally, why not cook the mushrooms together with the wings? After a quick check on the appropriate time and temperature for roasting mushrooms, I determined it absolutely doable.
One thought led to another, and I ventured a bit more. Last time I baked the wings in a baking tray, it didn't turn out as crispy as I had hoped. So, this time I decided to place them on the rack, and use the tray to catch the grease below. It suddenly hit me, why not put the mushrooms in the tray below the rack? This way, I won't need to add extra oil to bake the mushrooms, and they will catch and absorb all the delicious juice and grease from the wings. Two birds, one stone! Genius idea!! (Maybe someone out there discovered this a long time ago, but when I figured it out myself I felt thrilled!)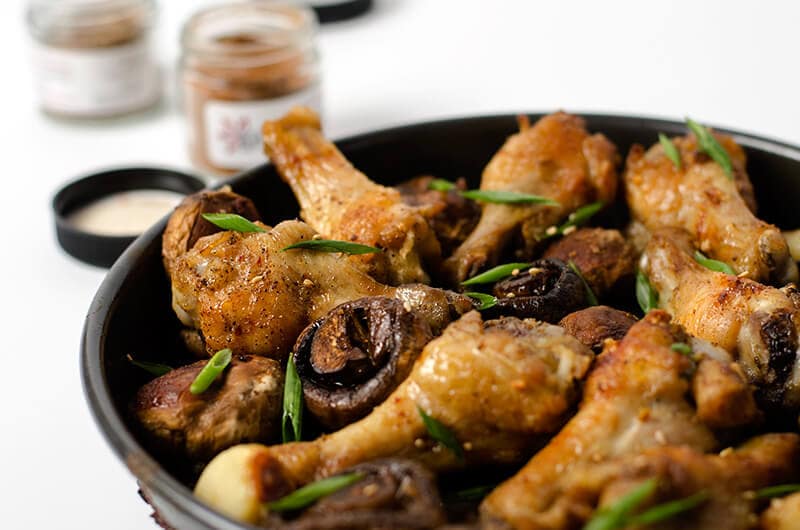 I did the experiment exactly as these thoughts came together, and guess what the result was? (I'd be pretty sad if you said the result was bad, because it means I must have done a poor job with the writing…)
The chicken? It was great! You could actually taste the deliciousness of the sea salt, a balanced combination of tangy garlicky, spicy and smoky flavor. The surface was nicely charred and crispy, with the meat tender and moist.
The mushrooms? Ohhhhh, the mushrooms!!! They were some of the best I ever had! Even better than the wings!! Although they were only slightly seasoned, they were so moist, and were immersed in all the nice fragrance from the chicken grease. The taste from the grease was not as pungent and straightforward as from the wings, but it had a subtle savory taste that was a great complement to the wings. The dish just turned from normal roasted chicken wings into a savory casserole, that I'd be confident to serve as a main course for a dinner party!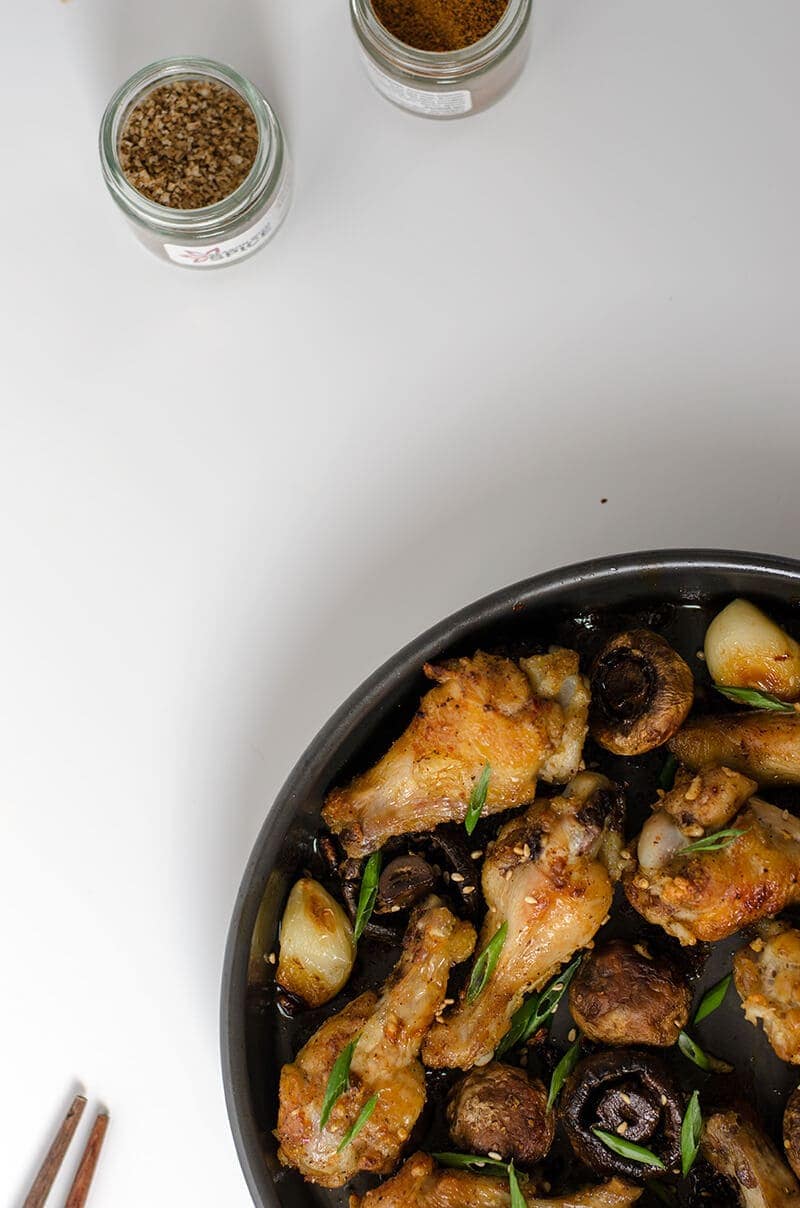 I will definitely cook this dish again this week because I just can't resist the wonderful mushrooms. I will also keep doing other experiments with this idea. As for the things I can think of now, I'd like to roast lamb with potato, or beef with broccoli. Let's see how these ideas turn out! 🙂
By the way, don't forget to check out the Premium Asian Spice Kits Giveaway that is going on on my site now. You might win a cool spice set containing six seasonings you can use to cook authentic Chinese dishes! Good luck and have another great day! (updated by Aug 11 2014)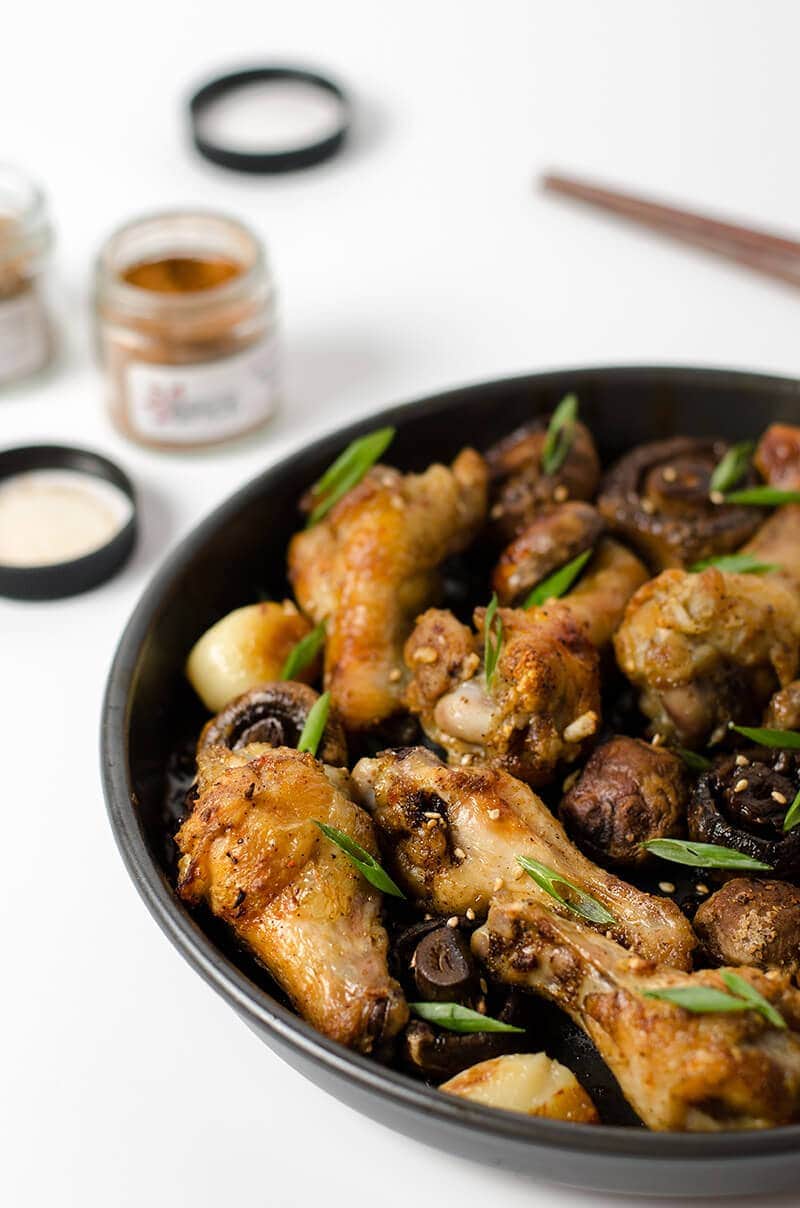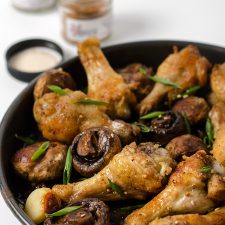 Ingredients
10

chicken wings

1/2

teaspoon

+ pinch of Sichuan Pepper Sea Salt

1/2

teaspoon

+ pinch of Spicy Sichuan Seasoning

3

cloves

garlic

minced

1

tablespoon

peanut oil

or vegetable oil

2

cups

white mushroom

tough stem removed

option green onion and sesame seeds for garnish
Instructions
Place chicken wings in a plastic bag. Add 1/2 teaspoon Sichuan Pepper Sea Salt, 1/2 teaspoon Spicy Sichuan Seasoning and garlic. Seal the bag and shake to mix well. Drizzle oil on the chicken wings. Seal bag again and gently toss the bag to coat all the wings with oil. Marinate in room temperature for 15 minutes or up to 30 minutes in fridge.

Preheat oven to 220 degrees C (430F).

Place mushroom in a baking pan, stem side down, slightly season with Sichuan Pepper Sea Salt and Spicy Sichuan Seasoning. Place a grilling sheet on top of baking pan, line up chicken wings on top of mushrooms. Slide baking pan in the bottom level in the oven, grilling rack in the middle level in the oven. In this way, the juice and grease drilling from chicken wings will land on the mushrooms to keep them moist and flavorful.

Bake for around 25 minutes, until chicken wings are cooked through and crispy outside, and the mushroom turns dark brown. After 10 minutes during baking, flip wings and mushroom once.

Transfer chicken wings and mushroom in a plate, garnish with green onion and sesame, serve while warm.
The nutrition facts are calculated based on 1 of the 2 servings generated by this recipe.