Take your chicken wings to the next level with a Chinese BBQ street food flair that makes these Sichuan chicken wings a dinner-time treat or a summer gathering staple! {Gluten-Free}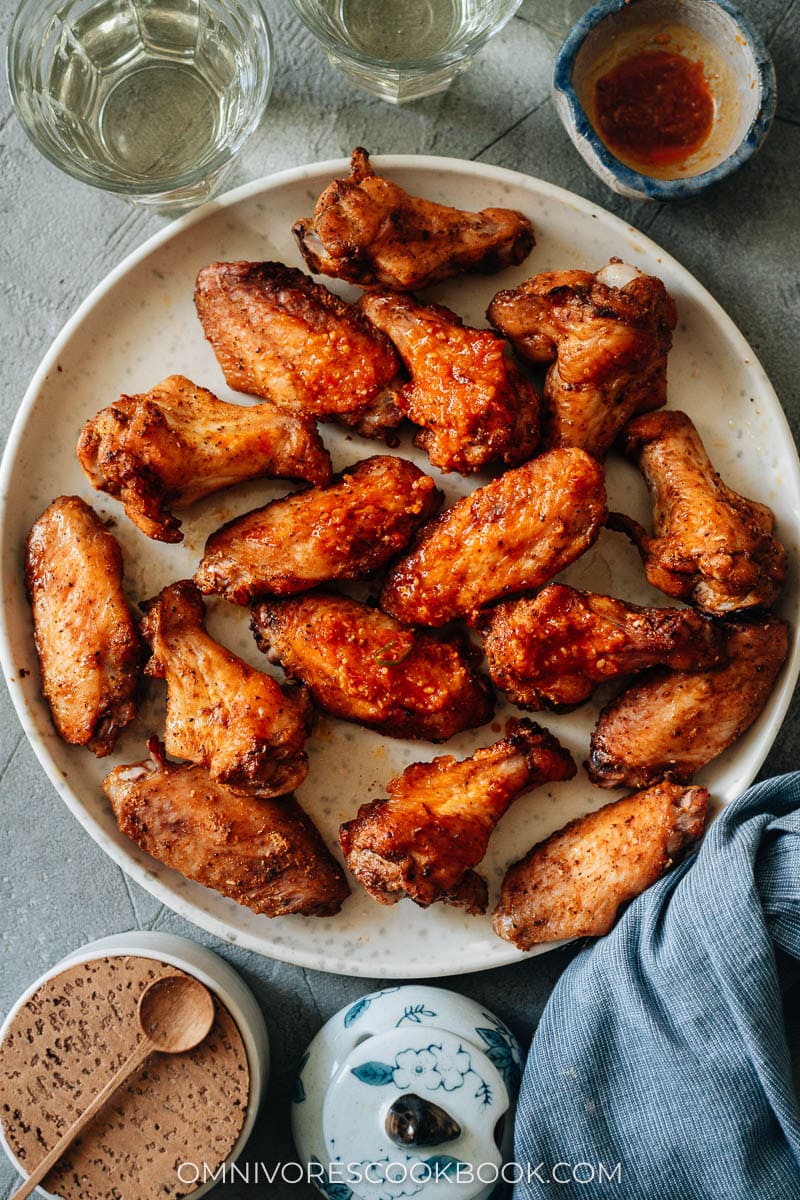 Sichuan Chicken Wings: A Palate Pleaser for Any Occasion
Chicken wings are amazing. I love them for a snack or a meal and they are certainly perfect for entertaining. That's why I've created these Sichuan chicken wings. They're baked for a healthier way to enjoy everyone's favorite party food and have a brightly seasoned color.
This super easy Sichuan chicken wing recipe takes no time to put together either. The cumin and Sichuan peppercorns give it a warm, heavenly fragrance and a dazzling flavor that you won't want to stop eating. It's just like the classic street style Chinese BBQ chicken wings. So delicious!
Cooking Process Overview
These wings are really simple to make, and the whole thing will only take you 45 minutes! Here's how to do it:
Mix together a simple but bold spice blend – Sichuan peppercorn, cumin, chili flakes, brown sugar, and garlic powder
Dry the chicken wings well (more on that in a minute), rub the mix onto them by hand, and let them marinate in the dry rub for at least 15 minutes so the spices can permeate the meat and make it juicy and flavorful
Bake the wings using a wire rack so they can crisp up, flipping once halfway through
That's it!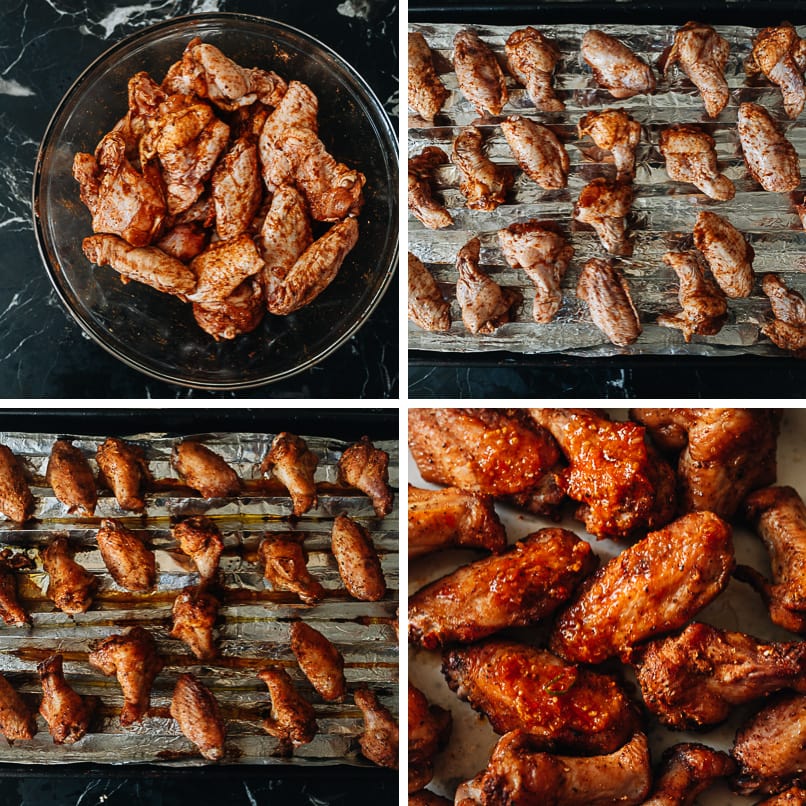 Tips for the Perfect Texture
The best results come when you make sure to dry the chicken wings completely before you cook them. I've shared a baking soda powder method in another chicken wing recipe for oven fried chicken wings with Korean BBQ sauce which gives you truly spectacular extra crispy results.
For these Sichuan chicken wings, you can use one teaspoon of baking powder just like the method in the other wing recipe if you like. It will give you even better results, but for everyday occasions, you can skip the baking powder step to save some time. And you'll still get delicious wings that will prompt friends and family to beg you for the recipe.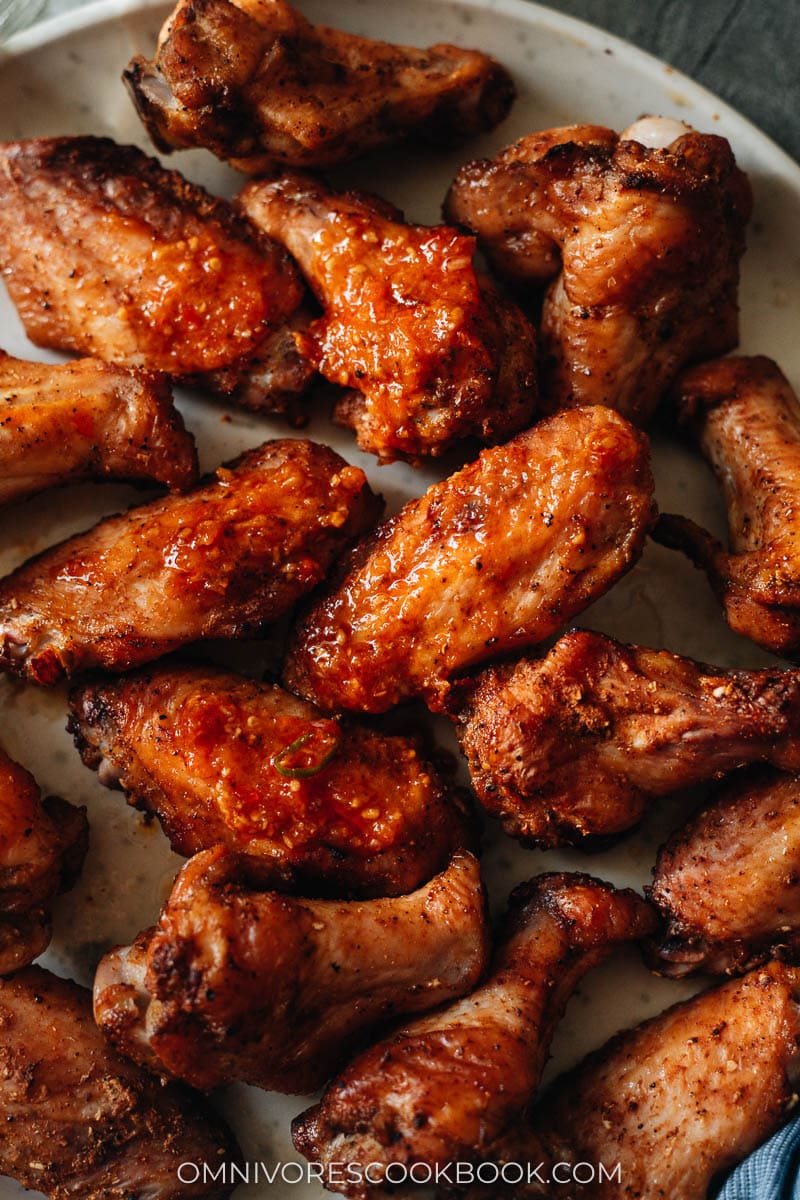 Great on the Grill, Too
Summer is almost out of here but there's still plenty of time to make use of your grill. You can also cook these Sichuan chicken wings out on the grill to entertain over the weekend. Pair them with ice cold beer or any type of cocktail (or mocktails for those not interested in alcohol) to enjoy with the slightly numbing heat from the Sichuan peppercorns.
Marinate Longer for Even Richer Flavor
Additionally, you can feel free to marinate your Sichuan chicken wings for longer. I've recommended 15 minutes in the recipe below but if you plan ahead and marinate them for longer, you're going to get even more flavorful wings that everyone will ask you to make again and again!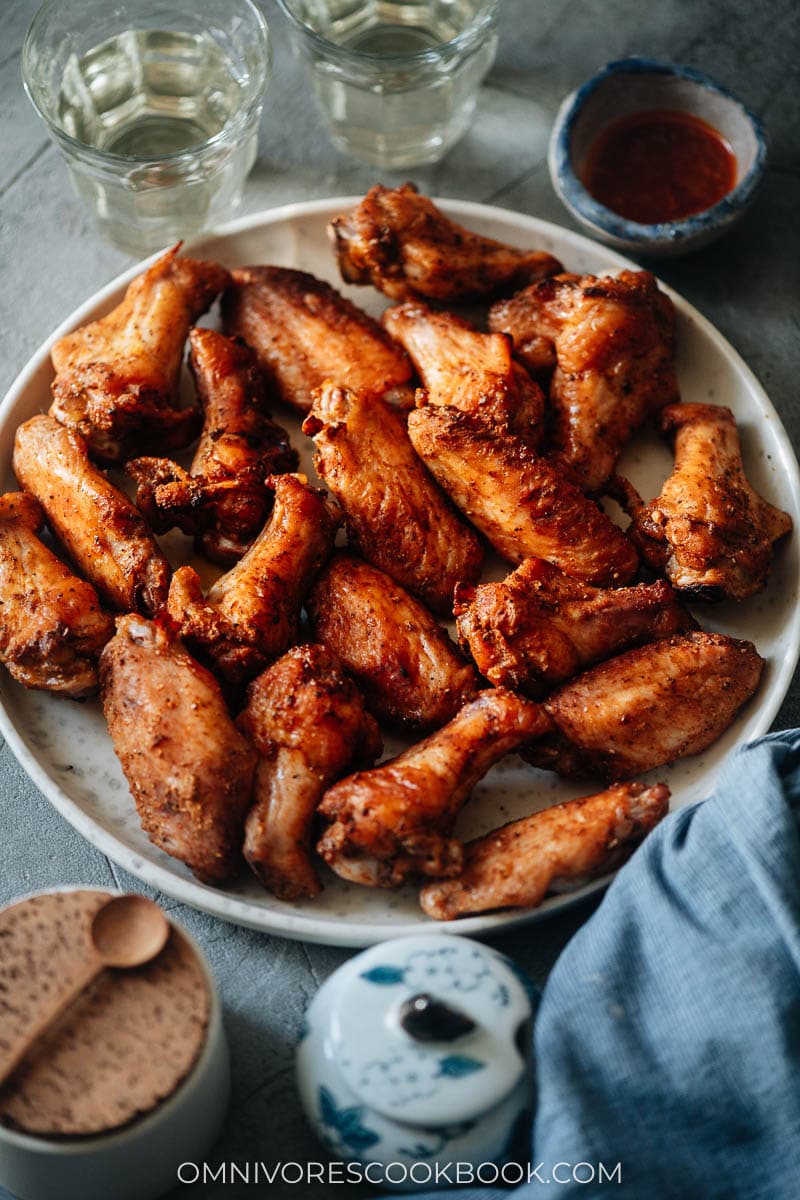 More Chinese BBQ Recipes
Want to Know More?
Receive our 5-Day Chinese Cooking Crash Course & Recipe Updates! Subscribe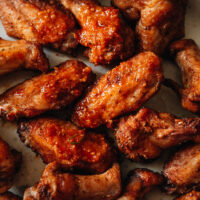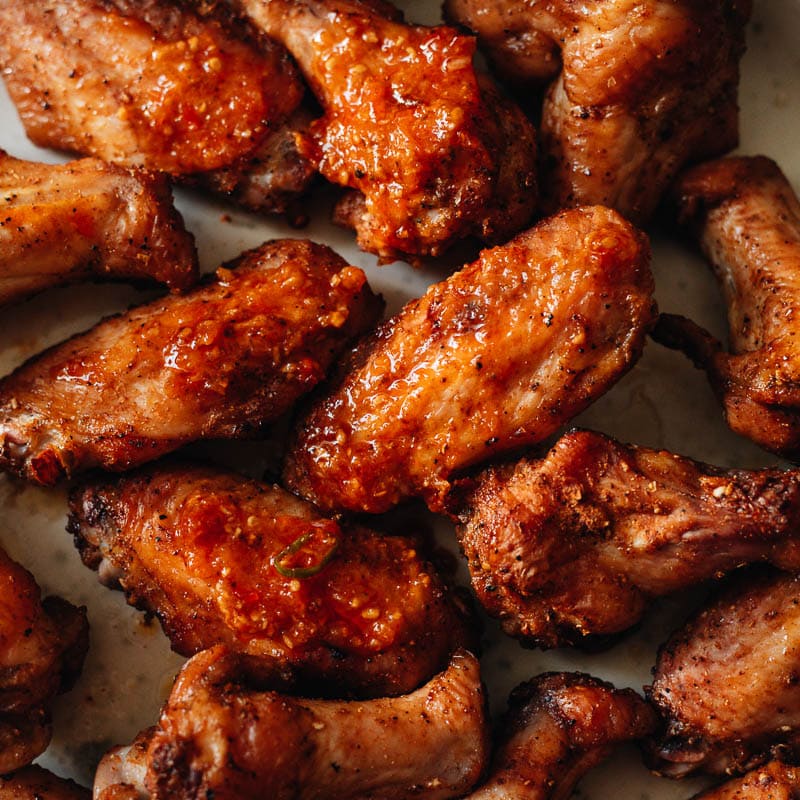 Baked Sichuan Chicken Wings
Take your chicken wings to the next level with a Chinese BBQ street food flair that makes these Sichuan chicken wings a dinner-time treat or a summer gathering staple!
Ingredients
2

lbs (900 g)

chicken wings
Instructions
Combine the spice mix ingredients in a small bowl and stir to mix well.

Pat dry chicken wings with a few layers of kitchen paper towel to remove any moisture on the surface. Place the chicken wings into a big bowl and pour the spice mix over them. Rub the spice mix into the wings thoroughly using your hands. Marinate for 15 minutes at room temperature, or up to overnight, covered with plastic wrap in the fridge.

Preheat the oven to 450°F (230°C). Line a tray with foil and a wire rack. (*Footnote 1)

Arrange the wings on the wire rack with at least a finger's width in between, to properly let the steam off so the chicken will get crispy. Bake for 20 to 25 minutes, flipping once after 10 minutes. Cook until browned and crisp on the surface, and the juices run clear if using a paring knife to slice the thickest part of the drumstick.

Let cool slightly and serve hot as an appetizer.
Notes
If you do not have a wire rack, you can fold the foil into a double layer and fold it like an accordion. Then place the wings on top.
Nutrition
Serving:
1
serving
,
Calories:
223
kcal
,
Carbohydrates:
1.5
g
,
Protein:
33
g
,
Fat:
8.5
g
,
Saturated Fat:
2.3
g
,
Cholesterol:
101
mg
,
Sodium:
390
mg
,
Potassium:
295
mg
,
Fiber:
0.1
g
,
Sugar:
0.9
g
,
Calcium:
23
mg
,
Iron:
2
mg
More Asian-Inspired Chicken Wings
Lilja Walter is a part of the Omnivore's Cookbook team and worked closely with Maggie to develop and test this recipe.