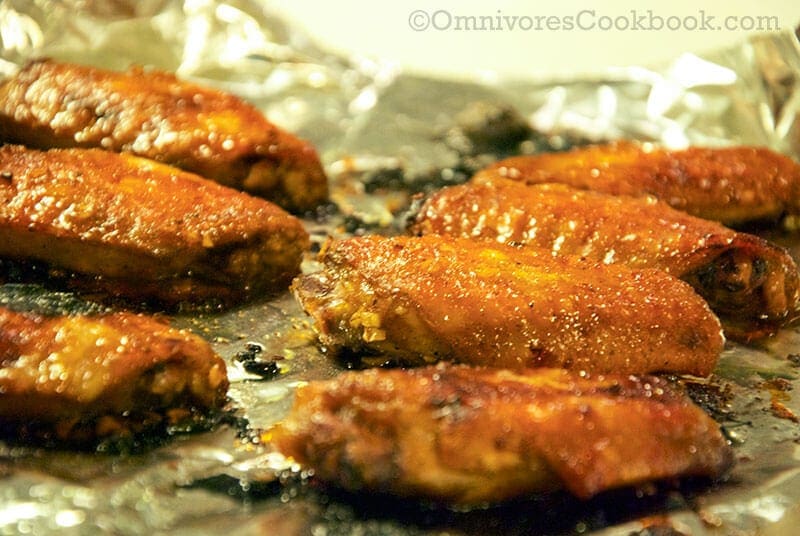 This grilled chicken wings are seasoned with Chinese spices. If you have those ingredients at home, try to cook this once and you will love it! You could easily prepare it beforehand, the night before you serve it. Or you could freeze the marinated wings and cook whenever you want.
Quick dinner plan: Cook rice in a rice cooker by speed mode. While baking the wings in the oven, do a quick saute of some random/frozen vegetables, whatever you have. Then voila, you can put the dinner on table under 30 minutes!
Fresh ginger and garlic are recommended, but could be substitute by powder. Marinated wings could be stored in the fridge up to 2 days.
Grilled Chicken Wings - Chinese style
Author:
Omnivore's Cookbook
Ingredients
6 chicken wings
2 teaspoons soy sauce
2 teaspoons Chinese cooking wine
1/2 teaspoon minced ginger
1 clove garlic, minced
1/4 teaspoon five-spice powder
1/4 teaspoon salt
pinch of black pepper
1 tablespoon honey
Instructions
Mix all the ingredients except honey with chicken wings in a medium bowl, rub the mix sauce with wings till evenly coated. Marinate in the fridge over night.
Preheat oven to 220C. Cover baking plate with aluminum foil.
Brush honey on two sides of chicken wings and place wings on aluminum foil.
Slide the baking pan in the middle of oven and bake until the bottom side of wings turn brown, in about 10 minutes, then flip. Cook another 5 to 8 minutes till both sides of wings are evenly cooked and turn dark brown.
Let the wings cool for a while, then serve.