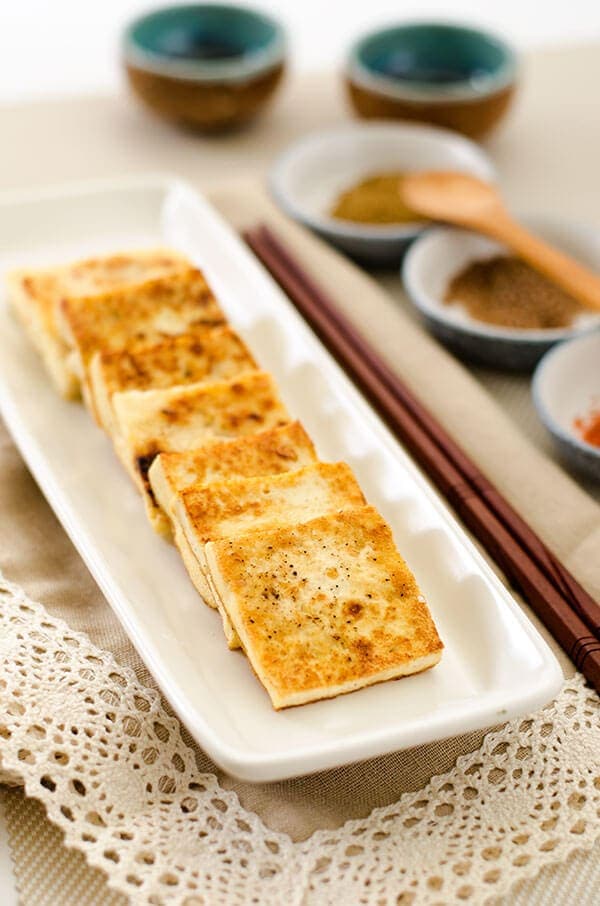 Salt and pepper tofu has a smoky aroma and charred surface. With three simple spices, the dish has seven possibilities of flavor! It is healthy, delicious and only takes 20 minutes to make. Serve this dish as a quick and healthy appetizer or side dish.
To speak of tofu, I'm always amazed at how versatile it is. If you go to ten restaurants that serve different types of local cuisine in China and order tofu, you will get ten dishes entirely different in taste, presentation, and cooking method. You can find classic braised mapo tofu, soft tofu in a stew, and flavorful sweet and sour tofu stir-fry.
There is another type of tofu dish that you can usually find in China – a crispy grilled tofu served with various dipping sauce or spices. I admire its simplicity and decided to create my own version of it at home.
There are a few ways to make tofu crispy . The common method used in restaurants is deep-frying. Another way is to coat the tofu with a thin layer of cornstarch and grill it with minimal oil. I went directly to the latter method due to the oil requirement, and the result was quite nice. The tofu had a fluffy and crispy surface, yet was still moist inside. However, the method still requires double the amount of oil of a normal stir-fry.
Then, I made another batch in which I grilled the tofu without any coating. The tofu turned out great and used so little oil! The tofu was nicely charred and had a beautiful golden brown color. It's not exactly like fried-crispy, but the seared surface has a nice smoky flavor and crunchy texture. I picked this one as the winner in the end!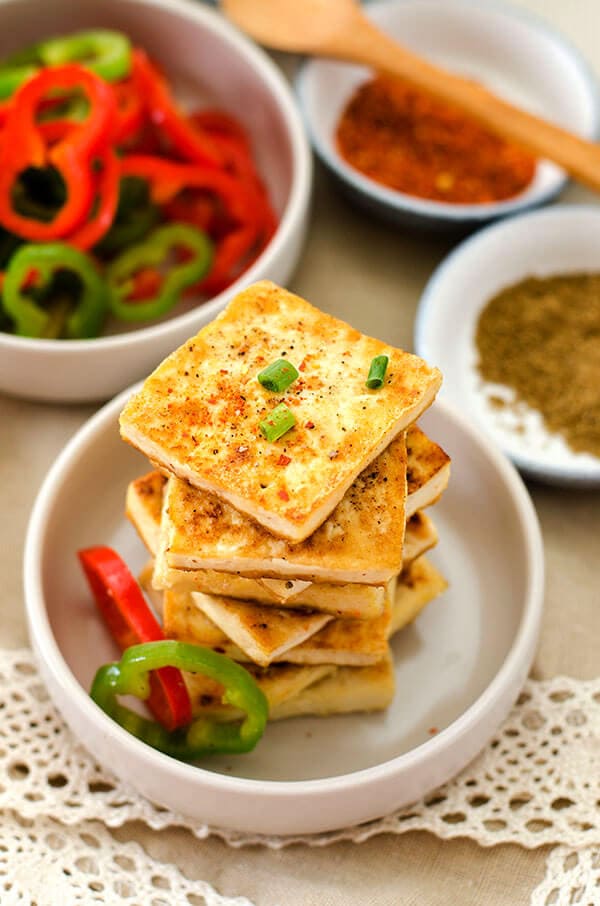 A Few Highlights of this Recipe
Strain or press the water from the tofu and dry tofu thoroughly before grilling. Straining tofu gives it a spongy texture and will make it much easier to handle and less liable to break apart during cooking. Drying tofu with a paper towel also minimizes the amount oil splatter during cooking.
The pepper garnish adds nutrition and will make the dish look fancier. Its crispy texture and refreshing flavor also complement the tofu nicely. However, you can replace it with chopped green onion to make the cooking even easier.
The dipping spices are the stars and add great character to this simple dish. You can dip the tofu into each spice or combine two or three of them to discover your favorite combination!
I used Sichuan pepper sea salt from Season with Spice in the recipes. It's one of my favorite blends and is great for dipping or cooking. For example, you can use it to make this delicious baked chicken. If you live in the US, you can purchase the spice from their online store. Alternatively, you can make the blend by combining grated Sichuan peppercorn with sea salt.
Do you like my recipe? Sign up for Omnivore's Cookbook weekly newsletter and get a FREE e-cookbook!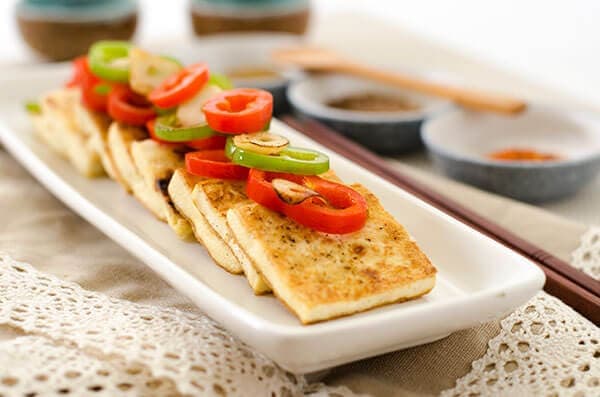 Want to Know More?
Receive our 5-Day Chinese Cooking Crash Course & Recipe Updates! Subscribe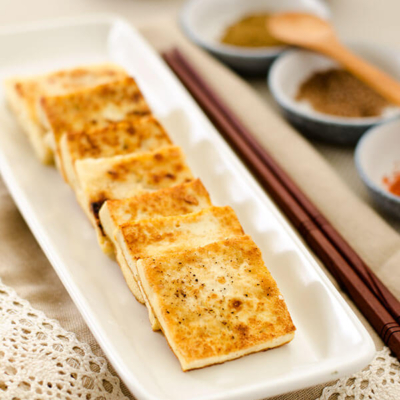 Salt and Pepper Tofu
Ingredients
For the tofu
1

pack

400 grams firm tofu

salt and black pepper

1

and 1/2 tablespoons vegetable oil
(optional) For the Garnish
2

tablespoons

sliced Chinese scallion

or green onion

2

cloves

garlic

1

large red cayenne pepper or red Jalapeño

about 100 grams

1

large green cayenne or green Jalapeño

about 100 grams
Instructions
To cook tofu
Drain water from tofu. Place tofu on a strainer or a pair of chopsticks over a small bowl, set aside, and allow to drain for 1 hour. To save time, you can slice the tofu without straining and press each slice with a paper towel, trying to get as much water out as you can, in the process.

Slice tofu into 5 millimeter-thick (1/2 inch) squares. Place a piece of paper towel on top of tofu and gently press to drain extra moisture. Lightly season one side of tofu with salt and pepper.

Heat 1 tablespoon oil in a large nonstick skillet until warm. Add tofu and cook until the bottom side turns golden brown, about 3 minutes. Flip with spatula and cook the other side until golden brown, about 3 minutes. Transfer to a plate.

If the skillet is not large enough to hold all the tofu, cook tofu in batches in this same manner.
To cook garnish
Add the remaining 2 teaspoons of oil, scallion and garlic into the same skillet and heat over medium heat. Stir a few times until fragrant. Add red pepper and green pepper, stir a few times. Lightly season with salt and pepper. Stir and cook until the pepper is cooked through but still crisp, 1 to 2 minutes.

Add chili powder, cumin powder and Sichuan pepper sea salt into three separate small plates.

Garnish tofu with scallion and pepper. Serve warm with the three seasonings as appetizer, side dish or snack. To eat, dip a piece of tofu, together with a piece of pepper, into one or any combination of the three seasonings.
The nutrition facts are calculated based on 1 of the 2 servings generated by this recipe.