My Chinese sauteed cabbage is a quick and satisfying veggie dish for any occasion. The cabbage is tender and slightly sweet, while the vinegar and fresh aromatics lend pops of flavor.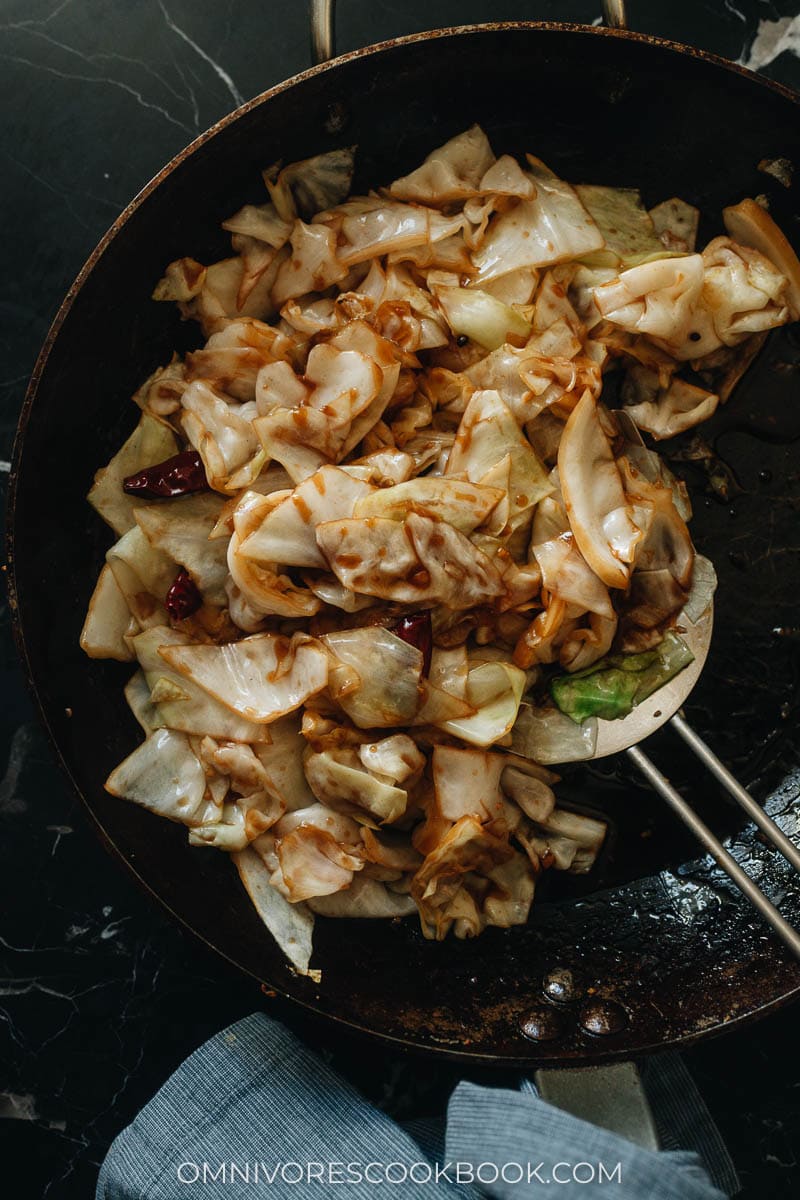 Chinese Sauteed Cabbage: My Go-To Veggie Dish
Home cooking in China relies a lot on quick, healthy dishes that use fresh veggies, and this one is a perfect example. It uses fresh cabbage, garlic chili peppers, oil, and a sauce of five ingredients to create a dish that is surprisingly delicious.
When I was growing up my mom would make a couple of dishes like this one every day. Speed and simplicity are really important to keep the routine from becoming exhausting.
Nowadays, I follow my mom's example and cook this dish all the time because it's among the tastiest and easiest dishes to make. Once you get the hang of it, it's really a handy recipe!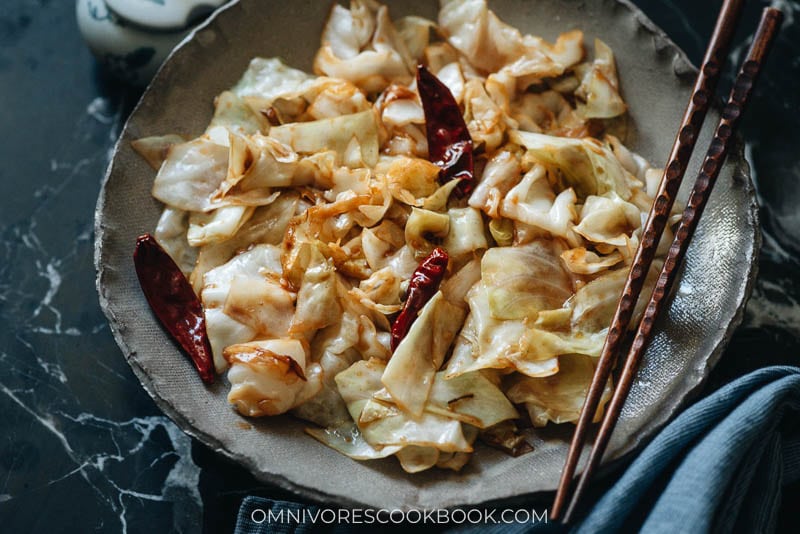 Convenience to Make on Demand
Another thing I love about the recipe is that it is super convenient because practically all of the ingredients are pantry staples.
It does use fresh cabbage and garlic, but those two ingredients stay good for a pretty long time – literally weeks if you keep the cabbage head whole and pull off only the leaves you need.
More often than not, I have a head of cabbage in the fridge so I'm ready to whip this up at any time.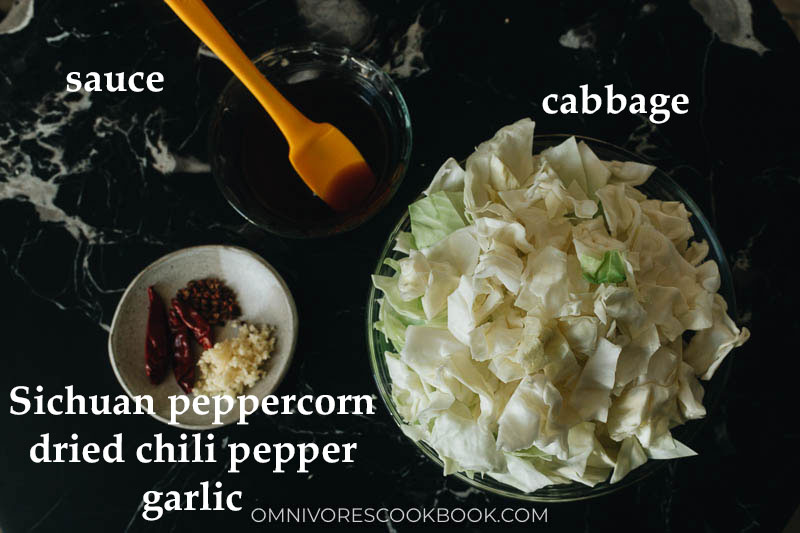 Getting the Best Flavor from Simple Ingredients
To maximize the potential of this dish we need to do three things: cook the cabbage properly, infuse the oil with aromatics, and make a balanced sauce.
Cook the Cabbage to the Right Doneness
I know that it's common in many Western dishes to braise cabbage until it is very tender, for example in soups, stews, or with corned beef. We're going to cook it a bit less than that. Sauteeing it too long can make it mushy and give off weird aromas – we want it just barely tender and still sweet.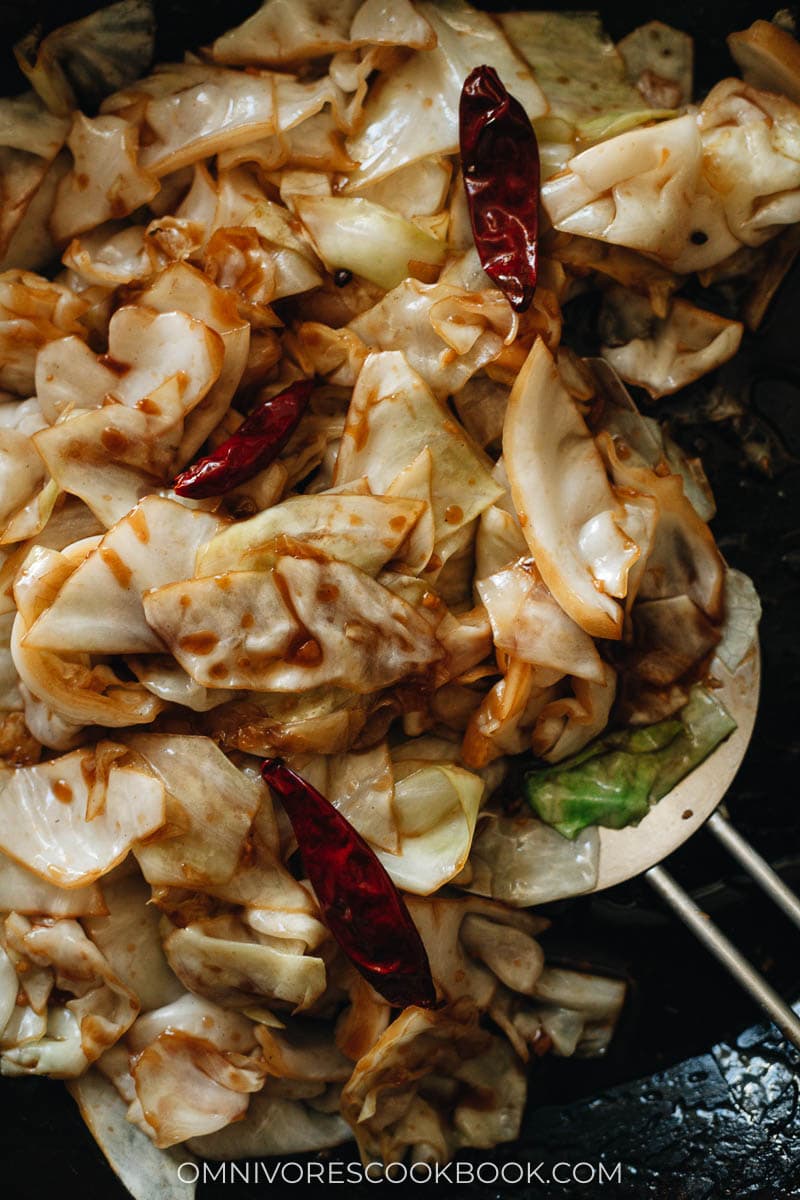 Infuse the Oil with Aromatics
The first cooking you'll do in the recipe is actually frying the Sichuan peppercorns, then the chili and garlic, in the oil. This gives the oil a ton of flavor and makes your room smell amazing.
Once the oil is infused with these flavors, the cabbage, which gets cooked in the oil, takes on the aromatic flavors and you'll have great tasting cabbage.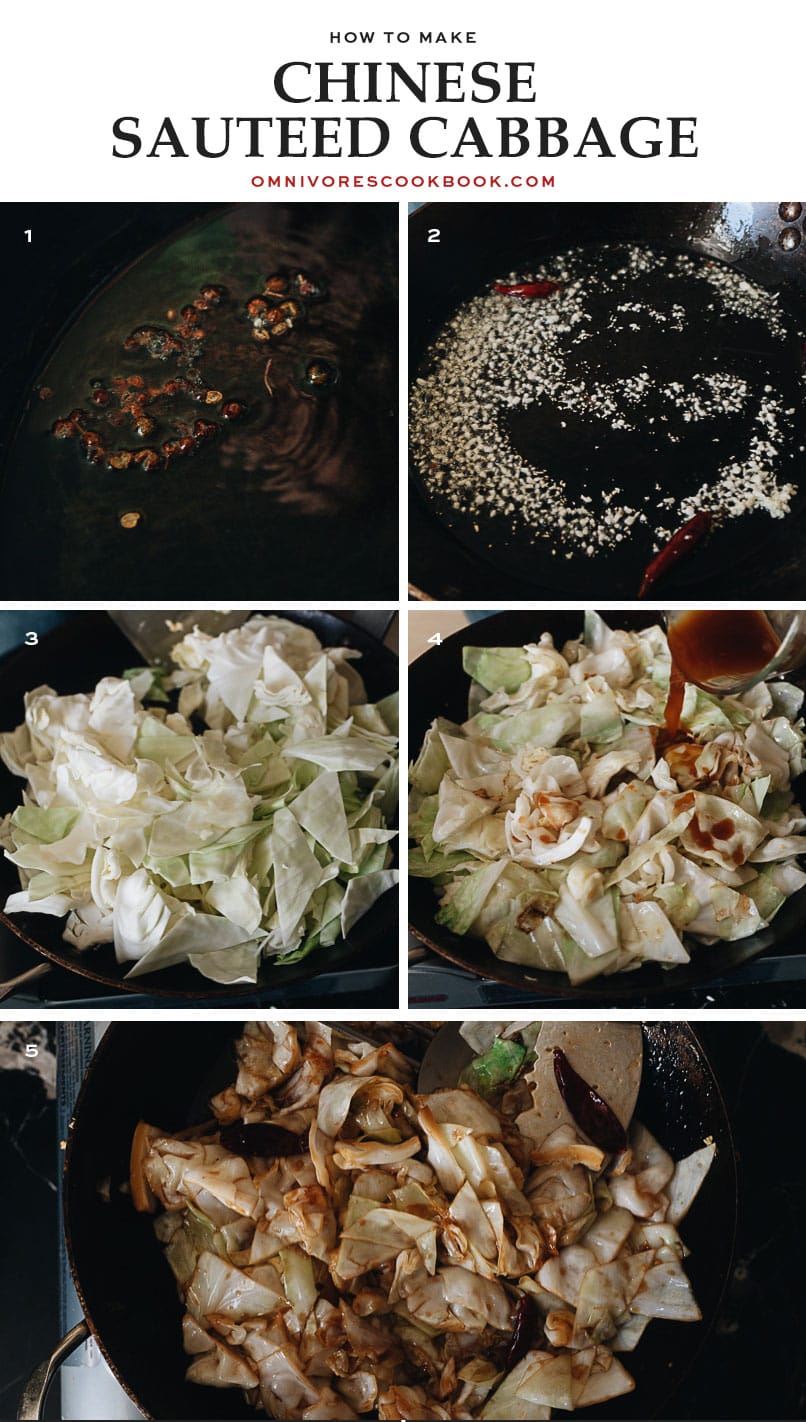 Make a Balanced Sauce
The sauce of Chinese sauteed cabbage here follows a common flavor profile in Chinese cooking – umami-sweet-sour. We're not talking Panda Express style, though. We're using just a touch of sugar and a balance between umami and sour.
Tips for Making Chinese Sauteed Cabbage
Cut the Cabbage Properly
This method, shown in the accompanying photos, will help the cabbage cook evenly and to the right tenderness.
Cut the cabbage into quarters
Slice out the stem and center "core" and discard it – it's too tough
Separate the outer layers and cut them into triangles
The inner layers will be a bit thicker and may be harder to separate – cut this part thinner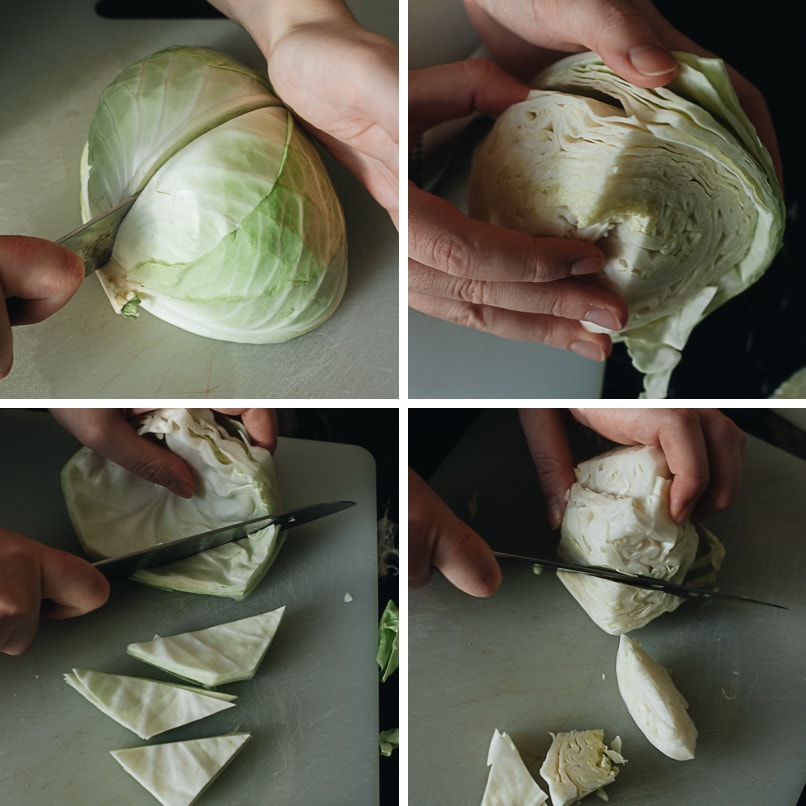 Keep Quality Pantry Ingredients on Hand
In such simple dishes, it can make a big difference what kind of soy sauce, vinegar, and aromatics you use. Here are some of my favorites:
For soy sauce, the ones from Pearl River Bridge are very tasty and tend to be quite affordable too. Their "Superior" line is my go-to for everyday cooking.
The vinegar I recommend for this one is actually the clear rice vinegar rather than the more-common-in-China Chinkiang Vinegar. Mizkan is a good one. Make sure the vinegar you use isn't "seasoned" and that it doesn't contain salt.
I love the dried aromatics (chile peppers and Sichuan peppercorns) from The Mala Market. Imported direct from Sichuan, they are the freshest and most flavorful you'll find outside of China.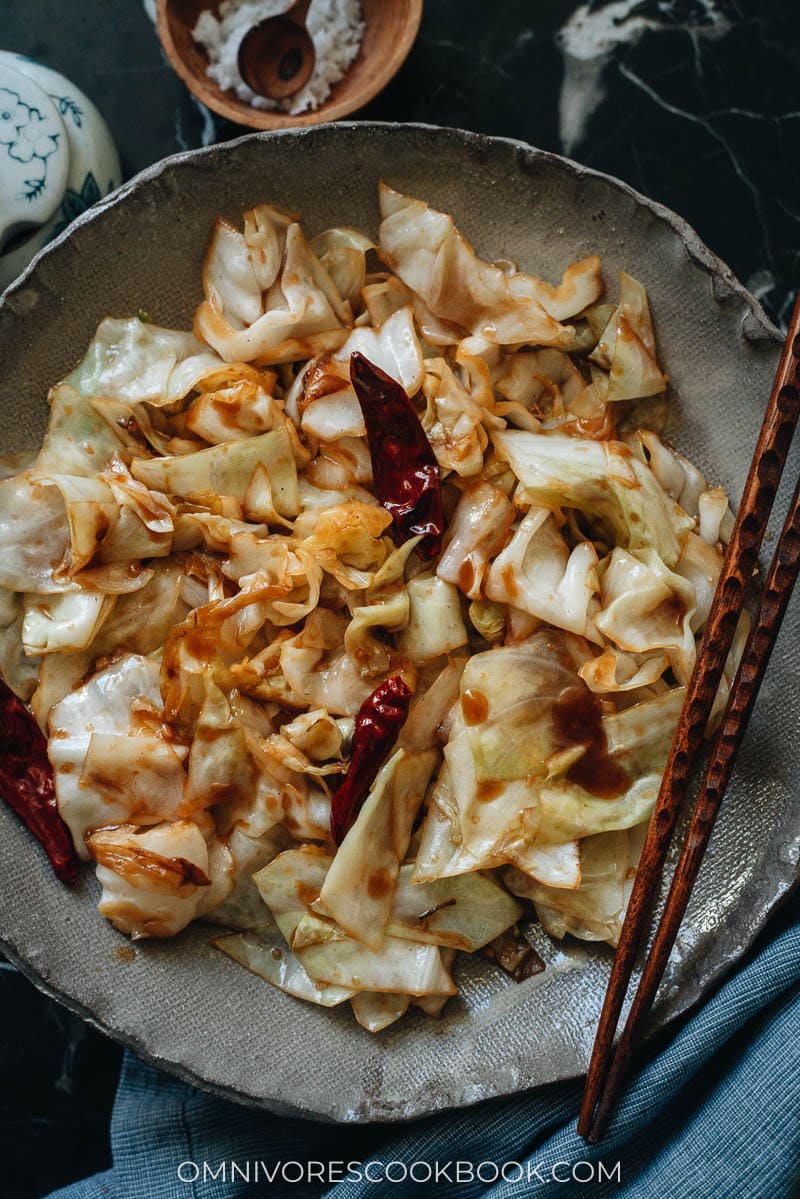 Want to Know More?
Receive our 5-Day Chinese Cooking Crash Course & Recipe Updates! Subscribe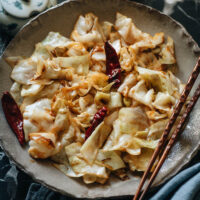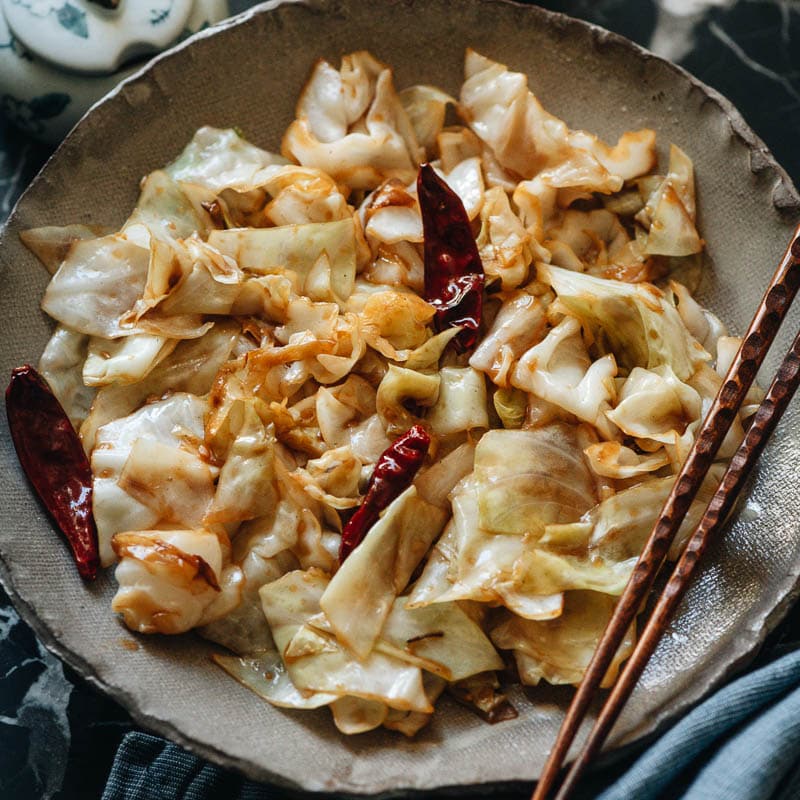 Chinese Sauteed Cabbage with Vinegar Sauce (醋溜卷心菜)
My Chinese Sauteed Cabbage is a quick and satisfying veggie dish for any occasion. The cabbage is tender and slightly sweet, while the vinegar and fresh aromatics lend pops of flavor. To make the dish gluten-free, use tamari instead of soy sauce and skip the dark soy sauce.
Ingredients
1/2

small head cabbage

, yield about 1 lbs / 450 g once cut (*Footnote 1)
Sauce
2

tablespoons

water

2

tablespoons

rice vinegar

2

tablespoons

light soy sauce

(or soy sauce)

1/2

teaspoons

dark soy sauce

(or soy sauce) (Optional) (*Footnote 2)

2

teaspoons

sugar

1

teaspoon

cornstarch
Instructions
Combine the sauce ingredients in a small bowl and stir to mix well.

Cut cabbage into bite size pieces by cutting the whole head of cabbage into half, then quarters. Place one of the quarters cut side down, tilt the knife to slice off the stem and discard it. Separate the outer few layers of leaves, then cut them into bite-size pieces. Then chop the center thicker into smaller pieces.

Add peanut oil and Sichuan peppercorns into a large skillet and heat over medium heat. Cook until the Sichuan peppercorns turn dark but not burned. Scoop out the peppers into a small bowl, then discard them.

Add the chili peppers and garlic. Stir a few times to release the fragrance.

Add cabbage. Stir and cook until the leaves just start to turn tender.

Stir the sauce again to dissolve the cornstarch thoroughly, pour into the pan. Continue to stir and cook until the cabbage turns tender but still crispy, and the sauce has thickened.

Turn off heat. Carefully taste the cabbage and adjust seasoning by adding more salt, if necessary. Drizzle with a bit of sesame oil and stir to mix again. Transfer everything to a serving plate.

Serve hot as a side dish.
Notes
I used a small head about 2 lbs 7 oz. / 1 kg. To get the best result, find a young cabbage with loose leaves and the surface of the leaves is pale yellow green, tender in texture, quite smooth and a bit shiny on the surface.
Dark soy sauce adds a nice brown color to the sauce and a light caramelized taste. Alternatively, you can use 2 tablespoons and 1/2 teaspoon soy sauce to replace both light and dark soy sauce.
Nutrition
Serving:
1
serving
,
Calories:
100
kcal
,
Carbohydrates:
10.3
g
,
Protein:
2.1
g
,
Fat:
5.8
g
,
Saturated Fat:
1
g
,
Sodium:
472
mg
,
Potassium:
216
mg
,
Fiber:
2.9
g
,
Sugar:
5.8
g
,
Calcium:
50
mg
,
Iron:
1
mg
Some More Easy Veggie Dishes
Weeknight Mains to Pair with the Cabbage