These super-simple dry rub ribs come out with a texture that melts in your mouth and a sweet yet spicy taste that makes them impossible to resist!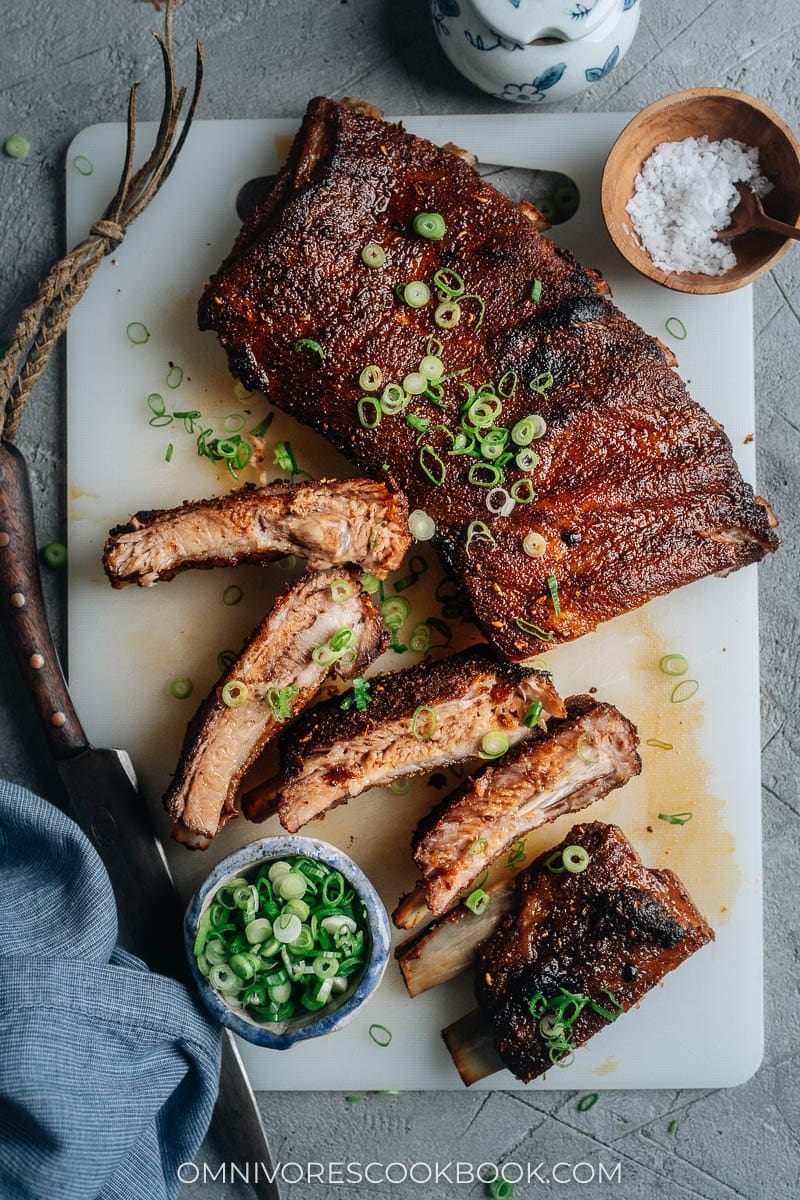 Dry Rub Ribs: Super Easy + Tasty BBQ in the Oven
Want an easy BBQ recipe that delivers big results? These Chinese dry rub ribs are the answer you're searching for!
This easy recipe takes just a few ingredients to create ribs that are crispy outside yet melt-in-your-mouth tender inside, guaranteeing a wonderful sensory experience for everyone you share them with. While they take a bit of time to cook, there's very little hands-on time. All you need to do to make these dry rub ribs is to mix the spices, rub it onto the meat, wrap it up in foil, and bake!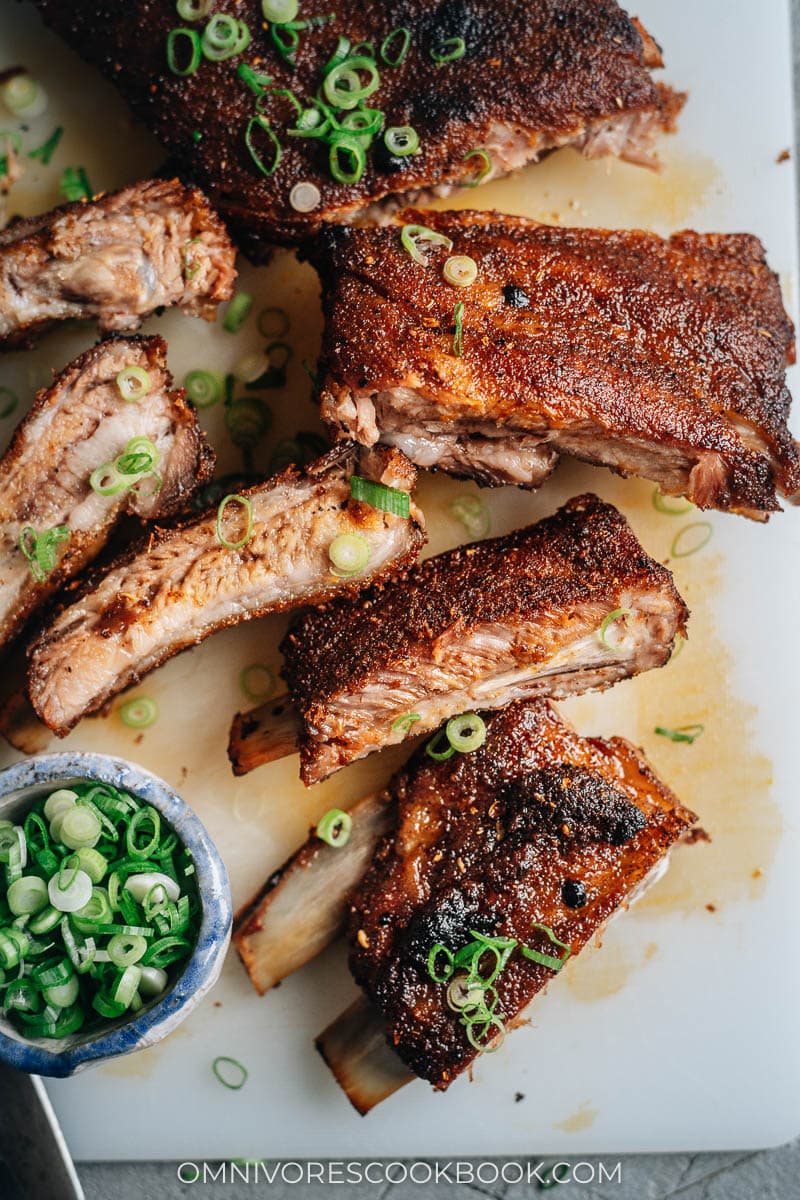 Low and Slow, Then Turn it Up
The key to these dry rub ribs is to roast them covered at low heat for most of the cooking time. After two hours, you'll remove the foil, crank up the heat, and let them get crispy under the broiler.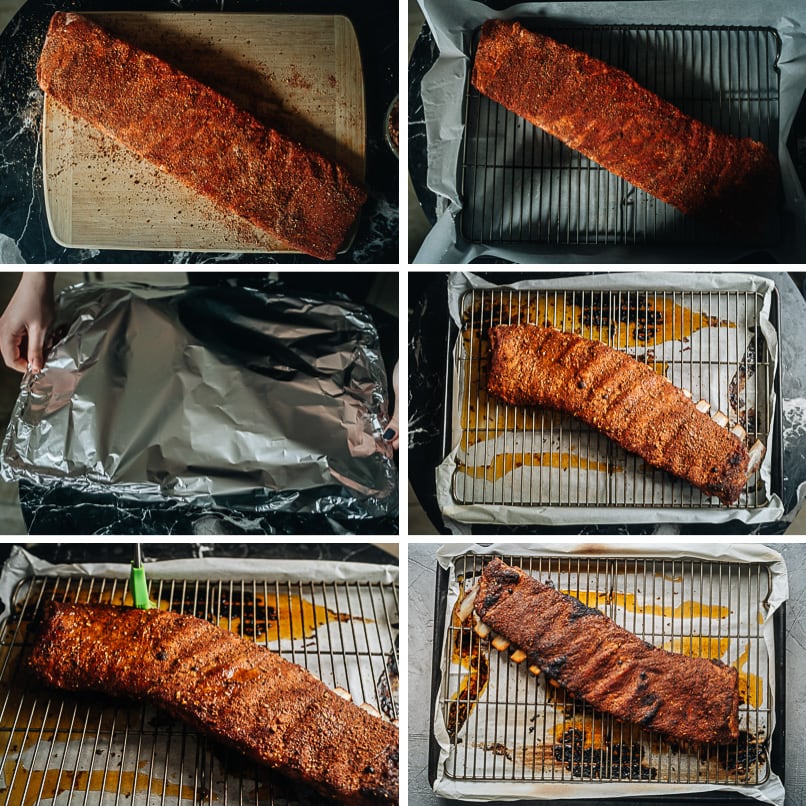 The luscious texture and luxurious flavor you'll get from it will certainly surprise you. It's a must-make for barbecue lovers of all kinds!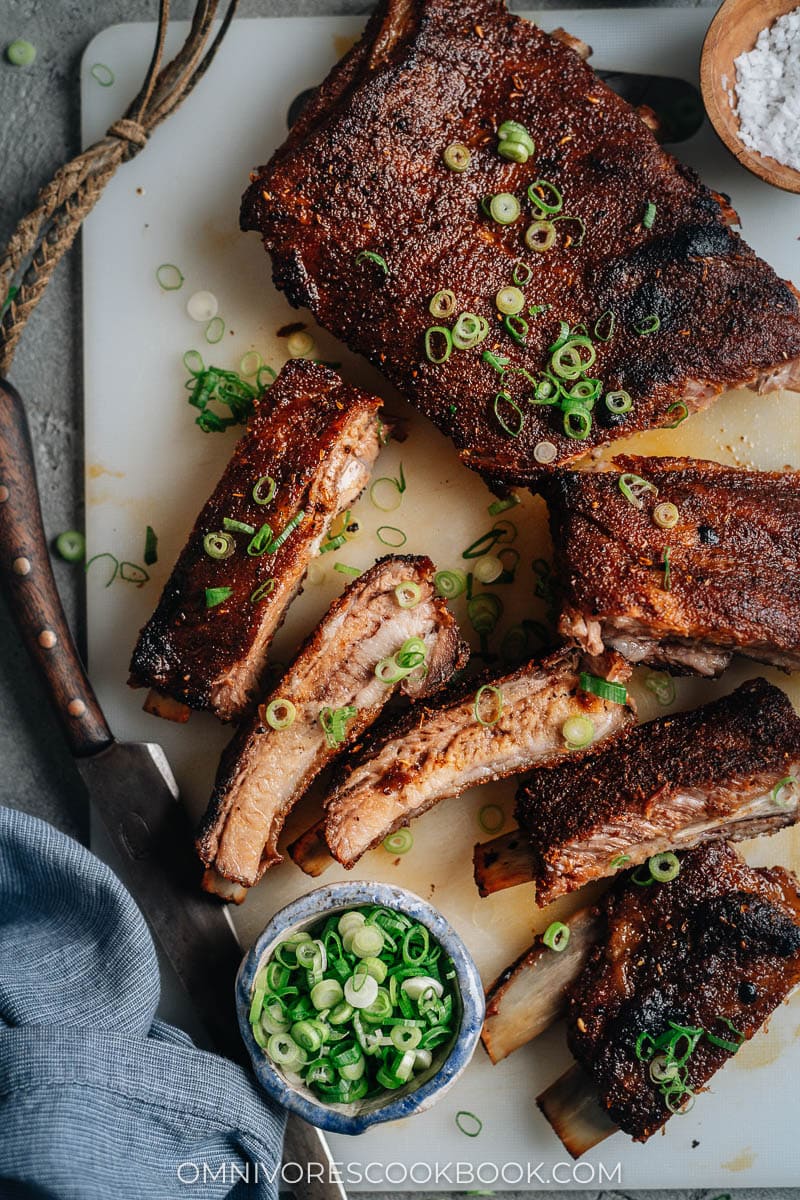 A Simple Spice Mix with Huge Flavor
The spices you'll use are likely in your kitchen too. You'll mix salt, sugar, cumin, gochugaru (a Korean chili pepper), black pepper, garlic powder, and five-spice powder for this dry rub ribs recipe. If you don't have gochugaru, you can use paprika!
There are some dry rub mixes with dozens of ingredients in them, but not this one. The flavor profile here is slightly spicy (both chili and black pepper), warming (from the cumin and five-spice), and umami, with just a touch of sweetness.
It's a nicely balanced profile that leans Asian, but these ribs fit right into a traditional BBQ meal spread, too.
The Best Dry Rub Ribs Are Nicely Marbled
The best results for these dry rub ribs will come from well-marbled slabs. Look for an even layer of meat too, one that isn't too thin or too thick. I used St. Louis ribs because they're flatter, so they crisp up evenly at the end. This cut of ribs is also fattier, so the end result is that your ribs will be super tender after the fat melts away.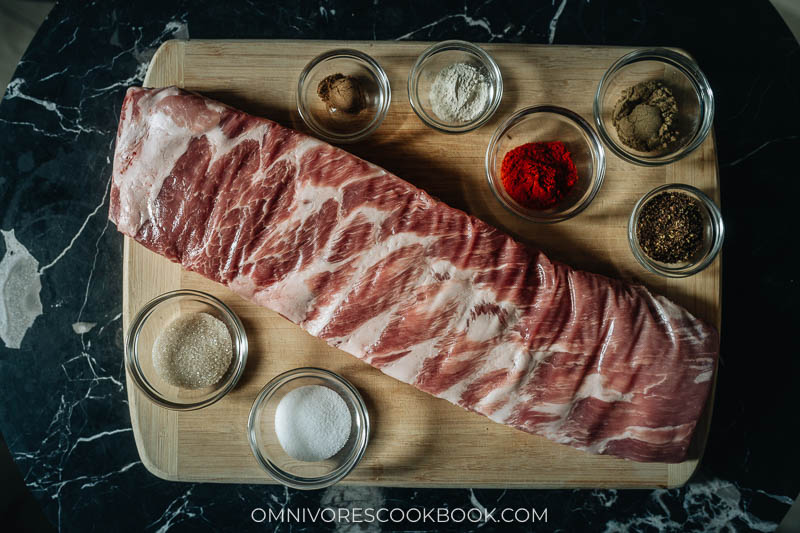 If you can't find St. Louis ribs, you can use baby back or spare ribs. They will come out delicious just the same. And while I'd love to say this recipe is good for meal prep, I can't, because it is just too delicious – I have never been able to have any leftovers when I make these Chinese dry rub ribs. They go fast!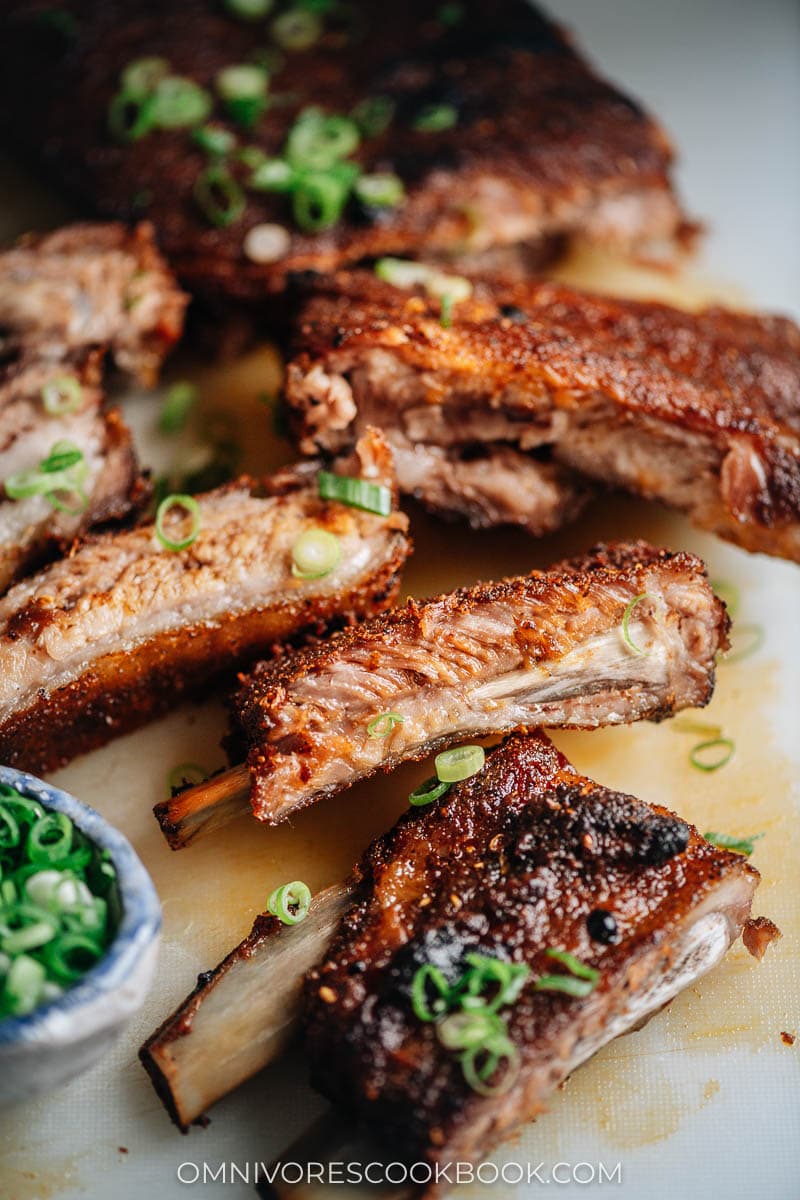 Make it a Feast with These Pairings
Since you'll have two hours while the ribs are baking at low heat, this is a perfect recipe to make if you're going to prepare some sides to go with the ribs. This will work great with any of the traditional BBQ sides you typically see (slaw, mac 'n cheese, collards, etc.).
Here are a few Asian-inspired sides that will go perfectly with the ribs:
Want to Know More?
Receive our 5-Day Chinese Cooking Crash Course & Recipe Updates! Subscribe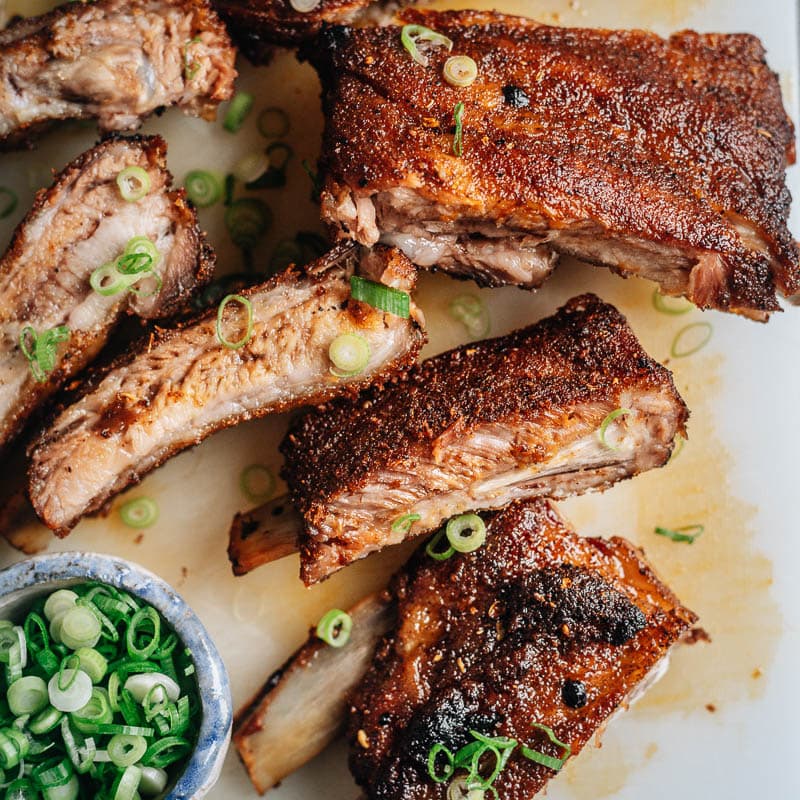 Chinese Dry Rub Ribs
These super-simple dry rub ribs come out with a texture that melts in your mouth and a sweet yet spicy taste that makes them impossible to resist!
Ingredients
1

rack (about 3 lbs / 1.4 kg)

St Louis ribs (or baby back ribs)
Rub
1

tablespoon

salt

1

tablespoon

sugar

1

tablespoon

cumin

1

tablespoon

gochugaru

(or paprika for less spicy)

1

tablespoon

ground black pepper

(or 1/2 tablespoon ground Sichuan peppercorns)

1/2

tablespoon

garlic powder

1/2

teaspoon

five spice powder
Instructions
(Optional) Remove the membrane from the back of the ribs by slicing the edge with a knife, then pull off the membrane sheet using your hand.

Combine the rub ingredients in a small bowl and mix well. Sprinkle evenly all over the ribs, front, back and sides. Gently pat and rub in the spice using your hands. Cover with plastic wrap and marinate overnight in the fridge.

Preheat the oven to 300°F (150°C). Line a baking sheet with foil or parchment paper for easy cleaning. Place a rack on top.

Place the marinated ribs on the rack. Cover with a large piece of foil that's enough to cover the baking sheet. Fold the foil along the edges of the baking sheet to seal the ribs.

Bake covered for 2 hours.

Remove the baking sheet from the oven and carefully remove the foil. Turn on the boiler to 550°F (280°C). Broil for 8 to 10 minutes, or until the surface of the ribs are charred. You should stay close to the oven during the time and check on the ribs from time to time, to prevent it from burning.

Once done, remove the baking sheet and let it rest for 10 minutes. Carve the ribs and serve hot.
Nutrition
Serving:
1
serving
,
Calories:
328
kcal
,
Carbohydrates:
5.5
g
,
Protein:
31
g
,
Fat:
20.1
g
,
Saturated Fat:
7.6
g
,
Cholesterol:
68
mg
,
Sodium:
2188
mg
,
Potassium:
59
mg
,
Fiber:
0.7
g
,
Sugar:
3.3
g
,
Calcium:
23
mg
,
Iron:
3
mg
More Chinese-Inspired BBQ
Lilja Walter is a part of the Omnivore's Cookbook team and worked closely with Maggie to develop and test this recipe.