Authentic Chinese restaurant-style Sichuan shrimp is quick enough for a weeknight meal and delivers a crispy texture and richly aromatic, utterly divine flavor with that signature Sichuan spice.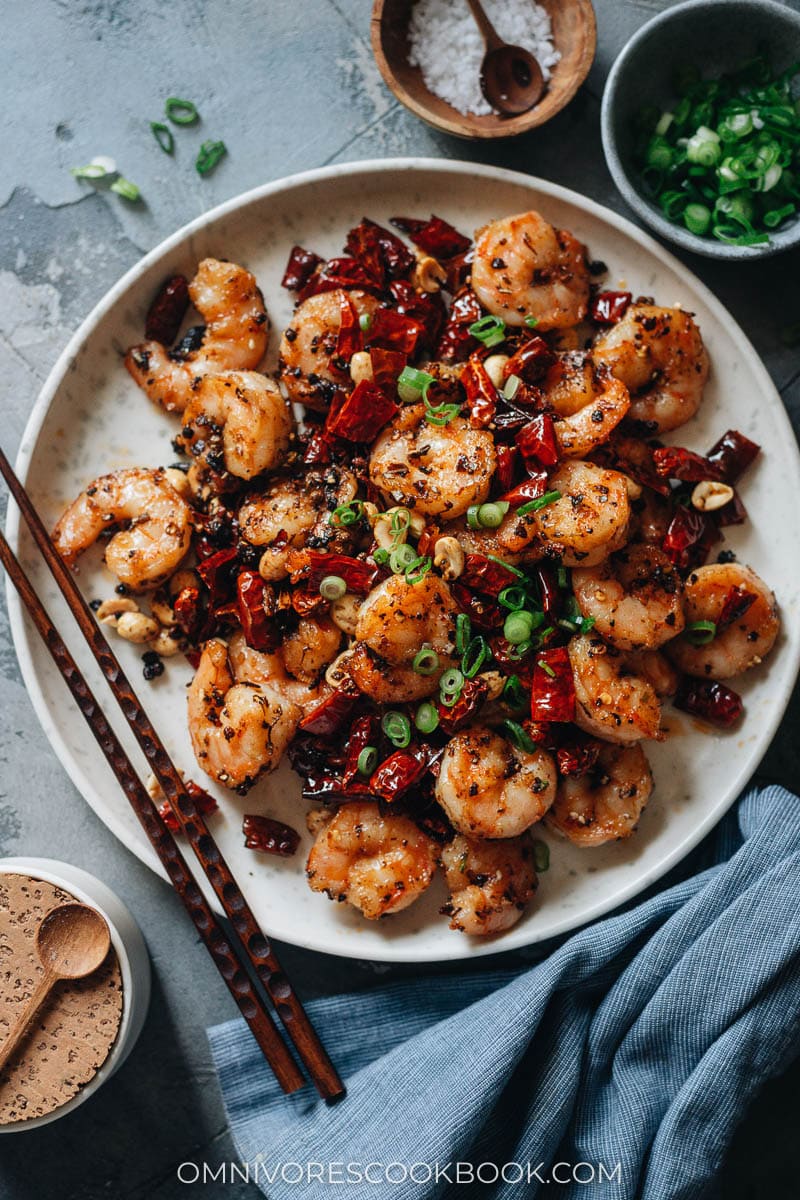 Sichuan Shrimp: Intensely Enjoyable
Food from Sichuan province is such a treat if you're into bold flavors. The aromatics that go into Sichuan dishes always have me salivating. The chile peppers, tingly peppercorns, and fermented umami bomb of doubanjiang combine for a zesty and irresistible experience.
This simple Sichuan shrimp stir fry gives you all that flavor in an easy-to-make way.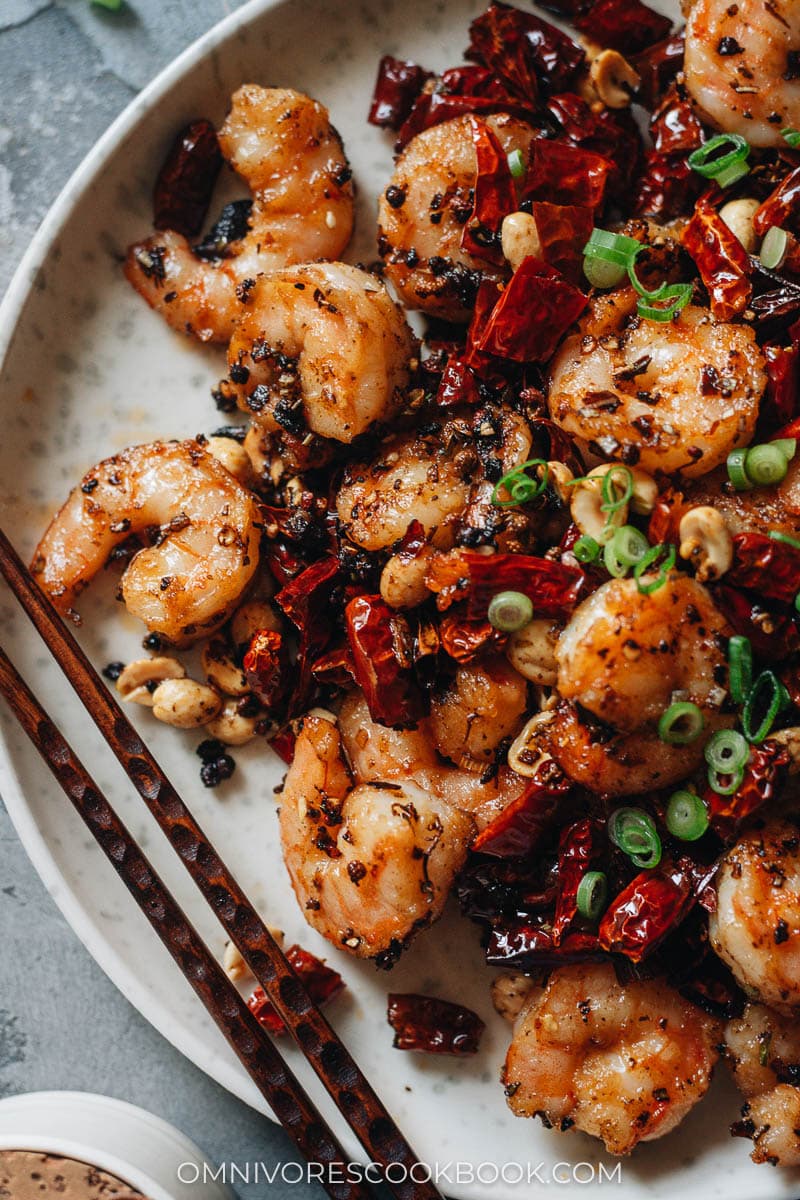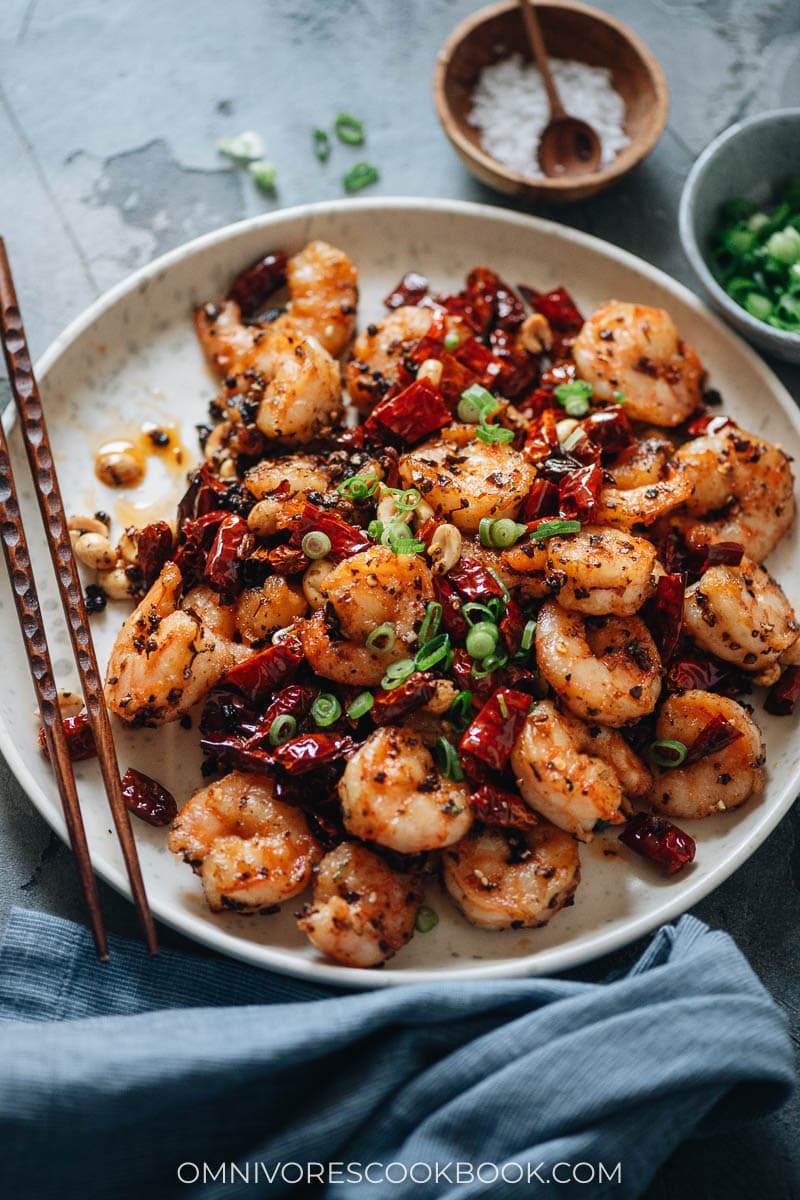 Ingredients
Making authentic tasting Sichuan shrimp stir fry requires a few special ingredients. If you cook Sichuan often, you probably already have all the ingredients on hand and ready to go. Give it a try and it may become your new favorite shrimp dish!
Chinese dried chili peppers
This recipe uses the most common Sichuan chilis – Facing Heaven. They're medium spicy and full of fruity taste with a beautiful red color. If you cannot find them, you can replace them with Korean dried chili peppers, which are mild enough so your dish won't become too spicy.
Sichuan peppercorns
Sichuan peppercorn is the key ingredient in many Sichuan recipes and it gives the dish a numbing tingling sensation. The peppercorns themselves are not spicy at all. The Mala Market carries the freshest Sichuan peppercorns sourced directly from Sichuan. It's the ingredient that I always keep on hand. You can't miss this ingredient if you like dishes such as Dan Dan Noodles.
Doubanjiang
Another key ingredient in Sichuan cooking. Doubanjiang a super rich, spicy, and salty paste made from fermented broad beans and chili peppers. It's the key ingredient for Mapo Tofu, and you can use it in veggie stew and soup to easily add umami to a dish. You can find it at any Chinese grocery store or online.
Once you're done prepping, your table should have the ingredients below: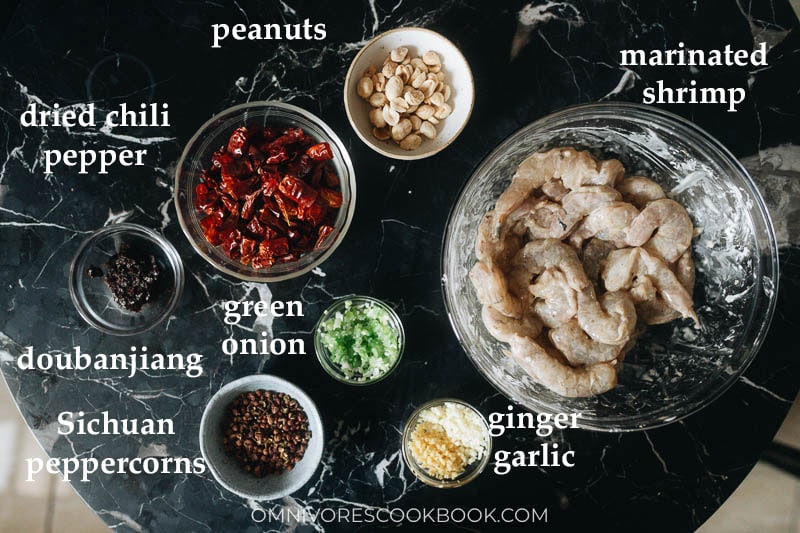 Straightforward Process
To make Sichuan shrimp, all it takes is a quick marinade. Then you shallow-fry the shrimp until they get a nice, light and crispy texture on the outside. Then you stir fry it with chili peppers, Sichuan peppercorns, and plenty of aromatics. All these ingredients unite to give you an incredible, rich taste.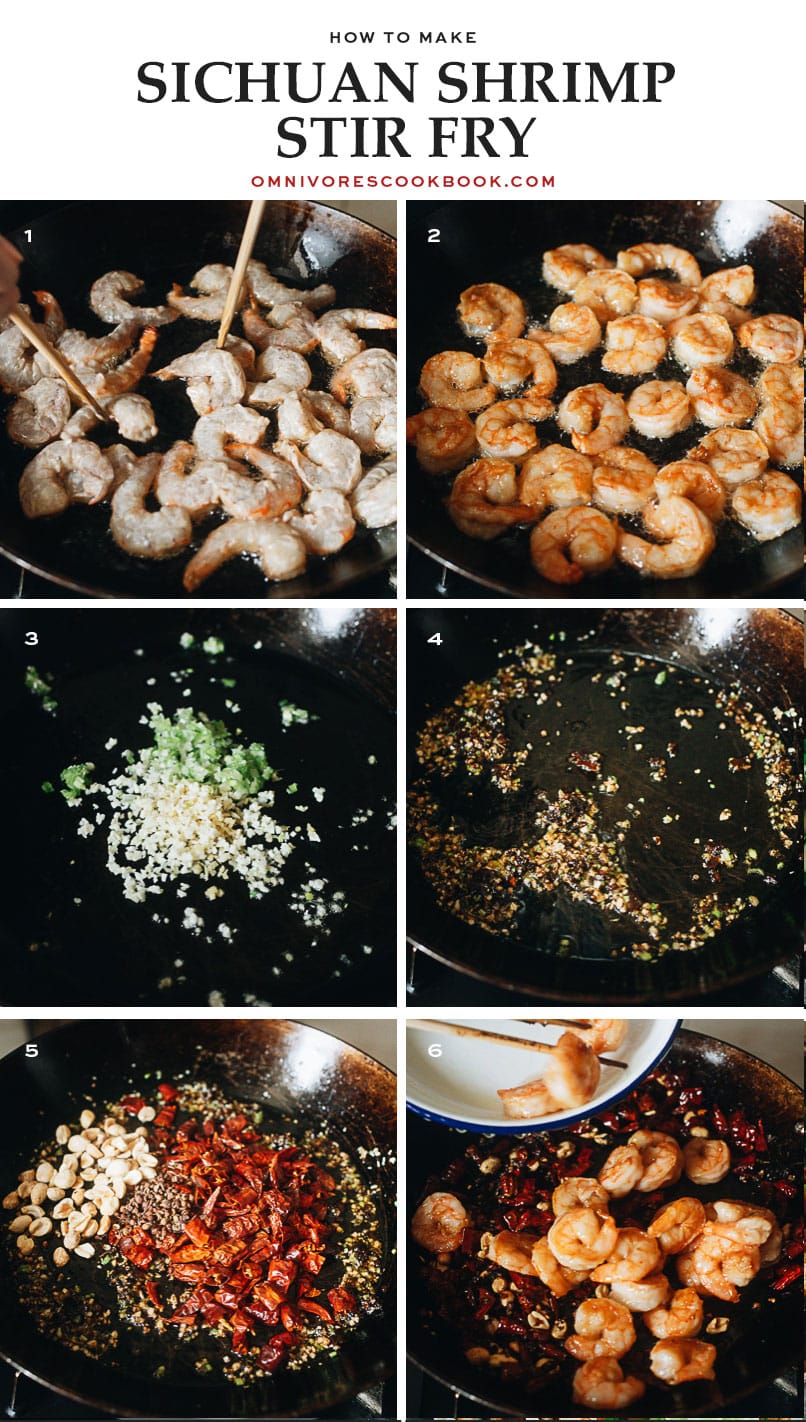 Remember to Deseed the Peppers
In this Sichuan shrimp dish, you'll be using cut and seeded dried Chinese Sichuan chili peppers. This will give your shrimp lots of aroma and flavor but without being too spicy. If you'd prefer a spicy shrimp with sauce, you can try making my chili garlic shrimp sometime too!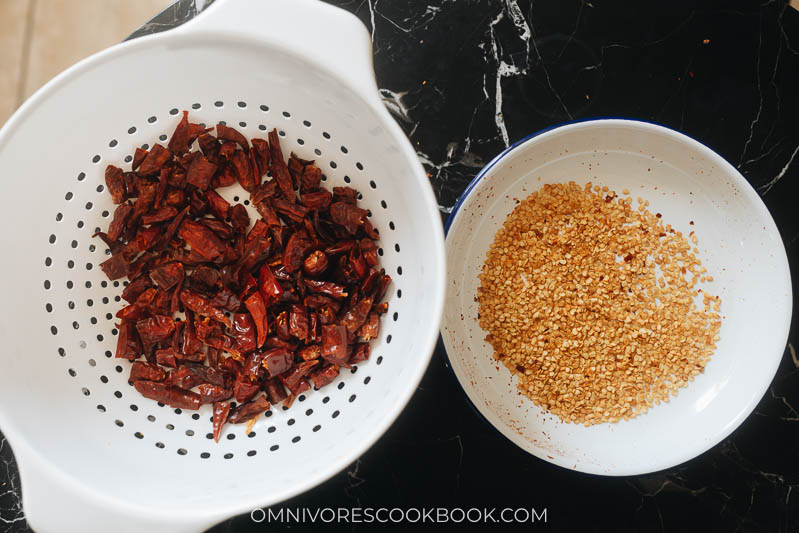 A Shortcut if You Need It
It only takes 30 minutes in total to make Sichuan Shrimp, but if you want an even easier method, you can skip the shallow frying and simply pan fry the shrimp instead. You'll still have outstanding and authentic flavor, the kind that makes Sichuan province so revered for its cuisine.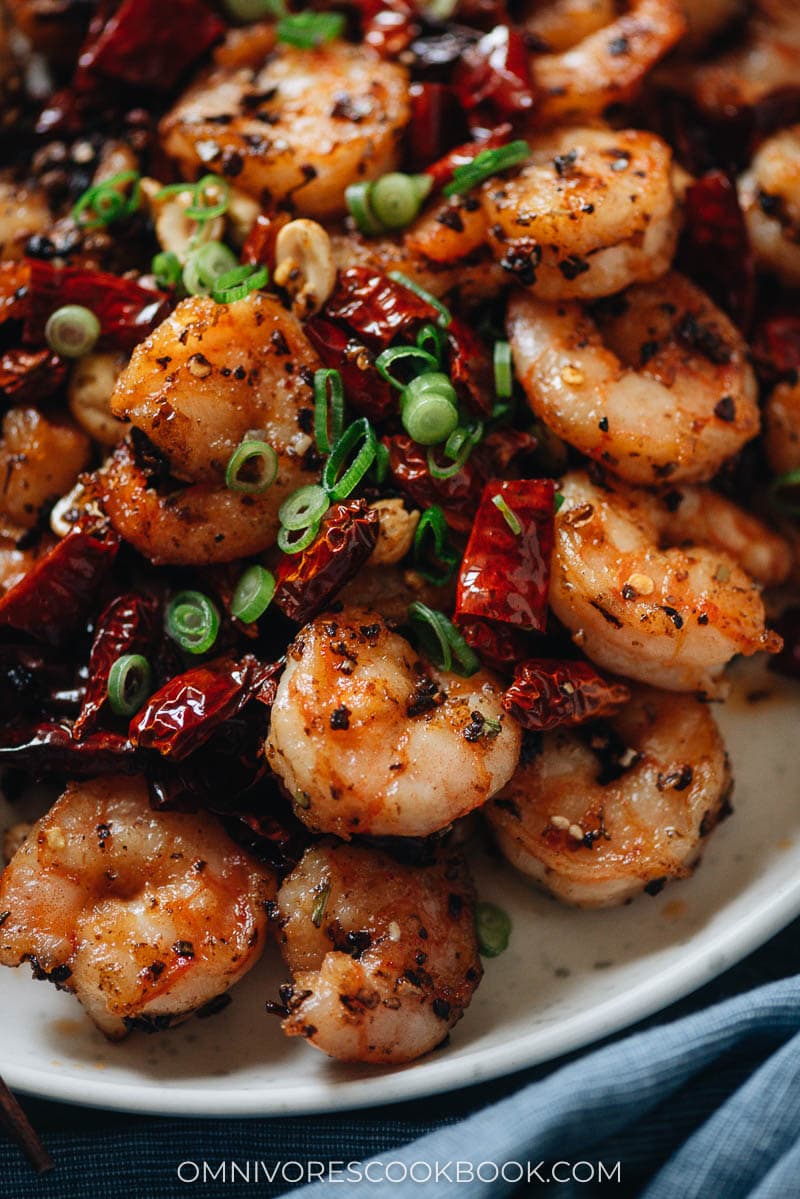 Make Sichuan Shrimp Into a Meal
While you cook this, you can steam white rice and blanch some green veggies to serve with it. You can also make an exciting presentation for date-night-at-home by plating it on individual bowls of steamed white rice with those blanched veggies. A side salad also works too if you just want to keep your vegetables separate. Any way that you serve it, you're in for a quick and easy meal that looks and tastes luxurious!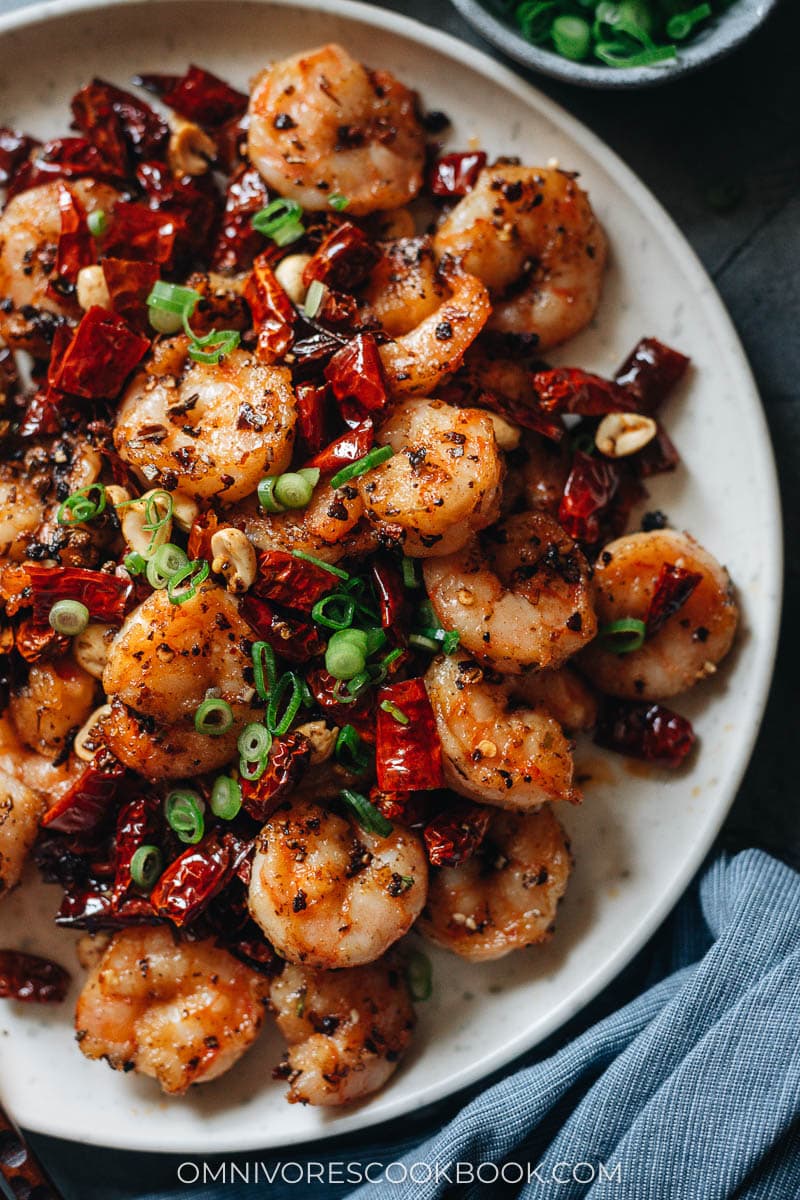 Want to Know More?
Receive our 5-Day Chinese Cooking Crash Course & Recipe Updates! Subscribe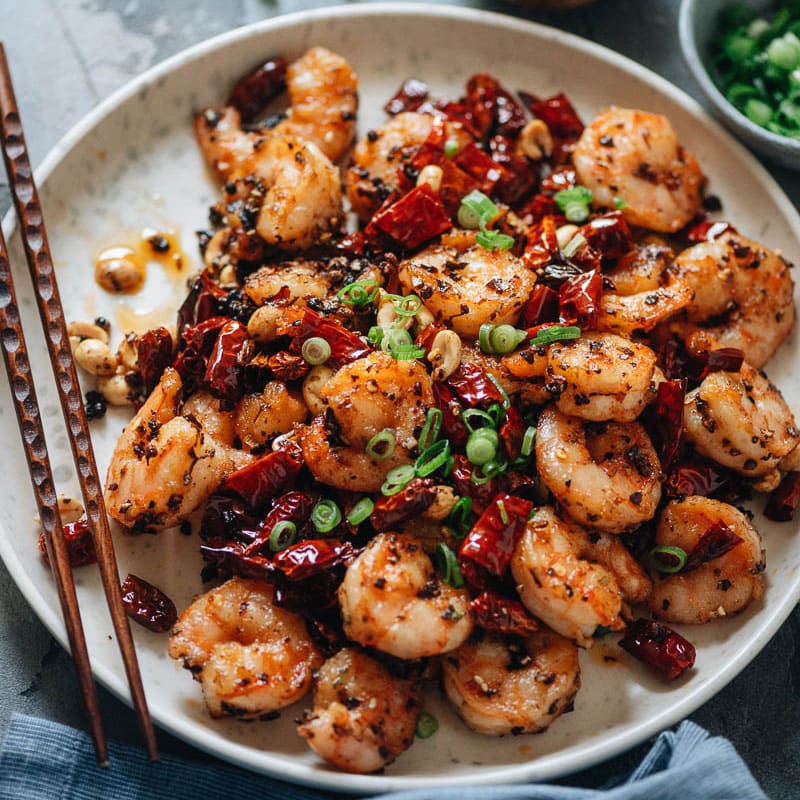 Sichuan Shrimp Stir Fry
Authentic Chinese restaurant-style Sichuan shrimp is quick enough for a weeknight meal and delivers a crispy texture and richly aromatic, utterly divine flavor with that signature Sichuan spice.
Ingredients
Stir Fry
1

cup

dried Chinese chili peppers

(*Footnote 1)

1/3

cup

vegetable oil

(or enough to cover the shrimp halfway ) (*Footnote 2)

3

cloves

garlic

, minced

1/2

" (1 cm)

ginger

, minced

1

green onion

, whites minced, greens sliced for garnish

2

teaspoons

Doubanjiang

1

tablespoon

Sichuan peppercorns

2

tablespoons

roasted peanuts
Instructions
Pat the shrimp dry with paper towels and transfer them to a medium-sized bowl. Add the light soy sauce, Shaoxing wine, and cornstarch. Toss to coat well. Marinate for 15 minutes.

Cut the chilis into 1/2" pieces and place in a colander that has holes big enough to have the chili seeds fall through. Shimmy the colander above a big plate to separate some of the seeds from the chilis. Set aside the deseeded chilis for the cooking and discard the seeds.

Heat the oil in a large skillet over medium-high heat until hot. Add the shrimp. Let cook without moving for 1 to 2 minutes, until the bottom turns golden. Flip to cook the other side for another 1 to 2 minutes, until turning golden and the shrimp are fully curled up. Transfer the shrimp to a big plate and set aside.

Turn to low heat. Remove all but 2 tablespoons of oil from the pan by pouring the oil into a bowl, or use a few layers of paper towels held in a pair of tongs to wipe the pan.

Turn to medium-low heat. Add the garlic, ginger, and green onion. Cook and stir until fragrant, about 30 seconds.

Add the doubanjiang. Stir and cook for a minute.

Add the dried chilis, sichuan peppercorns, and peanuts. Continue to cook and stir for another minute, or until the chilis turn dark brown but are not burned.

Add back the shrimp. Toss thoroughly to coat well. Immediately transfer everything to a serving plate.

Serve hot over steamed rice as a main dish. (*Footnote 3)
Notes
This recipe separates the chili pepper seeds and discards them, so the final dish will be spicy (but not outrageous spicy), and it will have an authentic look with a more fragrant taste. If you do not wish to use so much chili pepper, you can 1/4 cup of chili peppers, cut them into halves and reserve the seeds. For a milder dish, use 1/4 to 1/2 cup chili peppers (depending on the spice level you're looking for) and do not cut them.
The recipe uses enough oil to cover halfway up the shrimp to give it a light crispy texture but not as crispy as deep fried. You can use less oil as well, but the shrimp will not be crispy.
Do not eat the chili peppers or Sichuan peppercorns.
Nutrition
Serving:
1
serving
,
Calories:
246
kcal
,
Carbohydrates:
8.2
g
,
Protein:
27.3
g
,
Fat:
11.1
g
,
Saturated Fat:
2.3
g
,
Cholesterol:
239
mg
,
Sodium:
385
mg
,
Potassium:
257
mg
,
Fiber:
0.7
g
,
Sugar:
0.5
g
,
Calcium:
113
mg
,
Iron:
1
mg
Quick & Easy Sides to Pair with the Sichuan Shrimp
More Delicious Shrimp Recipes
Lilja Walter is a part of the Omnivore's Cookbook team and worked closely with Maggie to develop and test this recipe.