This kimchi omurice recipe is sponsored by Pete and Gerry's Organic Eggs. All opinions expressed are my own. Thank you for supporting the companies that keep this blog going.
Kimchi Omurice is some next-level comfort food: umami kimchi fried rice is wrapped cozily into a creamy scrambled egg omelet, topped with a drizzle of ketchup.
Kimchi Omurice: The Ultimate East-West Fusion Comfort
This Kimchi Omurice packs Korean-style kimchi fried rice, with its mild umami, spicy, sour, garlic flavor profile into a slightly runny omelet in the style of Japanese omurice. The flavors and textures work amazingly well together, making this dish super comforting for practically any person of any age.
If you have had either kimchi fried rice or omurice by itself, you have a sense of what is possible here.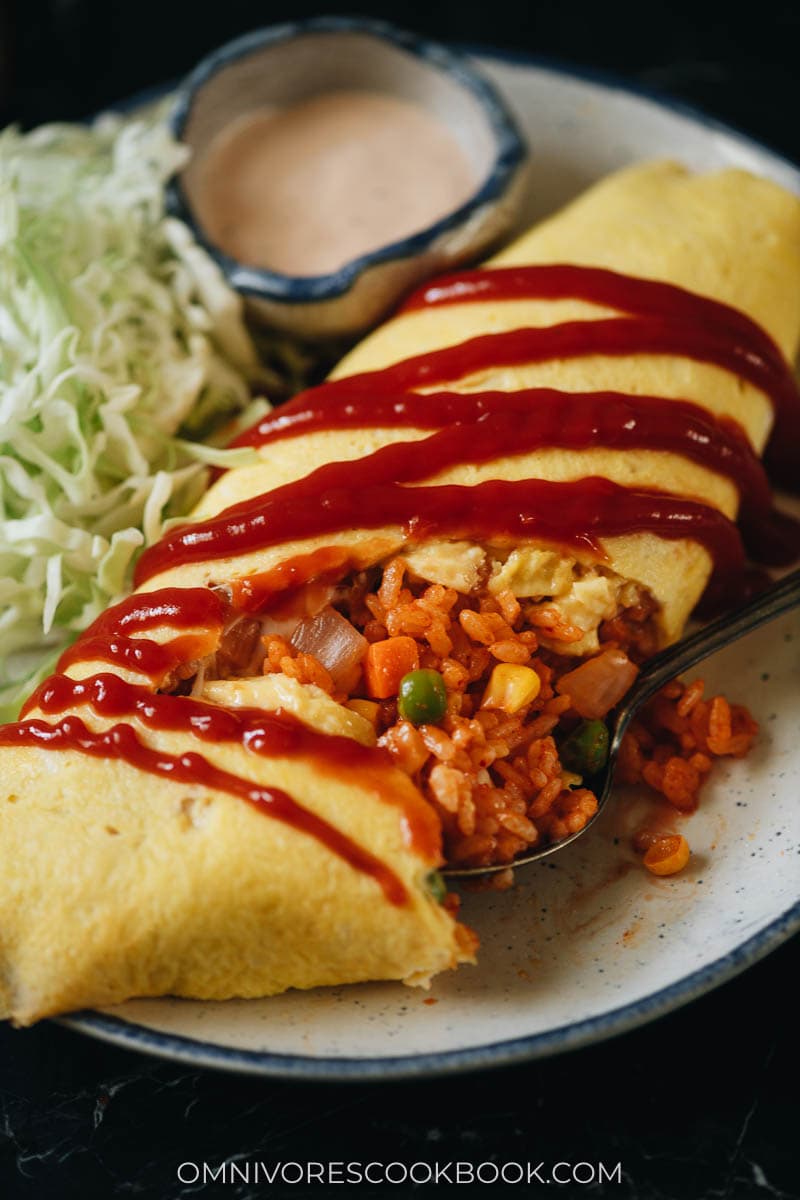 Kimchi Fried Rice: A Cousin of Pizza(?)
Kimchi fried rice is special because stir frying kimchi develops the flavor into a milder, rounder and frankly irresistible flavor that I think is quite like pizza:
Pizza sauce typically uses garlic, which is a big part of kimchi's flavor
The red pepper in kimchi is fruity like cooked tomato
The umami "funk" of kimchi is similar to cheese in terms of aroma
This pizza-like flavor plus the crispiness from fried rice just make the dish addictive and it's one of my go-to quick meals.
Omurice: Classic Japanese Western Comfort
Omurice is wonderful due to its simplicity of ingredients and careful method:
Beaten eggs are cooked into an omelet, like in Western cooking, but very delicately, so the egg is soft, creamy, and slightly runny.
The omelet is stuffed with fried rice, so you can get bits of fried rice with each bite of omelet.
The omelet is often garnished with ketchup, which goes perfectly with the creamy egg and filling fried rice.
It's more of a diner-type dish in Japan, but it's totally worth making at home for more special occasions.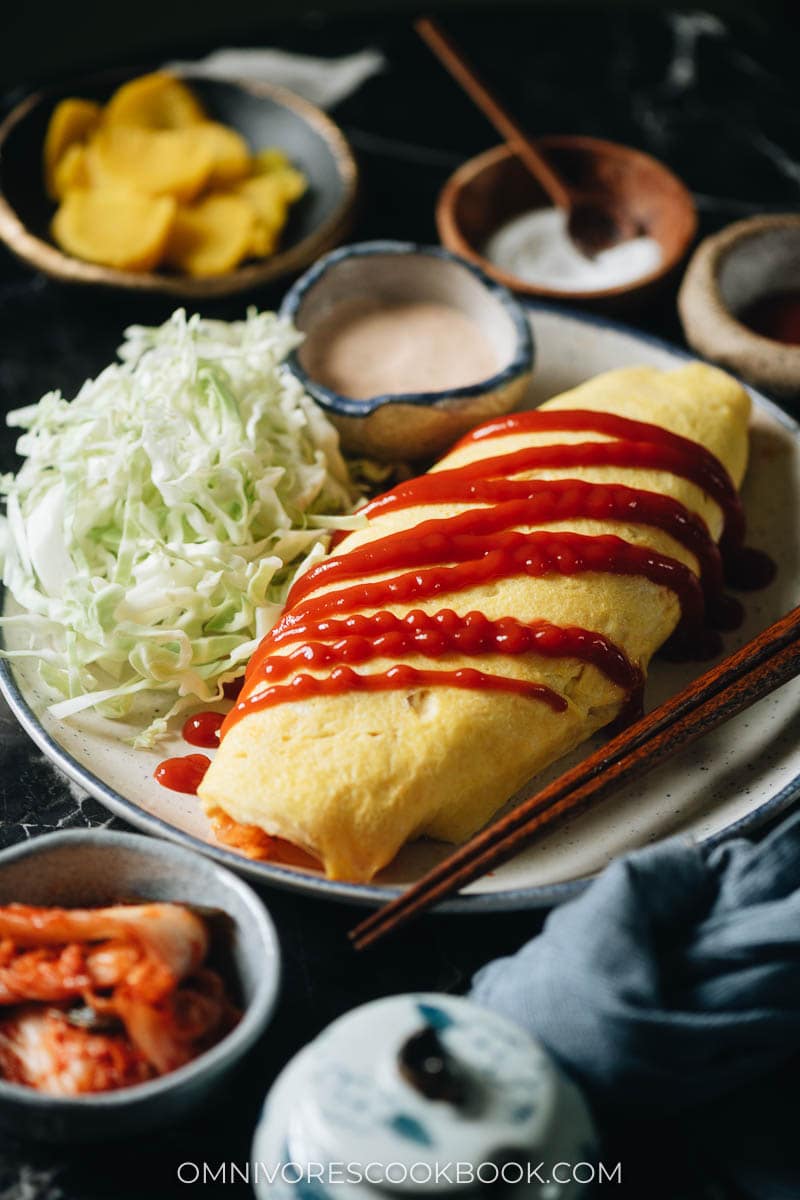 For the Tastiest Omelet, Use the Best Eggs
In any dish where eggs feature as prominently as they do here, and especially because the eggs are meant to be served creamy and slightly runny, it's important to use high quality eggs.
I love Pete and Gerry's Organic Eggs because they are the best widely available eggs: USDA Certified Organic, free range, no antibiotics or hormones, and freshly sourced from small family farms. And you'll know when you taste the eggs that Pete and Gerry's isn't cutting any corners – the rich flavor outshines all the other supermarket eggs.
How to Make Kimchi Omurice
There are two main steps to cooking the kimchi omurice:
making the fried rice and
making the omelet and stuffing it with the fried rice.
The kimchi fried rice is quite easy and quick. The omelet ranges from fairly easy to slightly challenging. But I'll walk you through a few different ways to make it, so you can get a properly cooked omelet that also looks nice.
Easy Kimchi Fried Rice
If you've made fried rice before, this is a piece of cake. You'll saute kimchi and onions for a bit to soften them. It develops the flavor from spicy and garlicky into umami and slightly sweet.
From there, you'll add the rice, chop it up, and mix it together with the kimchi and onions. Once that is hot, just add the frozen veggies and mixed sauce. When the veggies are heated through you're good to move on to the next part.
How to Cook and Wrap the Kimchi Omurice Omelet
You'll cook the omelet similarly to how you'd cook any omelet. But using low heat and occasionally stirring the omelet early on, so that the pan-facing side of the egg doesn't get cooked too hard.
You can cover the skillet to cook the top side of the omelet a little bit, but don't overcook the egg. If you like your eggs extra creamy, you'll want the top to stay slightly runny.
Once you have an omelet that's set on the bottom and cooked to your preferred doneness, you're ready to wrap.
There are a few different ways that we found to successfully get the fried rice wrapped, and keep the omelet intact:
The Hand Wrap Method (the classic shape, but it's a little challenging to make)
The Taco Method (an easy way to fold)
The Bowl Method (also a classic look, and it's a bit easier to make than the first method)

Each method is explained in the recipe below.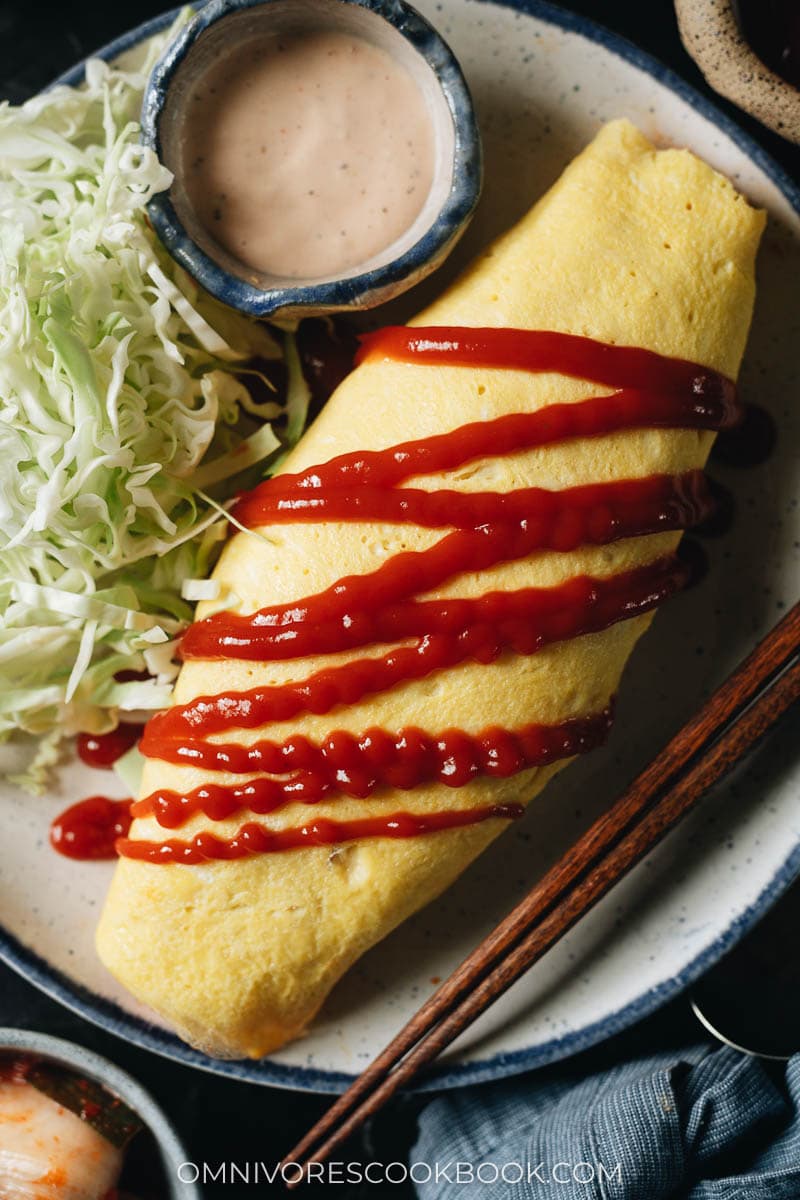 Want to Know More?
Receive our 5-Day Chinese Cooking Crash Course & Recipe Updates! Subscribe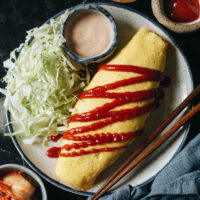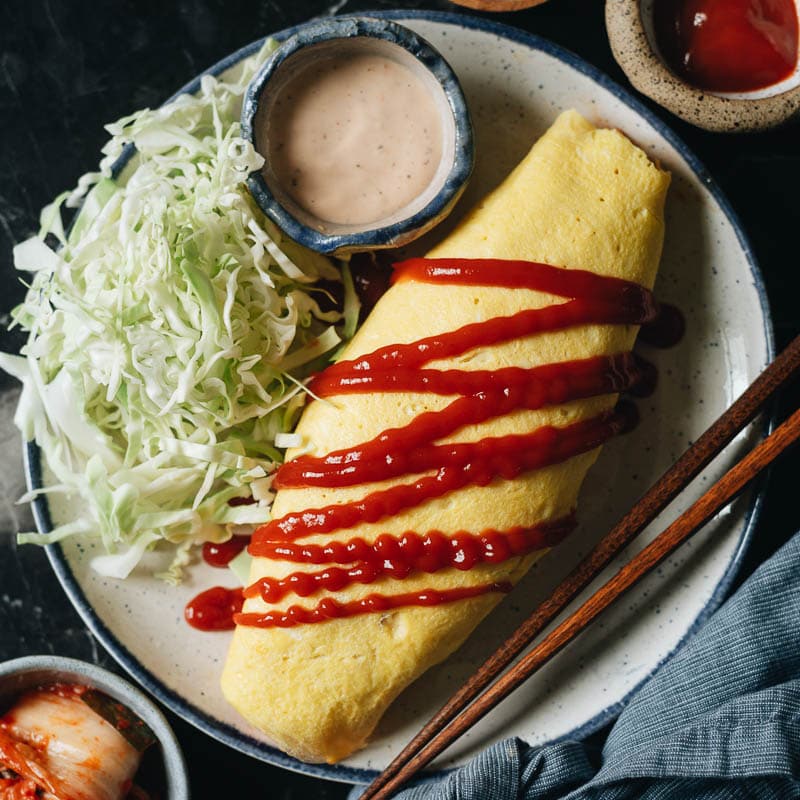 Kimchi Omurice
This kimchi omurice recipe is sponsored by Pete and Gerry's Organic Eggs. All opinions expressed are my own. Thank you for supporting the companies that keep this blog going.
Servings:
2
omelets (2 to 4 servings)
Ingredients
Sauce
2

tablespoons

ketchup

1

tablespoon

gochugaru

(Korean chili powder)

1 1/2

teaspoons

kimchi juice

1/2

teaspoon

sugar
Kimchi Rice
1/2

tablespoon

butter

(or canola oil)

1/2

cup

kimchi

, roughly chopped

1/4

onion

, diced

1 1/2

cups

short grain rice

, freshly cooked (*footnote 1)

1

cup

mixed frozen vegetables

(corn, carrots, peas, and/or green beans)
Omelets
4

to 6

Pete and Gerry's Organic Eggs

, divided (*footnote 2)

1/4

teaspoon

salt

1

teaspoon

milk

(or cream) (Optional)

Canola oil

(or oil spray)

Ketchup

, for garnish
Instructions
Make kimchi fried rice
Combine the sauce ingredients in a small bowl and mix well.

Heat the butter (or oil) in a large skillet over medium-high heat until hot. Add the kimchi and onions. Stir fry for 30 seconds to 1 minutes to draw out excess moisture from the kimchi.

Add the rice. Stir and chop to break it up with a spatula. Cook until the kimchi and onions are evenly mixed through the rice.

Add the sauce and frozen vegetables. Cook and stir until the rice is evenly coated and the vegetables are fully thawed. Divide the rice into 2 even portions and transfer to 2 separate plates.
Make the omelet
Add 2 (or 3 if using) eggs into separate small bowls. Add half the salt and milk/cream (if using) to each bowl. Beat the eggs until they're evenly mixed but not foamy.

Spray a medium-sized (9") nonstick pan (*Footnote 3) with a thin layer of oil. If not using oil spray, add 1 teaspoon oil to the pan and use a paper towel to wipe the pan evenly with oil. Heat the pan over medium heat until the pan is warm.

Add the eggs and immediately begin scrambling using a spatula. Scramble for 20 to 30 seconds, or until the bottom is just set and the top is still runny. Then cook undisturbed to let the eggs set for 30 seconds, or until the top of the eggs become thick and creamy, but not fully set. If the eggs are still too runny, you can also cover the pan with a lid, turn off the heat, and let it steam for 20 to 30 seconds. This step helps the eggs to set slowly without burning the bottom.
Assemble the omurice
Work on one omurice at a time.

Shaping method 1: Shape the plated rice into a long (American) football shape using a spatula. Put the skillet with the omelet near the plate and use a swift motion to flip the egg onto the rice, runny side down. Use two layers of paper towels to cover the egg, then use your hands to shape the dome, gently pressing the rice together. One side at a time, tuck both sides of the omelet to slide it under the rice.

Shaping method 2: Add half of the rice to one side of the omelet as if you were filling a Western-style omelet. Then fold the other half of the omelet over it. Carefully flip the omelet onto a plate so that the seam is facing down.

Shaping method 3: Add half of the rice into a small bowl and press it to mold the rice into a dome. Flip the rice onto a serving plate. Slide the omelet over the rice to cover it completely.

To serve, garnish with ketchup on the eggs or serve it on the side.
Notes
Freshly cooked short grain rice is stickier and holds together better when folding the omelet. You can use day-old rice and other grains are OK as well, but the rice might fall apart easily while folding.
You can use 2 eggs per omelet, which makes a thinner shell that is slightly easier to fold. For a creamier texture, you can use 3 eggs per omelet. It might be a bit more challenging to fold but the omelet will have a smoother look and a thicker, eggier texture.
It's very important to use a nonstick pan, so you can keep the eggs very smooth, thin, and not falling apart.
Nutrition
Serving:
1
serving
,
Calories:
223
kcal
,
Carbohydrates:
30.3
g
,
Protein:
9.6
g
,
Fat:
6.7
g
,
Saturated Fat:
2.5
g
,
Cholesterol:
190
mg
,
Sodium:
413
mg
,
Potassium:
215
mg
,
Fiber:
2.6
g
,
Sugar:
4.6
g
,
Calcium:
43
mg
,
Iron:
7
mg
More Korean- and Japanese-Inspired Comfort Food