This Hokkien Noodles post is sponsored by Knorr®.  All opinions expressed are my own. Thank you for supporting the companies that keep this blog going.
This Hokkien noodles recipe creates a super rich and fragrant one-pan meal that contains tender chicken bites, crisp veggies, and tender noodles. Learn how to make these easy restaurant-style fried noodles without a wok!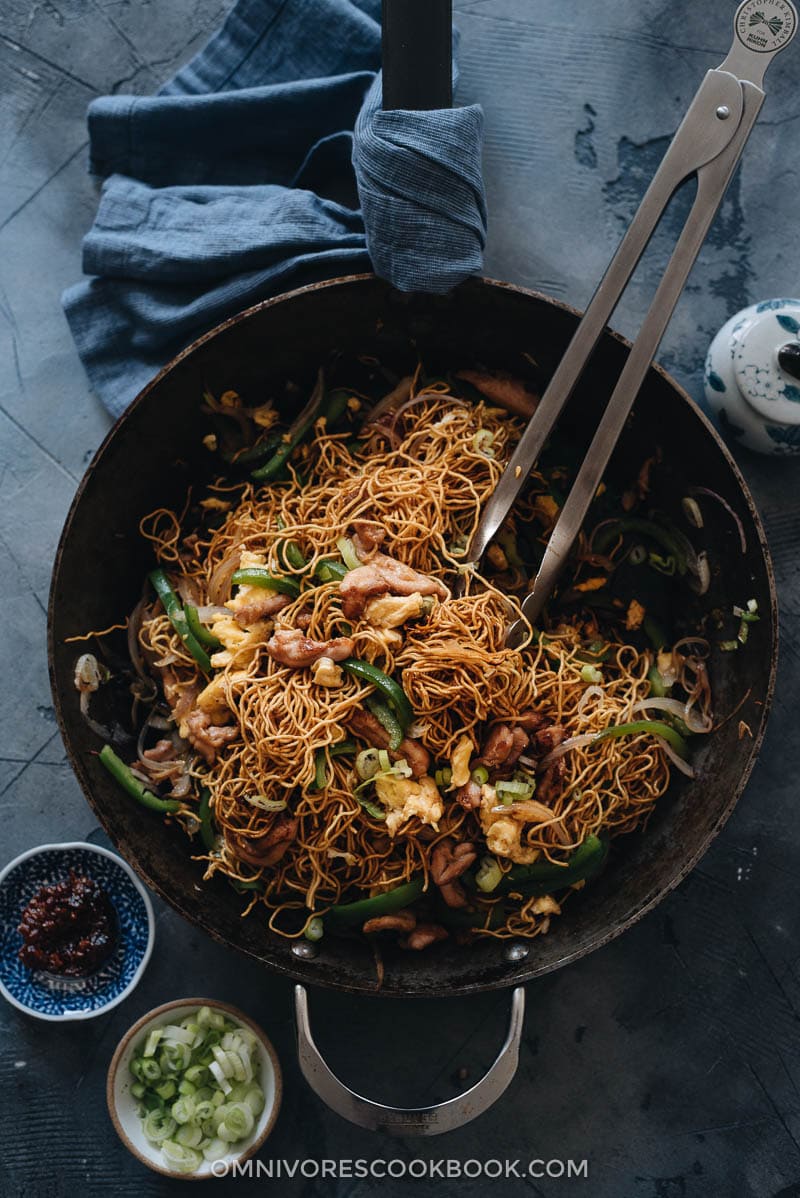 Even though I'm an omnivore and I love food from many different cultures, I constantly crave comforting homemade Chinese food. When I was in school and even later on, when I started working, my mom diligently packed freshly lunches for me every day. The lunch usually contained stir fried veggies, braised meat, rice, and sometimes homemade dumplings or noodles. I didn't realize how luxurious it was until I moved to the US.
Since moving to New York earlier this year, I've been spending a lot of time exploring the city. During the first six months, we had been eating out more and cooking less because our apartment didn't have gas. Even though New York offers a great deal of Chinese food options, nothing tastes better than the dishes I ate growing up. Fortunately the gas finally came back this month and now we can cook with the stove and oven again.
Lately I've been making fried noodles nonstop. Isn't it funny that I couldn't wait to eat the same food again and again, even though I have a million dining options outside? I think that's the magic of Mom's cooking.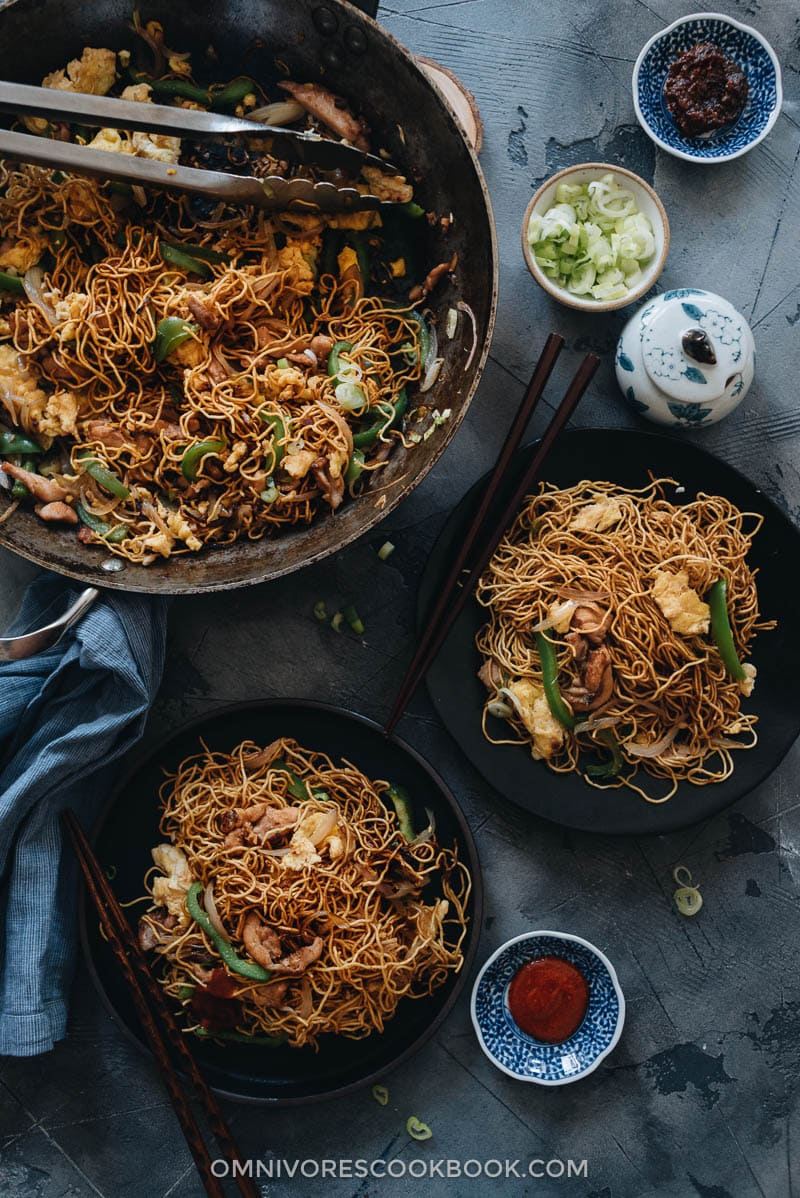 Hokkien noodles cooking notes
Today I'm excited to share this simple and delicious Hokkien noodles recipe. The recipe uses common ingredients you can easily find, it doesn't require a wok, and the cooking process is very straightforward. The result is a super rich and fragrant one-pan meal that contains tender chicken bites, crispy veggies, and tender noodles. Given a choice between the homemade version and Chinese takeout, I'd choose the homemade one in a heartbeat, any day of the week.
Here are some cooking notes to help you make this delicious dish and bring the authentic Chinese experience home.
1. Cookware
You don't need a wok to make authentic-tasting Hokkien noodles. I discussed in depth in a previous post why you should always use a skillet instead of a wok, because most home kitchen stoves are not powerful enough to work with a wok.
I highly recommend two types of skillet:
A large nonstick skillet (12"). It's easy to handle due to its light weight, requires less oil, won't cause food to stick, and is fast to clean up.
A large carbon steel skillet (12"). It's quite heavy but still lighter than a cast iron pan. Once seasoned, it's fairly nonstick. It sears food better than a nonstick pan and creates a beautiful char. The downside is, it's quite heavy to handle and requires a bit more oil.
2. What noodles to use
Choosing the right type of noodle is very important. Look for a label that says "Chow Mein Stir Fry Noodles". These days it's pretty easy to find this type of noodle in a grocery store like Whole Foods in the Asian section.
If you're lucky enough to live near a big Asian market, look for fresh "Pan Fried Noodles (Hong Kong Style)" in the refrigerated section. It's a type of thin wavy egg noodle that offers the best texture. These noodles absorb sauce well and stay chewy during the stir fry.
Alternatively, you can use dried udon noodles or Korean wheat noodles if the two types above are not available.
3. Magic chicken powder
It's a secret ingredient that will give your noodle sauce an extra kick and make it taste like the real-deal Chinese style. As a matter of fact, my mom usually adds a small pinch of Knorr® Chicken Powder to various dishes, such as fried veggies and egg drop soup, to add more umami to a dish made with simple ingredients.
You can find Knorr® Chicken Powder at your local grocery store.
4. Mise en place
If you've never made fried noodles at home, it may seem hectic at first to prepare so many ingredients for one dish. However, if you group your ingredients according to the workflow and set them nearby your stove, it will make your stir frying process go so much more smoothly.
For example, I put chopped shallots, garlic, and ginger on one plate, because I add them at the same time to the pan. During the cooking, I place the cooked eggs and chicken on a big plate. Small hacks like this will help you reduce cookware usage, which leads to a less crowded countertop and faster clean-up.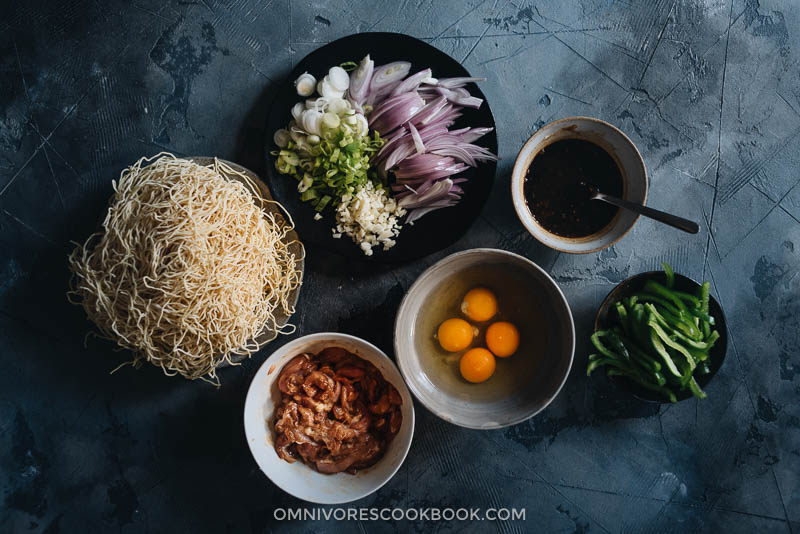 5. Workflow
Always start by marinating the meat first, so it has time to absorb flavor before cooking.
While you mix the sauce and chop the ingredients, you can start bringing a pot of water to a boil and cook the noodles. This way everything will be ready at the same time.
Start cooking the eggs and chicken separately and transfer them to a plate, to avoid overcooking.
Then saute the aromatics, toss them with the noodles, add the sauce, and stir in the cooked eggs, chicken, and peppers.
Sound easy enough?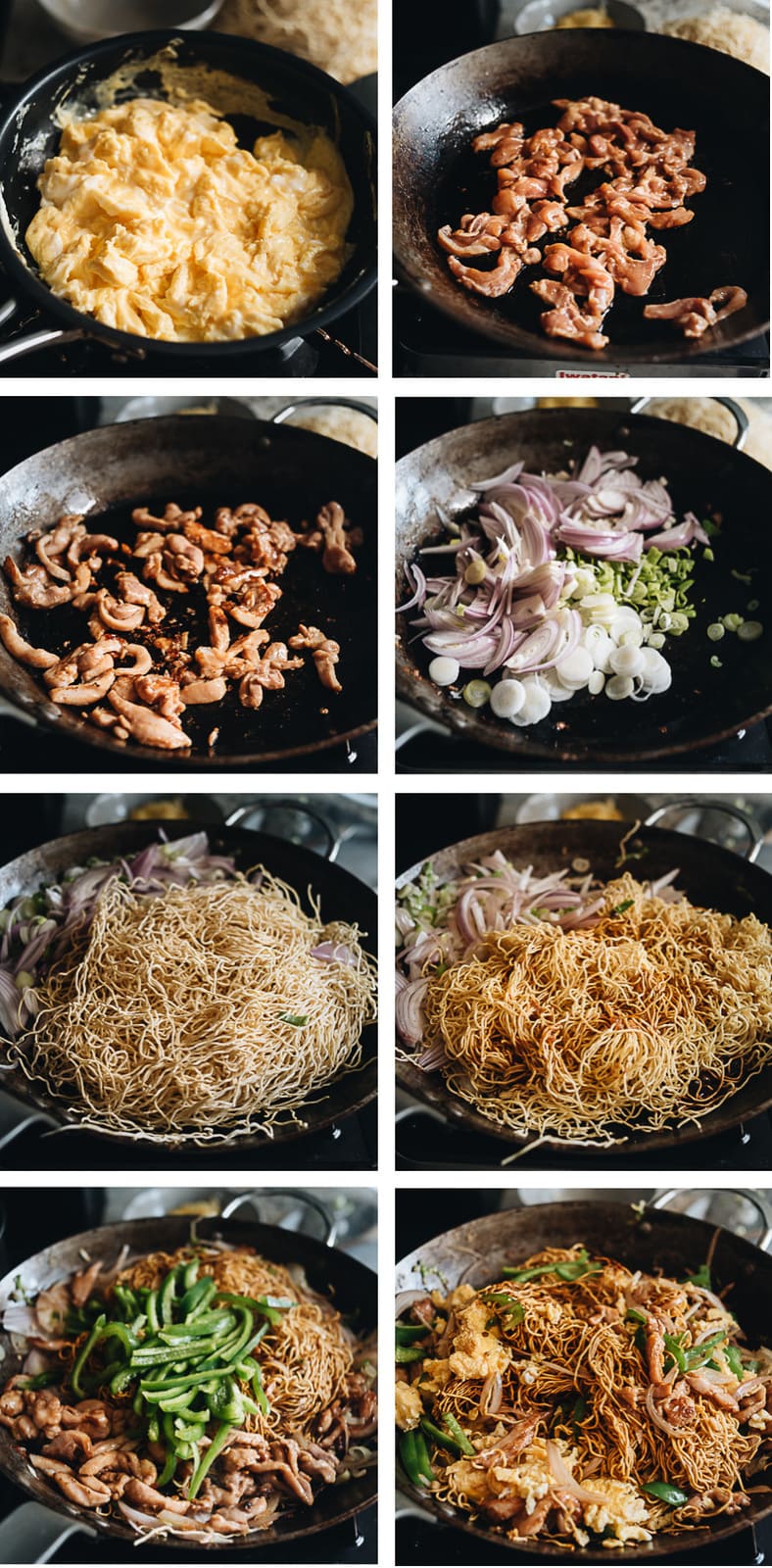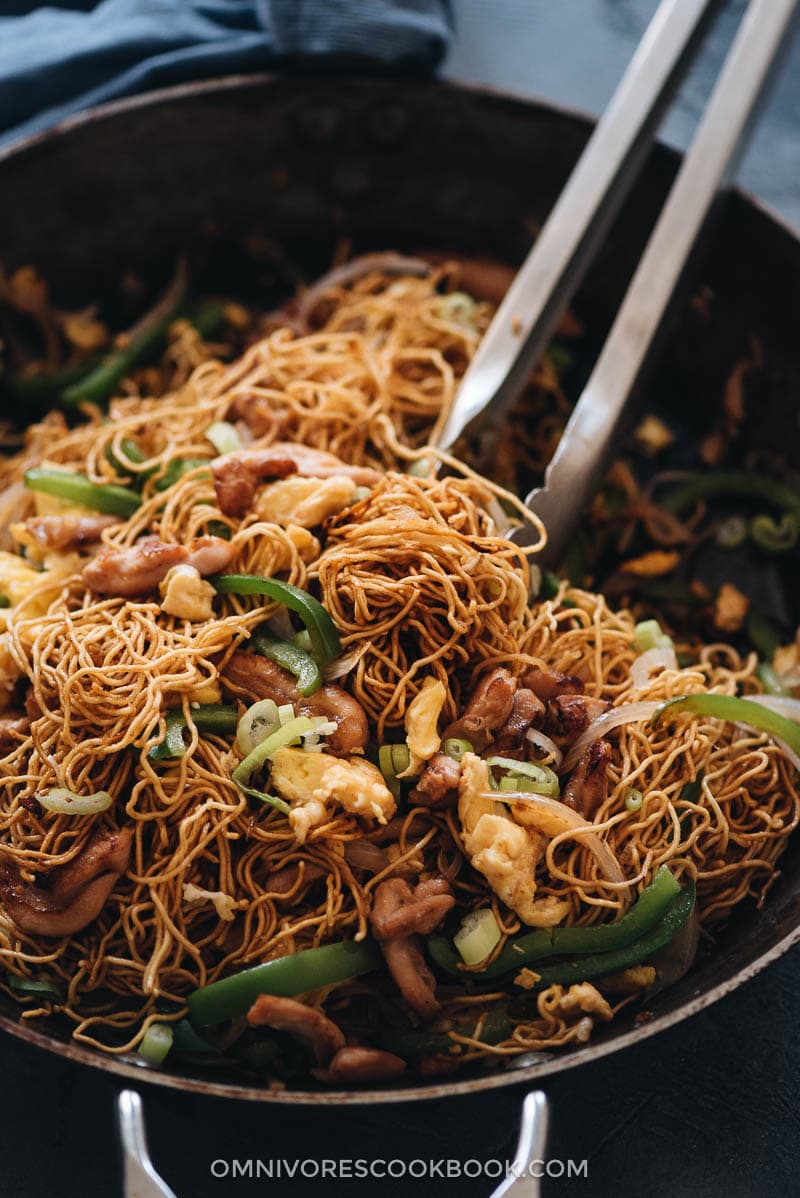 Cooking Video
One of the challenges to making a big pot of fried noodles is to avoid spilling the ingredients everywhere as you cook it.
The solution is to not stir it too much.
It might sound contradictory. After all, we're making a stir-fry right? Well, not necessarily.
That's why I made this short video, to show you how I make fried noodles using a frying pan without getting the kitchen counter super messy.
https://www.instagram.com/p/B2CeZzcj1qI/
I hope you enjoy the video and happy cooking!
Mom's best recipes
If you give this recipe a try, let us know! Leave a comment, rate it (once you've tried it), and take a picture and tag it @omnivorescookbook on Instagram! I'd love to see what you come up with.
Want to Know More?
Receive our 5-Day Chinese Cooking Crash Course & Recipe Updates! Subscribe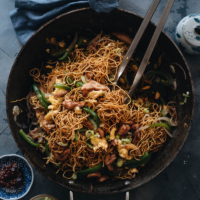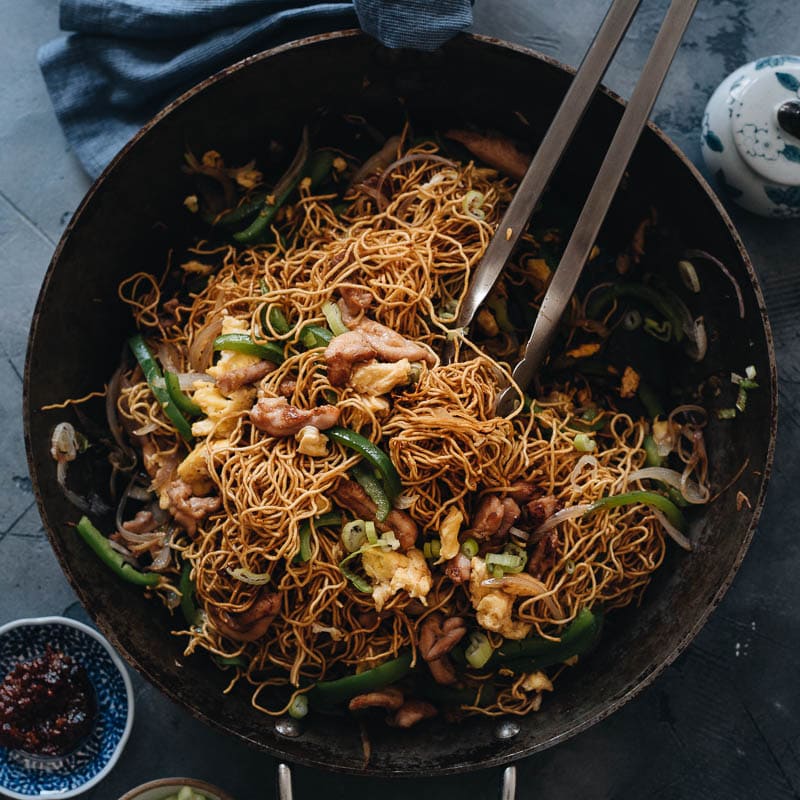 Hokkien Noodles (福建炒面, Hokkien Mee)
This Hokkien noodles recipe creates a super rich and fragrant one-pan meal that contains tender chicken bites, crisp veggies, and tender noodles. Learn how to make these easy restaurant-style fried noodles without a wok!
Servings:
2
to 4 servings
Ingredients
6

oz. (170g)

dried egg noodles

(or 10 oz./280 g fresh Hong Kong style pan fried noodles)
Marinade
1

boneless skinless chicken breast or 2 boneless skinless chicken thighs

(about 1/2 lbs / 225 g), sliced to 1/4-inch thick pieces

1

tablespoon

soy sauce

1

teaspoon

cornstarch
Stir fry
2 1/2

tablespoons

peanut oil

(or vegetable oil)

4

eggs

, beaten

2

shallots

, sliced (or 1/2 white onion)

4

green onions

, sliced

3

cloves

garlic

, minced

1

bell pepper

, or 2 anaheim peppers, seeded and thinly sliced

Sambal chili sauce or Sriracha

, for garnish (optional)
Instructions
Bring a pot of water to a boil and cook the egg noodles according to the instructions. Once cooked, transfer to a colander and rinse with tap water to cool. Drain and set aside. Skip this step if using fresh pan-fried noodles.

Combine the marinade ingredients in a medium-sized bowl. Stir to mix well. Let sit for 10 minutes while preparing the other ingredients.

Mix the sauce ingredients in a small bowl and set aside.

Heat 1/2 tablespoon of oil in a large nonstick pan (or cast iron pan, or carbon steel paover medium-high heat until hot. Add the beaten eggs and cook them until the bottom sets. Stir to scramble. Once cooked through, immediately transfer the eggs to a plate.

Add 1 tablespoon of oil to the pan and spread the chicken in it in a single layer. Cook without touching until the bottom turns golden, 40 seconds to 1 minute. Flip to cook the other side until light golden. Transfer the chicken to a plate.

Add 1 tablespoon of oil, along with the shallots, green onions, and garlic to the pan. Cook and stir for 1 minute, to release the fragrance. Move all the ingredients to one side of the pan.

Add the cooked noodles. Toss with a pair of tongs to mix with the veggies. Let the noodles sit in the hot pan for a few seconds without moving, to help it char on the bottom. Add 1 to 2 tablespoons of oil (or wateif the noodles look dry.

Stir the sauce again and pour it into the pan. Toss the noodles to mix well with the sauce, 1 minute or so.

Add the peppers, and add back the cooked chicken and eggs. Toss to mix everything well, until the sauce is fully absorbed. Transfer everything to serving plates.

Add a spoonful of chili sauce to the noodles, if using. Serve hot as a main dish.
Nutrition
Serving:
1
serving
,
Calories:
360
kcal
,
Carbohydrates:
32.9
g
,
Protein:
22.4
g
,
Fat:
15.8
g
,
Saturated Fat:
3.1
g
,
Cholesterol:
221
mg
,
Sodium:
872
mg
,
Potassium:
445
mg
,
Fiber:
1.8
g
,
Sugar:
8.7
g
,
Calcium:
56
mg
,
Iron:
2
mg