Love Xinjiang lamb skewers? Check out it's twin sister 😉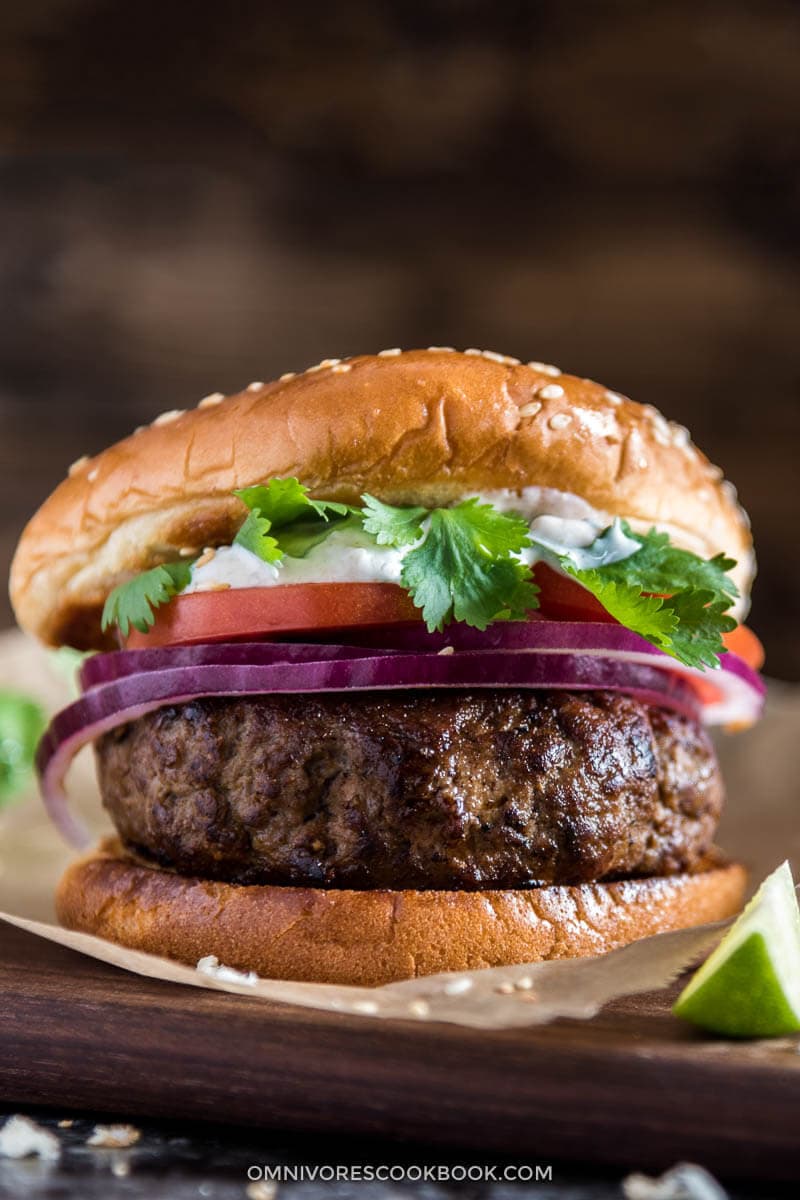 A beef burger is the ultimate comfort food. But once in awhile you might want to spice things up, and try something different. These lamb burgers are perfect for you if you like bold flavors. Pack a powerful punch of flavor in your burger with soy sauce, cumin, cayenne powder, garlic, and black pepper. Grill until well browned and crispy. Then serve with a tart yogurt sauce on  buttery grilled buns. Your burger night will be the opposite of boring!
The flavor profile of these burgers are from Xinjiang, an autonomous territory in northwest China home to Turkic Uyghur people. The seasonings share similarity with Middle Eastern kebabs, only heavier on the cumin and garlic. The soy sauce adds further depth of flavor and umami. You might think this recipe calls for too much cumin powder. Do follow the amount, you will thank me later.
I serve the burger with a light yogurt based sauce that contains plenty of aromatics. The acid balances the fatty lamb to make the meal less heavy. Plus it is much healthier than ketchup or mayonnaise.
These lamb burgers are easy to make and practical for a weekday dinner. Chop some onion and cilantro to mix the sauce. Then fold the spices into ground lamb to make the patty. Heat up a heavy pan, nice and hot. Grill the burgers until the surface turns dark brown. Serve with a simple salad. You can finish prep and cook the whole meal in 30 minutes.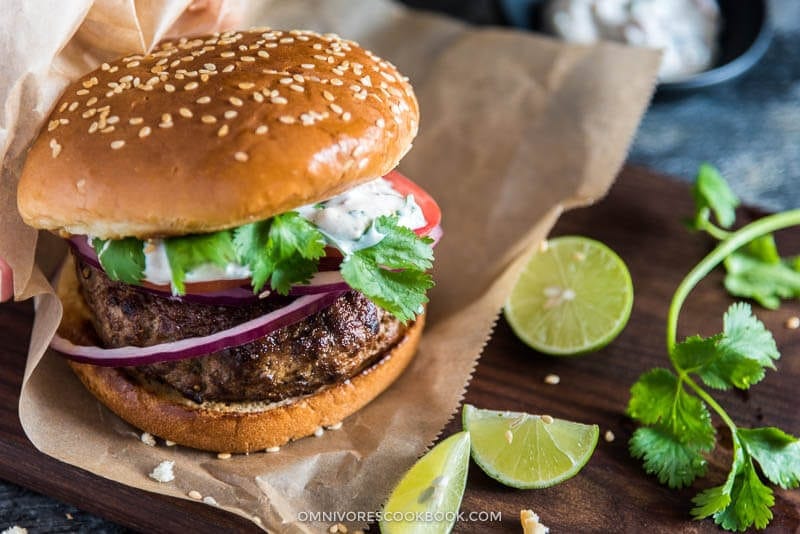 A few cooking tips:
Do not over mix the ground meat, otherwise the burger texture will become chewy.
Heat up your pan so it is really hot before adding oil, your burger will brown in a few minutes without overcooking the inside.
You can cook these burgers on the grill as well. The cooking process is the same.
To make a full meal, make extra yogurt sauce to fix a salad. The sauce goes well with green salad leaves, tomato, blanched asparagus, broccoli, and roasted carrot and squash. It is a perfect dipping sauce for your tortillas chips too.
More Xinjiang recipes you'll like:
If you give this recipe a try, let us know! Leave a comment, rate it (once you've tried it), and take a picture and tag it @omnivorescookbook on Instagram! I'd love to see what you come up with.

Cumin Lamb Burger
Ingredients
For the sauce
1/2 cup Greek yogurt
2 tablespoons freshly squeezed lime juice
1/4 cup minced red onion
1/4 cup finely chopped cilantro leaves
1/2 teaspoon cumin powder
Pinch of salt
For the burger
1 pound ground lamb meat
1 tablespoon soy sauce
2 tablespoons cumin powder
1 teaspoon salt
1 teaspoon ground black pepper
1 teaspoon garlic powder
1/2 teaspoon cayenne powder (or paprika powder if you like it less spicy)
1 tablespoon peanut oil (or vegetable oil)
4 burger buns
(Optional) Sliced tomato, onion, and lettuce leaves for toppings
Instructions
Combine all the ingredients for the sauce in a small bowl, and whisk to mix well. Cover and store in the fridge until ready to use.
In a large bowl combine ground lamb meat, soy sauce, cumin powder, salt, black pepper, garlic powder, and cayenne powder (or paprika powder). Gently break up meat and fold by hand until the ingredients are evenly distributed. Do not over mix.
Divide the mixture into 4 equal portions and shape them to balls. Place on a plate and lightly flatten with fingertips into 1/2-inch thick patties.
(Optional) Heat a tablespoon butter or oil in a skillet with medium heat. Grill the cut side of burger buns until golden brown.
Heat a heavy bottom pan or a grill over medium heat heat until hot. Add oil. If using a grill, grease the grill with a thin layer of oil by using paper towel attached with a pair of tongs. Add the lamb patties. Allow to cook without disturbing until the bottom side is well browned, 2 to 4 minutes. Flip and let cook until juices run clear, about 2 to 4 minutes.
Place the lamb burgers on the buns, top with yogurt sauce, and sliced tomato and onion (if using). Serve hot.