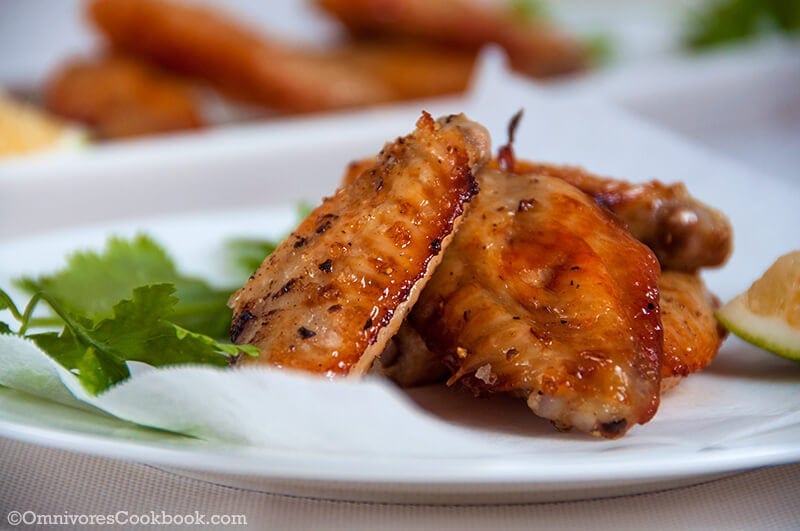 These crispy baked chicken wings only require four ingredients and 30 minutes. The wings have a charred and crispy skin with a moist texture. The flavor is simple yet delicate. It's the perfect snack for your weekend movies night or party!
I like almost any dish cooked with chicken. No matter whether fried, braised, baked or served in a salad. Although my blog is still young, I have already posted tons of chicken recipes. For example, grilled chicken wings, crispy baked chicken leg, chicken potato salad, Kung Pao chicken, general Tso's chicken, you name it.
One thing I love about chicken – it's very easy to prepare. I feel that I can always easily make a delicious dish with it. It is low in calories and is a nice source of protein. When I was on diet a few years ago, chicken became my main energy source and I ate it every day. One of my favorite dishes is stovetop grilled chicken with salt and pepper. It only contains 3 ingredients, takes 5 minutes to cook, is super delicious and fulfilling, and helped me lose weight! Isn't it amazing? I even had a beer to go with it every time (talk about liquid carbs!).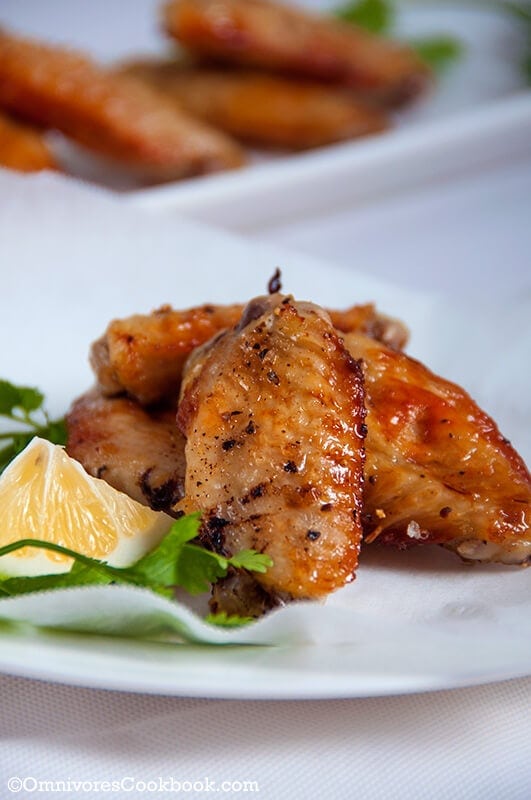 My love for grilled chicken never went away. When I saw this delicious baked salt and pepper chicken recipe from Just One Cookbook, I couldn't wait to try it out! It only contains four ingredients and is super delicious! Unlike my stovetop grilled chicken, this one requires one more ingredient – Japanese sake (rice wine). Sake is one of the most important ingredients in Japanese cooking and I love to use it in a variety of Asian dishes, too. It adds a delicate fragrance to the dish and brings out the nice umami of the chicken.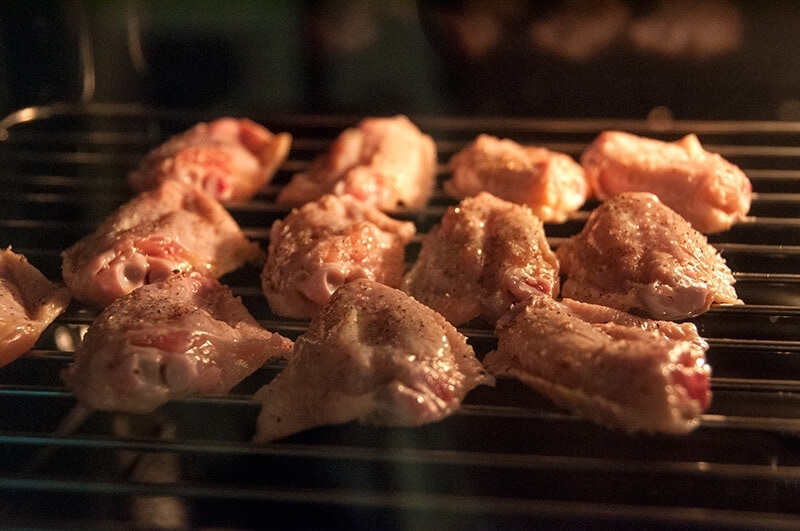 Now, these salt and pepper baked chicken wings have already become one of my routine weekend dishes. I always keep some chicken wings on hand in the freezer. Whenever I feel lazy (which is a lot) or am just craving some yummy wings, I just throw those wings in the oven. In less than 30 minutes, I can lie on the sofa, enjoy this great snack, and watch my favorite TV shows. And yes, I have a cold bottle of beer in my left hand. 🙂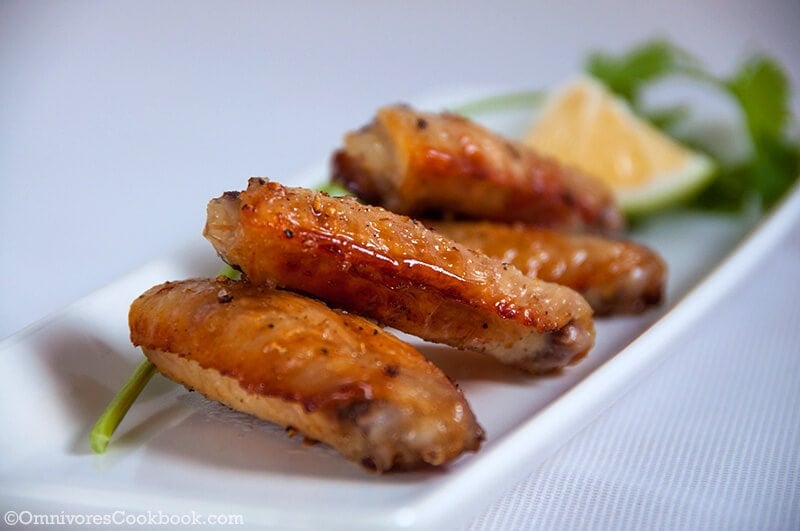 Want to Know More?
Receive our 5-Day Chinese Cooking Crash Course & Recipe Updates! Subscribe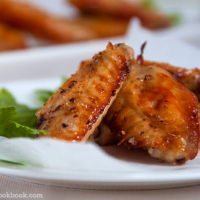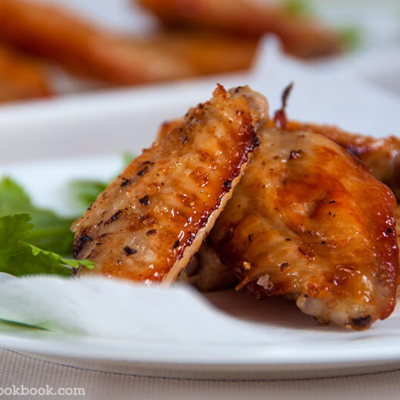 Easy Crispy Baked Chicken Wings
This recipe does not require preheating the oven.
Ingredients
12

chicken wings

washed and dried

1/2

cup

Japanese sake

sea salt and freshly ground black pepper

lemon or lime wedges

optional
Instructions
Combine chicken wings and sake in a plastic bag or a Ziplock bag and marinate at room temperature for 15-20 minutes. Flip the bag 1 or 2 times during marinating to make sure the wings are evenly marinated.

Dry chicken wings with paper towel and place on a rack or grilling tray, skin side up. Grind salt and pepper over the chicken wings. Flip the wings and grind salt and pepper on the other side. Don't be stingy with the salt and pepper since they are the only seasonings in the recipe.

Bake on middle rack at 220 degrees C (450F) for around 15 minutes. Then, flip the wings and bake for another 10 to 12 minutes, until both sides have turned golden brown.

Serve immediately with lemon wedges. Squeeze lemon juice onto wings while eating.
The post was updated on 23rd Oct. 2014