This post is sponsored by the National Pork Board. All thoughts and opinions are my own.
Lumpia Shanghai is a perfect appetizer and finger food for parties and festive dinners. These super crispy and crunchy egg rolls are packed with pork, carrots, celery, and onions and come with a sweet yet spicy dipping sauce that will have everyone sopping up every last morsel!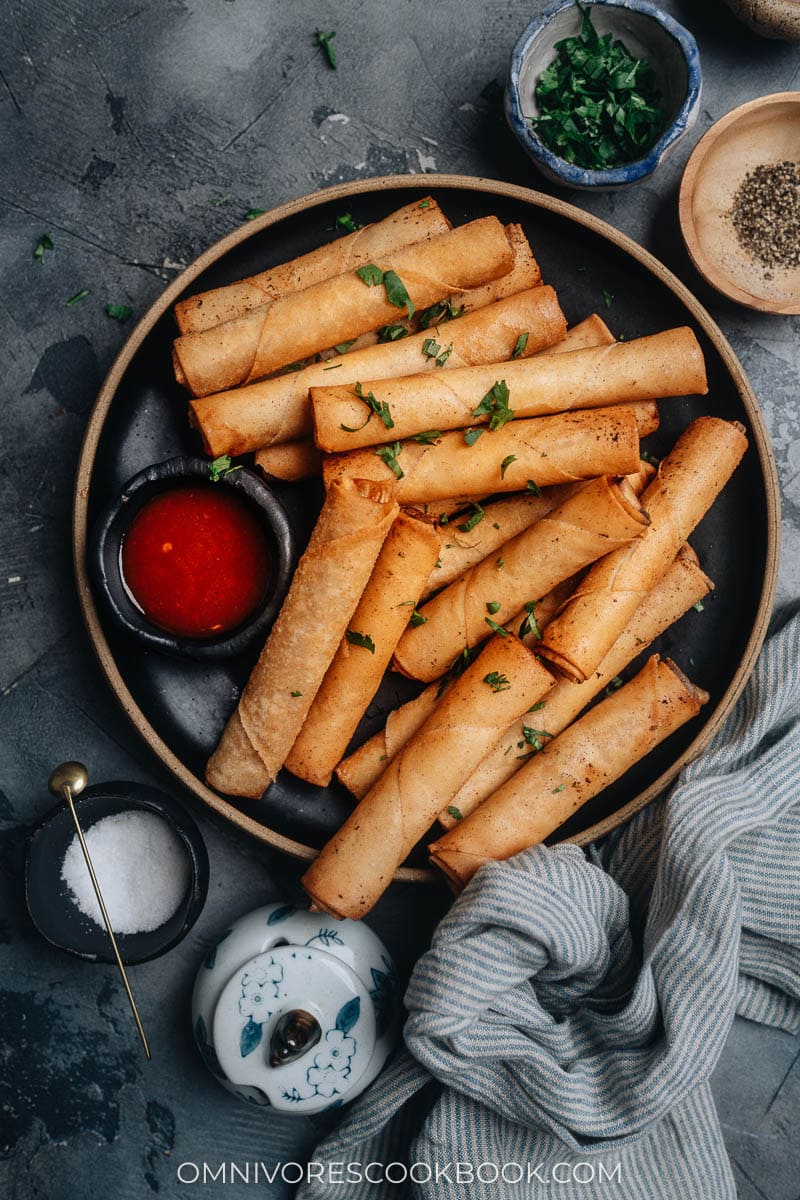 If you're a fan of egg rolls, you will love Lumpia Shanghai. Also known as Filipino spring rolls, they're easy to make and worth all the effort. I love making them for a snack. And even with our gatherings being smaller this year, it's fun to make these tasty egg rolls.
After all, there's little point in making that traditional large ham for the holidays when you can't have everyone over. But pork is such a versatile and delicious ingredient, one that makes celebratory meals special no matter how big or small they are. And as this recipe proves, it doesn't need to be gleaming in the middle of the table as a centerpiece. These will surely go noticed. So noticed, in fact, that they'll disappear fast.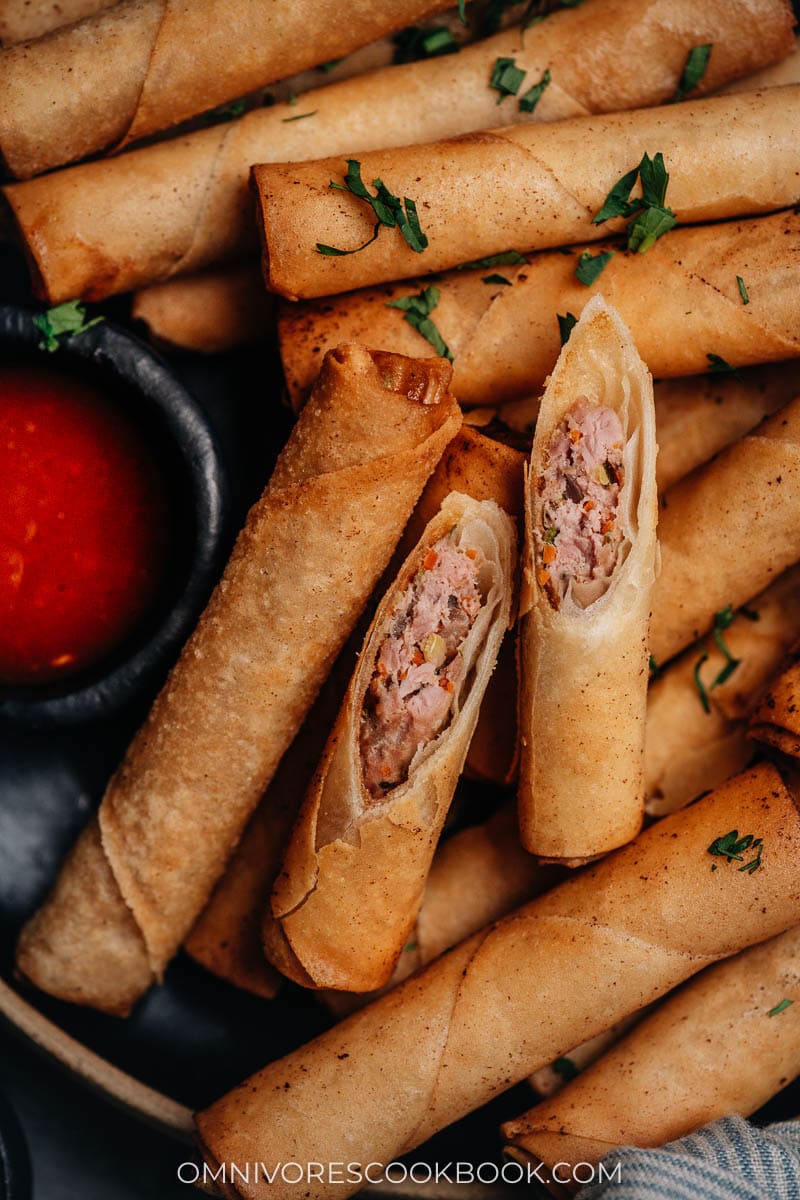 What is Lumpia Shanghai
So, what exactly is Lumpia Shanghai? Also called Lumpiang Shanghai, these Filipino spring rolls feature a filling of ground pork mixed with veggies like carrots, wrapped in a thin crepe and then deep fried. Lumpia was passed on to the Philippines by Chinese settlers from Fujian China, it has a basic resemblance to Chinese egg rolls. The wrappers for Lumpia Shanghai tend to be thinner than the traditional Chinese spring roll wrappers. Lumpia Shanghai also tends to be longer while spring rolls are fatter.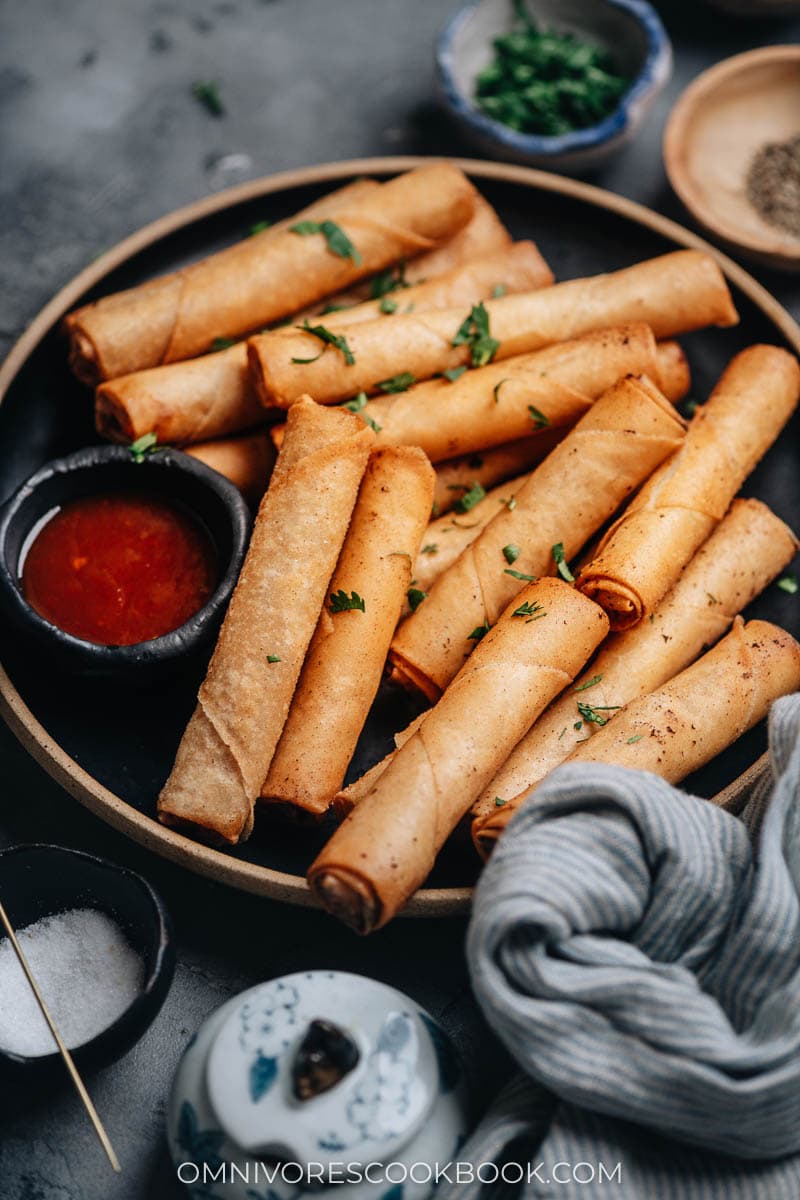 Ingredients
Lumpia Shanghai uses veggies you'll easily find anywhere, and you don't need to cook the filling before wrapping, a huge time-saver!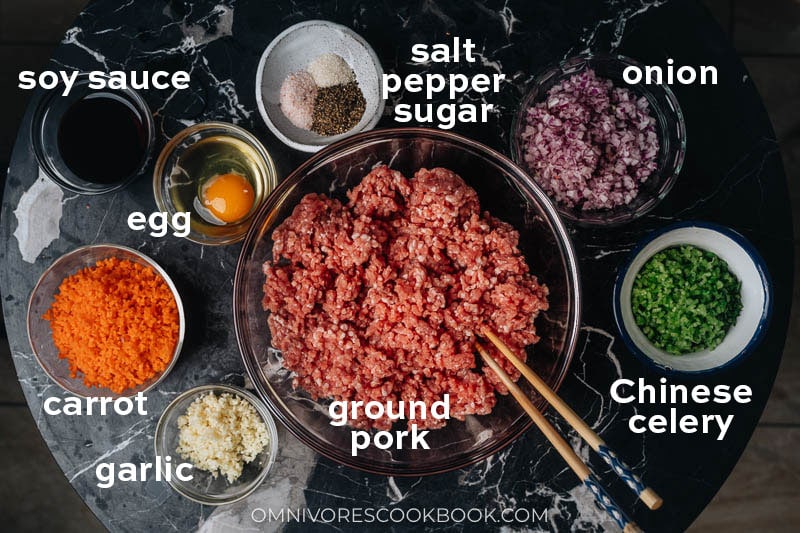 If you can't find the Lumpia Shanghai wrappers, spring roll wrappers should be easier to find. I've seen them at ordinary grocery stores like Walmart and Whole Foods.
One word on Chinese celery. It has thin stems and the taste is slightly stronger than that of the fat stem celery you usually find in grocery stores. It is easier to chop and tastes slightly better, but you can totally use regular celery instead.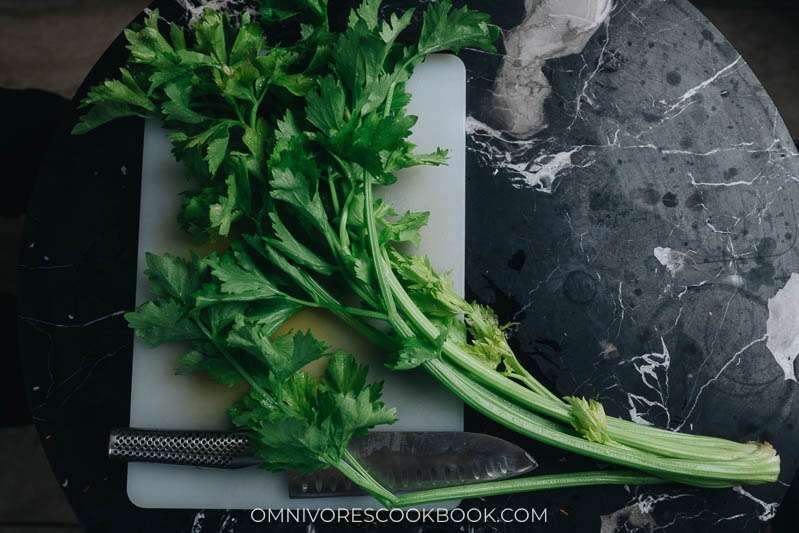 Cooking process
Chop ingredients
I prefer to chop ingredients by hand to better control the texture. Although you can totally use a food processor to mince the vegetables to save time. To mince the veggies with a food processor, combine the coarsely chopped celery, carrot, and garlic together and mince them into small pieces. And chop the onions separately to avoid over blending.
Mix the filling
Mix the filling ingredients in a circular motion using a spatula, until the meat feels sticky, so it binds together well. This makes the wrapping easier as the meat filling sticks together.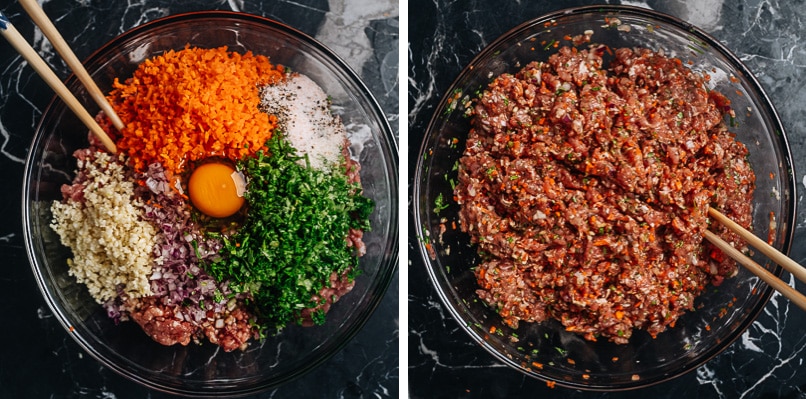 Prepare the wrapping station
You will need a flat surface to wrap the lumpia, a beaten egg to seal the wrappers, the filling, a tray for the wrapped lumpia, and a plate for the wrappers. I usually cover the wrappers with a few wet paper towels to prevent them from drying out.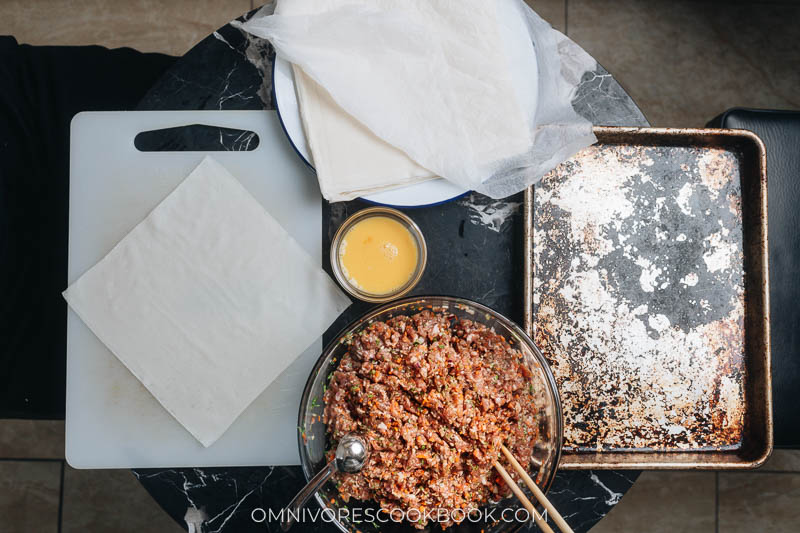 Wrap and cook Lumpia Shanghai
Place 1 tablespoon of filling onto the lower part of the wrapper
Fold the bottom edge over the filling
Fold both sides of the wrapper
Roll the filing over and tuck in the folded edges
Roll the filling to the top and add a drop of egg wash to the top edge so you can seal the roll
Place the uncooked lumpia in a zip lock bag and freeze if not using immediately
To cook lumpia, deep fry them until golden brown
Serve with the sweet and sour dipping sauce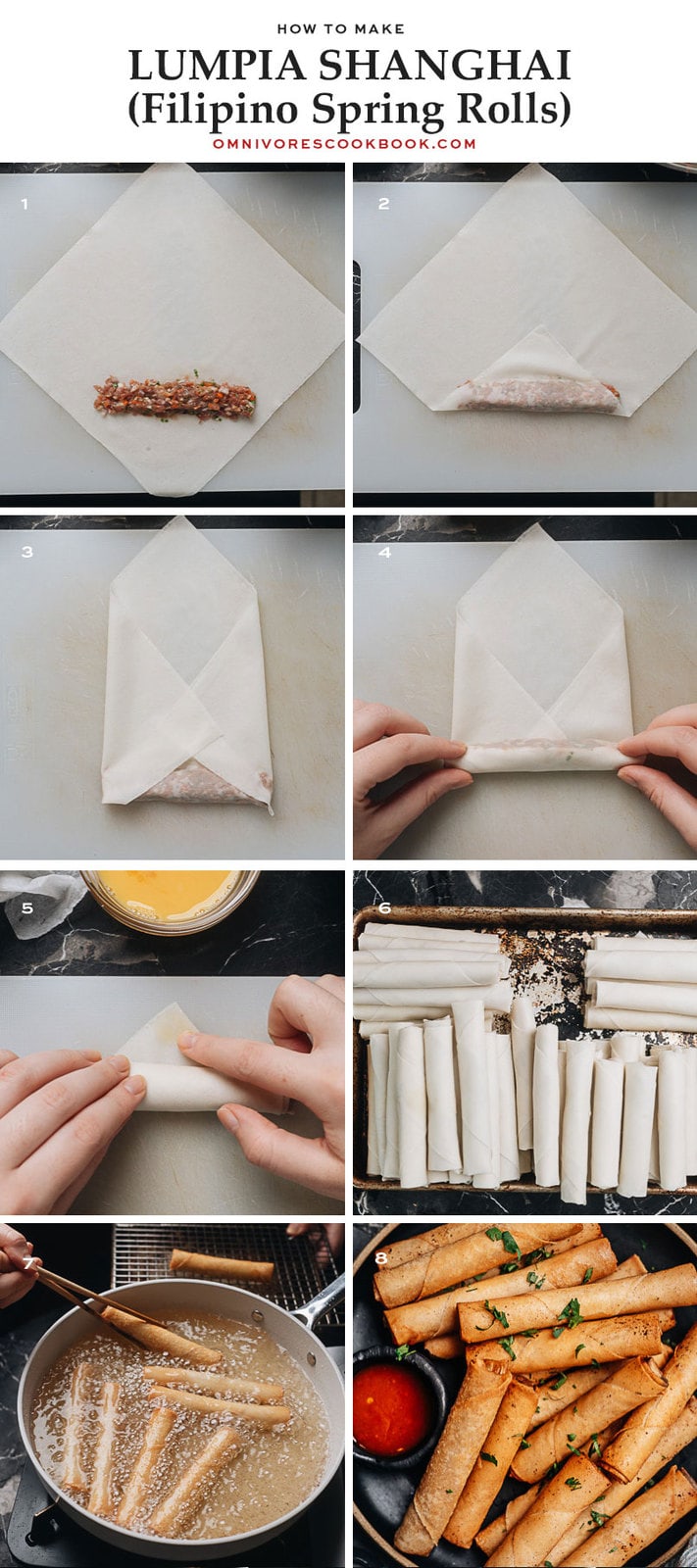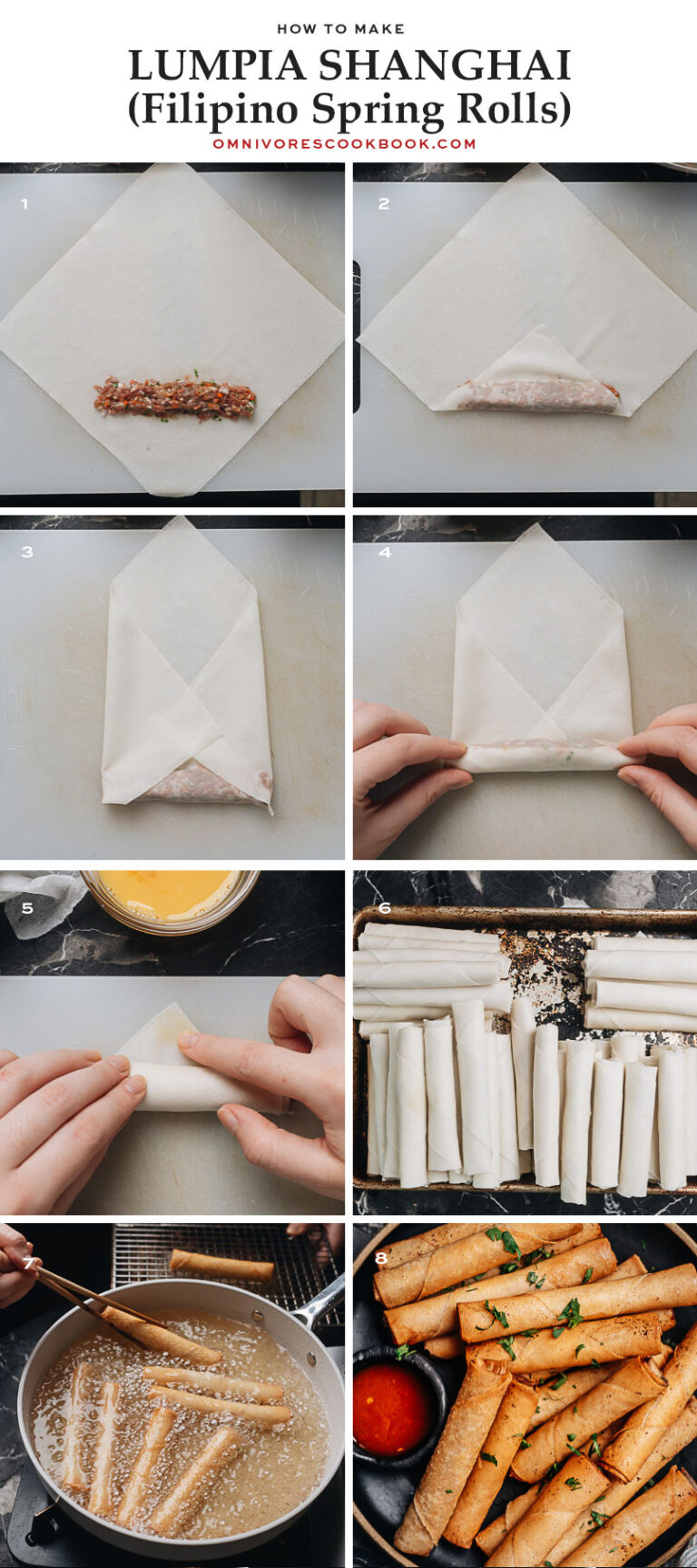 While it does take time to make Lumpia Shanghai, it is so much fun and so easy, too. Wrap it with the kids, your partner, or your favorite people and enjoy your time. I recommend making a big batch ahead of time so you can freeze the uncooked spring rolls. This makes them instant-access for when that craving strikes or if anyone drops by.
Cook Lumpia in an Air Fryer
Some of you may want to try out your air fryer to cook Lumpia Shanghai, though I must tell you the crust will be tougher, and the filling will be drier. Unlike deep frying, which puffs up the layers of the wrapper to make a crispy texture, the air fryer will only char the outer layer and the inside will stick together.
Should you have only an air fryer to work with, I highly recommend that you spray the spring roll wrappers with plenty of oil on both sides prior to wrapping, to help them crisp up better.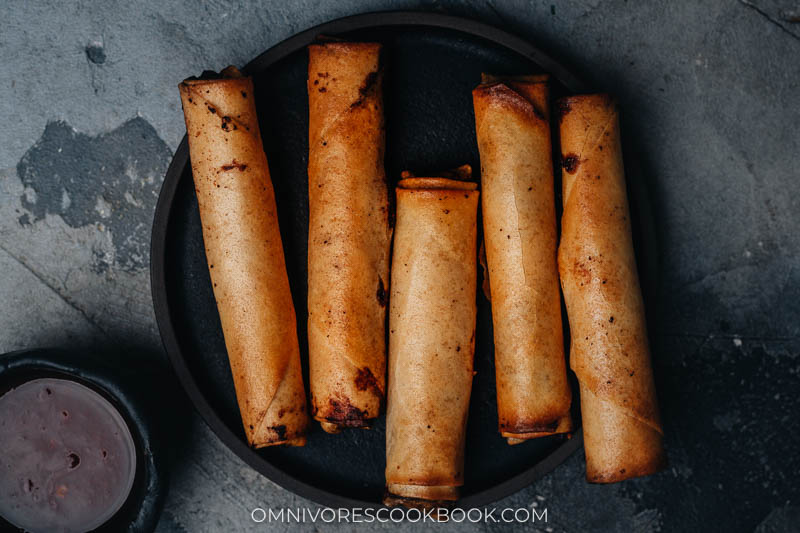 Afterthoughts
When you make Lumpia Shanghai with pork, you can transport your spirit and taste buds to your family during the holidays even if you can't be with them. Wishing you and your loved ones a beautiful, safe, and healthy holiday season!
Want to learn more about Chinese Cooking? Sign up my newsletter to receive the 5-Day Chinese Cooking Crash Course and recipe update!
Want to Know More?
Receive our 5-Day Chinese Cooking Crash Course & Recipe Updates! Subscribe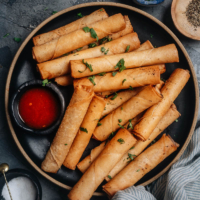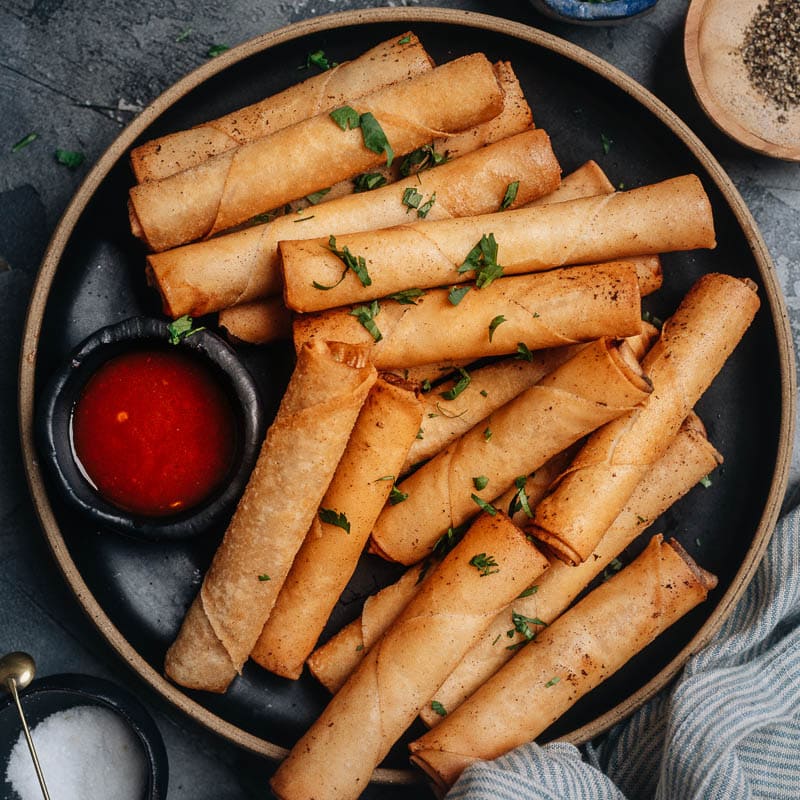 Lumpia Shanghai (Filipino Spring Rolls)
Lumpia Shanghai is a perfect appetizer and finger food for parties and festive dinners. These super crispy and crunchy egg rolls are packed with pork, carrots, celery, and onions and come with a sweet yet spicy dipping sauce that will have everyone sopping up every last morsel!
Servings:
12
servings (50 lumpia)
Ingredients
Filling
1 1/2

lbs (680 g)

ground pork

(*Footnote 1)

3/4

cup

carrot

, minced (about 1 carrot)

3/4

cup

onion

, minced (about 1/2 red onion)

1/2

cup

Chinese celery

, minced (about 3 stalks)

6

cloves

garlic

, minced

1

egg

2

tablespoons

soy sauce

1

teaspoon

salt

1 1/2

teaspoon

black pepper

1/2

teaspoon

sugar
Wrapping
2

packs (50 pieces)

total lumpia wrappers

(or spring roll wrappers)

1

egg

, beaten, for egg wash

Oil for frying
Sweet and Sour Sauce
1

tablespoon

ketchup

1 1/2

tablespoons

hot sauce of your choice

(I like to use Sriracha)

1

teaspoon

rice vinegar

2

tablespoons

sugar

1/2

teaspoon

chili flakes

1/2

teaspoon

cornstarch

1/4

cup

water
Instructions
Make the filling
Combine the filling ingredients in a big bowl. Use a spatula to mix it in a circular motion, until everything comes together and the pork feels elastic. It might take a few minutes to get this consistency.
Assemble
Place the lumpia wrappers on a plate and cover with a damp towel to prevent from drying out.

Take a wrapper and lay it in front of you with the pointed edge facing up. (*Footnote 2) Take a heaping tablespoon of filling and place it a few inches from the corner closest to you. Shape the filling into a 4 to 5″ (10 to 12 cm) strip. Fold the bottom corner over the filling, then fold the two side corners. Roll the filling parcel up so the folded edges are tucked in. Gently use your finger to press out any air bubbles and make sure the filling is sealed in tightly. Continue rolling up the filling until just before it is completely sealed. Dab the upper corner with a small amount of egg wash with your finger, then fold the filling over to finish wrapping the lumpia. Set aside. Repeat with the remaining filling and wrappers.
Storage
Once you wrap the lumpia, you can store them uncooked in a large Ziplock bag with as much air squeezed out as possible, for up to 3 months in the freezer.

To cook the frozen lumpia, cook them according to the instructions below without thawing. The cooking time will take slightly longer.
Cook (*Footnote 3)
Add the oil to a medium deep pan or pot so that it comes about 1″ (2.5cm) up. Heat over medium-high heat until it reaches 350°F (176°C).

Gently lower a few lumpia into the pan so they do not crowd the pan. Cook, flipping with a pair of tongs occasionally, until all sides turn golden brown, about 4 minutes total. Once the lumpia are cooked, transfer to a big plate or a tray topped with a wire rack to cool.

Combine all the sauce ingredients in a small pot. Bring to a gentle boil over medium heat. Stir constantly, until the sauce is thickened enough to coat the back of a spoon. Pour into a serving dish.

Serve the lumpia with the dipping sauce as an appetizer.

You can store the cooked lumpia as well and warm them up in a 400°F (200°C) oven until warmed through. The leftovers will be slightly chewy but still crispy.
Notes
Although you can use any type of ground pork, if you want a juicier and tenderer filling, you should use ground pork that contains a higher percentage of fat such as 30%.
If you plan to use an air fryer to cook the lumpia, spray a generous amount of oil to both sides of the wrappers before wrapping.
If cooking in an air fryer, set the temperature at 390°F (198°C) for 10 minutes, add the lumpia without overlapping, cook for 8 minutes per side.
Nutrition
Serving:
1
serving
,
Calories:
95
kcal
,
Carbohydrates:
14.2
g
,
Protein:
4.8
g
,
Fat:
1.7
g
,
Saturated Fat:
0.3
g
,
Cholesterol:
13
mg
,
Sodium:
270
mg
,
Potassium:
73
mg
,
Fiber:
0.1
g
,
Sugar:
1.2
g
,
Calcium:
14
mg
If you give this recipe a try, let us know! Leave a comment, rate it (once you've tried it), and take a picture and tag it @omnivorescookbook on Instagram! I'd love to see what you come up with.
More delicious party food