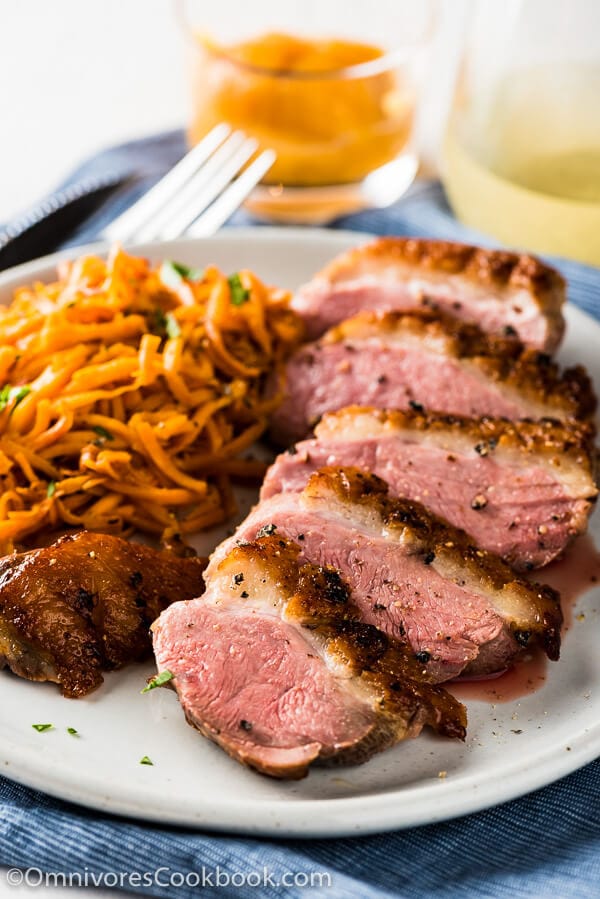 Pan searing a duck breast is the quickest and easiest way to enjoy this delightful bird. In this recipe, the duck is marinated briefly in a soy-sauce-based liquid to infuse a succulent umami. It is cooked until the skin is perfectly crisped, yet the meat remains a juicy medium rare – it's as if you have bacon and steak in a single cut of meat. It is served with a bright, fruity puree of persimmon and grapefruit. With this combination you can create a luxurious fine dining experience in just 30 minutes.
If you haven't put pan fried duck breast on your regular recipe rotation, you should, now.
Growing up, I ate quite a number of duck dishes, most of them braised or stir fried. Back in China, the only two cuts I could find in supermarkets were bone-in duck legs and half-ducks. Plus, the quality of these cuts was just so-so. If they weren't slow cooked, nine out of ten ducks would end up tough and dry. I believed that roasting the bird whole was an absolute necessity, because, all other things being equal, it yields a tenderer and juicier texture with more flavorful meat. That's why I considered spending four hours to slow cook a duck to be totally worth the time.
The only perfectly cooked duck breast I'd ever had was in Paris, three years ago. I ordered duck breast at a small bistro for lunch, and it was served rare. It was closer to a steak than poultry. The flesh had a very red color and blood oozed out as I sliced it. It was the first time in my life eating rare meat, and MAN, was it GOOD! I believe it was the chef's decision to make the dish perfect by serving it practically raw, and I appreciate the chef making that call for me. My philosophy on cooking duck was turned completely upside down.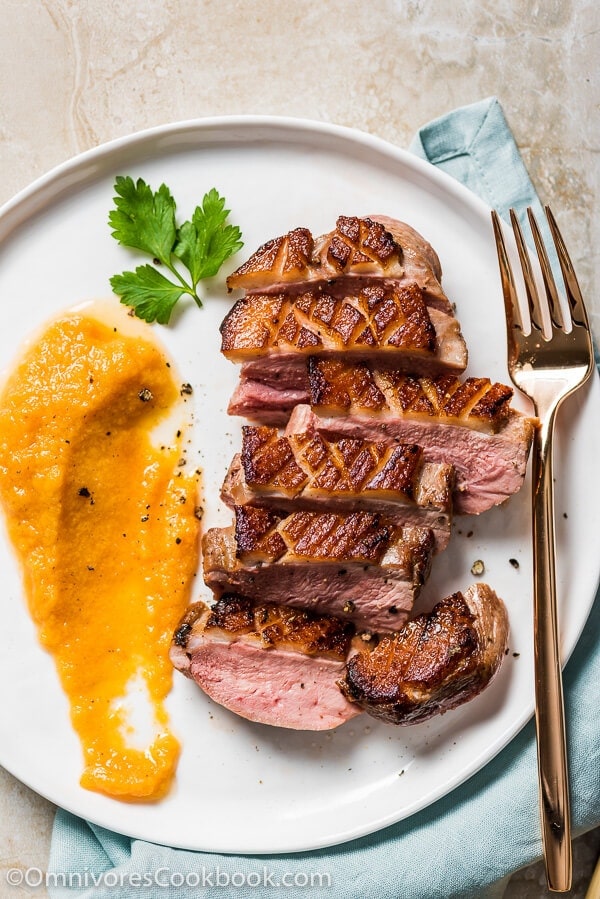 I thought back on this transformative experience as I planned how I'd cook this Rohan Duck Breast
from D'artagnan. I simply seared it over low heat on the stovetop until the skin was perfectly browned and the meat had reached medium rare. That's it!
When I heard the clear, crisp crack, the moment the knife sliced into the skin (just like when breaking a perfectly crisped slice of bacon), I knew I had done the right thing. When the knife went a bit further, I could see the juice seeping out from the lovely pink-hued meat. The first bite of duck? It transported me back three years and east 5000 miles, to the duck breast I'd had in Paris. The best one I ever had.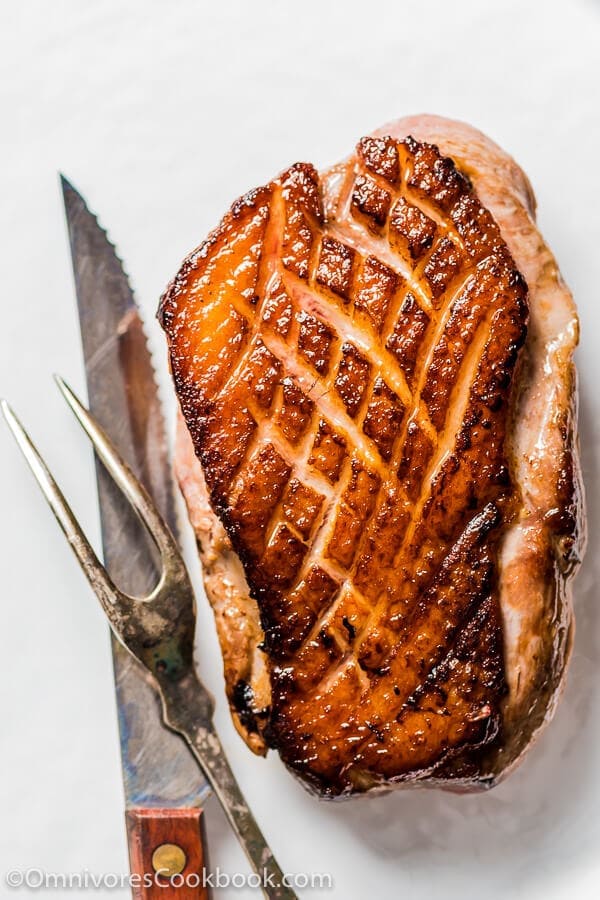 Just like with steak, when you choose the right cut of duck, the job is already halfway done. Basically, you don't even need any seasoning other than salt and pepper, to make a wonderful main dish.
On the other hand, I was tempted to try something new, to make the meal even better. I cooked these duck breasts in two batches. The first batch I simply seasoned with salt and pepper, like I'd season a steak before grilling. The second time, I concocted a marinade, one we often use in Chinese cooking, to add a bit of seasoning to the meat with a very brief marinating session.
I have to say that I loved them both. The marinated one turned out a bit less gamey, with the meat a bit more moist and the saltiness dispersed more evenly.
I cooked a sauce of persimmon and grapefruit (inspired by the persimmon glazed duck recipe by Emeril Lagasse from the Food Network). These two fruits are both in peak season now and the their flavor went wonderfully with the duck.
While you don't need to make a sauce at all, to enjoy this magnificent duck, when I dipped the duck into the sauce and had a small bite, it reminded me of foie gras. How amazing is that?
One more word about food safety
The official word from the USDA is that duck breast should be cooked to at least 160°F and preferably to 170°F, which will almost certainly result in an overcooked and dry piece of meat (unless you're fluent in confit or sous vide). But is it safe to eat duck when it's still pink inside? The short answer is, if it's free-range organic, the chance that you'll get sick from eating raw duck is much slimmer than if eating raw chicken. Rare duck meat is considered safe to eat because it does NOT involve the same risk of bacterial infection chicken does.
Should you serve your duck the hundred-percent-safe way or the right way? The decision is totally up to you. As for me, I'll always choose the latter.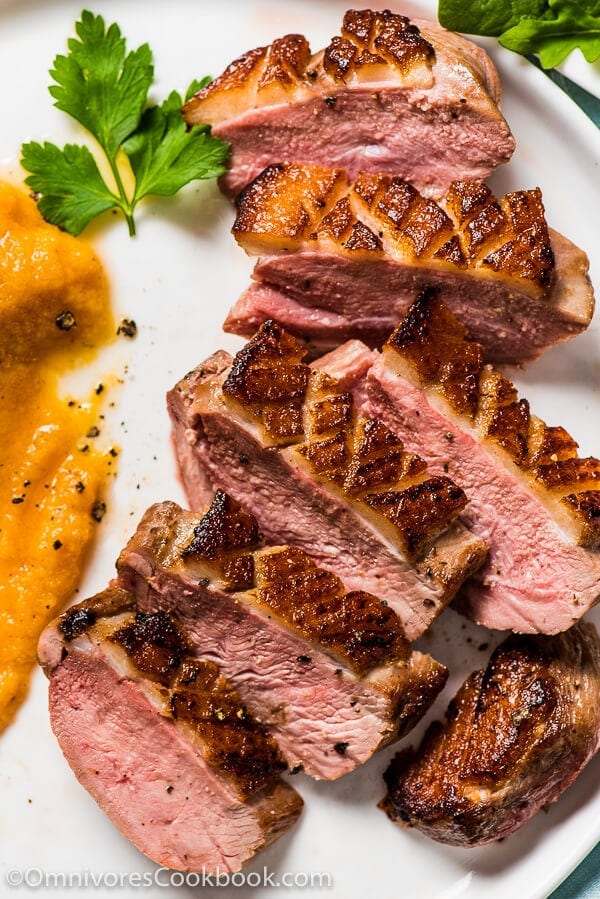 Do you like my recipes? Sign up for Omnivore's Cookbook's weekly newsletter to get the latest updates delivered to your inbox and a free e-cookbook! And stay connected via Facebook and Instagram. Thanks for reading and happy cooking!

Pan Seared Duck Breast with Persimmon Grapefruit Sauce
Ingredients
Marinade
Sauce
1/2 cup diced persimmon
1/2 cup freshly squeezed grapefruit juice
2 tablespoons sugar
1 tablespoon minced shallot
Freshly grated black pepper
Instructions
Score the skin side of the duck breast in a 1/2-inch (1 cm) crosshatch pattern with a sharp knife. Be careful not to cut into the duck flesh. You should cut almost completely through the skin, leaving a very thin layer of it intact.
Combine Japanese sake, light soy sauce, Sichuan peppercorn, and salt in a large bowl. Stir to mix well. Add duck breast. Gently rub both sides with the marinade. Place half of the Sichuan peppercorns and one piece of ginger on the lean side of each duck breast and return the duck to the marinade, skin side down. Let marinate for 1 to 2 hours.

Combine persimmon, grapefruit juice, sugar, and shallot in a deep cup. Mix with an immersion blender until it forms a consistent slurry.

Transfer duck breasts to a plate and discard the marinade (including the dry ingredients). Dry with a paper towel.
Place duck breasts into a heavy nonstick skillet, skin side down. Turn on medium low heat.

When the duck start to sizzle, press gently with a spatula so that the skin is seared evenly. Press until the skin is set. Continue cooking until the skin renders extra fat and turns golden brown. Flip to cook the other side until the meat reaches the desired doneness. A thermometer inserted to the thickest part should read 135 F (58 C) for medium rare, 145 F (62 C) for medium, or 150 F (65 C) for medium-well. The whole cooking process usually takes 15 to 20 minutes. Immediately transfer duck breasts to a serving plate, skin side up. Cover loosely with aluminum foil. Let rest for 10 minutes. (*see footnote 1)

While resting the duck, transfer the persimmon puree to a small saucepan. Turn on medium heat. Stir occasionally. Cook until it reduces by half or reaches desired thickness. Remove from heat. Serve the sauce alongside the duck breast.

Serve immediately.
Notes
You can use the rendered duck fat to cook a quick side dish, such as sauteed potato slices or vegetables. The simplest sautee will taste phenomenal when made with duck fat. When I was serving the dish, I julienned a sweet potato and used the duck fat and a bit of butter to cook the the sweet potato over medium high heat until charred and crispy (like hash browns). Seasoned it with salt and pepper and garnished with a bit of parsley. It worked like magic.
The nutrition facts are calculated based on 1 of the 2 servings generated by this recipe.