This is a sponsored post I have written on behalf of Tyson Foods, Inc. All opinions are entirely my own.
Crispy bacon, hearty noodles soaked in a rich sauce, sweet and tender cabbage, and caramelized onion make this quick one-bowl meal irresistible!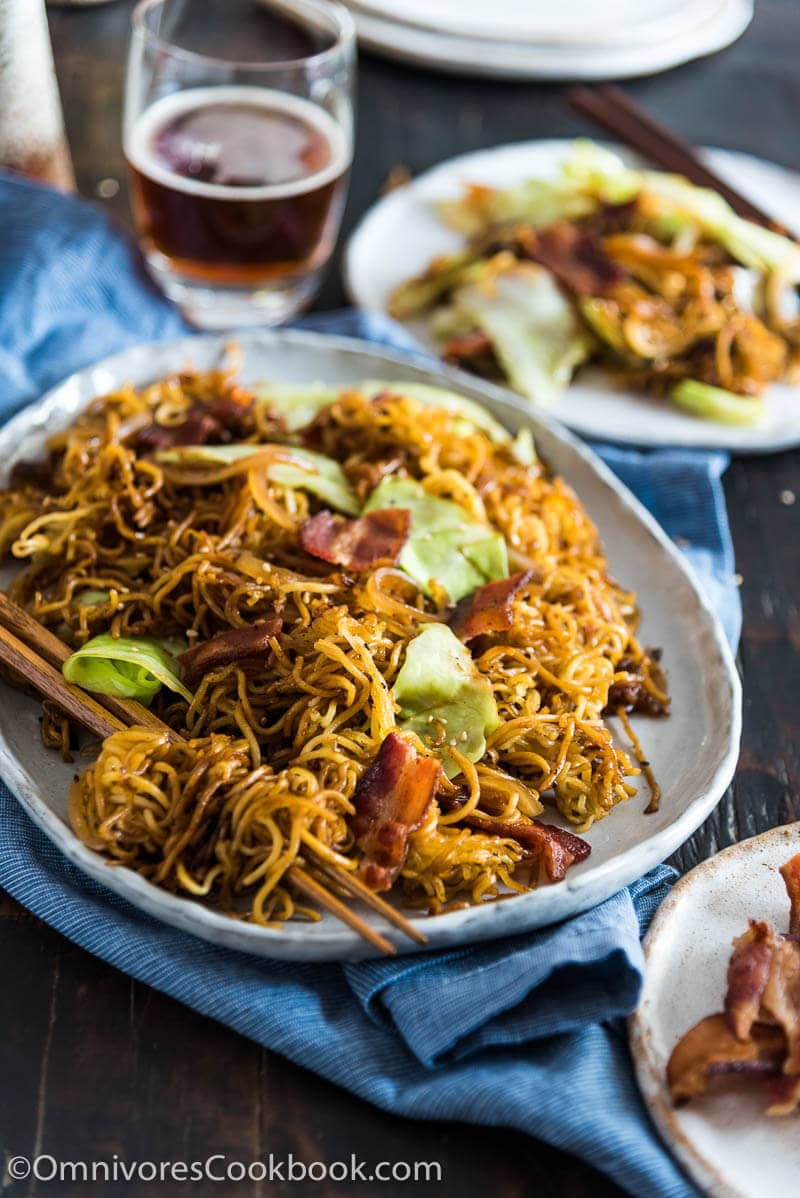 Finding ingredients is the biggest challenge for most of my readers when it comes to Chinese cooking (except for those lucky few who live in New York or in big cities on the West Coast). I feel the same way. Austin is not a small city, but getting fresh and authentic Chinese ingredients isn't easy. It makes me a little sad to say this, but shopping at our local Asian market had been a depressing experience for me. Compared to the vibrant produce and organized shelves in other local supermarkets, our Asian market is full of chaos, withered vegetables, and not-so-fresh meat.
In such an environment, crafting authentic Chinese flavors using common ingredients that I can find in "normal" supermarkets has become second nature. I am constantly trying out different combinations of sauce and cooking technique, so I can help people who do not have a local Asian market, a wok, or a gas stove, to create great dishes that are even better than Chinese takeout.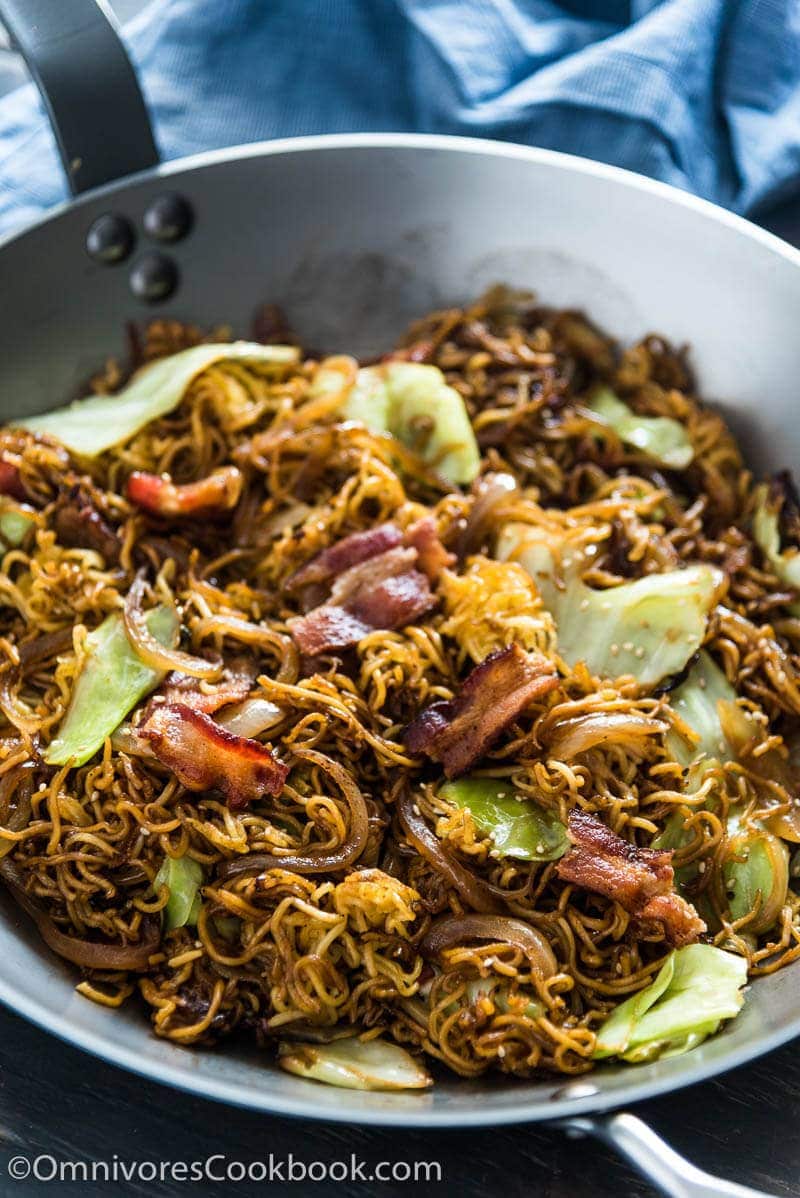 Today I'm happy to share a fried noodle recipe I just developed. You can get all the ingredients at Walmart and cook it in a normal skillet on an electric stove. The finished noodles will surprise you. And you'll learn how easy it is to create perfectly crispy noodles that are extra rich in flavor, with the equipment in your kitchen.
Ready to start? Here we go.
The secrets to perfect pan fried noodles
Egg noodles v.s. spaghetti
Choose egg noodles for this dish. If you go to an Asian market, you can find yellow-colored dried noodles called "Chinese noodles", "Egg noodles", or "Hong Kong style noodles". If you cannot get any of these, regular spaghetti works just as well. I used spaghetti in my char siu lo mein recipe and the dish turned out great.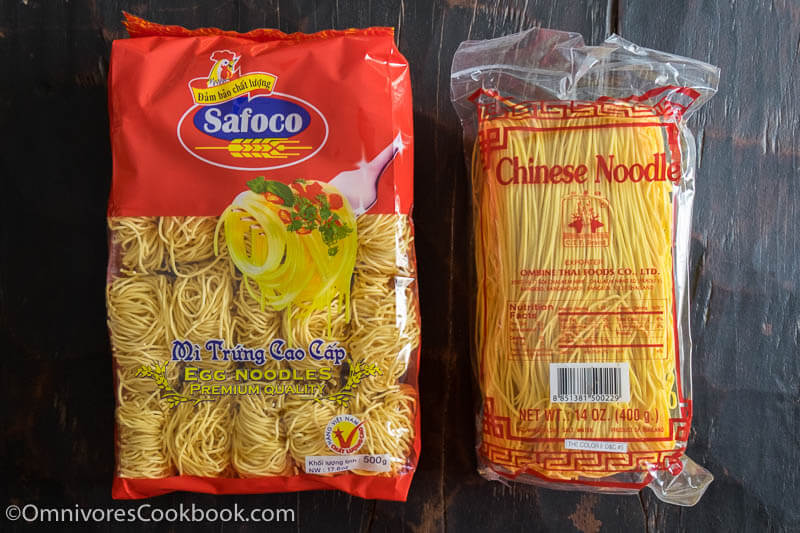 Bacon sets the foundation for success
Some of the best Chinese noodle dishes I've ever had were cooked with lard. To create an extra flavorful dish, Chinese chefs marinate pork belly and cook it in a wok to render the extra oil. The pork belly and the grease become the foundation of the dish, and impart a rich and smoky flavor to the noodles that are stir-fried in the wok.
You can achieve the same goal with bacon, and get even better results.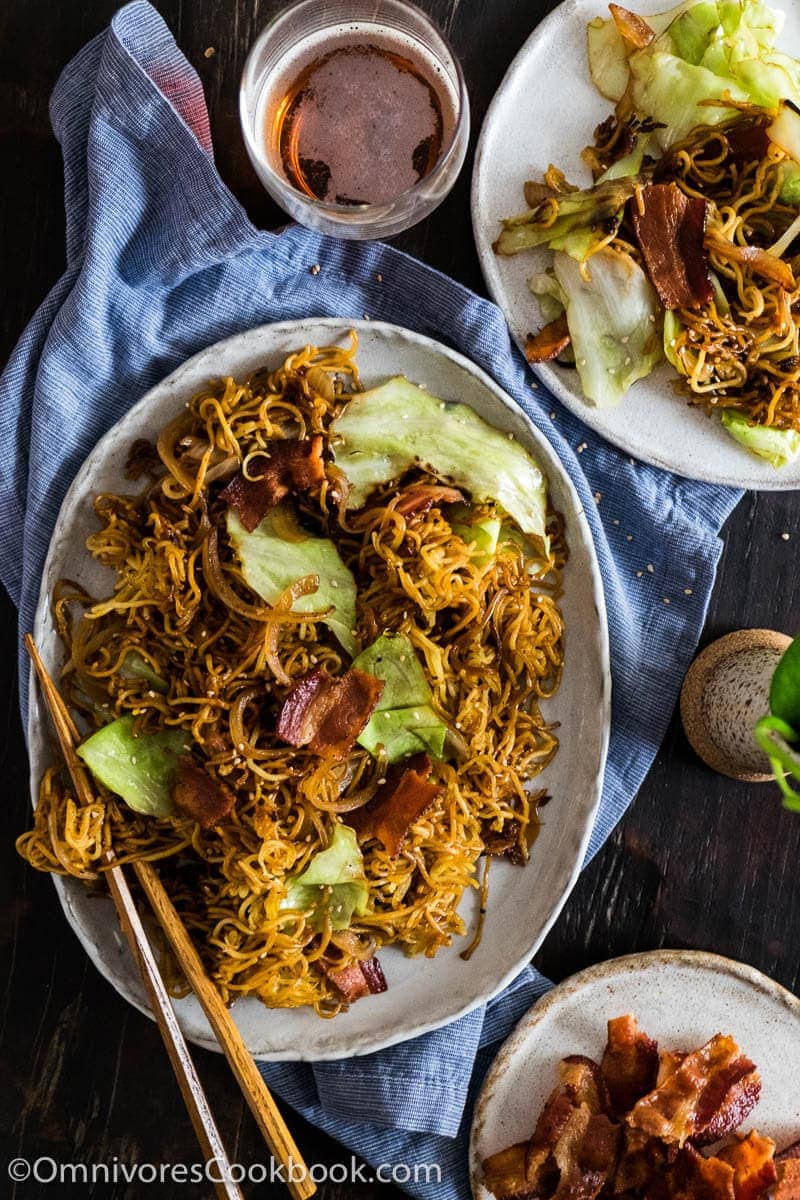 In this recipe, I used Jimmy Dean® Applewood Smoked Bacon. It's a premium bacon that you can find at Walmart. It has a heavenly smokiness and crisps up very well. Here we cook the bacon in a flat skillet at low heat, just like you'd cook bacon for breakfast. We only need 5 pieces for the recipe, but I always cook more because half the pieces are mysteriously gone before I have a chance to add them into the fried noodles!
Instead of throwing away the bacon grease, we reserve a tiny bit to add back into the noodles. Then we mix the crispy bacon back into the stir-fry at the end. A small amount of bacon fat goes a long way. You'll get the same rich and smoky noodles that you would if you were cooking in a proper wok.
Right now Jimmy Dean is offering a $1 off coupon for both their applewood and hickory smoked bacons. Click HERE to grab the coupon!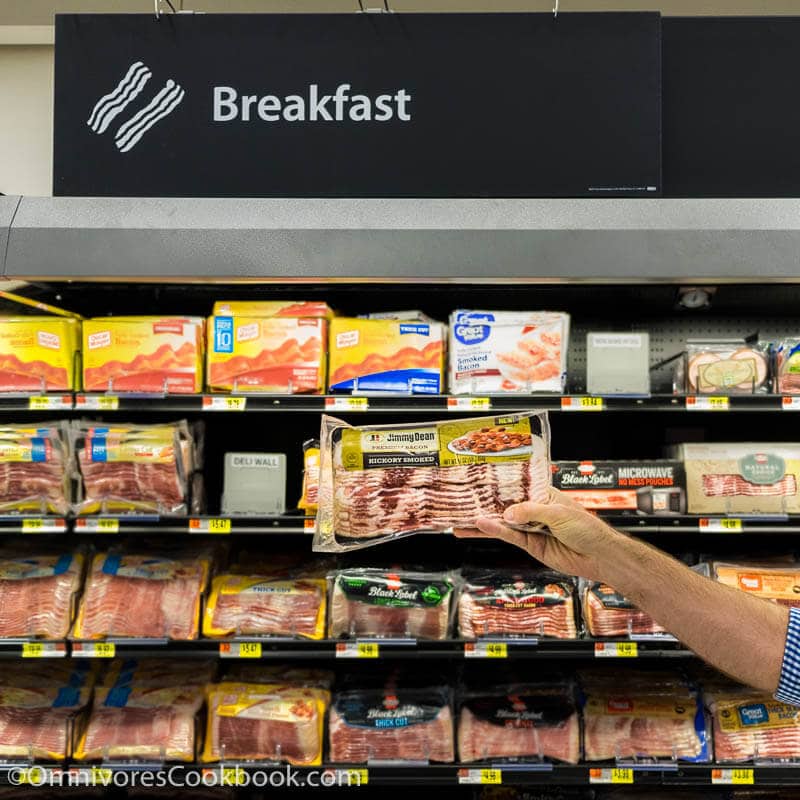 Great sauce made easy
Since the bacon and the bacon grease build the foundation of the flavor, we need just a simple sauce to go with it. I used dark soy sauce just to impart a darker color to the noodles. You can use normal soy sauce as well, without any problem.
Dry sherry is the best alternative to the recommended Shaoxing wine. Some Walmart stores carry dry sherry (depending where you are) and you can use the website to locate a store with it. If your nearby store does not carry it, simply replace it with chicken stock.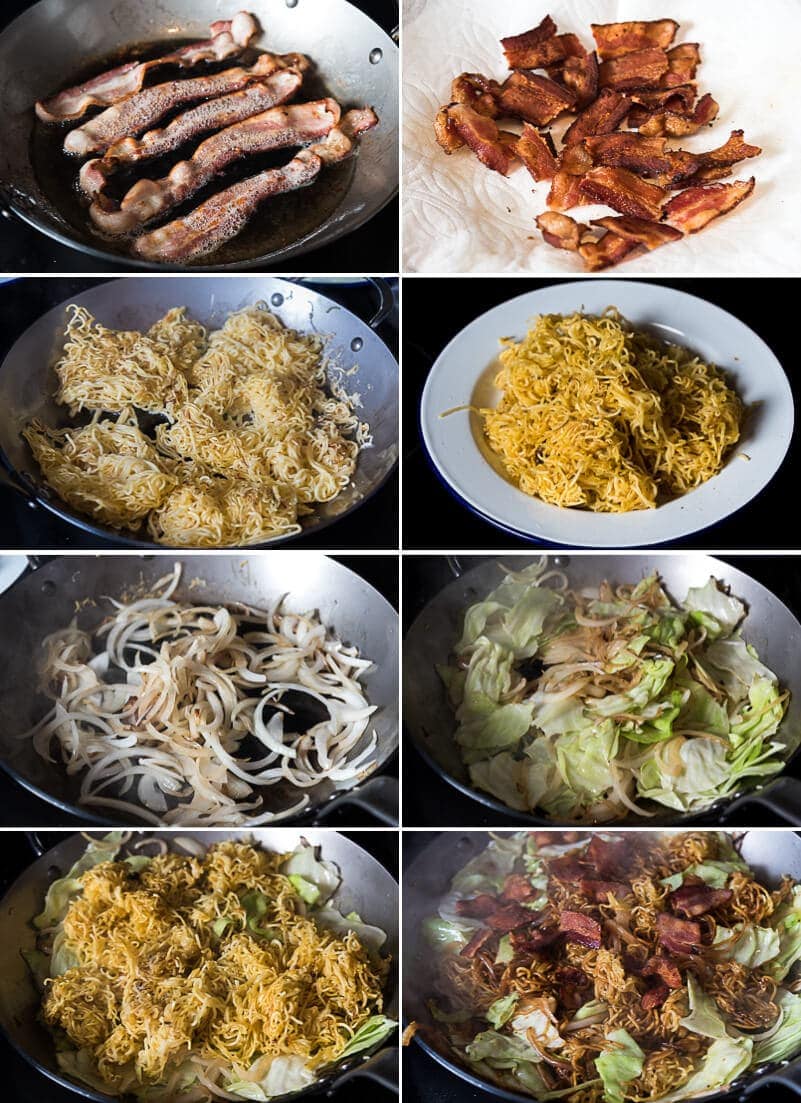 No wok? No worries!
A large skillet is all you need in order to cook the best pan fried noodles. Here is a trick to get extra crispy and perfectly charred noodles without a wok: before making the stir fry, take an extra step to pan fry the noodles with a bit of oil. This process allows the noodles to dehydrate a bit and crisp up. When you add the sauce during the final step, you simply need to toss the noodles a few times with a pair of tongs, to get perfectly seasoned noodles with the desired texture.
Either a stainless steel, carbon steel, or a nonstick skillet will work. A nonstick skillet requires less oil. The other two types of skillets require a bit more oil to prevent the noodles from sticking to the pan, but they also crisp the noodles better.
See? You can get everything you need to create this scrumptious noodle dish with the equipment you already have in your kitchen and one trip to Walmart.
I learned the technique to create the crispy noodles from the Cantonese soy sauce pan fried noodles from the Woks of Life. The blog is run by a Chinese family of four and they post very authentic Chinese recipes. Definitely check out their website if you're into Chinese cooking.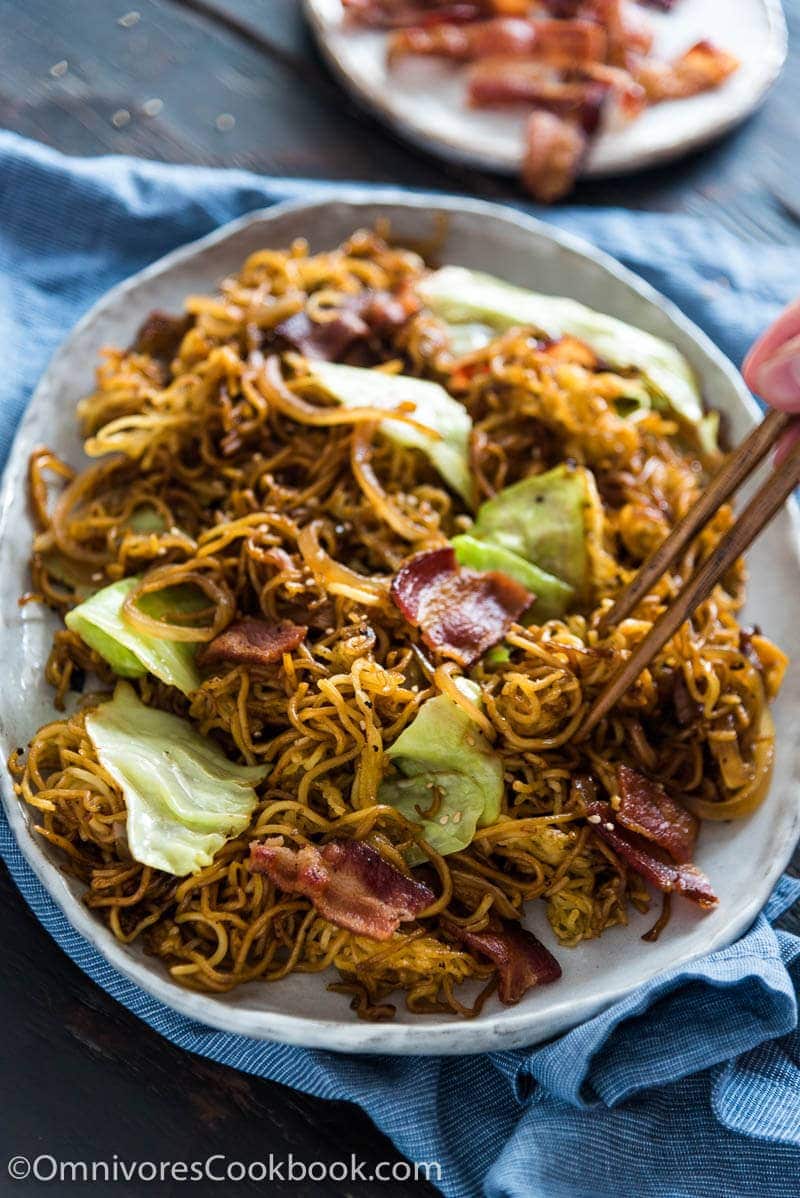 For more quick and delicious noodle recipes, check out my 15-minute fried noodles, Char Siu pork lo mein, soy sauce noodle soup, and authentic sesame noodles.
Happy cooking!
Want to Know More?
Receive our 5-Day Chinese Cooking Crash Course & Recipe Updates! Subscribe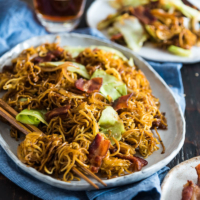 Bacon Pan Fried Noodles
Crispy bacon, hearty noodles soaked in a rich sauce, sweet and tender cabbage, and caramelized onion make this quick one-bowl meal irresistible!
Ingredients
5

ounces (140 grams)

dried egg noodles

(or spaghetti), enough to generate about 3 cups cooked noodles
Sauce
2

teaspoons

soy sauce

(*footnote 1)

2

teaspoons

soy sauce

1

tablespoon

Shaoxing wine

(or dry sherry, or chicken stock)

1/2

teaspoon

sesame oil

(Optional) (*footnote 2)

1

teaspoon

sugar

1/4

teaspoon

freshly ground black pepper
Stir fry
3

tablespoons

peanut oil

(or vegetable oil)

5

slices

Jimmy Dean® Applewood Smoked Bacon

1/2

white onion

, sliced

4

to 5 pieces

cabbage leaves
Instructions
Bring a pot of water to a boil. Cook the noodles according to the instructions, until al dente. Rinse with tap water to stop cooking. Drain and set aside.

Heat a teaspoon of oil in a 12-inch skillet (*footnote 3) over medium heat and spread bacon slices. Cook until the extra grease renders and the bacon turns crispy. Flip occasionally. Transfer bacon onto a plate. Let cool before tearing into bite sized pieces. Transfer the bacon grease into a bowl and save for later. Wipe the skillet with a paper towel to remove the brown bits and return the skillet to the stove.

While boiling the noodles and cooking the bacon, cut the vegetables. Whisk every ingredient for the sauce in a small bowl and set aside.

When the noodles and the bacon are ready, add 1 tablespoon of oil to the same skillet and turn to medium high heat. When the oil is hot, spread the noodles across the skillet. Use a pair of tongs to gently shake the noodles, so that they're evenly coated with oil. Cook for 3 to 5 minutes, until the bottom side turns golden and crispy. Flip the noodles to cook the other side. Swirl in 1 tablespoon of oil along the edge of the pan. Swirl the pan and agitate the noodles with the tongs so that the bottom side coats with oil again. Cook until crispy, 2 to 3 minutes. If the skillet starts to smoke, turn to medium heat. Transfer noodles to a plate. Break up and separate noodles with a fork and a pair of tongs.

Add 1 tablespoon of the reserved bacon grease to the skillet for more delicious results (highly recommended). Alternatively, add 1 tablespoon vegetable oil.

Add onion. Cook and stir until softened. Add cabbage. Stir and cook until the cabbage just starts to turn tender and is lightly charred. Add noodles back. Swirl in the sauce. Toss the noodles immediately with a pair of tongs. Add bacon. Continue tossing until the noodles are coated evenly with the sauce.

Transfer to a plate and serve immediately.
Notes
You can use 1 and 1/2 tablespoons of regular soy sauce to replace the light-dark soy sauce combo. The finished dish will have a lighter color, but it won't affect the flavor.
If you're not planning to use bacon grease, adding sesame oil will boost the flavor of the dish. However, it is optional.
You can use a large skillet from beginning to end. Either a stainless steel pan, carbon steel pan, or nonstick pan will work. You can use less oil to crisp up the noodles if using a nonstick pan. However, a stainless pan or a carbon steel pan will give the ingredients a better char.
Nutrition
Serving:
192
g
,
Calories:
417
kcal
,
Carbohydrates:
25.5
g
,
Protein:
11.6
g
,
Fat:
29.7
g
,
Saturated Fat:
6.3
g
,
Cholesterol:
41
mg
,
Sodium:
1048
mg
,
Potassium:
264
mg
,
Fiber:
2.4
g
,
Sugar:
4.8
g
,
Vitamin A:
50
IU
,
Vitamin C:
20.6
mg
,
Calcium:
30
mg
,
Iron:
1.1
mg
If you cooked this recipe, don't forget to share your picture, and tag #JimmyDeanBacon and #OmnivoresCookbook on Instagram! We'd love to see your work!
.
.