Turn your leftover Easter ham into a Vietnamese favorite with this fast, flavorful ham banh mi sandwich you'll want for lunch every day! A quick pickle recipe is included so you can recreate that authentic taste in your own kitchen.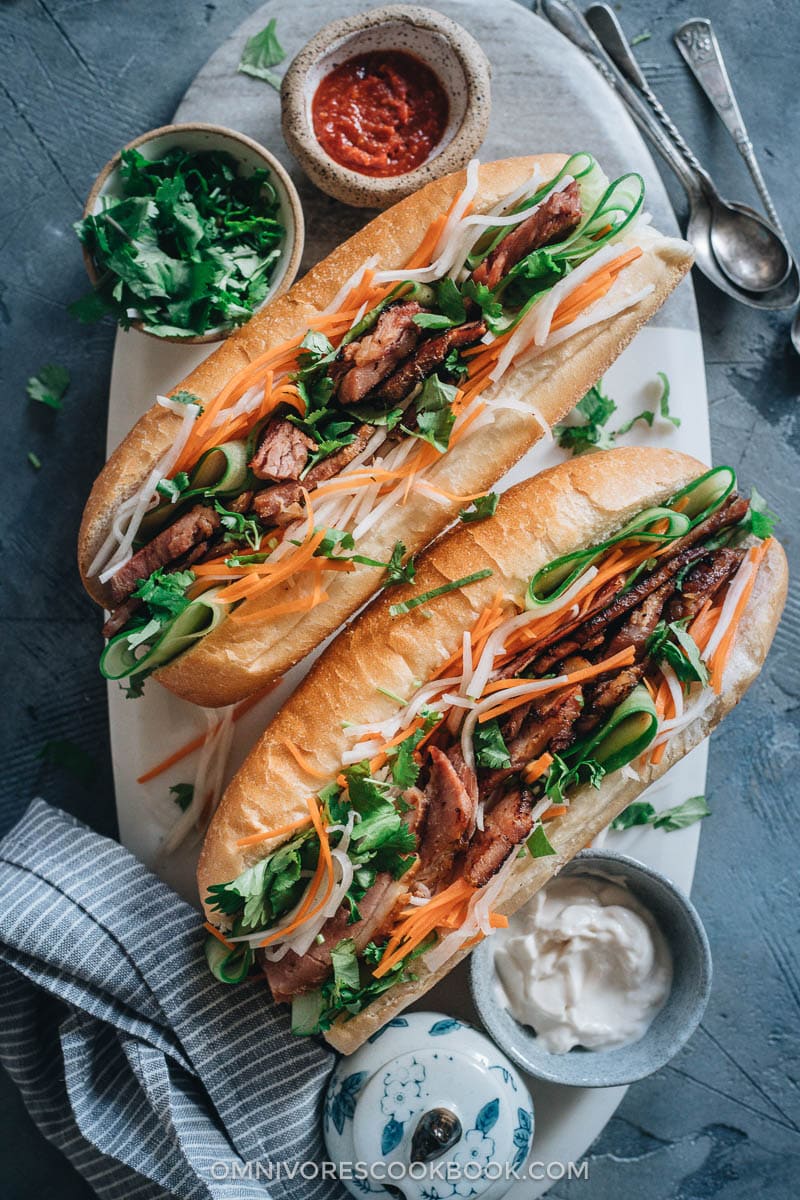 With Easter coming up, many families plan on having ham as the centerpiece of the big Easter meal. I love having ham for the holiday, but a day or two after, everyone seems a little bored by the prospect of yet another ham sandwich fashioned out of the leftovers.
No matter how delicious your Easter ham is, changing up your leftover ham recipe roster will get everyone excited about eating it again. You can use that ham in ramen and fried rice, but I think my new favorite thing is a ham banh mi.
Banh mi is a Vietnamese sandwich which uses a special type of baguette bread stuffed with really colorful and crunchy pickled vegetables and various meat. If you've never had one before, you've been missing out!
What bread to use
Compared to regular baguettes, banh mi bread is fatter and shorter, with a tender and airy center and a thin crust. You might be able to find them in an Asian market, especially one that caters to a Vietamese clientele. When I made this recipe, my husband went to a neighborhood Vietnamese restaurant to ask about it. Thankfully, they sold him some bread!
If you cannot find the banh mi bread, you can totally use other types of bread as well. Try to find bread that is soft, with a thin crust, and maybe slightly sweet. For example, dinner rolls, Asian milk bread, sliced sandwich bread, ciabatta bread, and slider buns are good options. You can also toast the buns before using, so they have a crispy texture.
Quick pickle
My ham banh mi recipe will show you how to pickle your own vegetables so you get that authentic tasting citrusy sweetness with a crispy texture. Using daikon radish and carrots, which have numerous health benefits, pickling the vegetables takes only 30 minutes.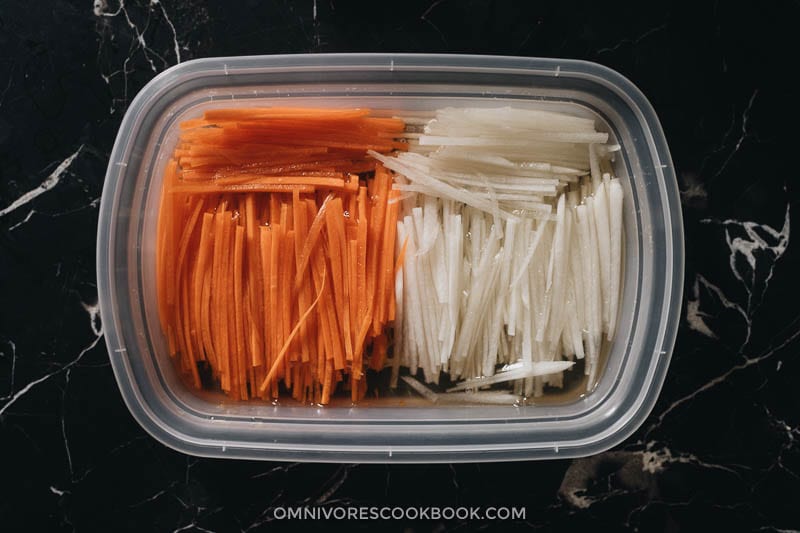 TIP: I prefer to slice the veggies instead of using a mandoline, for a crunchier texture. First, I slice the daikon into thin pieces, then overlap the slices partially, then cut them into strips. Of course, you can always use a mandoline to slice your veggies if that's easier.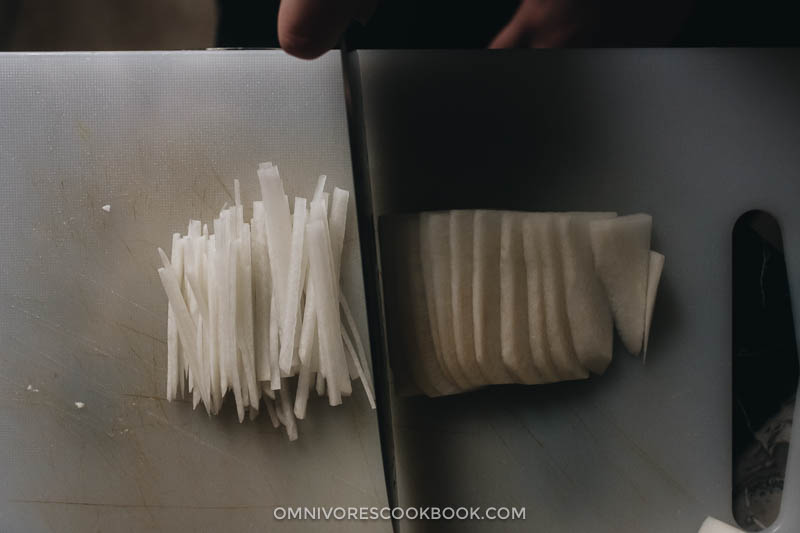 Banh Mi ingredients
While pickling the veggies, you can prepare the rest of the ham banh mi ingredients. I prefer to brown the leftover ham slices with a bit of oil, to create a crispy result.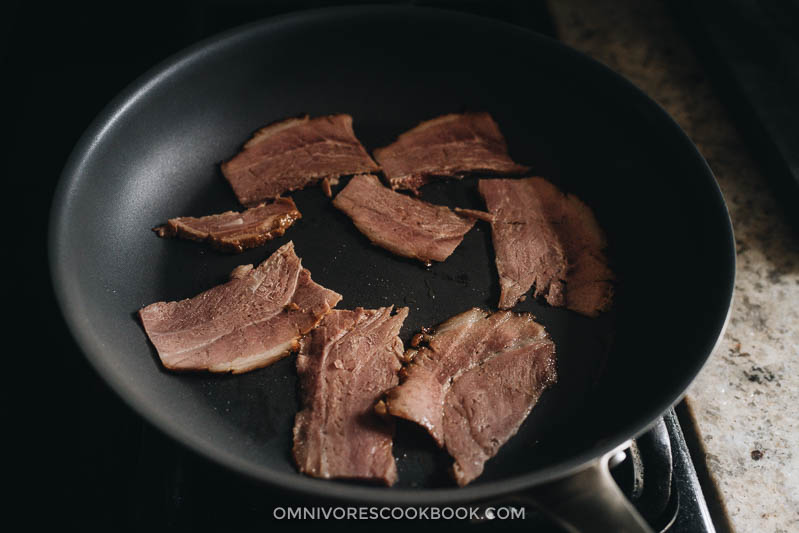 For the cucumber, I use a peeler to slice it into paper-thin pieces.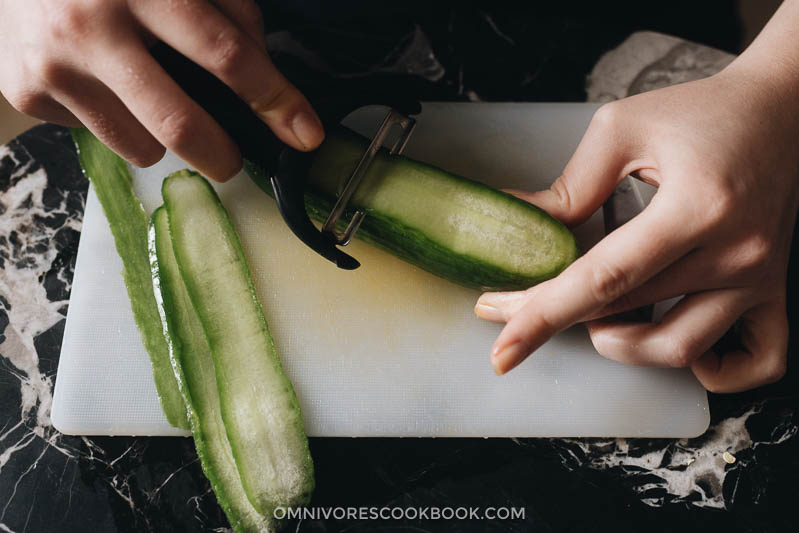 The must-have ingredient is mayonnaise and I usually spread a generous amount of it on my sandwich. You can also add a drizzle of sriracha for spiciness and/or a squeeze of fresh lime juice. I like to add both. The creamy mayo and sweet, zesty, crisp pickles go so well with the rich ham and make your meal lighter, healthier, and more colorful.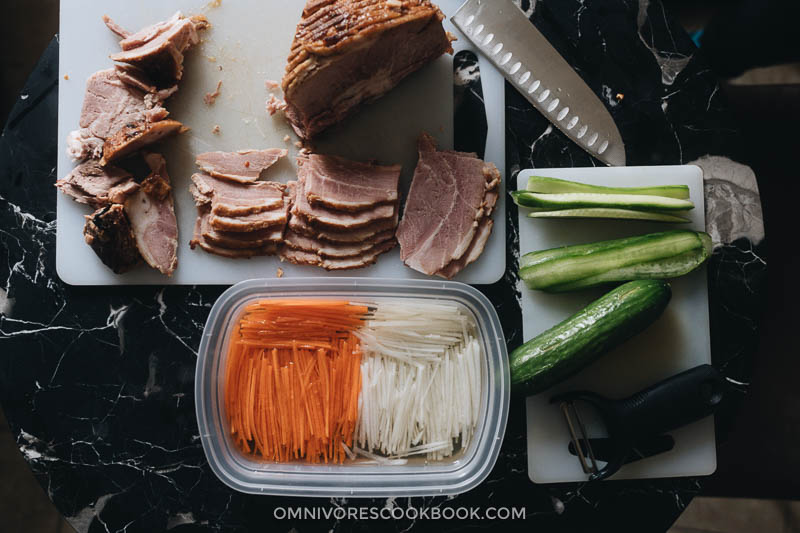 More leftover ham recipes
You can make ham banh mis any time you have ham. Though after Easter or Christmas, it's a welcome break from the traditionally heavy meals. With the pickled vegetables, everyone will be happy to try a new style of sandwich in the days following the holiday. It's a quick and easy way to turn ordinary holiday leftovers into something extraordinary!
Char Siu Chow Mein (the recipe uses leftover BBQ pork, but you can totally replace it with ham)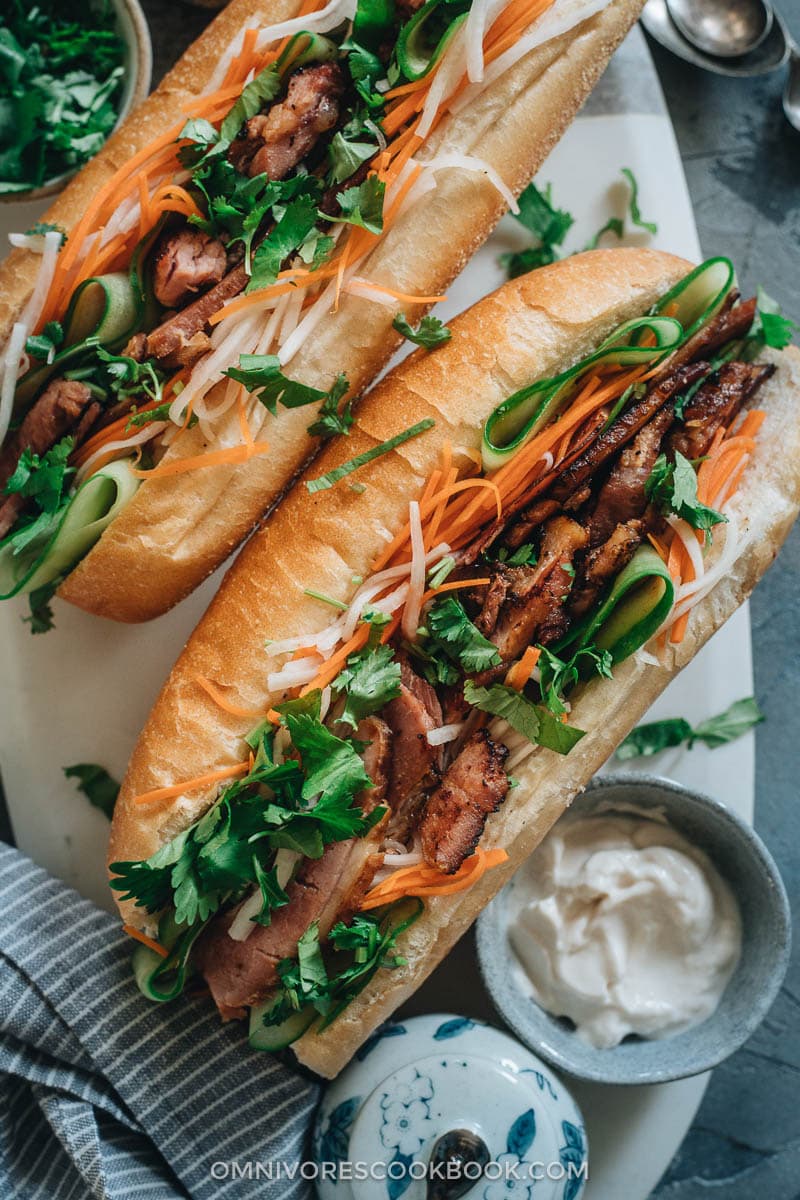 Need more Asian recipes? Sign up for my newsletter to receive the 5-Day Chinese Cooking Crushing Course and weekly recipe updates!
Want to Know More?
Receive our 5-Day Chinese Cooking Crash Course & Recipe Updates! Subscribe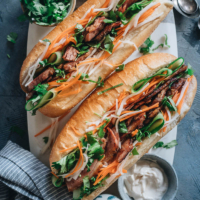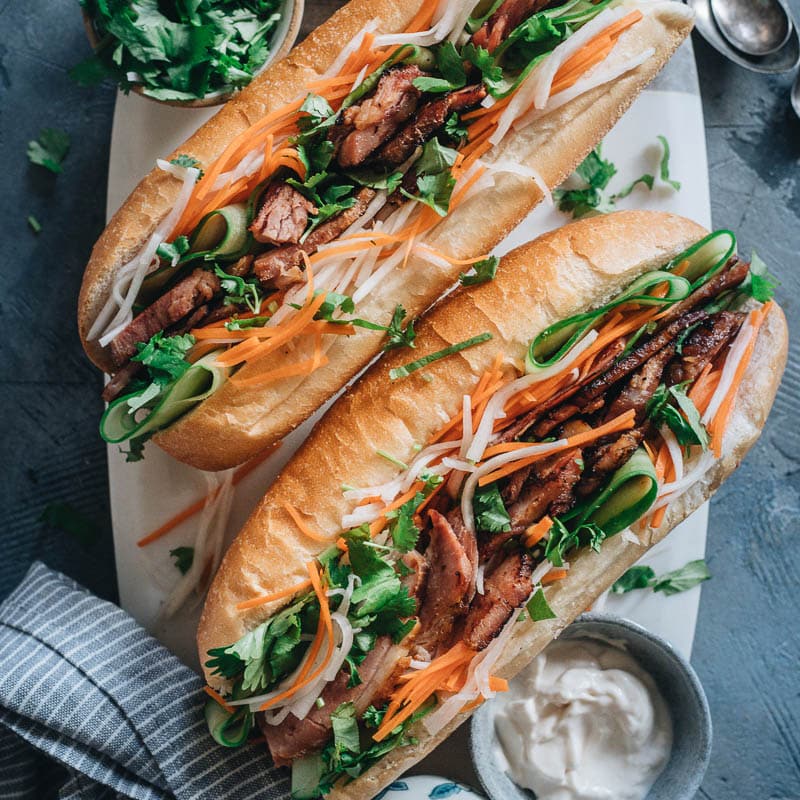 Leftover Ham Banh Mi Sandwich (Quick & Easy)
Turn your leftover Easter ham into a Vietnamese favorite with this fast, flavorful ham banh mi sandwich you'll want for lunch every day! A quick pickle recipe is included so you can recreate that authentic taste in your own kitchen.
Ingredients
Quick pickle
1

cup

rice vinegar

1/2

cup

sugar

Pinch of

salt

8

oz. (225 g)

daikon radish

(yields 1 cup of strips)

8

oz. (225 g)

carrot

(yields 1 cup of strips)
Sandwich
1

tablespoon

peanut oil

(or vegetable oil)

2

cups

leftover ham

, sliced

2

mini cucumbers

, sliced (or 1/2 English cucumber)

1/4

cup

mayonnaise

1/3

cup

cilantro

, chopped

2

Vietamese baguettes

(or 6 dinner rolls)
Instructions
Make the pickles
Combine the rice vinegar, sugar, and salt in a small pot. Heat over medium heat until the brine reaches a boil. Whisk to make sure the sugar dissolves thoroughly. Once done, transfer the pickling liquid to a tupperware container or a medium-sized bowl to cool.

Once the pickling liquid is mostly cooled (it's fine if it's lukewarm), add the daikon radish and carrot to it. Let marinate for 30 minutes while preparing the rest of the ingredients.

Once done, drain the marinating liquid and set aside the pickled veggies for assembling in the sandwiches.
Brown the ham
When you're ready to serve, brown the ham. Heat a large nonstick pan over medium-high heat until hot. Add the ham. Fry until both sides are lightly caramelized, 1 to 2 minutes per side. Transfer the ham to a plate.
Assemble the sandwiches
Halve the baguettes without cutting all the way through the bread. Spread mayonnaise on both sides. Stuff with a handful of sliced cucumber, pickles, and ham. Squeeze on Sriracha sauce and / or lime juice, if using.

Enjoy!
Nutrition
Serving:
1
serving
,
Calories:
232
kcal
,
Carbohydrates:
13.1
g
,
Protein:
12.2
g
,
Fat:
14.2
g
,
Saturated Fat:
3.3
g
,
Cholesterol:
42
mg
,
Sodium:
1012
mg
,
Potassium:
375
mg
,
Fiber:
2.1
g
,
Sugar:
5.3
g
,
Calcium:
35
mg
,
Iron:
1
mg
If you give this recipe a try, let us know! Leave a comment, rate it (once you've tried it), and take a picture and tag it @omnivorescookbook on Instagram! I'd love to see what you come up with.
Lilja Walter is a part of the Omnivore's Cookbook team and worked closely with Maggie to develop and test this recipe.